These Beverage Recipes are hotter than David Beckham on a Nudie Beach. The 7 cozy beverage recipes I have scouted out for you, will keep you toasty from head to toe. Not only do they warm you from the inside out, but they cut down on your home heating costs. Think about it this way, less money on bills means more money to shop. Here are my favorite 7 beverage recipes to keep you warm and cozy these cold winter days.
---
1

My Favorite Beverage Recipe - Coconut Tres Leches Hot Chocolate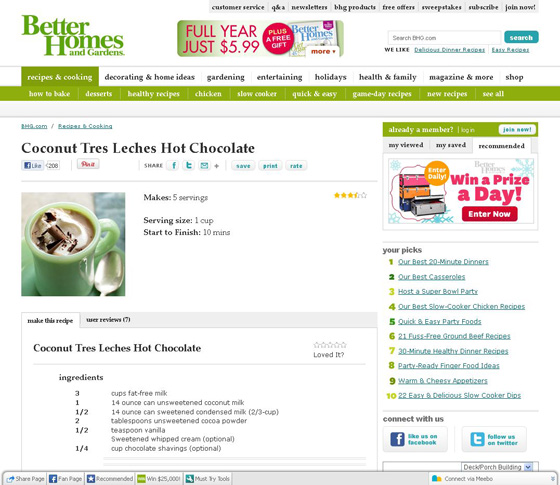 bhg.com
This beverage recipe is a tropical spin on Hot Chocolate. Made with Coconut Milk and topped with Chocolate Shavings, it's bound to take you on a direct flight to the warm beaches of Hawaii. Sorry if you're not ready for Bikini Season, I suggest at least shaving your legs before making this delicious beverage.
2

Hot Buttered Rum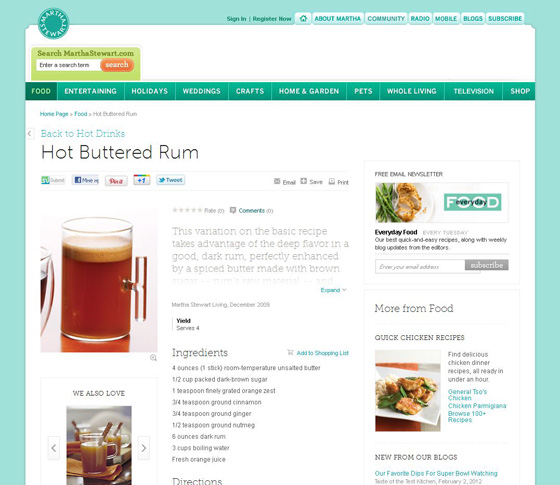 marthastewart.com
A little liquor and spices never hurt anyone. Made with a Dark Rum and a snow storm of holiday spices, this beverage recipe will turn your dark dreary evenings into a night of giggling pillow fights. It's not to say this isn't to blame on the amount of Rum in this hot beverage… But who am I to judge? The only missing ingredients on this recipe is Feathered Pillows and Awkward «I LOVE YOU» Moments.
---
3

The Blizzard Cocktail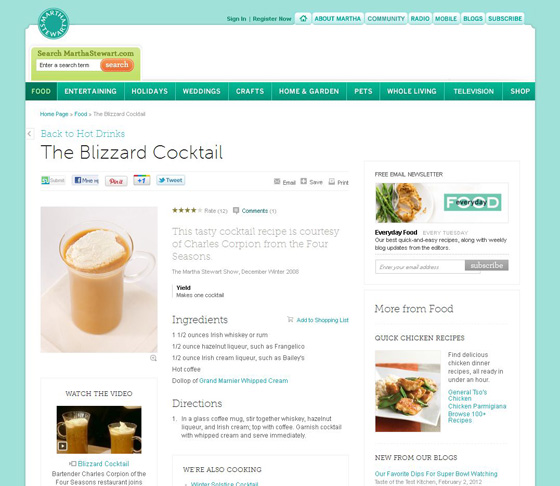 marthastewart.com
A liquor cocktail with a dash of Coffee? I say, who needs sleep anyways? This fiery beverage will warm you the moment it touches your tongue… blazing down your throat…and quickly soothing into your stomach. Don't be fooled, this drink may sounds like your taking a swig of Chuck Norris…. But it will really only put hair on your chest. No biggie!
---
4

Mulled Cider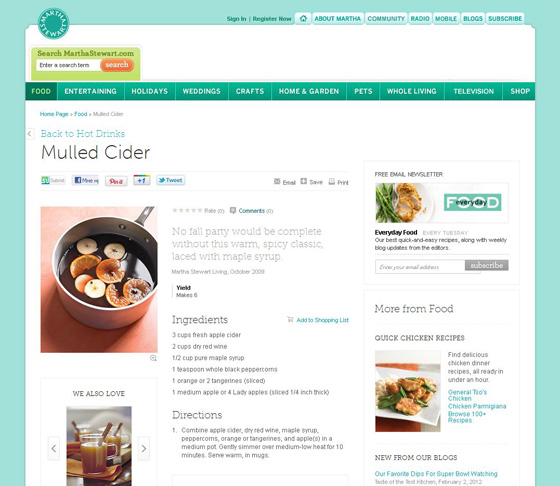 marthastewart.com
Not the sexiest of beverage names, the Mulled Cider has to be appreciated by its sweet taste. With a fabulous line-up such as Apple, Tangerines, Red Wine and Maple Syrup, this delicious beverage can be compared to its creator, Martha Stewart, very sweet but always enjoyed in small doses.
---
5

White Hot Chocolate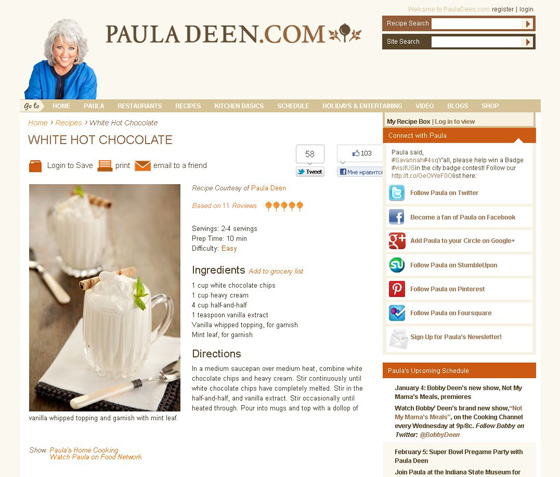 pauladeen.com
White Chocolate, Milk Chocolate, Dark Chocolate, I'll eat anything that ends in Chocolate. To me, White Chocolate feels almost healthy like, I'd go as far as even saying calorie free. Here is how I figure…White is pure, in some cases means virginity, but always looked at as being simple and clean… which in my mind registers as healthy. Good rationalizing right? This White Hot Chocolate recipe is sure to please not only your taste buds but your weigh scale. And by «please» I mean increase drastically.
---
6

My 2nd Favorite Beverage Recipe - Hot Spiced Tea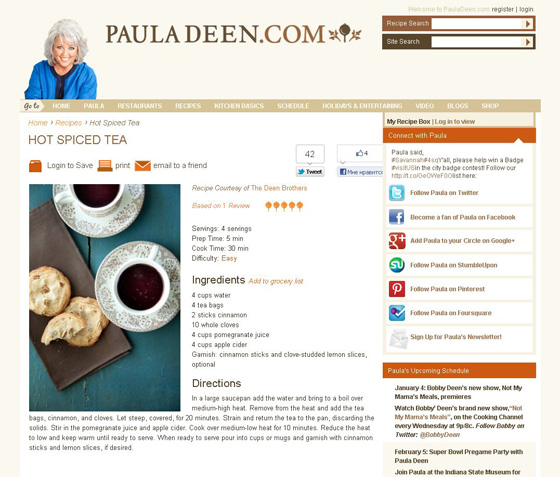 pauladeen.com
This warm beverage will be one you will want to keep in your back pocket. Tea, Cinnamon, Cloves, Apple and Pomegranate Juice. Have you ever heard of a better collaboration of yummy things? The recipe, created by Paula Deen, is really one of her only that doesn't contain butter or deep frying. So I say, thank you Miss Deen for making something I can consume without needing a triple bypass.
---
7

S'More Delight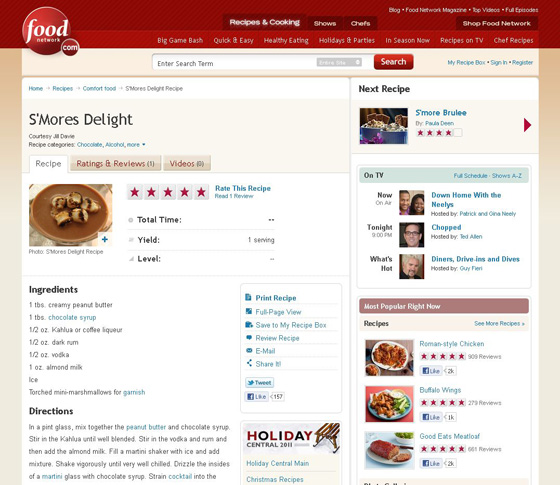 foodnetwork.com
This beverage while served cold still warms the chilliest of days. Topped with roasted marshmallows and with ingredients such as Kahlua, Rum and Vodka, tell me this drink wouldn't light your fire. While this beverage recipe maybe jam packed with liquor, know that it also contains 2 of your daily Food Groups. Milk…Dairy, and Peanut Butter… your Protein. I'm thinking if I have this 3 times a day, not only will I make my daily nutritional needs, but I won't remember how damn cold it is outside.
With so many warm beverage recipes to choose from, which will you desire? I suggest trying each and everyone, but not all in 1 evening of course. With an array of recipes to keep you toasty this winter, what do you think will be your favorite?
Top Image Source: weheartit.com
---
Popular
Related
Recent