With all of the snow falling everywhere, it's time to talk about some warm drinks for winter that will keep the chill away and will ensure that your body stays toasty! Warm drinks for winter can be anything from hot chocolate all the way to some adult beverages. If you're looking for the perfect warm drink for the wintertime, you've got to take a look at my recipes below! Seriously ladies, these are delicious!
---
1

Mexican Hot Chocolate

Mexican hot chocolate is definitely one of my favorite warm drinks for winter. It's my go-to warm drink when I am looking to impress a crowd and it's definitely a fav when it's movie night in. It's also super easy to make, so even if you are looking for something that seems complicated, but is actually easy, this is the drink for you!

Ingredients:

4 ounces unsweetened chocolate
4 cups milk
2 cups vanilla bean ice cream
3/4 cup sugar
1 1/2 cups water (add 1/2 cup more for a thinner cup of hot chocolate)
1 1/2 teaspoons cinnamon
3 teaspoons pure vanilla (use Mexican vanilla, if you have it)

Directions:

Grate the chocolate with a fine-edged grater. In a large saucepan, heat the milk, ice cream and sugar on low, just as the mixture begins to steam (but don't let it boil!) then whisk in the grated chocolate. Whisk in the cinnamon, vanilla and water. Heat mixture just until steaming. Serve with spicy Dulce de Leche whipped cream.

Spicy Dulce de Leche Whipped Cream:

1 cup heavy whipping cream
1/3 cup brown sugar
1/4 teaspoon cinnamon
1/4 teaspoon cayenne
1/4 teaspoon red pepper flakes
2 tablespoons semisweet chocolate chips, crushed
In a large bowl, beat heavy cream until soft peaks form. Slowly beat in the brown sugar until cream becomes light and fluffy (if you don't have access to fresh, very soft brown sugar, just use regular white sugar to keep the cream from becoming grainy). Mix in the cinnamon and cayenne. Pipe on top of hot cocoa. Sprinkle with red pepper flakes and crushed chocolate to garnish.
---
2

Spiced Hot Cider

I love this awesome recipe for hot cider. While it might not have any liquor in it, the fact that it is served in an apple mug? That just makes it! This is one of my favorite party drinks to serve when I have a few girlfriends over for a night of pampering. It also looks like it took you a whole lot of time.

Ingredients:

8 cups apple cider or apple juice
1/4 cup packed brown sugar
6 inches stick cinnamon
1 teaspoon whole allspice
1 teaspoon whole cloves
2 3x3/4-inch strips orange peel
Apple Mugs (optional)
Thin orange wedges and/or cinnamon sticks (optional)

Directions:

In a large saucepan combine cider and brown sugar. For spice bag, place cinnamon, allspice, cloves, and the orange peel in center of a double-thick, 6-inch-square of 100% cotton cheesecloth. Bring corners of the cheesecloth together and tie with a clean string. Add spice bag to the saucepan with cider mixture.

Bring mixture to boiling; reduce heat. Simmer, covered, for 15 minutes. Remove spice bag and discard. If desired, serve cider in Apple Mugs. If desired, garnish with orange wedges and/or cinnamon sticks.

Apple Mugs:

Cut the tops off of 8 very large apples (about 3 1/2- to 4-inches in diameter). Press 2 1/2-inch ice cream scoop into the cut surface of apple to to form and edge about 1/2 inch thick around the edges of the apples. Use a melon baller to scoop out the center of apples, taking care not to scoop out too close to the bottom and sides of apples. If desired, brush inside "mugs" with lemon juice to prevent browning.
3

Warm Apple Pie Drink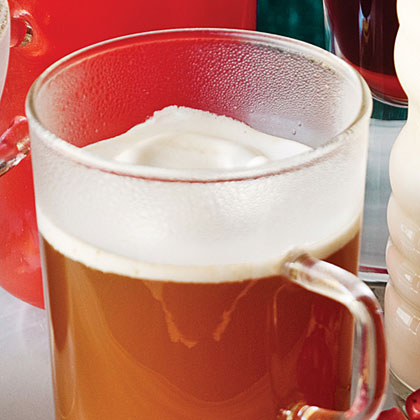 Do you love apple pie? I do too and when I found that I can make warm apple pie in a mug? I just about died! This incredible warm drink for winter is an absolutely favorite of mine and it's sure to make people beg you for the recipe after they taste it. This is one of the adult drinks, so keep it away from the kids.
Ingredients:
1 1/2 qts. fresh unfiltered apple juice
3 cinnamon sticks (2 1/2 in. long)
12 whole cloves
6 whole allspice
1 1/2 cups spiced rum
Sweetened whipped cream
Directions:
Combine apple juice and whole spices in a saucepan and bring to a simmer. Remove from heat and let sit 30 minutes. To serve, reheat juice, then strain into heatproof mugs, dividing evenly. Add 1/4 cup rum to each and top with whipped cream.
---
4

Layered Mocha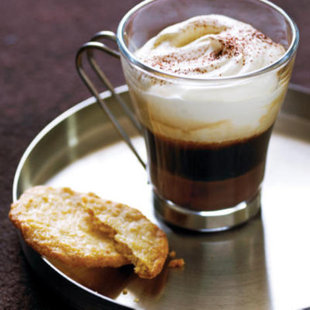 If you really want to get unique and different with your hot cocoa, this is the way to do it! I love the look and feel of this particular warm drink and the fact that it has a ton of chocolate and sugar? Oh man, that makes it all that much better! Give it a try girls and let me know how you like it!
Ingredients:
• 1/2 cup whipping cream
• 1/2 cup chopped semisweet chocolate
• 2 1/2 tablespoons sugar, divided, plus more to taste
• 1 cup hot brewed espresso
• 1 teaspoon unsweetened cocoa powder (optional)
Directions:
Place cream in a bowl and chill until very cold, about 15 minutes. Fill 4 heatproof glasses (6 to 8 oz. each) with boiling water.
In a small saucepan over high heat, bring 3/4 cup water to a boil. Reduce heat to low and whisk in chopped chocolate until smoothly blended. Add 1 tbsp. sugar. Stir over medium-low heat until mixture thickens slightly and coats spoon in a thin layer, 3 to 5 minutes. Cover and keep hot.
Whip cream with 1 tbsp. sugar until thick, but before peaks form (cream should still be pourable). Mix remaining 1/2 tbsp. sugar with hot espresso.
Drain water from glasses. Pour one-quarter of hot chocolate into a glass. Hold a spoon, concave side down, at about a 45° angle so tip of spoon touches inside of glass, slightly above chocolate. Very slowly, pour one-quarter of espresso over back of spoon. Repeat for each glass. Spoon thick cream onto espresso, dividing evenly between glasses. Sift a bit of cocoa over cream if you like. Serve immediately.
---
5

Adult White Hot Chocolate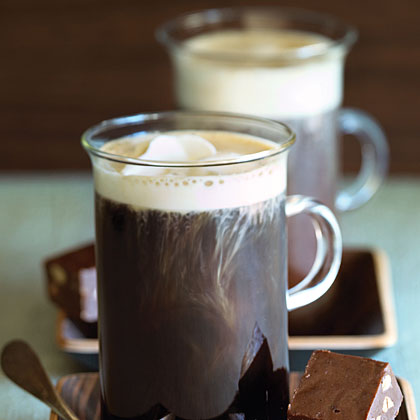 One of my favorite drinks at Starbucks is white hot chocolate – but this version is for us adults! It's got vodka, white chocolate chips and even some marshmallows! This adult white hot chocolate will make you feel like a kid … but remember, don't drink too many of them!
Ingredients:
3/4 cup milk
2 tablespoons white chocolate chips
2 tablespoons vanilla vodka
1 1/2 tablespoons miniature marshmallows
1/8 teaspoon unsweetened cocoa powder
Directions:
Heat milk in a small saucepan over medium heat until very hot. Add white chocolate chips and whisk until melted.
Pour vanilla vodka into a heatproof glass, add warm milk, top with marshmallows, and dust with cocoa powder.
---
6

Keoke Coffee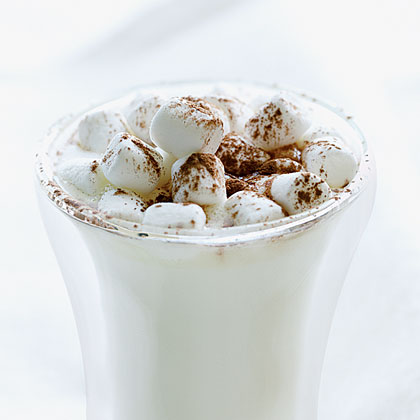 I actually love any warm winter drinks that contain coffee. Not only will it get me wired, but it'll keep me warm! This drink is no exception and I gotta say, it's delicious! Not only does it contain a bit of liquor, but you can really mix it up a little bit and brew up all sorts of flavored coffee!
Ingredients:
4 tablespoons each brandy, Kahlúa, and crème de cacao
3 cups freshly brewed hot coffee
4 tablespoons whipped cream (optional)
Directions:
Divide brandy, Kahlúa, and crème de cacao between two mugs. Add half of coffee to each. Top with whipped cream if you like.
---
7

Hot Cranberry-Ginger Punch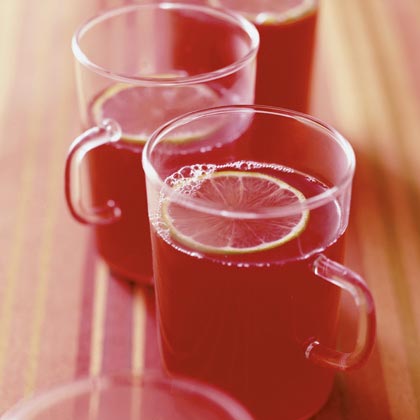 Are you throwing a holiday party soon and you're looking for a warm winter drink that is going to keep your guests warm? That's what this punch is all about! It's got cranberry juice, some ginger and then some lime in there. You serve it hot, so it'll keep your guests super warm!
Ingredients:
1 quart cranberry juice
2 ounces fresh ginger, peeled and thinly sliced (about 1/4 cup)
1/3 cup lime juice
1/3 cup sugar, plus 1/4 cup, if desired
Directions:
Combine cranberry juice and ginger in a 2- to 3-quart pan over medium heat. Bring to a simmer and cook to infuse flavor, about 20 minutes.
Stir in lime juice and 1/3 cup sugar; stir until sugar has dissolved. Taste and add up to 1/4 cup more sugar if desired.
Pour through a fine strainer into a thermos or heatproof pitcher (discard solids). Serve hot.
---
8

Garden Chai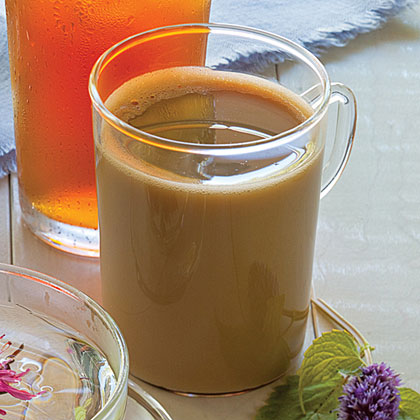 Finally, the last warm winter drink that we're going to talk about is a chai tea drink! I love chai. I think that it is so delicious and so spicy, but this version? My favorite! It's got some flowers in there along with a bit of soy milk and some fresh ground nutmeg. Try it out!
Ingredients:
1/4 cup fresh nutmeg geranium leaves
3 fresh anise hyssop flowers
1 cup hot brewed black tea, such as English breakfast
1 cup plain soy milk, warmed
2 tablespoons sugar
Directions:
Put geranium leaves and anise hyssop flowers in a heatproof container. Pour 1 cup boiling water over them and steep 15 minutes.
Strain and divide liquid between 2 mugs. Pour 1/2 cup each tea and soy milk and 1 tbsp. sugar into each mug. Stir to combine.
So girls, whether you are throwing a party and are looking for some cool and chic warm drinks to serve or you want to spice up your own drinks, I've got you covered! So, what are you favorite warm winter drinks? Any recipes to share?
Source:
blogs.babble.com , bhg.com , myrecipes.com , shine.yahoo.com , myrecipes.com , myrecipes.com , myrecipes.com , myrecipes.com
---
Comments
Popular
Related
Recent