Are you ready to try out some cold soup recipes?! Cold soup might not be on your radar for summer foods, but it should be! I love soup, it's like the ultimate comfort food for me, but in the warmer weather I just can't sit and sip on a piping hot cup of soup! The next best thing would be some chilled summer soups. Get some refreshing veggies, spices or even fruits to create an invigorating side dish or entrée that's new and unique yet still familiar! Try out some of these cold soup recipes for yourself, you won't regret it!
---
1

Chilled Cucumber Soup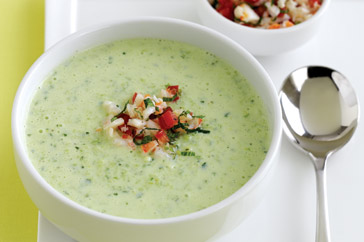 Out of all the cold soup recipes I've seen, I am most excited to try this one! It's easy to make and only takes 15 minutes to prepare! Cucumbers not only taste good, but they help rehydrate the body, help replenish vitamins and are low in calories! I think cucumbers are one of the most refreshing veggies to eat in hot weather and this chilled cucumber soup is sure to hit the spot!
Ingredients:
2 cup(s) Greek Yogurt
1 cup(s) Vegetable Broth
2 English Cucumbers, peeled, diced, and divided
4 Green Onions, sliced, divided
2 tablespoon(s) Chopped Fresh Dill
2 tablespoon(s) Chopped Fresh Parsley
4 teaspoon(s) (a little over 1/3 lemon) Fresh Lemon Juice
2 teaspoon(s) Salt
Directions:
In a large bowl, combine Greek yogurt and vegetable broth; set aside. In a food processor, purée 1 peeled, diced English cucumber, 2 sliced green onions, chopped fresh dill, and chopped fresh parsley. Add the cucumber mixture, fresh lemon juice, and salt to the yogurt mixture; whisk to combine. Stir in 1 more peeled, diced English cucumber and 2 more sliced green onions; refrigerate for 1 hour. Garnish each serving with chopped dill and croutons.
**Source: **countryliving.com
---
2

Gazpacho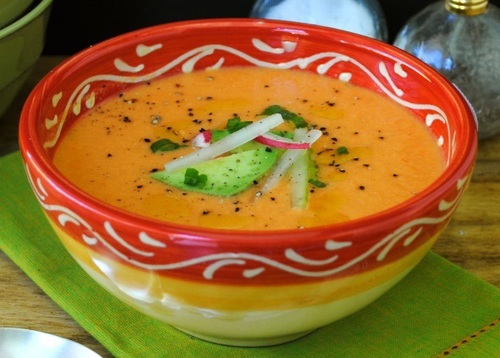 This soup recipe's ingredients have my mouth watering already! It's a little spicy, salty and filled with lots of yummy veggies like tomato, cucumber, radishes, onions and bell pepper. Add some colorful garnish like avocados, scallions and olive oil and you're set! Whip this up for friends and family and they will be stunned at how gorgeous and tasty this chilled soup is!
Ingredients:
1 medium red bell pepper (70g)
2 ounces sourdough baguette, cut into small pieces (50g)
1 1/4 cups cold water (300ml)
*3 tomatoes, peeled, seeded and diced
1 cup cucumber, peeled and diced (100g)
3 radishes, sliced
1/2 red onion, cut into slices
2 garlic cloves
1 tablespoon sherry vinegar
4 tablespoons extra virgin olive oil
3/4 teaspoon Tabasco sauce
1 tablespoon of fresh parsley, minced (or whatever fresh herb you have in the fridge)
1 teaspoon sea salt
1 teaspoon cumin
To Garnish
avocado slices
radish, thinly sliced into matchsticks
cucumber, thinly sliced into matchsticks
scallion, thinly sliced
extra virgin olive oil to drizzle
**Directions:
**Preheat your oven to 400 degrees F. Place your bell pepper in the center of a metal baking sheet and roast for about 30 minutes, turning the pepper every 10 minutes so that all sides will turn black and blistered. Remove from the oven and let cool. When you're able to handle it, remove the skin from the pepper and take the seeds out. Cut the pepper into strips and set aside 1/3 (3 ounces/70g).
Take the small baguette slices and place them in a large bowl filled with the cold water so that it may soak for an hour. Take the roasted pepper strips and the remaining ingredients, and add them to the large bowl containing the soaked bread. I then took the entire mixture and transferred it to my blender and mixed it on the puree setting until I had a smooth consistency. Then place the gazpacho into a covered container to sit in the refrigerator for about 4 hours to chill. As the mixture sits in the fridge, the flavors will develop.
When you're ready to serve the gazpacho, stir it well and pour into bowls. I like to garnish each bowl with scallion, cucumber, chunks of avocado, radish and a drizzle of extra virgin olive oil. Then give a sprinkle of fresh ground pepper.
**Source: **mamasgottabake.wordpress.com
3

Puréed Carrot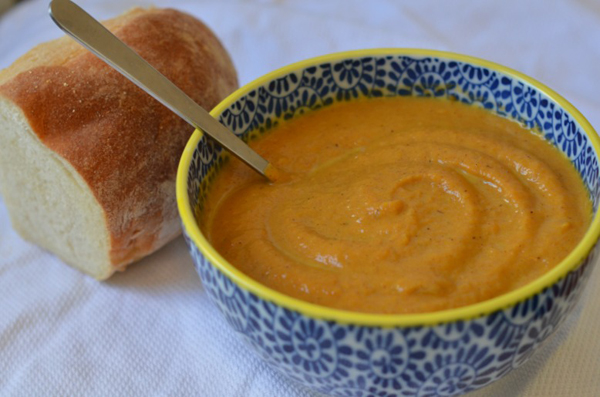 I rarely see enough carrot soups so I was glad to see this chilled soup featuring the bright orange veggie. Carrots are known for being good for your eyes, but did you know that they're also helpful in anti-aging, help protect the skin from sun damage and help flush out toxins from the body? Who knew carrots could help us look and feel so good? I sure didn't!
Ingredients:
Carrots
Onions
Butter
Parsley
Directions:
Sauté 1 1/2 pounds trimmed and chopped carrots and 1 peeled and chopped onion in 2 tablespoons butter to soften, about 5 minutes. Add 5 cups stock or water; boil, cover, lower the heat and simmer until carrots are tender, about 15 minutes. Cool slightly, purée and refrigerate. Garnish: Chopped parsley.
**Source: **nytimes.com
---
4

Hungarian Cold Sour Cherry Soup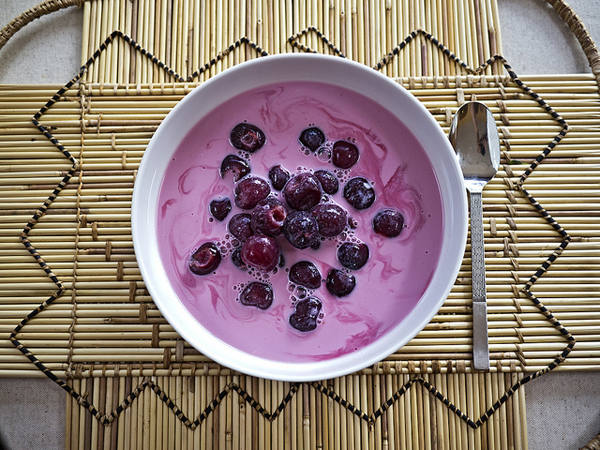 Try your hand a cold fruit soup this summer and surprise your friends and family! Cold fruit soup might just seem like fruit juice in a bowl, but I promise it's not! This particular chilled soup recipe was inspired by the chilled fruit soups from Hungary that are often seen in the summer. It's tart, sweet and perfect to enjoy on a hot summer day!
Ingredients:
2-3 pints of sour cherries. More would be lovely. Since our tree is just a baby, and thus produced a baby-sized harvest, we supplemented with a big handful or two of sweet Bings from the store, and the results were still tangy and delicious. It's not an exact science...
Cherry juice (we used most of a 32oz. bottle of Knudsen's)
2 Tbs. flour
1 Tbs. sugar, or more to taste
1 Tbs. whole cloves
1 cinnamon stick
1 generous cup sour cream (some people prefer sweet cream, or a mixture of both sweet and sour...)
Zest of one lemon
1 Tbs. fresh lemon juice
Ice cream or whipped cream to serve
Directions:
In a medium pot, cover the cherries with a mixture of about 1 part water and 3-4 parts unsweetened cherry juice, and a bit of sugar, then bring it all to a slow boil. Meanwhile, tie your cloves in a bit of cheese cloth, and add them along with the cinnamon stick to the pot (you could just toss the unbundled cloves in, too -- which is what I did -- but you'll never fish them all out once the soup thickens, and biting into a super-pungent, fresh-from-the-plantation clove is... intense).
In a separate bowl, mix several Tbs. of the hot cherry water with the flour; when that's smooth and runny, whisk it back into the pot, and gently simmer for about 10 minutes, until the soup is somewhat thickened and the cherries are tender. Stir in the lemon zest and 1 Tbs. lemon juice, then set it aside for an hour or so. Once the soup is cool, fish out your spices, then whisk some cherry soup together with the sour cream in a separate bowl until it's totally smooth. Stir the diluted cream back into the soup. I know all this whisking in separate bowls can be annoying, but not nearly as annoying as finding lumps in your beautiful brew. It's worth it. Set it back in the fridge for several hours until it's thoroughly chilled.
**On a practical note, I'm sure you can easily adapt this recipe to work with frozen or preserved fruit. I've heard that Trader Joe's sells excellent Morello cherries jarred in light syrup -- I bet you could substitute the canning liquid for the cherry juice and sugar, and otherwise follow the directions here. If anyone tries this method with fantastic success, please let me know -- I don't think I want to wait until next June's cherry harvest to try this again!
**Source: **fivetdsisters.blogspot.com
---
5

Hot or Cold Asparagus Soup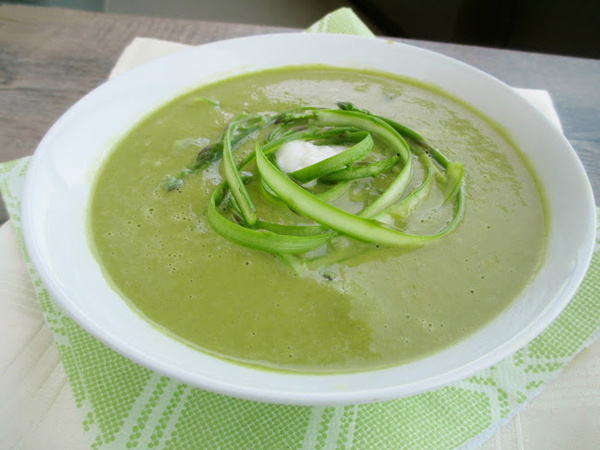 This next chilled soup can be enjoyed hot or cold, so you can make this all year round if you want! Asparagus is a great source of fiber, protein, vitamins and minerals and it's tasty to boot! This soup is easy to make and the ingredient list is also quite simple. I love eating asparagus grilled and steamed so I can imagine how delicious it will be as the star ingredient of a soup!
Ingredients:
1 tbsp olive oil
2 large cloves garlic, minced
1 yellow onion, diced
1 lb asparagus, divided
3-4 cups water (I used 3)
1/2 tsp kosher salt
1/2 tsp white pepper
1/2 cup plain low-fat yogurt, plus more for serving (could substitute vegan yogurt)
1 tsp lemon zest
1 tbsp lemon juice
Extra lemon slices for serving if desired
Directions:
Break the woody stems off the asparagus. Reserve a few stalks to use as garnish and chop the rest into pieces.
Heat olive oil in a large pot over medium heat. Add garlic, onion and asparagus pieces and sauté for about 5 minutes, stirring occasionally, until the onion and asparagus have softened.
Add water, salt and pepper and bring to a simmer. Let simmer for 10-15 minutes, until asparagus is very soft. Remove from heat.
Transfer soup to blender in batches and puree until smooth. Add the yogurt, lemon zest and lemon juice and blend again. Taste and add more seasoning.
Serve hot, or refrigerate until cold and eat as a chilled soup. For the garnish, use a vegetable peeler to shave the reserved asparagus into thin slices. Top each serving with the asparagus shavings and an extra spoonful of yogurt if desired. Makes 3-4 servings.
**Source: **vanilla-and-spice.com
---
6

Chilled Spanish White Gazpacho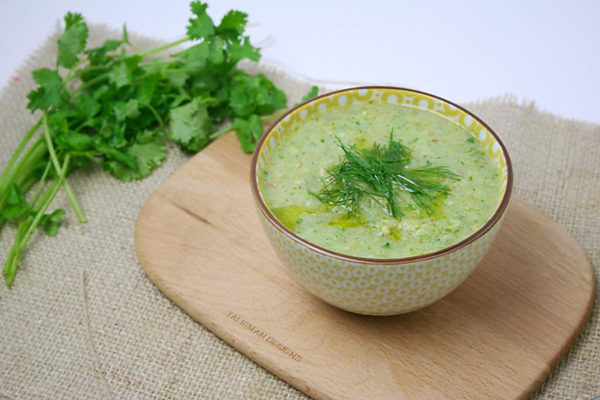 Although there's already a gazpacho soup on this list of cold soup recipes, I thought this unique take on the traditional cold soup was worth sharing with you! This chilled soup features seedless grapes, almonds, cucumbers and a variety of spices for a delectable way to cool off and take a break from the hot summer sun!
Ingredients:
2 lb seedless green grapes, stemmed
1/2 cup whole blanched almonds
2 garlic cloves
6 tablespoons minced fresh cilantro
3 tablespoons good-quality sherry vinegar
2 tablespoons freshly squeezed lime juice
1 1/4 teaspoons kosher salt
2 English cucumbers, cut crosswise into 1-2 inch pieces
3 tablespoons extra-virgin olive oil plus 1 1/2-2 tablespoons for finishing
dill to garnish (optional)
Directions:
Working in batches, combine the grapes, almonds, garlic, cilantro, vinegar, lime juice, and salt in a blender and pulse until the almonds and garlic are chopped but not too finely. Add the cucumbers and pulse again until the cucumbers are blended. Make sure not to overblend so the soup retains a bit of texture! Using a spatula or wooden spoon, stir in 3 tablespoons of the olive oil.
Refrigerate for at lease 1 hour to chill the soup and allow the flavors to blend. Ladle into bowls and drizzle each with about 1 teaspoon olive oil and a sprig of dill before serving. The soup will keep in an airtight container in the refrigerator for up to 3 days.
**Source: **scarboroughfoodfair.blogspot.com
---
7

Melon Soup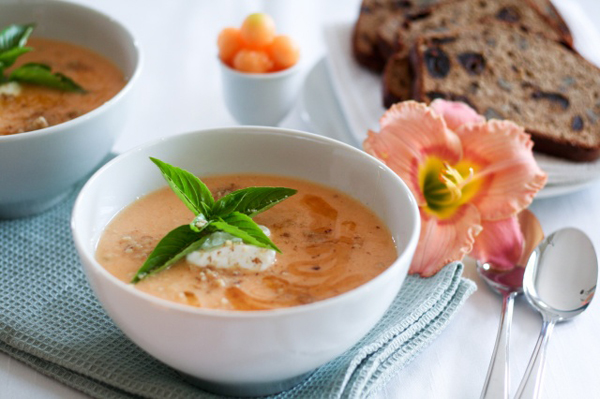 The last cold soup happens to be another fruit soup. Melons are a staple at any summer BBQ, picnic or gathering so I thought this was a fresh new way to eat the cool and refreshing fruit. Melons are hydrating, juicy, sweet and contain a range of vitamins and minerals. Try this creamy, cool and flavorful treat anytime you need a break from your typical soup!
Ingredients:
Yogurt
Milk
Mint leaves
Melon
Lime juice
Chili powder
Pistachios
Directions:
In a bowl, whisk together 2 cups yogurt, 1/4 cup milk and 1 cup chopped mint leaves until mint is fragrant; strain and discard solids. In another bowl, combine the grated flesh of a medium ripe melon, 2 tablespoons lime juice and 1 teaspoon chili powder; refrigerate bowls for 2 hours, stirring once. To serve, spoon yogurt onto melon and stir. Garnish: Chopped pistachios.
**Source: **nytimes.com
Are you ready to try out some of these chilled soups?! Cold soup might not sound very appetizing at first, but these soups are really refreshing and worth a try! Why not try adding a cold soup in your summer meal rotation this week? Have you tried cold soups before? Would you ever try one?
More
---
Comments
Popular
Recent