7 Creamy Mac & Cheese Recipes to Get Your Hands on ...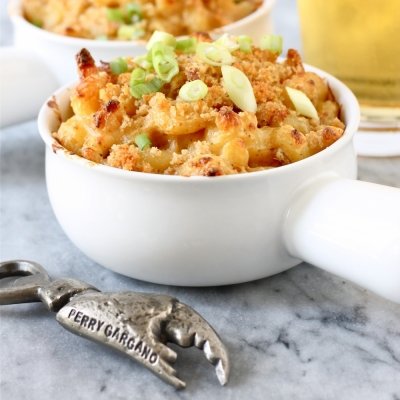 There are dozens of Mac & Cheese recipes that'll keep your stomach satisfied. If you're in the mood for something healthy, toss some broccoli in. If you want to add some flavor, throw some bacon in. You have the choice of making any one of these delicious Mac & Cheese recipes:
1.

Mac and Cheese Waffles
If you can't wait a few hours to fulfill your cravings, then this is one of the Mac & cheese recipes you need to try out first thing in the morning. It'll help you start your day off right.
Ingredients:
1 pound dried macaroni
Kosher salt
2 tablespoons butter, plus more for greasing baking sheet
1 tablespoon flour
1 cups whole milk
Dash hot sauce, plus more for serving
1 teaspoon mustard
1 1/4 pounds grated cheddar cheese
Maple syrup for serving (optional)
Instructions:
Create macaroni and cheese. Transfer onto a baking sheet and flatten with spatula. Refrigerate for 30 minutes. Preheat waffle iron and cut macaroni and cheese into 8 even squares. Lift one square with spatula and place grated cheese on it, then top it with another square like a sandwich. Place in waffle maker and cook until golden brown (6 minutes).
2.

Bacon and Pea Mac and Cheese
If you can't decide whether you want a healthy meal or a delicious one, kill two birds with one stone. You'll get your veggies by adding peas and your yumminess by adding bacon.
Ingredients:
8 ounces elbow macaroni
1 cup frozen peas
4 slices bacon, diced
1 cup Silk Unsweetened Original Almondmilk
2 cloves garlic, minced
1 tablespoon chopped fresh thyme leaves
3/4 cup shredded Gruyère cheese
1/2 cup shredded sharp cheddar cheese
Kosher salt and freshly ground black pepper, to toaste
1/2 cup plain Greek yogurt
Instructions:
In a pot of boiling salted water, cook pasta according to instructions. Within the last minute of cooking, add peas. Cook bacon on a skillet over medium high heat. In a saucepan, combine almond milk, garlic, and thyme over medium heat. Stir in cheese. Season with salt and pepper. Stir in pasta, peas, and bacon until well combined. Stir in yogurt. Serve.
You can eat this meal for breakfast, lunch, or dinner. Whenever the mood strikes, bake it and devour it.
Ingredients:
6 cups uncooked elbow macaroni
1 pound bacon strips, chopped
3 cups 2% milk
2 cups (8 ounces) shredded pepper Jack cheese
1 package (8 ounces) process cheese (Velveeta), cubed
1 cup (4 ounces) shredded Colby-Monterey Jack cheese
1 cup (4 ounces) shredded cheddar cheese
1 teaspoon onion powder
1 teaspoon chili powder
1/2 teaspoon salt
1/2 teaspoon pepper
Dash hot pepper sauce
3 green onions, chopped
Instructions:
Cook macaroni according to directions. Meanwhile, cook bacon over medium heat. Add milk and cheese to pan and stir until blended. Stir in onion powder, chili powder, salt, pepper, and pepper sauce. Add onions, cooked bacon, and reserved pasta to pan. Mix well. Transfer to baking dish and bake for 10-15 minutes.
4.

Lobster and Shrimp Mac and Cheese
If you want your meal to be a little more luxurious, try adding lobster and shrimp. It's something the whole family can enjoy.
Ingredients:
¾ pound of any spiral pasta, such as rotini or fusilli
2 cups 2% milk
4 tbsp. unsalted butter, divided
¼ cup all-purpose flour
6 ounces Gruyere cheese, grated
4 ounces white cheddar, grated
½ tsp. freshly ground black pepper
1 tsp. salt
1 pound cooked lobster meat, chopped in 1" pieces
½ pound cooked shrimp, chopped in half
½ cup Italian breadcrumbs
Instructions:
Boil water and add pasta. Cook according to directions on box. Preheat oven to 375F. Heat milk in small saucepan. In a skillet, melt 2 tbsp of butter and add flour. Cook over low heat for 2 minutes. Whisk in hot milk and cook for 1-2 more minutes. Remove from heat and add Gruyere, cheddar, salt, and pepper. Add pasta, lobster meat, and shrimp, and stir well. Melt remaining 2 tbsp butter with breadcrumbs and sprinkle on mac and cheese. Bake for 30 minutes.
5.

Macaroni and Cheese with Ham
Here's another recipe that turns macaroni and cheese into more of a meal than a snack. By adding ham, you'll get some meat into your diet. It's the perfect dinner.
Ingredients:
Salt
1 pound cavatappi (hollow corkscrew shaped pasta) or other short cut pasta
3 tablespoons butter
3 tablespoons all-purpose flour
1 cup chicken stock
1 1/2 cups whole milk
Freshly ground black pepper
A few grates nutmeg
1 cup shredded Gruyere
1 cup shredded white sharp Cheddar
2 tablespoons Dijon mustard
1/4 pound French ham, deli sliced, finely chopped
Instructions:
Boil a large pot of salt water and add pasta until done. Heat sauce pot with butter over medium heat. Whisk in flour and cook for 1 minute. Add stock and milk. Season with salt, pepper and nutmeg. Stir in cheeses, Dijon, and ham. Remove the sauce from heat. Drain pasta and combine with sauce.
6.

Mac and Cheese with Broccoli
Broccoli goes really well with cheese. Even if you're not a fan of the vegetable, you might change your mind about it after tasting it with cheese.
Ingredients:
1/2 cup uncooked elbow macaroni (2 oz)
1 box frozen broccoli & cheese sauce
Instructions:
Cook macaroni as directed on box. Drain. Return to saucepan. Meanwhile, cook broccoli as directed on box. Stir broccoli and cheese into macaroni.
7.

Southern Baked Macaroni and Cheese
This is a simple recipe for a simple meal. It'll take a little while to cook, but the wait will be worth it.
Ingredients:
2 cups uncooked elbow macaroni (about 6 oz)
3 eggs, beaten
1 block (10 oz) extra-sharp Cheddar cheese, shredded
2 1/4 cups milk
Salt and pepper to taste
Instructions:
Heat oven to 350F. Cook and drain macaroni as directed on box. Mix cooked macaroni, beaten eggs, and shredded cheese. Add milk, salt, and pepper. Bake for 45 minutes.
Whether you need a snack for your child or for your lunch break, mac & cheese is the way to go. What's your favorite way to eat macaroni and cheese?
{{#comments_count}} Show Commnents ({{comments_count}}) {{/comments_count}}