Why would you just put chicken or steak on the barbie this Summer when you can cook some of these interesting food items to grill instead? I never thought of grilling fruit before, many of us have grilled potatoes and corn, but I wonder how many of you have put strawberries or apples on the barbecue! There are many interesting food items to grill that I can't wait to share with you and I hope you'll share some with us too!
---
1

Grilled Doughnuts...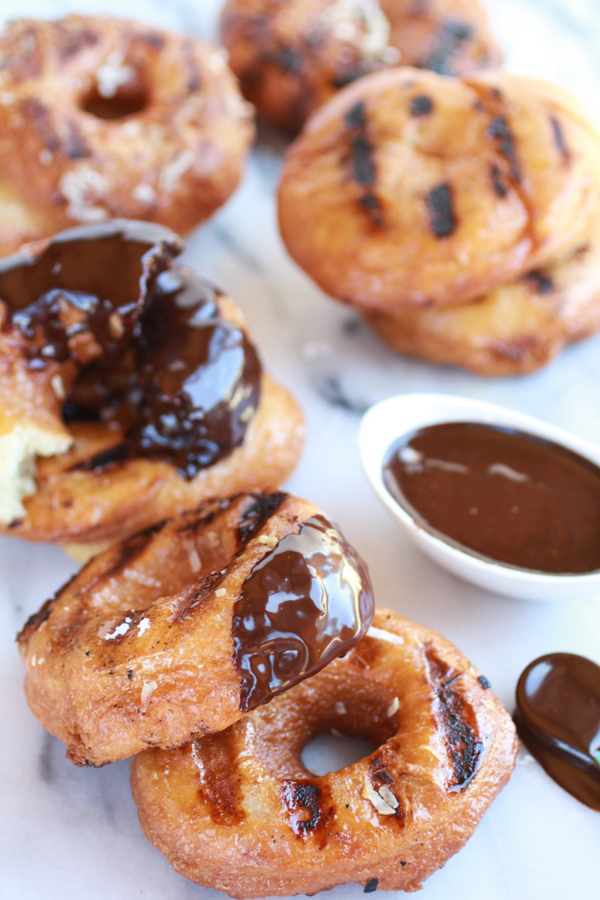 Would you have ever have thought that doughnuts would have been on my list of food items to grill?! I bet you already have the keys in your hand to drive to the grocery store after seeing this amazing grilled espresso glazed coconut doughnut. I know I'm already drooling on my screen and wondering why I haven't heard of this sooner! Grilling enhances the flavors of any item, so just imagine what a doughnut tastes like after being on the barbie for a few minutes, yum! This recipe actually includes instructions on how to make your own doughnut from scratch...what could be better than that!
Ingredients:
1 1/8 cups canned coconut milk, warm (if needed you can use regular milk)
1/4 cup sugar
2 1/4 teaspoons (one package) instant or active dry yeast
2 whole large eggs, beaten
1 1/4 stick unsalted butter, melted
4 cups all-purpose flour
1/4 teaspoon salt
Espresso-Coconut Glaze
1/4 cup coconut water
3/4 - 1 cup powdered sugar
2 tablespoons strong black coffee
2 tablespoons unsweetened coconut
Mocha Coconut Ganache Dipping Sauce
5 ounces milk chocolate
7 tablespoons coconut milk
2 teaspoons instant espresso powder
1 teaspoon vanilla
Directions:
In the bowl of your electric mixer (with the dough hook attached) add the sugar to the coconut milk, stir to dissolve and add the yeast. Stir gently, then let sit for 10 minutes. Melt the butter in a separate bowl, add the beaten eggs, stirring constantly to make sure the butter is not too hot for the eggs. Add the egg/butter mixture to the yeast mixture. With the mixer on medium-low speed, allow the dough hook to stir this mixture for a couple of minutes, making sure it's thoroughly combined. With the mixer still going, add the salt and flour in 1/2 cup increments until all the flour is gone. Stop the mixer, scrape the bowl, then turn the mixer on the same speed again for five minutes. After five minutes, stop the mixer and scrape the bottom of the bowl. Transfer the dough to a lightly oiled bowl and toss the dough to coat, then cover the bowl with plastic wrap and place straight in the fridge. Refrigerate dough for at least 8 hours, or overnight.
Remove bowl from fridge and turn out dough onto a lightly floured surface. Roll out to 1/4 to 1/3-inch thickness. Using a 3-inch cutter, cut as many rounds as you can, then roll out remaining dough and cut as much as you can. Place the doughnuts on a floured baking sheet and use a 1 inch cutter to cut out the the middle of the doughnuts. Cover with large towel and place in a warm place in your kitchen. Allow doughnuts to rise for one hour (mine were good to go after 50 minutes). Doughuts should be puffy and airy.
Make the Espresso Glaze by combining the coconut water, powdered sugar and coffee in a medium size bowl. Whisk to combine and set aside while you fry the doughnuts.
Heat a few inches of oil over medium-high heat in a large saucepan. Once the oil reaches 350 degrees F, add the doughnuts 2-3 at a time and fry until golden brown, about 2-3 minutes per side. Make sure you are using a thermometer and do not allow your oil to get too hot! The doughnuts need about 4-5 full minutes in the oil so the insides cook, and if it's too hot the dough will burn (trust me, I have burned my fair share of doughnuts). After frying, transfer each doughnut to a paper towel to let the excess oil drain.
Dunk each doughnut throughly in the espresso glaze (really coat it well, the glaze helps the doughnut get caramelized and delicious on the grill) and then sprinkle each doughnut with the shredded coconut. Place on a wire rack and allow the excess glaze to drip off. Store in an airtight container until ready to grill. Don't wait more than a day, doughnuts are the very best the minute you fry them.
When ready preheat the grill to medium.
While the grill preheats comine the milk chocolate and coconut milk in a small sauce pan. Heat over low heat until the chocolate has melted. Whisk the espresso powder into the hot melted chocolate until fully dissolved and smooth. Stir in the vanilla. You may also melt the chocolate in the microwave on 30 second intervals, stirring between each.
Coat doughnuts with cooking spray (I actually forgot to do this, but I think it would have been helpful). Grill doughnuts, covered, until lightly browned, 30 seconds to 1 minute per side. Watch closely, I burned WAY too many of mine. Serve grilled doughnuts with the warm Mocha Coconut Ganache Dipping Sauce. Devour!
Source: halfbakedharvest.com
---
2

Grilled Apples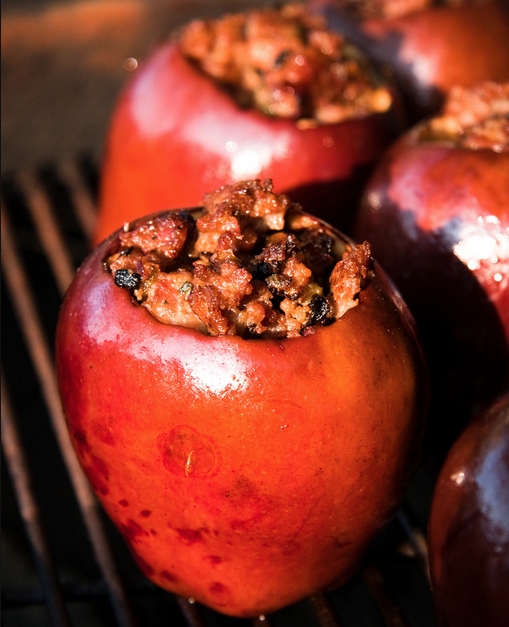 Is this not the tastiest looking apple you've ever seen?! This grilled apple includes a sausage and sage stuffing, how perfect would that be for an end of Summer, early Fall barbecue? Oh and let's not forget the maple syrup topping! Okay, now this sounds even better than the grilled doughnuts! I bet the flavors of this delightful combination are out of this world; between the smokey taste of the sausage, the tart apple, and the sweet syrup...delicious!
Ingredients:
3 tbls of butter
1 small onion, finely chopped
1 rib celery, finely chopped
1 pound of sausage
4 fresh sage leaves, minced (right from the garden!)
salt & pepper
4 tbls maple syrup
6 large apples
Directions:
Add 1 tbls butter to a skillet over medium heat. Add the onion and celery and cook until golden brown, about 4 minutes. Add the sausage and sage. Increase the heat to high, and cook, breaking up the meat with a wooden spoon. Cook until brown. Season with salt and pepper to taste.
Transfer the stuffing to a strainer set over a bowl to drain off the excess fat (of course in my opinion, is there really such a thing as "excess" fat?!), reserving the fat for basting (now we're talking!). Let the stuffing cool to room temperature.
Using a melon baller, corer, knife, or perhaps a very strong finger, remove the core from each apple creating a large cavity (the larger the better). Just be sure not to cut all of the way through the apple. We want a container, not a sieve.
Spoon the stuffing into the apples. Next, top of the apples with equal amounts of maple syrup. Then, top the apple with the remaining butter.
Brush the outside of the apples with the excess fat you collected .
Soak wood chips (I used maple) in water for approximately 30-45 minutes. Set up your charcoal grill for indirect medium grilling (A gas grill can be used instead too).
Once your grill is at temperature, drop your soaked wood chips on the coals and close the lid. When smoke appears, place your apples on the grill. Remember, you are grilling indirect so the apples should not be over the coals.
Grill the apples until soft, approximately one hour.
Source: anotherpintplease.com
---
3

Grilled Avocado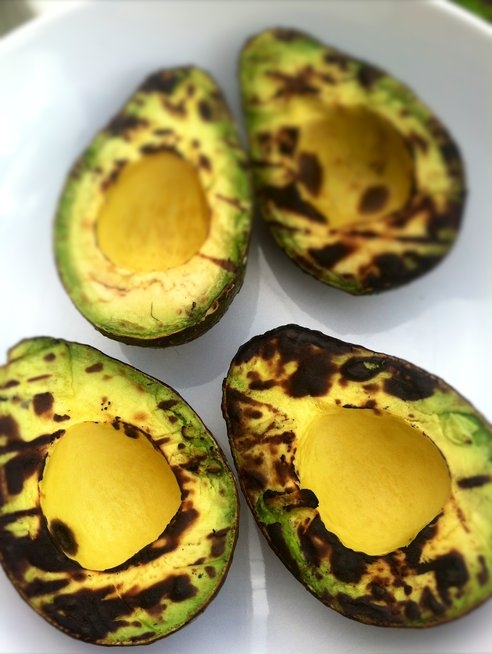 I love putting fresh avocados on salads and sandwiches, but have never eaten a whole one by itself. However, now that I've seen this grilled avocado recipe, that fact is about to change! I think my grill is going to be working overtime this Summer!
Ingredients:
1 clove garlic
2 tablespoons extra virgin olive oil plus more for the tomatoes
1 tablespoon freshly-squeezed lime juice
3 avocados
Fine sea salt
Coarsely-ground black pepper
18 grape tomatoes
2 serrano chiles, stemmed, seeded and thinly sliced
2 tablespoons coarsely-chopped cilantro leaves
Sour Cream
Directions:
Prepare the grill for direct grilling over a medium-hot fire.
Crush the garlic clove into a medium bowl. Add the oil and lime juice and whisk together. Halve and pit the avocados. Brush some of the oil mixture onto each half without letting any puddle in the hole where the pit was (we don't want it dripping into the grill and causing flare-ups). Reserve the remaining liquid. Season the avocados liberally with salt and pepper.
Skewer the grape tomatoes and drizzle them with olive oil. Season with salt.
Place the avocados on the grill cut-side-down. Add the tomatoes alongside. Grill for 4 to 5 minutes, turning the tomatoes once. The avocados should be nicely marked and the skin on the tomatoes should be blistered. Remove everything from the grill.
Cut the tomatoes in halves or quarters. Add them to the liquid in the bowl. Fold in the chiles and cilantro to complete the blistered tomato salsa.
Spoon some of the salsa mixture into each avocado half and finish with a little salt. Garnish with dollops of sour cream. Serve warm.
Source: kalamazoogourmet.com
---
4

Grilled Stuffed Mushroom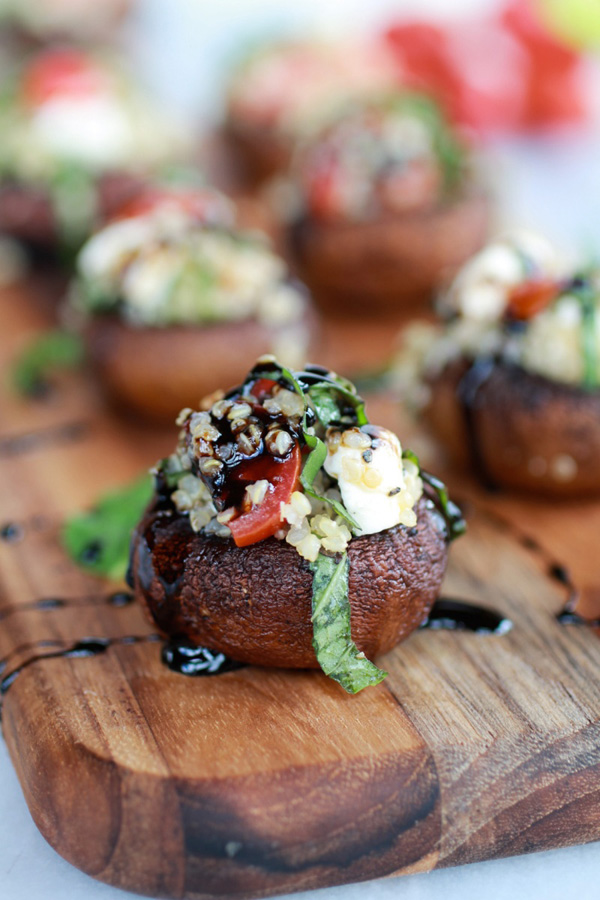 I've enjoyed stuffed mushrooms on plenty of occasions, but I have yet to see one that looked as amazing as this grilled stuffed mushroom! Filled with mozzarella cheese, quinoa, and basil along with a few other ingredients, doesn't this recipe sound like one to cook up on the barbie if you are looking for that perfect bite to serve at your Summer party?! Whether it's a formal or casual event, stuffed mushrooms are always a good way to go.
Ingredients:
12 baby portobello mushrooms or 2 portobello mushrooms, stems removed
1/2 cup cooked quinoa
1/2 cup grape tomatoes, diced
1//3 cup fresh mozzarella cheese, diced
8-10 fresh basil leaves, sliced or chopped
3 tablespoon good + fruity extra virgin olive oil
1/2 teaspoon salt
1/2 teaspoon pepper
Balsamic Glaze:
1/2 cup balsamic vinegar
1 teaspoon brown sugar (optional)
Directions:
Add vinegar and brown sugar if using to a small saucepan and bring to a boil. Reduce to a very low simmer and cook for 10-15 minutes, until liquid reduces by about half and is slightly syrupy. Remove from heat, pour vinegar in a bowl or glass to pour, and set aside to cool and thicken.
Preheat the grill to medium high heat or heat your oven to to 400 degrees F.
Toss the mushrooms with 1 tablespoon of olive oil and a sprinkle of salt and peper. Place the mushrooms stem side up directly on the grill and grill for 8-10 minutes or bake for 8-10 minutes. Remove from the grill and dump any liquid that is in the caps.
While the mushrooms grill toss the quinoa, tomatoes, mozzarella and basil together in a medium size bowl. Add the remaining olive oil. Season with salt and pepper.
When the mushrooms are ready stuff each mushroom as best as you can with the caprese quinoa. If your mushrooms are small you may have some of the caprese quinoa leftover, just serve it along side the mushrooms. If desired place the mushrooms on a baking sheet and place back on the grill or under the broiler for 30 seconds to 1 minute to warm the cheese. Serve with a drizzle of the balsamic glaze and fresh black pepper.
Source: halfbakedharvest.com
---
5

Grilled Pumpkin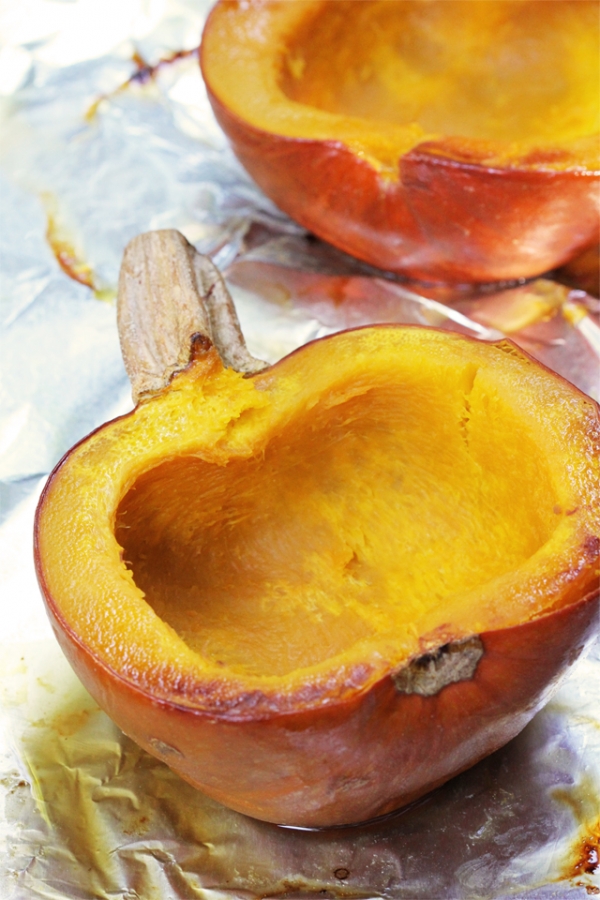 There's pumpkin pie, pumpkin bread, and now grilled pumpkin! I've heard about baking the seeds from the pumpkin for a tasty treat, but I never knew that you could cut open and grill a pumpkin to eat it in slices! For grilling the whole pumpkin, be sure to clean out the seeds first....but don't get rid of them, throw them on a baking sheet and put them in the oven!
Ingredients:
1/2 butternut pumpkin, peeled and thinly sliced
2 red onion, cut into thin wedges
A handful of baby spinach and rocket leaves
3 tablespoons of Feta cheese, crumbled
1 tablespoon pine nuts
1 tablespoons olive oil
Salt and pepper for seasoning
Tahini Dressing:
3 tablespoons red wine vinegar
2 tablespoons extra virgin olive oil
1 tablespoon Tahini
1 teaspoon castor sugar
salt and pepper
Directions:
Brush the pumpkin slices with olive oil, salt and pepper. Heat a grilling pan (or a non sick frying pan) over medium heat. Place the pumpkin on the pan and grill for 1-2 mins on each side (the time will depend on the thickness of the slices) till tender (but not too soft to handle). Transfer to a plate. Grill the red onions in the same way till soft. Remove from heat.
Place the pumpkin, onions and leafy greens in a large serving bowl. Add the crumbled Feta and pine nuts. Drizzle the dressing over the salad and serve.
To make the dressing, mix all the ingredients together except salt and pepper. Season to taste.
Source: sugaretal.com
---
6

Grilled Fruit Kabobs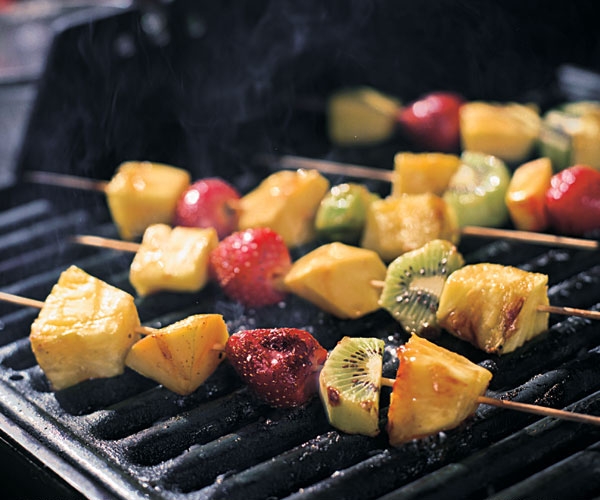 Why just have a grilled strawberry or banana when you can make a grilled fruit kabob?! Growing up, my dad would always make steak kabobs that included peppers and onions. It really combines the flavors together nicely, plus having your food on a kabob is just more fun than eating it with a fork! This fruit kabob recipe includes bananas, strawberries, pineapples, and cantaloupe, but don't be afraid to mix it up and throw in a few more interesting food items to grill!
Ingredients:
4 wooden or metal skewers
1 tablespoon dark rum
1 teaspoon oil
1/4 teaspoon cinnamon
9 fresh pineapple chunks
9 fresh strawberries, stems removed
9 fresh cantaloupe chunks
9 fresh banana chunks (about 2 bananas)
Mango Coconut Ricotta:
1/2 cup raw cashews, soaked for one hour or up to overnight
1 cup ripe mango, chopped
6 ounces firm tofu, rinsed, drained and pressed
1 tablespoon lemon juice
1 tablespoon maca powder
1 tablespoon vanilla
1/4 teaspoon salt
2 tablespoons almond milk
1 to 2 tablespoons maple syrup
1/2 cup shredded coconut, toasted
Directions:
If using wooden skewers, soak them in water for 30 minutes.
Place cashews, mango, tofu lemon juice, maca powder, vanilla, milk and 1 tablespoon of maple syrup in a high speed blender. Blend until smooth. Taste and adjust sweetener. Place in a bowl and mix in coconut. Chill for a minimum of 1 hour to left the flavors meld.
Preheat a bbq grill or electric grill to medium heat. Mix together the cinnamon, oil and rum.
Put the fruit on the skewers, alternating as you go. Brush the skewers with the rum mixture and place on the grill. Cook until marked and caramelized (about 3 to 4 minutes), turn and cook the other side.
Serve the kabobs along with the dip and an extra sprinkling of toasted coconut.
Source: cookbookaficionado.wordpress.com
---
7

Grilled Cabbage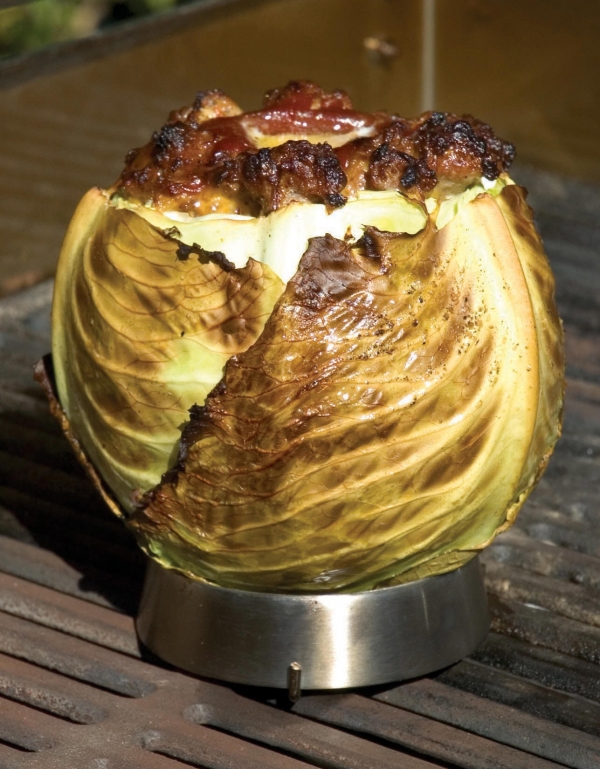 If you're ever looking to jazz up your head of cabbage or lettuce, then by all means throw it on the grill! This recipe includes a delicious spicy lime dressing, which is great if you are having the cabbage by itself for an appetizer. What are some interesting items you'll be throwing on the grill this Summer?
Ingredients:
1/4 cup fresh lime juice
1/4 cup extra-virgin olive oil
1 teaspoon fish sauce
2 garlic cloves
1/4 cup cilantro leaves
1/2 teaspoon salt
1/2 teaspoon cayenne
1/2 teaspoon sugar
1 head of cabbage (I used half of head of green and half a head of purple)
Canola oil
Directions:
Preheat grill.
In the bowl of a food processor or blender combine the lime juice, olive oil, fish sauce, garlic, cilantro, salt, cayenne and sugar and pulse or blend until the sauce is pale orange color in color. Set aside.
Remove the loosest, toughest outer leaves from the cabbage; cut into 8 evenly sized wedges. Do not remove the stalk or inner core. Lightly brush the wedges with canola oil.
Place the wedges on the grill and cover. Cook for 5 to 7 minutes or until the edges of each layer are blackened and the cabbage is beginning to soften. Flip each wedge over, cover the grill, and cook for an additional 5 to 7 minutes on the other side. Remove the cabbage when it is beginning to wilt, but is still firm in the middle. If necessary, turn the heat down or move the wedges to a cooler part of the grill so they don't burn. Don't be afraid of the blackened edges; you want a lot of grill and char marks on the cabbage.
Take the cabbage off the grill and place on a serving plate. Pour the dressing over the top of the cabbage and serve immediately with wedges of lime.
Source: breannasrecipebox.blogspot.com
So, what are some of your favorite food items to grill that have surprised your guests? Have you tried any of these items before?
More
Comments
Popular
Recent