During the summer, it is a great time to try out some delicious and dairy-free ice cream recipes. When the temperatures rise, you are going to be looking to cool down somehow. My favorite way is ice cream for sure, but with a pesky dairy allergy sometimes it can be hard to find a tasty ice cream to eat. That's why I have gathered up some dairy-free ice cream recipes that will help you stay cool. Oh, and even if you do eat dairy, these recipes are still fabulous!
---
1

Coconut Lime Ice Cream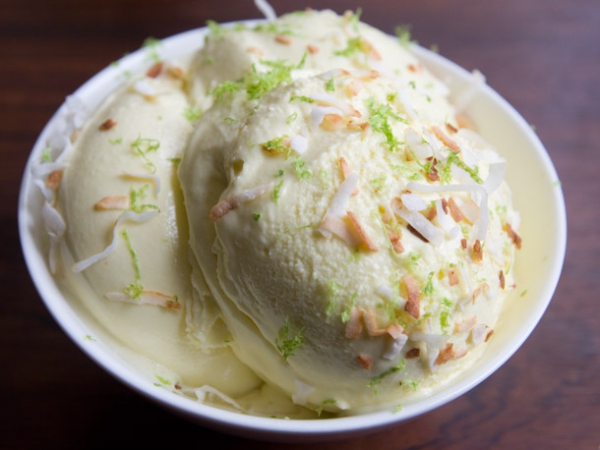 This is one of the best dairy-free ice cream recipes for summer. It has refreshing lime that mixes well with the creamy taste of coconut. It does, however, require an ice cream maker. If you don't consume dairy (or just love the taste of homemade ice cream), an ice cream maker is a wise investment. Homemade is so much better than store bought! You won't regret it when you have one bite of this delicious ice cream.
**
****Ingredients:**
1 can coconut milk
2 avocados, peeled and pitted
1c. maple syrup
1/2c. lime juice
1T lime zest
1/4c. water
Directions:
Place all ingredients into a blender or food processor and blend until smooth. For either appliance, scrape down the sides a couple of times for a smooth texture. Pour mixture into an ice cream maker and freeze according to your machine's instructions. The ice cream is finished when you can scoop some out and it stays on the spoon without sliding off right away (about 20 minutes).
Serve immediately or freeze for a firmer texture.
**Source: **gi365.info
---
2

Moose Tracks Ice Cream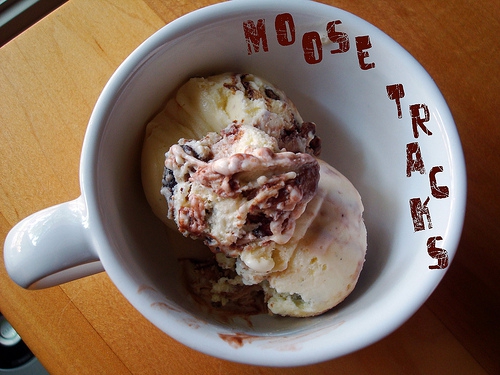 If you have ever had Moose Tracks ice cream, you know how addicting it can be. Being the chocolate lover that I am, it is one of the only ways you can get me to eat vanilla ice cream! You never have to miss this ice cream after going dairy-free with this delicious recipe.
Ingredients:
2 cans (13.5 oz) coconut milk
1 vanilla bean
2 tsp vanilla extract
1/2-3/4 cup equivalent sweetener (I used Swerve–sweeten to taste)
Chocolate Sauce (one batch–recipe below)
15 Almond Butter or Peanut Butter Cups, quartered
Directions:
In a medium sauce pan over medium-low heat, add the coconut milk to the pan. Next, scrape the seeds of the vanilla bean into the coconut milk. Add the vanilla bean pod and the vanilla extract, and then stir to combine. Heat the coconut milk for 5-7 minutes. Add the sweetener and stir until dissolved. Transfer the mixture to a container, cover with plastic wrap (directly touching the coconut milk mixture in order to prevent a skin from forming, and refrigerate for 1-2 hours or until cool.
Meanwhile, make the chocolate sauce (recipe below). Once the coconut milk mixture has cooled, add the mixture to your ice cream maker and process according to the directions of your machine. Right before the ice cream is done, add the almond butter cups and slowly stream in the chocolate sauce. Stop the ice cream maker before the chocolate completely combines (you want a ripple effect). Serve immediately for soft serve or place the ice cream in the freezer for 1-2 hours to harden.
**
****Chocolate sauce:**
3 Tbsp coconut milk
1 Tbsp cocoa powder
1/2 oz unsweetened chocolate, melted
2 Tbsp equivalent sweetener (I used Swerve Confectioners' Style–sweeten to taste)
1 Tbsp coconut oil, melted
1/4 tsp vanilla
Combine all of the ingredients together. If sauce thickens up while waiting for the ice cream to finish, reheat in the microwave. Makes about 1/3 cup of sauce.
**
****Source: **lowcarboneday.com
3

Raw Grasshopper Ice Cream (AKA Mint Chocolate Chip)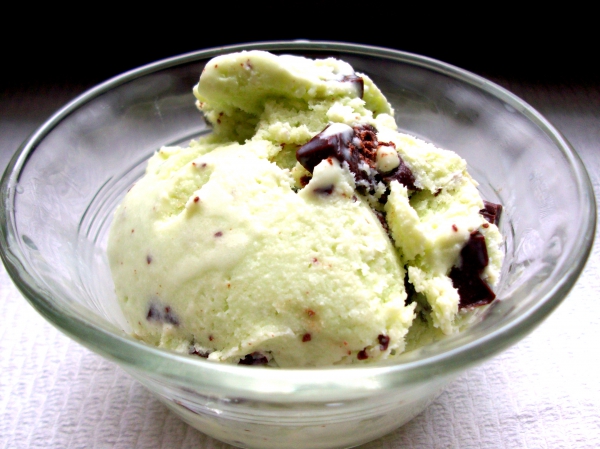 Mint chocolate chip is such an amazing ice cream combination. This ice cream takes it to a whole new level by being made of completely raw, dairy-free ingredients! That means it is bursting with enzymes and vitamins that haven't been destroyed by heat. You won't find that in dairy-filled ice cream!
Ingredients:
1 cup coconut water
2 cups young coconut meat (or additional avocado if unavailable)
2 cups diced avocado
1/2 cup raw agave nectar or raw honey or raw coconut nectar
seeds of one vanilla bean
a pinch of sea salt
1 tsp pure peppermint extract
1/2 cup coconut oil, warmed to liquid
1/4 cup raw cacao powder
1/2 cup chopped raw chocolate chunks
Directions:
Add coconut water to a food processor, along with avocado, coconut, agave nectar, vanilla, and sea salt and peppermint extract. Process until smooth, then with the processor running, add the coconut oil slowly and process until well incorporated, about a minute. Remove 1/4 of the mixture. Pour the remaining mixture into an ice cream maker and process according to directions. Meanwhile, place the set aside portion of the base into the food processor and add 1/4 cup raw cacao powder. Process until smooth and set aside. Remove from ice cream maker, and stir in raw chocolate chunks. Pour 1/3 of the frozen ice cream mixture into the bottom of a freezer safe container, then 1/3 of the chocolate mixture. Then 1/2 the remaining mint mixture, then half the remaining chocolate mixture, then the rest of the mint mixture, then the chocolate. Swirl with a knife, and cover. Let sit in the freezer for at least four hours or overnight to firm up to scoopable consistency.
**Source: **fragrantvanillacake.blogspot.com
---
4

Strawberry Ice Cream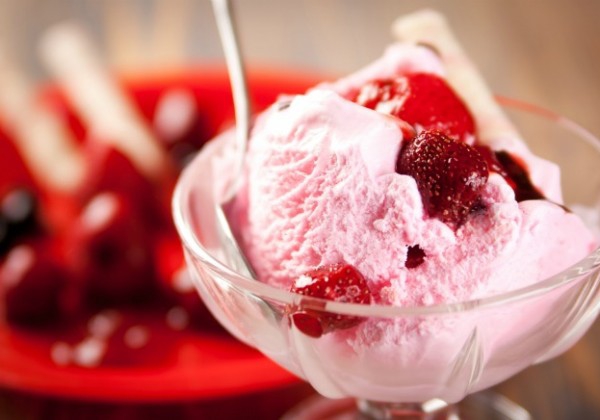 The simplicity of a good strawberry ice cream holds a place in my heart. Strawberries are in season during the summer, making this a more than ideal way to beat the heat. Coconut milk makes this ice cream thick and creamy. However, the best part is there are only 3 ingredients to make this.
Ingredients:
2 cans coconut milk
6 ounces frozen strawberries OR 1 ½ cups fresh strawberries
1/3 cup raw honey
Directions:
Using only the fat from the canned coconut milk, blend all ingredients. Now there are several ways to freeze the ice cream base, and there are several ways to process the ice cream.
Freezing and processing options:
Freeze ice cream base in ice cube trays. Once frozen process in a food processor until creamy.
Freeze ice cream base in ice cube trays. One frozen press through a Champion Juicer.
Pour ice cream base into a bowl and stir occasionally as it freezes. Eat as soon as it reaches a thick consistently.
Pour ice cream base into a large shallow dish (like a casserole dish). Once frozen scrape the solid mass with a fork until soft enough to serve.
Freeze ice cream base in popsicle molds.
Use an ice cream maker.
**Source: **immerwachsen.com
---
5

Cherry Chunk Protein Ice Cream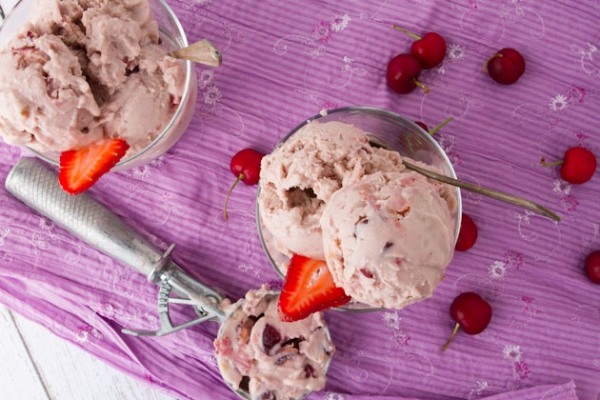 This recipe does not use your typical coconut milk as the base. It is so creative and uses cooked navy beans! That gives you a nice high protein and fiber ice cream that tastes delicious. You will not taste the beans at all. The best part is that this recipe requires no ice cream maker!
Ingredients:
2 cups cooked navy beans
2 cups non-dairy milk — I used my homemade vanilla nut hemp milk
1 ripe banana
2 tablespoons coconut nectar or honey
2 teaspoons pure vanilla extract
¼ teaspoon pure almond extract
8 frozen strawberries, thawed and diced
2 handfuls of cherries, pitted
Directions:
Add navy beans, non-dairy milk, banana, honey and extracts to the just of your high powered blender and blend on high for 3 minutes or until ridiculously smooth.
Pour into a bowl and stir in strawberries and cherries.
Ice cream maker version: transfer mixture into a bowl. Cover and chill for 12 hours. Then, use in your ice cream maker, according to its directions.
Freezer method: separate mixture into 4 bowls and place in the freezer for a total of 3 hours. Remove bowls from the freezer every 30-45 minutes to whisk everything together and prevent the mixture from clumping.
**Source: **healthfulpursuit.com
---
6

Cookies and Cream Ice Cream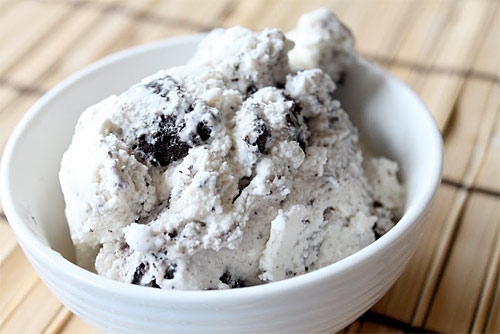 Did you know that Oreos don't actually have any dairy in them? It's true, making cookies and cream a valid option for those allergic to dairy. If you are allergic to gluten or just want something healthier than Oreos, you can always buy organic sandwich cookies. There are also homemade "Oreo" recipes online.
Ingredients:
2 1/2 cups coconut milk
1/2 cup water
1/2 cup cane sugar
12 chocolate creme filled cookies
Directions:
In a large bowl, whisk together the coconut milk, water, and cane sugar until the sugar is fully dissolved. Chill the mixture for 2 hours in the refrigerator(optional, but recommended). Churn in an ice cream maker to manufacturer's directions. While churning, crush the cookies into smaller pieces. Add them to the ice cream in the last 2 minutes of churning. Move to an airtight container and freezer for 2 hours before serving.
**Source: **thewannabechef.net
---
7

Funfetti Cake Batter Ice Cream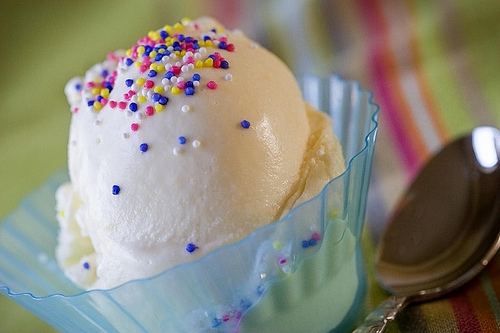 This ice cream is so festive and fun! it would go great with some dairy-free birthday cake or any holiday for that matter. Even if it isn't a special occasion, this ice cream will taste cool and creamy no matter what. Besides, who wouldn't want to eat cake batter in ice cream form? I thought so.
Ingredients:
2 cups non-dairy milk (I used unsweetened almond milk)
1 cup light coconut milk
1/2 cup agave or 3/4 cup natural sugar (stevia to taste works too- a couple tsp or so should do the trick!)
2 tbsp + 1 tsp arrowroot powder
pinch of sea salt (don't omit)
2 tsp vanilla extract
1/2 tsp cream of tartar
drop of almond extract
sprinkles
Directions:
In a small bowl, mix 1/4 cup non-dairy milk with the arrowroot powder, and set aside. In a medium saucepan over low/medium heat, combine the rest of the non-dairy milk, the coconut milk, the agave or sugar, and the salt. Heat, stirring frequently with a whisk, until bubbles start to simmer on the sides- don't let it boil! Remove from heat, carefully add the arrowroot mixture, and continue to whisk. It should begin to thicken ever so slightly. Add the vanilla extract, cream of tartar, and almond extract. Stir for about a minute more, transfer to a refrigerator-proof bowl, and set aside to cool to room temperature, stirring every now and then. Once room temperature (the mixture should be like a very thick cream in consistency at this point), cover and put in the fridge for about 2 hours.
After, remove from the fridge, pour into your ice cream maker and freeze according to its instructions. Once finished churning, *carefully* stir in the sprinkles- you don't want the color of the ice cream to change because of the dyes in the sprinkles! Either serve right away, or, for a harder ice cream (which I prefer over soft-serve), carefully spoon into a freezer-proof container and freeze until desired hardness.
**Source: **pursuitofhippieness.com
---
8

Chocolate Brownie Ice Cream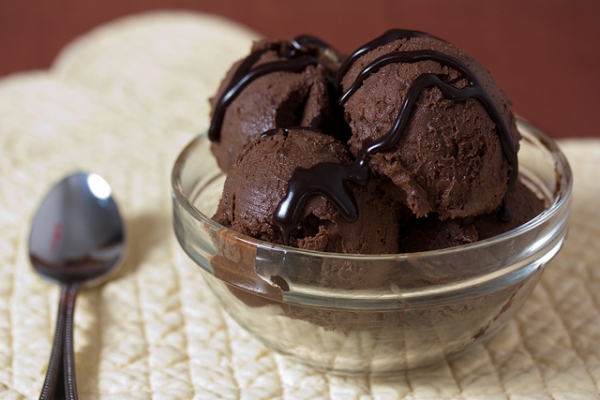 You knew my chocolate-obsessed self had to include a chocolate recipe in here. It isn't just your plain old chocolate ice cream though, it has extra chocolate. With brownies. The coconut milk makes this so rich, and the fudgy brownies takes this ice cream to a whole new level. You don't even need an ice cream maker! Go make this now, I promise you won't regret it.
Ingredients:
1 can(~1 3/4 cups) full fat quality coconut milk (organic when possible)
1 cup unsweetened vanilla almond milk
1/2 tsp xanthan gum
2/3 cup unsweetened cocoa powder
1 tsp pure vanilla extract
1/4 cup + 2 Tbsp raw sugar ground in a coffee grinder (or sub honey)
3-4 vegan gluten free black bean brownies (minimalistbaker.com)
Directions:
Place coconut and almond milk, xanthan gum, cocoa powder, vanilla and sugar in a blender and blend until well combined. Transfer to a mixing bowl, cover and refrigerate until chilled through – at least a couple hours.
Once chilled, pour into pre-chilled ice cream maker and use according to directions. (Alternatively, pour into a freezer-safe container, cover and freezer, taking out to stir every couple hours to aerate.)
Once the ice cream is at soft-serve consistency, add in brownie chunks. You can either do this at the end of the ice cream maker's churning process, or once you pour it into a container. Smooth the top with a spoon, cover and freeze until firm. Or, eat immediately though it will be quite soft.
**
****Source: **minimalistbaker.com
---
9

Cookie Dough Ice Cream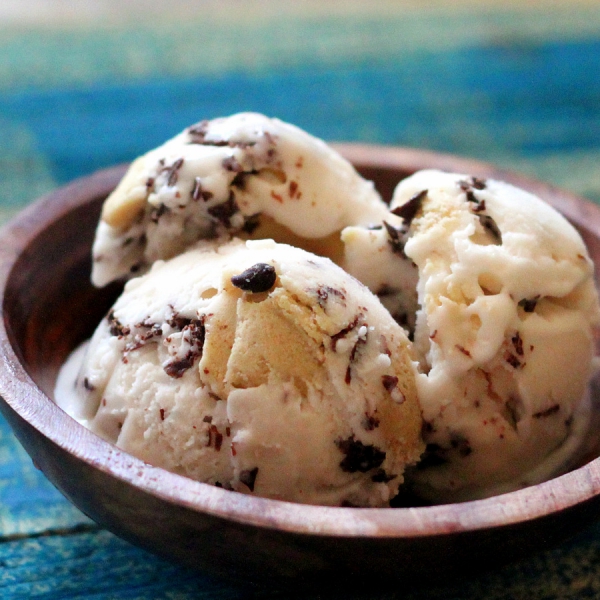 I saved the best for last! Cookie dough ice cream is a winner for everyone. This has to be my favorite ice cream flavor, and now both you and I can enjoy this dairy-free version! Creamy vanilla ice cream with chocolate chip cookie dough bits mixed in make this perfect for cooling off in hot weather.
Ingredients:
1 1/2 cups creamer (such as Silk) or canned full-fat coconut milk
1/2 cup milk of choice, or omit and increase the creamer or coconut milk to 2 cups
1/4 cup brown sugar or coconut brown sugar (Agave or pure maple syrup will also work. I haven't tried xylitol in this recipe.) (40g)
1 packet nunaturals stevia, or 1 extra tbsp of the sugar or agave listed above
1/8 tsp salt (don't omit)
1/8 tsp baking soda (This is for flavor and can be omitted if desired)
1 and 1/2 tsp pure vanilla extract
chocolate chips
Directions:
Mix all ingredients (except chips) in a dish. Transfer to your ice cream maker. (I have a Cuisinart, and it took 15 minutes to turn the liquid into ice cream.) Mix in chips. Eat now, or freeze for 20 minutes if a firmer texture is desired. (Note: homemade ice cream has its best texture if eaten the same day it's made.) If you don't have an ice-cream maker, freeze mixture and then re-blend in a Vita-mix or Blend-tec. Or you can use a different ice cream recipe as the base and still make the following cookie dough recipe:
For the cookie dough:
1/3 cup plus 1/4 cup oat flour (70g) (You can probably sub a different flour; I've just not tried it and therefore can't vouch for the results.)
1/8 tsp salt
1/4 tsp baking soda (for flavor)
2 tbsp brown sugar or coconut brown sugar (You can use xylitol; you'll just lose that extra "cookie dough" flavor from the brown sugar) (20g)
1 tbsp plus 2 tsp xylitol or white sugar (21g)
1/2 tsp pure vanilla extract
2 tbsp plus 2 tsp milk of choice, or more if needed (40g)
(optional) 1 tbsp vegan butter or oil (vegetable or coconut oil) (14g)
Mix your dry ingredients very well, then add in wet and mix. Squish into a giant ball, then break off pieces and stir into the already-made ice cream base.
**
****Source:**chocolatecoveredkatie.com
You will not miss dairy at all with these delicious ice cream recipes. Your friends and family will want to try some too, so make sure to make enough! Do you agree with me that ice cream is the best way to cool off during the summer?
More
---
Comments
Popular
Recent