If you thought my cannoli recipes were drool-worthy, wait until you check out these amazing cake batter recipes. I never knew there were so many variations of recipes you could whip up with cake batter! From cookies and cake pops, to pancakes and doughnuts, my screen never looked so tasty! If you have a birthday coming up, be sure to send one of these fun cake batter recipes over to the head baker in your family!
---
1

Cake Batter Pancakes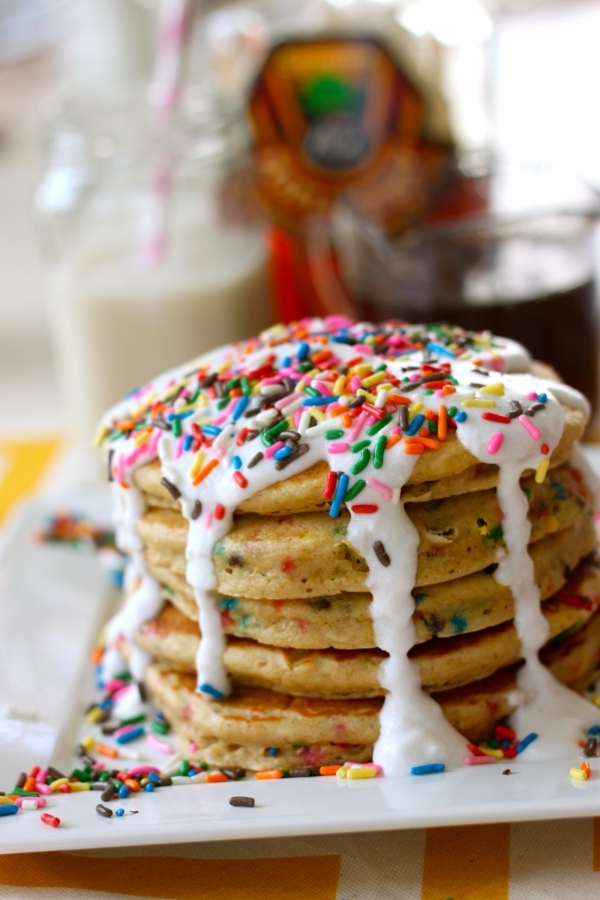 Who wouldn't want to wake up to this cake batter recipe on the morning of their birthday! I love when my husband mixes up the pancake batter with different fruits likes strawberries, blueberries, or bananas. However, I am predicting in the near future that he is going to be experimenting with a new idea when I show him this fun recipe, sprinkles included!
Recipe Ingredients:
Pancakes
1 cup Original Bisquick® mix
1 cup Betty Crocker® SuperMoist® yellow cake mix
3 tablespoons candy sprinkles
1 cup milk
1 teaspoon vanilla
2 eggs
Glaze and Garnish
2 ½ cups powdered sugar
3 tablespoons plus 2 teaspoons milk
1 teaspoon vanilla
Additional candy sprinkles
Recipe Directions:
Heat griddle or skillet over medium-high heat or electric griddle to 375°F; grease with cooking spray, vegetable oil or shortening. (Surface is ready when a few drops of water sprinkled on it, dance and disappear.)
In a medium bowl, stir together pancake ingredients until blended. Pour slightly less than 1/4 cupfuls onto hot griddle. Cook until edges are dry. Turn; cook until pancakes are golden brown. Stack on serving plates.
In small bowl, beat powdered sugar, milk and 1/2 teaspoon vanilla with whisk until smooth.
To serve, top each serving with glaze and additional candy sprinkles.
Source: bettycrocker.com
---
2

Cake Batter Monkey Bread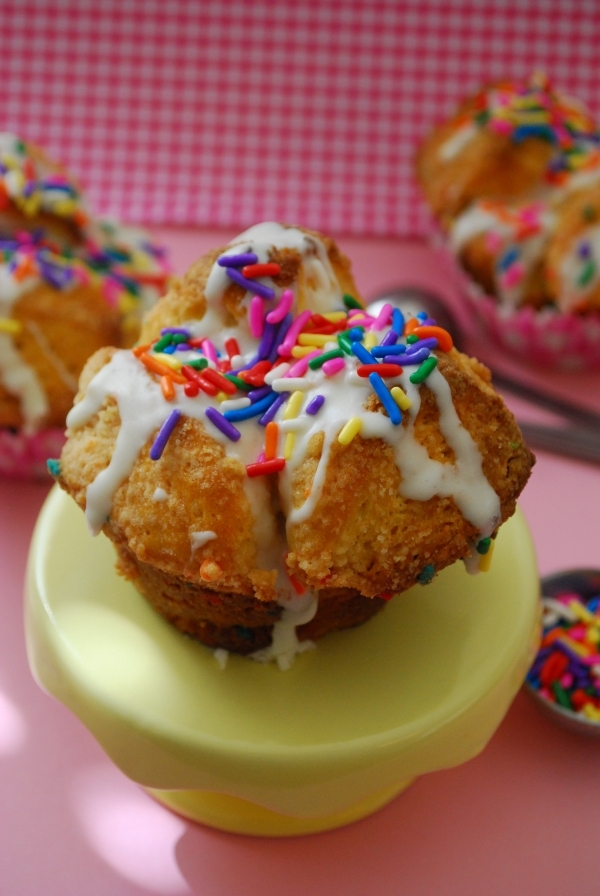 In the words of Izzie and Meredith on "Grey's Anatomy"...SERIOUSLY, SERIOUSLY? Monkey Bread is pretty amazing on its own, but now you're telling me there's a cake batter monkey bread recipe I can make….I'm speechless! I was recently at a birthday party where someone brought homemade monkey bread, so when I saw this recipe I just knew I had to pin it to my pinterest board! So what do you think, will it taste as good as an original monkey bread recipe?
Recipe Ingredients:
Monkey Bread
1 can (16.3 oz) Pillsbury® Grands!® Homestyle refrigerated biscuits
½ cup butter, melted
½ cup packed brown sugar
⅓ cup vanilla cake mix (dry)
2 tablespoons ground cinnamon
Rainbow candy sprinkles, as desired
Icing
¼ cup butter
⅓ cup milk
½ cup vanilla cake mix (dry)
⅓ cup granulated sugar
Recipe Directions:
Heat oven to 375°F. Spray 4 (4-oz) soufflé dishes with cooking spray.
Separate dough into 8 biscuits. Cut each biscuit into 4 pieces. Roll into balls. Place melted butter in small bowl. In another small bowl, mix brown sugar, 1/3 cup cake mix, the cinnamon and sprinkles. Dip each ball of dough into melted butter, then roll in sugar mixture. Place 8 balls in each soufflé dish.
Bake about 20 minutes or until puffed up and browning on edges.
Meanwhile, in 2-quart saucepan, melt 1/4 cup butter over medium heat. Add milk, 1/2 cup cake mix and the granulated sugar. Mix with whisk to form thick glaze.
Remove from heat. Cool 5 minutes. Spread on each monkey bread. Top with sprinkles.
Source: pillsbury.com
3

Baked Confetti Doughnuts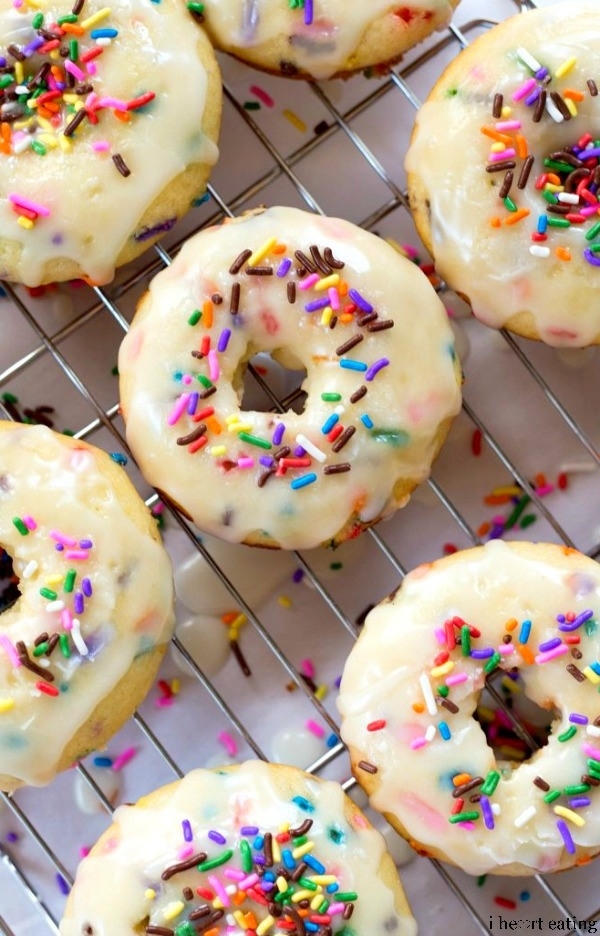 From pancakes to monkey bread and now cake batter doughnuts, mornings will never be boring! No these are not just doughnuts with sprinkles on them, the recipe actually calls for yellow cake mix. Another interesting note about this recipe; it also calls for Bisquick mix, which will turn this scary sounding recipe into an easy one in 20 minutes flat. Don't forget to grab a few doughnut pans at the store before whipping up the cake batter!
Recipe Ingredients:
Doughnuts
¾ cup Betty Crocker® SuperMoist® yellow cake mix (from 15.25-oz box)
1 cup Original Bisquick® mix
¼ cup sugar
½ teaspoon salt
¾ cup milk
2 eggs, beaten
3 tablespoons multi-colored nonpareils
Glaze and Topping
½ cup Betty Crocker® Rich & Creamy vanilla frosting (from 16-oz container)
1 tablespoon plus 1 teaspoon warm water
¼ cup multi-colored nonpareils
Recipe Directions:
Heat oven to 325°F. Lightly spray 2 doughnut pans with cooking spray.
In large bowl, mix cake mix, Bisquick mix, sugar and salt. Stir in milk and eggs. Mix until well combined. Stir in 3 tablespoons nonpareils. Fill each doughnut cup three-fourths full.
Bake 8 to 10 minutes or until doughnuts spring back when touched. Cool in pans 10 minutes; remove to cooling rack. Cool completely.
Meanwhile, in small bowl, stir frosting and warm water with spoon until smooth. Dip one side of each doughnut into glaze; top with 1/4 cup nonpareils.
Source: bettycrocker.com
---
4

Funfetti Cake Batter Ice Cream Pie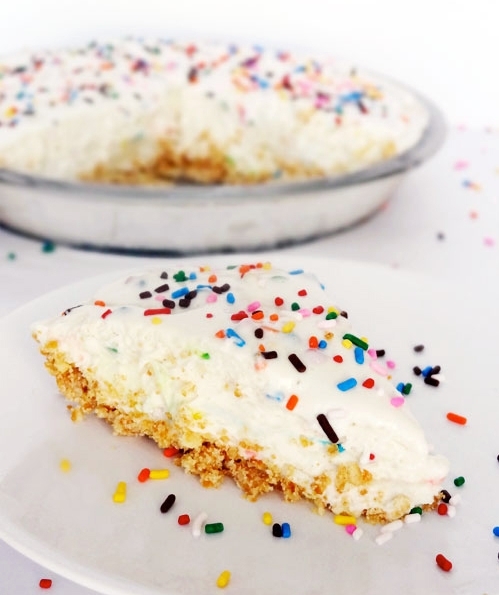 Well if that name isn't a mouthfull! But who cares when it's cake batter ice cream pie, I mean come on it's ice cream pie that taste like cake! The craze all began when someone came up with the idea for cake batter ice cream and now it has taken off into out of this world dimensions with the craziest recipe ideas. My stepdaughters love ice cream cake to celebrate their birthdays, which we usually just purchase at the grocery store. But who knows, maybe next year they will get a surprise!
Recipe Ingredients:
Crust
32 nilla wafers (About 1 cup)
1/4 cup butter (melted)
Filling
1/4 cup milk + 6 tbsp
1 3/4 cup cake mix
8 oz cream cheese, softened
1/2 cup sugar
8 oz Cool Whip, thawed
1 can rainbow chip icing
1-2 tbsp sprinkles
Recipe Directions:
Crust
Crush the nilla wafers into a fine crumb.
Mix the nilla wafer crumbs with the melted butter.
Press into the bottom of a greased 9 or 10 inch pie pan.
Press the crumbs up the sides as much as it will go. Set in the freezer while you make the filling.
FIlling
Mix cake mix and 6 tbsp of milk together. It will be thick.
Mix the cream cheese, milk, cake mix mixture and sugar together with an electric mixer. Mix until smooth.
Gently fold in Cool Whip.
Remove pie crust from freezer and add half of the pie filling into the crust.
Add a layer of rainbow chip icing.
Add the remaining pie filling.
Heat about 1/4 cup rainbow chip icing for about 5-7 seconds, until pourable.
Pour rainbow chip icing over top of pie and add sprinkles.
Freeze overnight.
Source: lifeloveandsugar.com
---
5

Funfetti Cake Batter Truffles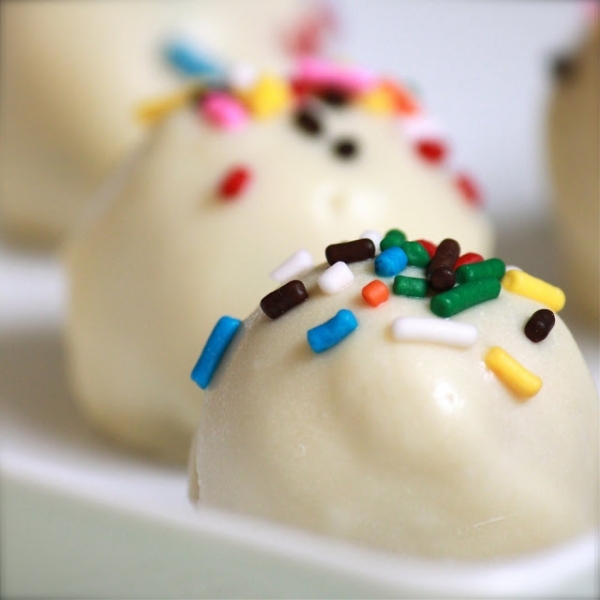 Could cake batter get any more amazing than these delectable little truffles! If you love cake pops, especially the ones they sell at Starbucks, then this recipe is a must try. The first time I had a cake ball, it was love at first bite! Now every time I stop in a Starbucks I have to pick one up, because well I would probably weigh a million pounds if I made the effort to bake them at home!
Recipe Ingredients:
For the Truffle
1 1/2 cups white flour
1 cup Funfetti cake mix
½ cup unsalted butter, softened (do not melt)
1/2 cup white sugar
2 teaspoons vanilla extract
1/8 teaspoon salt
3-4 Tablespoons whole milk
2 Tablespoons sprinkles of choice
For the Coating
16 ounces (8 squares) vanilla almond bark (if you want to use food coloring to dye coating, use white chocolate instead. Almond bark does not accept dye!)
4 Tablespoons Funfetti cake mix
A handful of sprinkles
Recipe Directions:
Beat together butter and sugar using an electric mixer until combined. Add cake mix, flour, salt, and vanilla and mix thoroughly. Add three tablespoons of milk or more if needed to make a dough consistency. I have found that the dough typically needs more, but start with three to play it safe. Dough must be malleable, NOT liquid-y! Mix in sprinkles by hand.
Roll dough into one inch balls and place on a parchment or wax paper lined cookie sheet. (I used aluminum foil because I didn't have anything else at the time) Chill dough balls in the refrigerator for 15 minutes or until firm.
While dough balls are chilling, place almond bark (or white chocolate if using food coloring) in a microwave safe bowl and cook in microwave at 30 second intervals until fully melted. Be sure to stir the contents in between intervals.
Once melted, quickly stir in cake mix until it is fully incorporated. Do not overstir.
Use a fork to dip chilled truffles into the almond bark. Shake off excess coating by tapping the bottom of the fork on the side of your bowl. This process is a little tricky at first, but as you get going, you'll get into a groove and your truffles will start looking more uniform.
Place truffle back on cookie sheet, shake sprinkles over them immediately before the coating hardens, and place back in the refrigerator for an another 15 minutes. Once truffles have hardened, place them in an airtight container and store them in the refrigerator until serving.
Source: kailleyskitchen.com
---
6

Funfetti Cake Batter Popcorn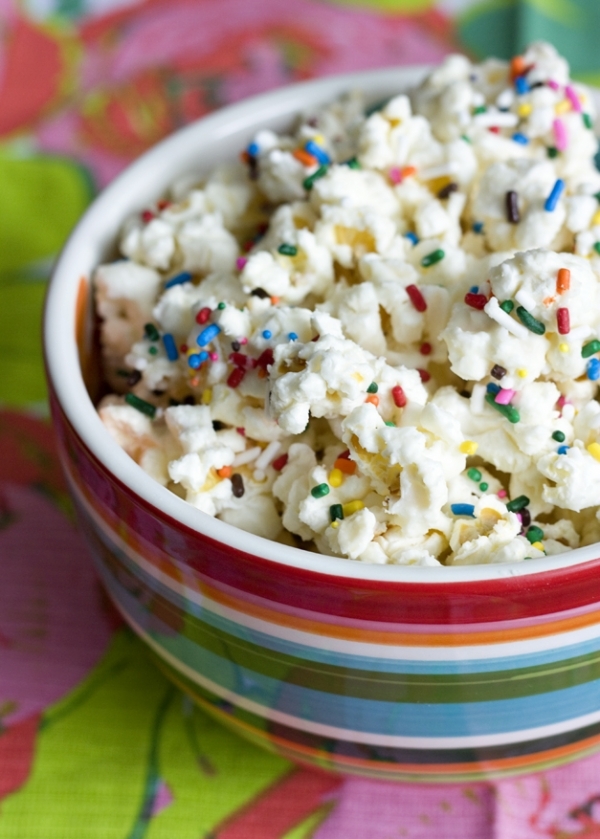 Say what? Yes, you read that correctly, cake batter popcorn...no lie! If you thought your friends wouldn't believe you when you told them about cake batter monkey bread, well wait until you tell them about this fun recipe! This would be great for a kid's birthday party or for holiday parties.
Recipe Ingredients:
2 bags microwavable kettle corn or white popcorn
1-1/2 cups white chocolate chips or vanilla candy melts
1/4 cup vegetable oil
1-1/2 cup white or yellow cake mix
1/3 cup rainbow sprinkles
Recipe Directions:
Pop the popcorn in the microwave, following packaging instructions. Transfer popcorn to a large bowl, being careful to pick out all of the unpopped kernels.
Melt the white chocolate chips or candy melts in the microwave in 30 second intervals, stirring between each 30 seconds until it is fully melted.
Stir in the vegetable oil to the melted chocolate until smooth. Then add the cake mix to the chocolate - the mixture will be thick, but mix until well-incorporated.
Drizzle the chocolate/cake batter mixture over the popcorn and add half of the sprinkles. Use your (clean) fingers to toss everything together until evenly coated.
Spread the popcorn onto wax paper-lined cookie sheets to allow the chocolate to harden and sprinkle the remaining sprinkles on top.
Let popcorn harden for about 20 minutes on the counter, or 5 minutes in the fridge, and enjoy!
Source: ericasweettooth.com
---
7

Cake Batter Ice Cream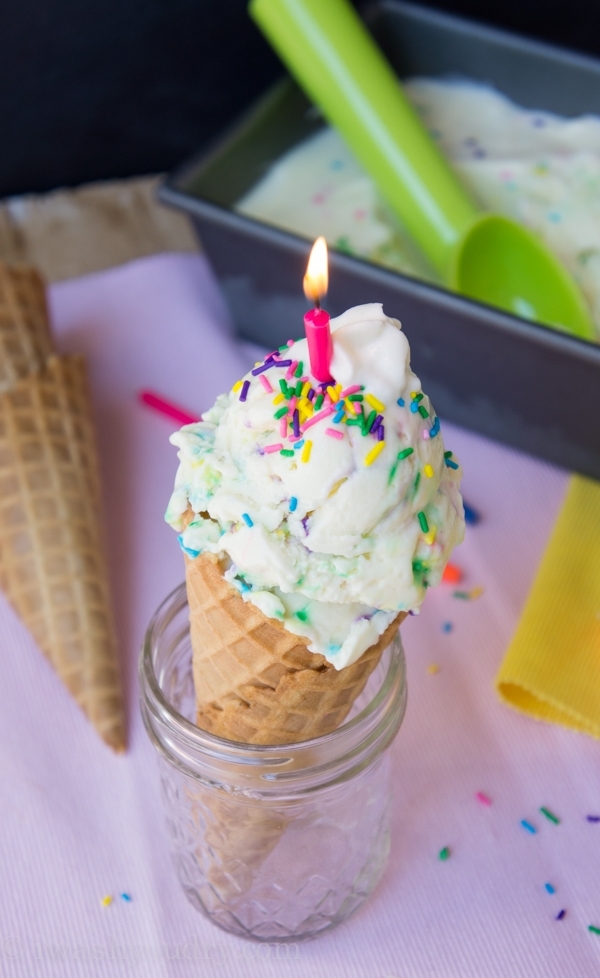 This is where the cake batter trend began, with an ice cream recipe. Have you ever tasted cake batter ice cream? There are actual bits of cake in it, that's what makes it so amazing. Who would have thought that one day we would be eating other recipes like ice cream, cookies, and pancakes that had pieces of cake in them! What will they think of next!
Recipe Ingredients:
3 eggs
2 cups skim or 1% milk
1 cup sugar
2 cups heavy cream
2 tsp vanilla extract
½ – 1 cup dry yellow/white cake mix or the cake mix/batter of your choice, to taste
Frosted cake chunks, optional
Recipe Directions:
In a large saucepan, beat the eggs, milk and sugar until well blended.
Cook the egg mixture over low heat for roughly 10 minutes, stirring constantly, until thickened. It should smoothly coat the back of a wooden spoon.
Remove from the heat and stir in the cake mix.
Let the mixture cool and then add the heavy cream and vanilla extract.
Stir until blended and refrigerate the mixture until it is completely chilled, for several hours or up to overnight.
Following the instructions of your ice cream maker, pour the chilled mixture into your machine and stir it until the ice cream forms. It will typically be more like soft-serve when you first make it. If you want firmer ice cream, transfer it to a sealed container once it reaches the soft-serve consistency and let it freeze for several hours until it hardens.
Optional: stir in chunks of frosted funfetti cake once the cake reaches a frozen yogurt consistency and mix a little bit more before freezing into ice cream.
Source: honestcooking.com
Have you tried any of these cake batter recipes before, which one is your favorite?
---
Comments
Popular
Related
Recent