Because dark chocolate is such a power food, lots of gourmets, gourmands, and foodies are experimenting and creating more savory recipes with chocolate. You might think that the traditionally sweet treat wouldn't taste good in a savory dish, but if you do it right, chocolate adds a richness and texture to many sorts of dishes. If you're feeling a little adventurous and want to try something new, consider making some savory recipes with chocolate!
---
1

White Chocolate Baba Ghannouj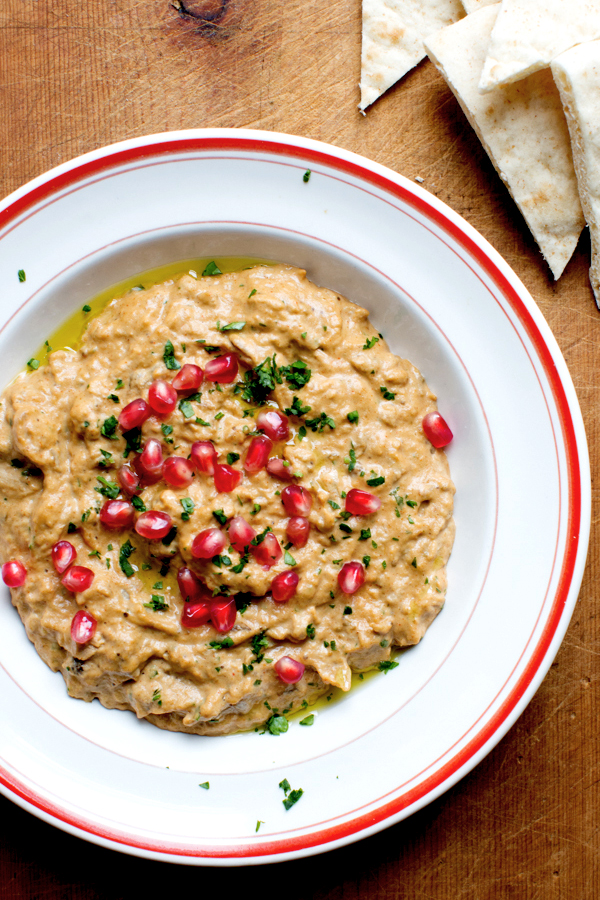 I know what you're thinking: there's no way this tastes good, especially with white chocolate, which is notoriously sweeter than milk or dark chocolate. However, this is one of the most innovative savory recipes with chocolate I've ever seen. It's the creamy texture of the chocolate that makes it work, because it perfectly complements the smoky flavor of the eggplant and the nuttiness of the tahini. It even works with the paprika and the garlic. Try it, just once – you'll love it!
Ingredients:
8 cloves garlic, unpeeled
4 medium eggplants, sliced in half lengthwise
⅓ cup fresh lemon juice
⅔ cup tahini
4 oz. white chocolate, melted and cooled
2 tbsp. finely chopped parsley
1½ tsp. ground cumin
1½ tsp. paprika
Kosher salt and freshly ground black pepper, to taste
Pomegranate seeds, for garnish
Toasted pita bread, for serving
Directions:
Heat oven broiler on high. Place garlic and eggplants, skin side up, on a foil-lined baking sheet; broil until tender and charred all over, about 20 minutes for garlic, and about 40 minutes for eggplant. Peel garlic and peel, seed eggplants, and scoop out flesh from eggplant; transfer to a food processor with juice, tahini, chocolate, half the parsley, the cumin, paprika, salt, and pepper; puree until smooth. Transfer to a serving dish and garnish with remaining parsley and pomegranate seeds; serve with pita on the side for dipping.
Source: saveur.com
---
2

Spinach Pear Salad with Chocolate Vinaigrette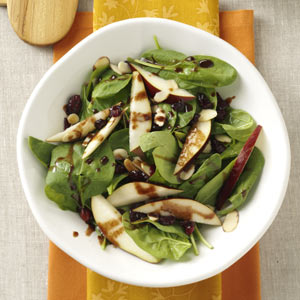 Of course, some recipes that use chocolate are still on the sweeter side. I love pears – on their own, poached, and definitely in salads, where they lend a cool, crisp, fresh sweetness to the greens. With this fab chocolate vinaigrette, this will be your new go-to salad, whether you have it for lunch, use it for the salad course, or eat it as a side.
Ingredients:
1 ounce milk chocolate, chopped
3 tablespoons balsamic vinegar
3 tablespoons canola oil
1 teaspoon honey
1/4 teaspoon salt
1/8 teaspoon pepper
1 package (6 ounces) fresh baby spinach
1 large pear, sliced
3 tablespoons dried cranberries
2 tablespoons sliced almonds, toasted
Directions:
In a microwave, melt chocolate; stir until smooth. Whisk in the vinegar, oil, honey, salt and pepper; set aside.
Divide spinach among four salad plates. Top with pear, cranberries and almonds. Drizzle with dressing. Yield: 4 servings.
Source: tasteofhome.com
3

Triple Chocolate Beef and Bean Chili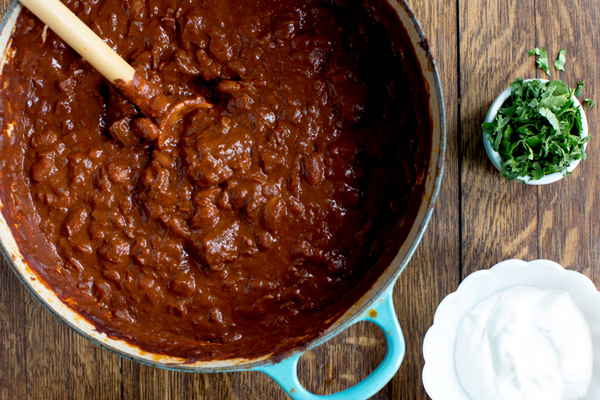 I never would have expected chocolate to taste so good in chili – and with this recipe, you get a triple-charged dose! Honestly, though, it brings out these rich, really gourmet flavors you won't believe. If you've ever wanted to make a restaurant-quality chili, capable of winning any kind of cook-off, get experimental with this one – and feel free to add some extra heat!
Ingredients:
½ lb. dried pinto beans, soaked overnight and drained
1 bay leaf
2 dried chipotle chiles, stemmed and seeded
1 dried ancho chile, stemmed and seeded
1 tbsp. unsweetened cocoa powder
2 tsp. dried oregano
2 tsp. ground cumin
1 tsp. paprika
½ tsp. ground cinnamon
1 lb. boneless beef chuck, trimmed and cut into 1" cubes
Kosher salt and freshly ground black pepper, to taste
¼ cup olive oil
4 cloves garlic, chopped
2 large white onions, chopped
1 6-oz. can tomato paste
1 15-oz. can crushed tomatoes
12 oz. chocolate stout beer
1 ½ tbsp. brown sugar
2 ½ cups chicken stock
2 oz. semisweet chocolate, finely chopped
2 tbsp. lime juice
Sour cream and roughly chopped cilantro, to garnish
Directions:
Put beans and bay leaf into a large pot and cover with 3" water; bring to a boil. Reduce heat to medium-low; cook, covered, and stirring occasionally, until beans are tender, 60-90 minutes. Drain beans, discarding bay leaf; set aside.
Heat a 6-qt. pot over medium-high heat. Add chiles, and cook, turning once, until toasted, about 5 minutes. Transfer to a bowl and cover with 2 cups boiling water; let sit 20 minutes. Drain chiles, reserving ½ cup soaking liquid; transfer chiles and liquid to a blender with cocoa, oregano, cumin, paprika, and cinnamon and puree until smooth. Set sauce aside.
Add oil to pan and return to medium-high heat. Season beef with salt and pepper and, working in batches, add beef to pan; cook, stirring occasionally, until browned on all sides, 4–6 minutes. Using a slotted spoon, transfer beef to a bowl. Add garlic and onions to pan; cook, stirring occasionally, until golden, about 4 minutes. Add tomato paste; cook, stirring until slightly caramelized, about 2 minutes. Add reserved sauce, cook until slightly reduced, about 3 minutes. Return beef to pot, plus tomatoes, beer, sugar, and stock; bring to a boil. Reduce heat to medium-low; cook until beef is very tender, 1-1 ½ hours. Stir in reserved beans, along with chocolate, juice, salt, and pepper. Serve ladled into bowls with sour cream and cilantro.
Source:
saveur.com
---
4

Cowboy Rubbed Rib Eye with Chocolate Stout Pan Sauce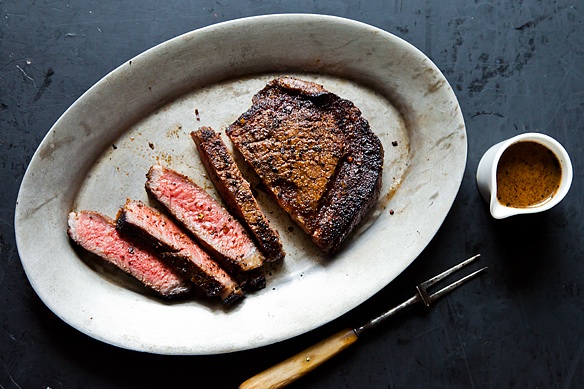 This recipe is rich, earthy, and original, proving why chocolate makes a fantastic rub. After you get used to this, or if you're comfortable experimenting with flavor profiles, I seriously recommend adding in some of your own spice ideas. However, the recipe is really delicious just as it is; I've never had a better rib eye!
Ingredients:
1 Nice, thick rib eye, 1 to 1 1/2 inches thick, big enough for two
1 tablespoon Ground coffee
2 tablespoons Kosher salt (we used Diamond Crystal -- you may want to reduce the salt to taste, especially if using Morton's Kosher or other finer salt, see comments)
2 teaspoons Dark brown sugar
1 teaspoon Smoked paprika
1 tablespoon Coarse ground black pepper
1 teaspoon Ground cumin
1 teaspoon Hot red pepper flakes (preferably Ancho chile)
1 cup Chocolate stout (you'll have to drink the rest)
½ cup Beef stock
1 tablespoon Unsalted butter
1 sprig Thyme
1 tablespoon Vegetable oil (if you are the type to save bacon fat, by all means use it!)
Directions:
Mix the coffee, salt, paprika, peppers & cumin together and toast lightly in pan until fragrant (alternatively you can toast whole spices then grind). Mix the spices with the sugar to make the rub.
Spread the rub all over the steak and let sit for awhile, if you do it the night before you'll have stronger flavor but if you do it right before serving it'll be good, too. (If you pre-rub and set it in the fridge, be sure to bring it up to room temperature before searing, so you do not shock the meat.)
Heat a cast iron pan until it's really really hot -- a drop of water flicked into the pan should sizzle and bounce. Add vegetable oil, wait a few seconds until the oil heats up, then place the steak in the pan. It should sizzle; leave it there, do not touch it at all for 3-4 minutes. It should be browning on the bottom. Then place it under a hot broiler and broil to medium rare or desired doneness.
Remove the steak and let rest on a warm plate, cover with aluminum foil.
Add the thyme sprig to the pan and let it saute a bit till it gets nice and fragrant. Pour in the chocolate stout and deglaze the pan. Add the beef broth, whisk together and reduce by half over medium heat.
Remove the thyme sprig and whisk in the butter. Season to taste.
Slice the steak on the bias and drizzle the sauce over top. This is YUMMY with creamed spinach and hash browns or baked potato and a nice big salad.
Source: food52.com
---
5

Cocoa-Rubbed Baby Back Ribs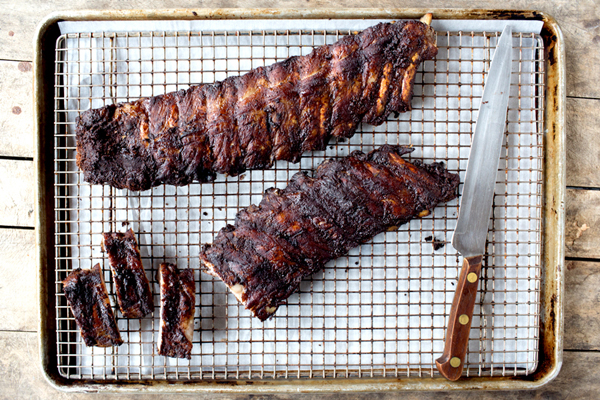 And since chocolate makes such a great rub, why not try it with other cuts and kinds of meat? Summer's finally getting close, ribs are a summertime favorite … you see where I'm going with this, right? Of course, once you try this recipe, you'll be wanting ribs all year round, not just in warm weather. Again, if you like culinary experimentation, make your own rub and incorporate the cocoa powder into it.
Ingredients:
⅓ cup unsweetened cocoa powder
½ cup light brown sugar
3 tbsp. ancho chili powder
2 tbsp. kosher salt
2 tbsp. granulated onion
1 tbsp. granulated garlic
1 tbsp. dried oregano
1 tbsp. dried mustard
2 tsp. dried ginger
2 tsp. ground cinnamon
1 tsp. ground allspice
2 racks (3 lb.) pork baby back ribs
Directions:
Mix cocoa, sugar, and spices together in a bowl. Rub ribs generously with spice mixture, and wrap in plastic wrap; refrigerate overnight.
About 2 hours before you plan to serve the ribs, remove them from the refrigerator and allow the ribs come to room temperature. Heat oven to 375°. Place ribs in a shallow roasting pan; bake until tender, about 40 minutes. Increase oven to 450° and transfer ribs to a baking sheet with a wire rack; bake curved side up and flipping once, until browned, 15–20 minutes more. Cut ribs into individual bones to serve.
Source: saveur.com
---
6

Savory Chocolate Mole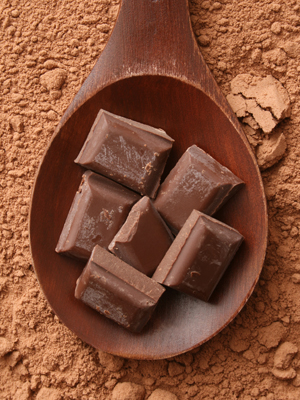 Mole is well-known for using chocolate, and for good reason. There's just something about chocolate and chili powder, and this whole dish is just so creamy. It's ridiculous, so if you're a fan of mole, I recommend making double the recipe the first time you try this one.
Ingredients:
Cayenne pepper to taste
Freshly ground black pepper
1-1/2 pounds chicken, cubed or cut into strips
4 tablespoons olive oil, divided
2 tablespoons mild chili powder
2 teaspoons ground cumin
1 teaspoon ground cinnamon
1-1/2 ounces unsweetened chocolate
4 (14.5-ounce) cans stewed tomatoes
Directions:
In a bowl, combine equal parts cayenne and black pepper to taste. Add chicken and toss gently to coat. Heat 2 tablespoons olive oil in a large pot and add chicken. Cook 4 to 5 minutes, or until just cooked through. Remove chicken with a slotted spoon and reserve.
Meanwhile, combine chili powder with cumin, cinnamon and more cayenne pepper and black pepper as desired. Heat 2 tablespoons of olive oil in the same pot and add chili powder mix. Stir with a spoon and heat over medium heat until blackened, about 6 to 8 minutes.
Reduce heat to low, stir in chocolate, and continue stirring until melted. When chocolate is fully melted, add stewed tomatoes and bring to a boil. Cook for 10 minutes, stirring often. Add chicken and continue cooking until heated through, about 5 minutes. Serve warm.
Source: sheknows.com
---
7

Asado De Bodas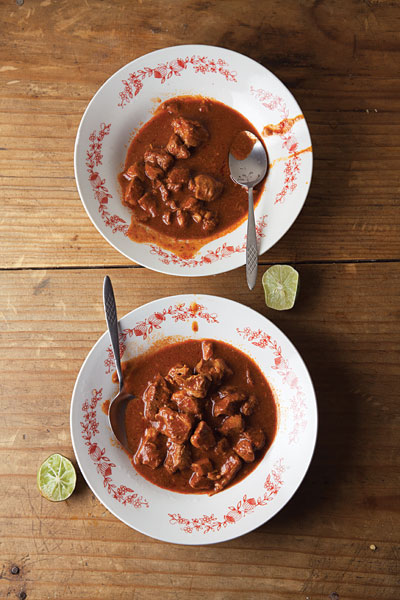 Asado de Bodas, or Pork in Red Chile Sauce, is ideal for those of you fabulous foodies who adore spice. With two types of chiles, cumin, fresh garlic, and onions, you'll get plenty of heat, plus almonds, peanuts, and raisins add to the texture of the to die for Mexican chocolate. I think, in fact, that we're having this for dinner in my house today.
Ingredients:
8 dried New Mexico chiles, stemmed and seeded
2 dried Guajilo chiles, stemmed and seeded
1/2 cup almonds
1/2 cup unsalted peanuts
1/2 cup raisins
1/4 tsp. ground cumin
1/4 tsp. ground cinnamon
3 cloves garlic, smashed
2 whole cloves
2 oz. Mexican chocolate, such as Ibarra, roughly chopped
1/4 small yellow onion, chopped
Kosher salt and freshly ground black pepper, to taste
1 tbsp. canola oil
2 lb. boneless pork shoulder, cut into 1″ chunks
Directions:
Heat chiles in a 12″ skillet over high heat and cook, turning, until lightly toasted, about 5 minutes; transfer to a blender. Return skillet to heat and add almonds and peanuts; cook, stirring often, until lightly toasted, about 3 minutes. Transfer nuts to blender, reserving skillet, and add raisins, cumin, cinnamon, garlic, cloves, chocolate, onion, and 5 cups boiling water; season with salt and pepper, and puree until smooth. Set sauce aside.
Heat oil in skillet over medium-high heat. Season pork with salt and pepper and, working in batches, add to skillet and cook, turning as needed, until pork is browned on all sides, about 12 minutes.
Stir the sauce into the pork and bring to a boil. Reduce the heat to medium-low and cook, stirring occasionally, until pork is tender, about 1 hour.
Source: saveur.com
---
8

Cocoa Mint Roasted Lamb with Orange Roasted Asparagus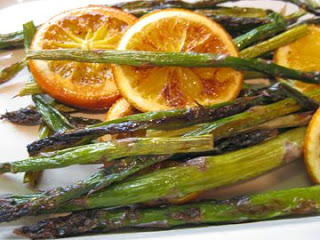 You know lamb pairs perfectly with mint, but what about with mint chocolate? Honestly, I never would have thought the combo would taste this good, but something about it goes wonderfully with the delicate but gamy taste of the lamb. Word to the wise: make the asparagus too, if you're a fan of the vegetable. This whole dish is just heaven!
Ingredients:
3-4 lb Lamb Shoulder or Leg, Boneless
Cocoa Mint Rub:
2 tbls raw sugar
1 tsp kosher salt
¼ cup mint, washed, dried, torn into pieces
1 clove garlic minced fine
¼ cup cocoa powder
1 tbls ground coffee
Orange Roasted Asparagus:
1 lb asparagus
1 tbls olive oil
½ tsp kosher or sea salt
1 small orange
Orange Mint-Basil Sauce:
½ cup mint, washed and dried
½ cup basil, washed and dried
1 orange, zest and juice
2-4 tablespoons of orange juice (depending on the juice in the orange)
1 clove garlic
1 tsp orange vinegar or white-wine vinegar
1 pinch of salt and pepper
½ cup olive oil
Directions:
Lamb:
Preheat oven to 450. Combine the Rub ingredients and pound with a mortar and pestle. Alternatively, it could be blended in a mini-food processor or blender.
Lay the lamb on a cutting board. If the butcher wrapped it in strings to hold it together, leave the strings on. Sprinkle and press the rub onto the lamb until it is well coated with the rub. Place a wire rack inside of a roasting pan. When I don't have a wire rack handy I will place long sticks of celery along the bottom of a baking dish. This allows the meat to be slightly elevated and circulate the heat.
No need for a lid or any moisture. Roast the lamb for 20 minutes at 450. Reduce heat to 325. Stick a thermometer into the center. When the thermometer reaches 135 the lamb will be rare after resting and when it reaches 145 it will be medium after resting.
Remove the lamb, cover with foil or a lid and allow to rest for 15-20 minutes. Cut off the strings if necessary. Slice the meat about ¼-1/2 inch thick.
Asparagus:
Preheat the oven to 425. Gently break off the tough ends of the asparagus by bending it about 2-3 inches from the bottom until it snaps. Toss the asparagus with the olive oil and a pinch of the salt.
Slice the Orange into ¼ inch thick slices. Remove seeds if necessary. Toss onto the asparagus. Sprinkle with a pinch of salt.
Roast for 8-12 minutes until the asparagus is tender and slightly golden.
Sauce:
Place everything except the oil in a blender and blend until smooth. Slowly drizzle in the olive oil until emulsified.
Source: bellacuisine.blogspot.com
---
9

Chocolate Barbecue Sauce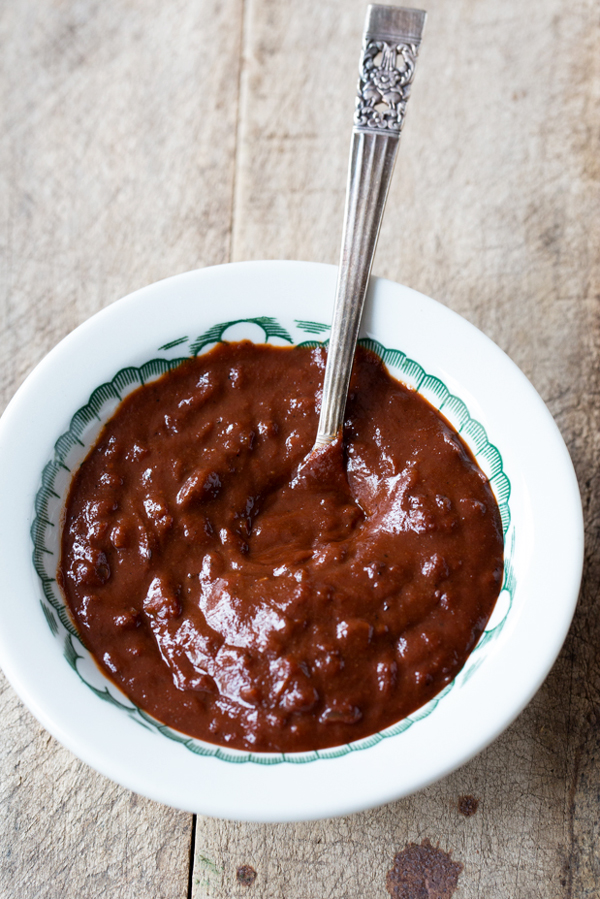 Although this isn't a recipe for a particular dish, it's a fantastic sauce to have in your arsenal. If you love barbecue, this is a phenomenal sauce. It will bring out flavors in meats that you never thought existed, whether you're cooking with beef, pork, or poultry.
Ingredients:
2 tbsp. unsalted butter
2 cloves garlic, minced
1 small yellow onion, minced
1 oz. semisweet chocolate, chopped
1 ½ cups ketchup
⅓ cup packed brown sugar
¼ cup brewed coffee
2 tbsp. honey
2 tbsp. cider vinegar
2 tbsp. unsweetened cocoa powder
1 tbsp. Worcestershire sauce
2 tsp. dry mustard
2 tsp. chili powder
2 tsp. kosher salt
1 tsp. ground black pepper
½ tsp. ground coriander
¼ tsp. Cayenne
Directions:
Melt butter in a 4-qt. saucepan over medium-high heat. Add garlic and onions; cook until soft, 4–6 minutes. Stir in chocolate, ketchup, sugar, coffee, honey, vinegar, cocoa, Worcestershire, mustard, chili powder, salt, pepper, coriander, and cayenne; cook, stirring occasionally, until thickened, about 3 minutes. Use right away or store refrigerated in an airtight container up to 1 week.
Source: saveur.com
Being a chocoholic, I was always skeptical of using chocolate in savory dishes, but since experimenting a little myself, I've become a true believer! If any of these look tasty to you, I suggest giving them a try in your own kitchen. Have you ever used chocolate in a savory dish?
---
Comments
Popular
Related
Recent