Nut butter is such a great food, and with all the tasty recipes out there such as these almond butter recipes, there's just no excuse not to indulge yourself! Yes, nuts are high in calories, but they're incredibly healthy if you buy them without added oils or sugars. I prefer using raw nut butter over roasted, but when baking you can use roasted almond butter since you'll be heating the almond butter anyway. No matter what kind of nut butter you use, choose from a good brand and choose versions without added sweeteners for the best health benefits. Trust me, you won't miss that processed stuff with these fresh, nutrient-rich almond butter recipes. Oh, and if your sweet tooth won't leave you alone, don't worry! These almond butter recipes will take care of that too!
1

Dark Chocolate Almond Butter Cups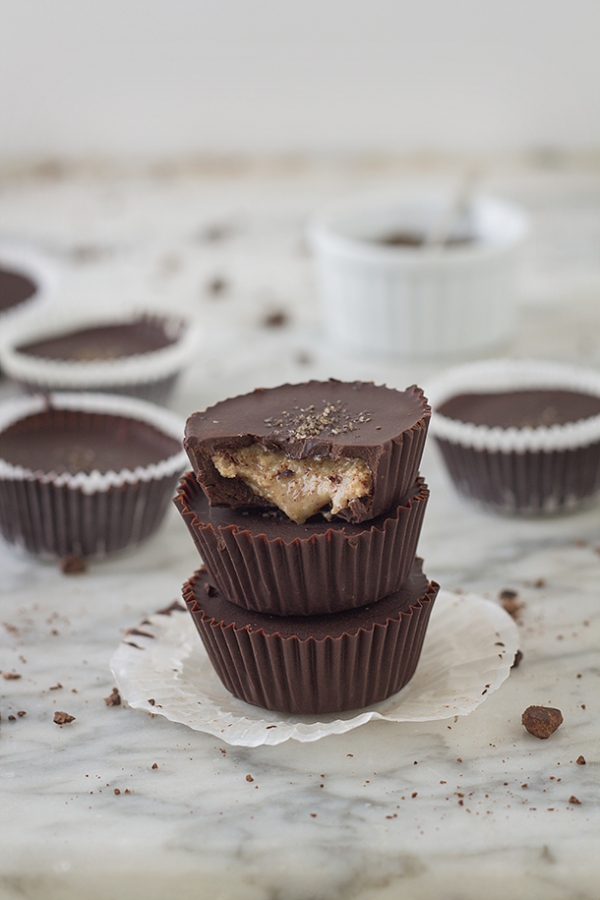 One of my favorite almond butter recipes is the one that is healthy, yet still tasty like a Reese's cup, and totally guilt-free! You'll love this recipe if you love rich, hearty nut butter and chocolate together. This is the perfect indulgence when your sweet tooth hits, or you want to make something impressive for others, yet still healthy too. Almonds and cacao (chocolate) are high in fiber, antioxidants, zinc, magnesium and iron. Almonds contain protein and Vitamin E, which are important for your skin and cacao contains more antioxidants than 15 servings of blueberries in just one ounce!
Serves: 12-14 mini cups or 6 larger, regular cups
Ingredients:
7 ounces of dark chocolate (at least 70% cacao content or higher)
½ cup natural almond butter
2 tbsp. honey
1 tbsp. powdered sugar
½ tsp. vanilla extract
¼ tsp. fine grain salt
Sea salt flakes for garnish
Directions:
Break up the chocolate and melt in a double boiler (a pot of simmering water with a bowl resting on top). Stir to make sure it is perfectly smooth.
Set out the liners in a mini muffin tin, this helps them hold shape.
Spoon about a teaspoon of the chocolate into the bottom. Tilt and twist it around so the chocolate coats the side of the liner and rest it back in the tin.
Repeat with remaining papers.
Mix the almond butter, honey, powdered sugar, vanilla and salt together until smooth to make the filling. Scoop out a tsp. of the almond butter filling and gently roll it into a ball between your palms.
Give it a press down and center it on top of the thin chocolate puddle. Repeat.
Spoon chocolate, about another tsp., on top of each almond butter ball to cover completely.
You may need to add a few drops more to get the chocolate to level above the bump of the almond butter. Sprinkle a teensy pinch of flaked sea salt on each one and chill in the fridge to set.
They can be kept in a covered container at room temperature or fridge.
**Source: **sproutedkitchen.com
2

Almond Butter Banana Bread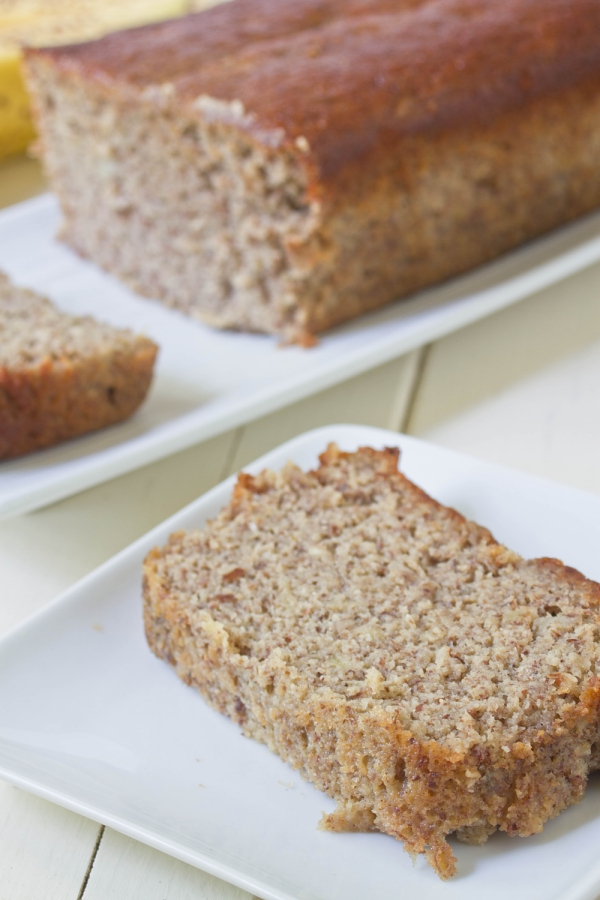 When I first saw this recipe, I immediately pinned it to my Pinterest page for recipes I'd like to make for my mom. She adores banana bread, and who doesn't, right? Banana bread is a top comfort food that you can enjoy any time of the day for breakfast, as a snack, dessert for lunch or dinner, or simply on its own at any given point. This almond butter banana bread recipe features incredibly rich flavors and natural ingredients. It isn't guilt-free though, so enjoy it sparingly and enjoy every single bite!
Serves: 3 loaves (6 servings per loaf)
Ingredients:
1 1/2 cups flour
1/4 cup whole-wheat flour
1 tsp baking powder
1 tsp baking soda
1/2 tsp salt
1/2 tsp cinnamon
1/8 tsp allspice
1/3 cup almond butter
1/2 cup honey
1 1/2 cups mashed ripe banana
1/2 cup low-fat buttermilk
1 large egg, lightly beaten
1/2 tsp vanilla extract
1/2 tsp almond extract
Topping
2 Tbsp almonds, chopped
1 1/2 tsp turbinado sugar
Directions:
Preheat oven to 350°F and place a baking sheet in oven; spray 3 mini (5 3/4″ x 3 3/4″) loaf pans with nonstick spray. Whisk together flours, baking powder, baking soda, salt, cinnamon, and allspice in a large bowl. Make a well in the center of the mixture.
Combine almond butter and honey in a small bowl and heat in the microwave until melted, about 30 seconds; cool slightly. Combine banana, buttermilk, egg, extracts, and cooled almond butter-honey mixture in a medium bowl; add to flour mixture and stir just until combined.
Divide batter evenly among loaf pans; top with almonds and turbinado sugar. Place pans on preheated baking sheet and bake, rotating pans halfway through, for 28 to 30 minutes or until a toothpick inserted in the center comes out clean. Remove from oven and cool in pans on a wire rack for 10 minutes, then remove from pans and cool completely. Wrap breads well and store at room temperature up to 2 days, or in the refrigerator up to 4 days. To freeze, wrap tightly in foil or freezer wrap.
**Source: **tutti-dolci.com
Trendinig Stories
More Stories ...
3

Almond Butter Granola Bars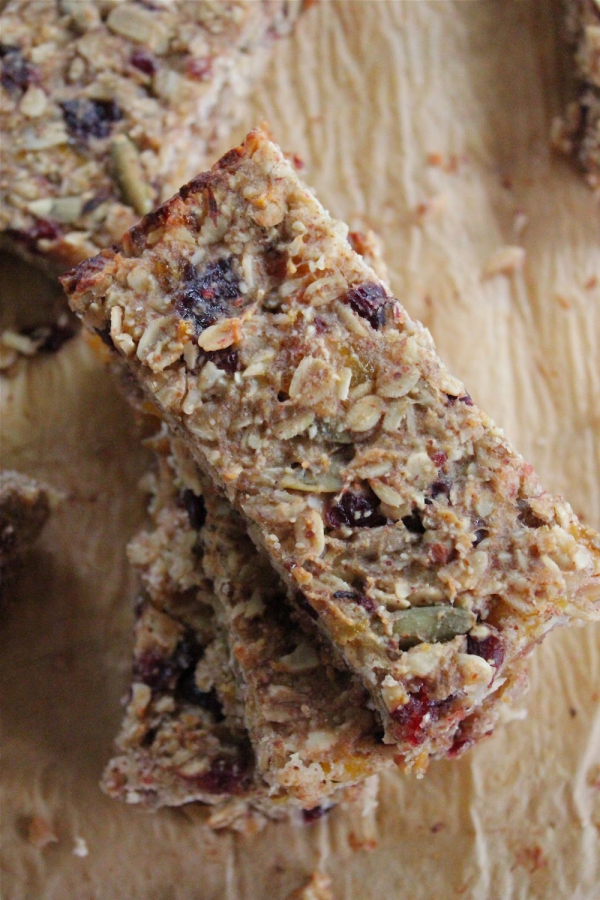 Good gracious, I'm hungry just looking at these! If you're not in the mood for dessert, but still want to indulge in some good old almond butter deliciousness, try these granola bars for your next breakfast recipe! These are great for energy if you exercise, or to send the kids off to school with. They're high in calories, but packed with nutrition because they contain only whole, raw foods- period. No baking soda, added salt or anything else you don't need. Just pure rich almonds, vitamin-rich seeds, sweet dried fruits, fresh fruit and whole grain oats. Eat them when your schedule is super busy and you can use a lift both physically and mentally!
Serves: 12 bars
Ingredients:
½ cup almond butter
2 bananas mashed
½ cup whole almonds
¼ cup dried apricots
¼ cup dried cherries
¼ cup dried raisins
¼ cup mixed seeds such as pumpkin, sunflower, chia, whatever you have on hand
1 cup of rolled oats
Directions:
Preheat oven to 160C/350F. Line wide loaf tin with parchment paper.
In a small pot heat almond butter and mashed bananas. Stir gently until well combined. Set aside.
In a food processor, coarse chop the almonds, apricots, raisins and cherries. Transfer to a bowl. Mix in seeds and oats. Fold in the almond butter mixture. Press the batter into prepared loaf tin. Bake for 20-25 minutes. Let cool before cutting into bars/squares.
**Source: **anjasfood4thought.com
---
4

Pumpkin Cake with Almond Butter Frosting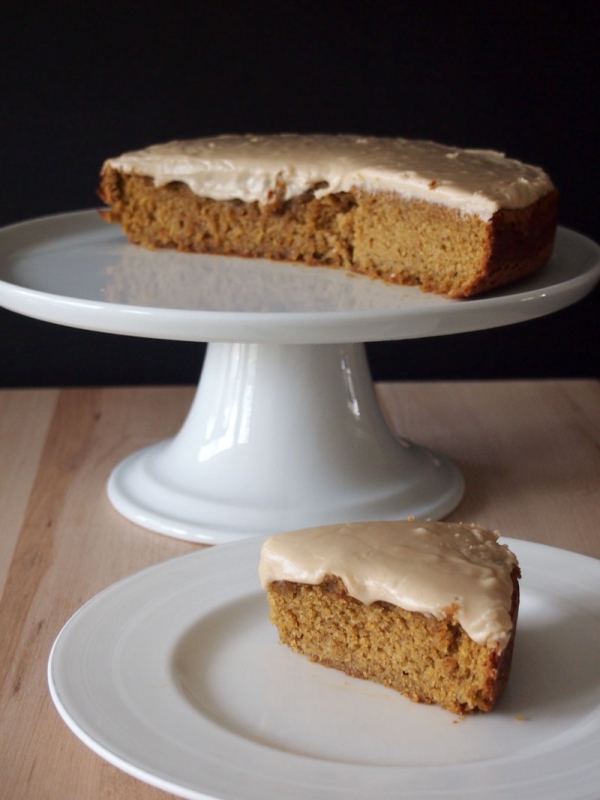 Oh, isn't this just THE PERFECT fall recipe? Pumpkin is my favorite fall food, hands down. When paired with rich almond butter in this cake, it is absolutely addicting! Pumpkin is rich in fiber, contains no fat, is high in phytonutrients, vitamins, and minerals like potassium. Its Vitamin A content increases the glow of your skin, and can fight acne, along with prevent wrinkles. Almond butter's healthy fats increase the absorption of all those amazing health properties pumpkin offers, which makes these a perfect pair. Make this simple cake and enjoy with a cup of coffee, hot tea, or all alone on its own! You could even eat this for breakfast if you're feeling super naughty!
Serves: 1 9-inch cake
Ingredients:
For the Pumpkin Almond Cake:
1 1/2 cups all purpose flour
3/4 cup almond flour
1 1/2 tsp baking powder
1/2 tsp baking soda
1/2 tsp salt
1 tsp cinnamon
1 tsp ginger
1/2 tsp nutmeg
1/4 tsp cloves
4 oz (1 stick) unsalted butter, at room temperature
1 cup sugar
1/4 cup firmly packed dark brown sugar
1 cup pumpkin puree
2 large eggs
3/4 cup well-shaken buttermilk
1/4 cup sliced almonds, toasted
For the Almond Butter Frosting:
1/2 cup almond butter (I used Maranatha Maple Almond Butter)
2 oz (1/2 stick) unsalted butter, softened
2-4 tbsp almond milk, to taste
1 1/4 to 1 3/4 cup confectioners' sugar, to taste
1/2 tsp salt
1 tsp vanilla
Directions:
Preheat the oven to 350. Spray a 9-inch round cake pan with baking spray.
Line with parchment paper and then spray again.
In a medium bowl, whisk together the flour, almond flour, baking powder, baking soda, salt, cinnamon, ginger, nutmeg and cloves. Set aside.
In the bowl of a stand mixer fitted with a paddle attachment, cream the butter and sugars together on medium speed until light and fluffy, about 3 minutes. Add the pumpkin puree and mix until just incorporated. Add the eggs, one at a time, beating well and scraping down the side after each addition. Beat for another 30 seconds.
Add the flour mixture in three parts, alternating with the buttermilk, beginning and ending with flour. Scrape down the bowl and beat for an additional 10 seconds.
Place the batter into the cake pan and bake for 40-50 minutes or until a toothpick inserted comes out clean. Set the pan on a wire rack to cool for 20 minutes. Run a knife around the sides of the cake to loosen it, then turn the cake out onto the rack. Remove the parchment, flip the cake right side up and let cool completely.
For the frosting, place the almond butter, butter, 2 tbsp almond milk, 1 1/4 cups confectioners' sugar, and salt in a food processor. Pulse with short bursts until the frosting comes together and is shiny and smooth. Mix in the vanilla. Add 1-2 tbsp additional almond milk to make it looser, if you wish or up to 1/2 cup confectioners' sugar if you prefer it thicker. Process again until smooth.
Use an offset spatula to spread the frosting evenly across the top of the cake. Sprinkle the top with the almonds.
**Source: **joanne-eatswellwithothers.com
---
5

Flourless Almond Butter Cookies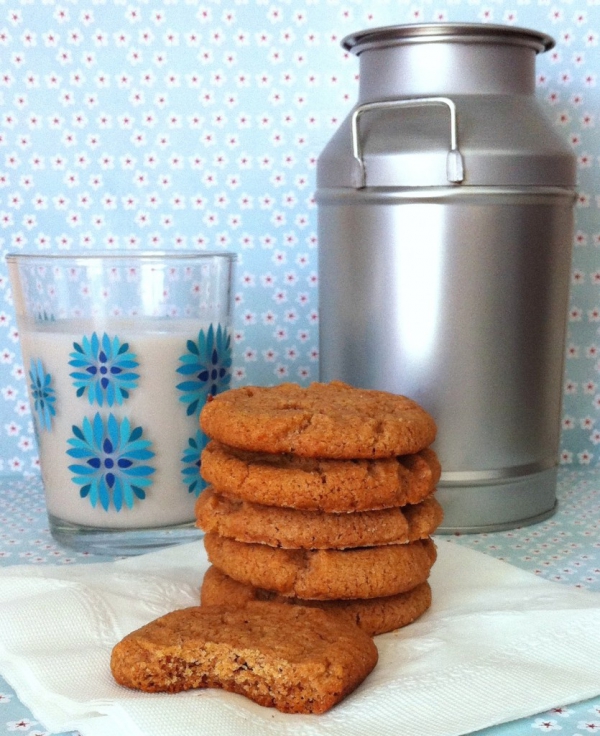 These yummy cookies are perfect if you want to cut out the flour in your baking recipes, but still end up with a rich, gooey cookie. These can be made with peanut butter or almond butter, but be sure to buy the natural kind without added oils or you'll get a different result!
Serves: 6
Ingredients:
1 cup almond butter
¾ cup powdered sugar
1 large egg
1 teaspoon pure vanilla extract
Directions:
Preheat oven to 350. Prepare cookie sheet by lining it with parchment paper.
Combine all ingredients. Drop by spoonful on a prepared cookie sheet.
Bake for 10-12 minutes.
Let cool for a minute and then transfer to wire rack to complete cooling.
These are best eaten the same day they are made.
**Source: **justshortofcrazy.com
---
6

Energizing Almond Butter Squares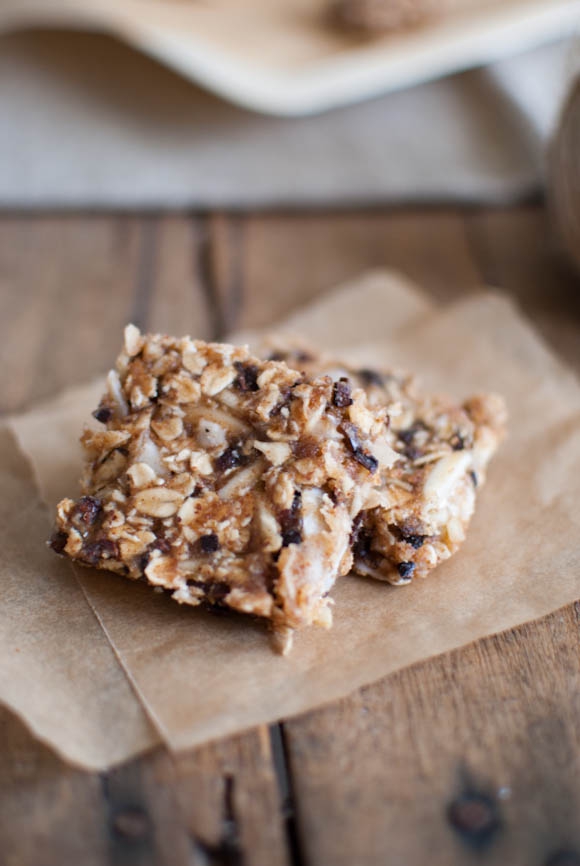 If you'd like a healthy recipe that contains only natural ingredients, but is still super tasty, then this recipe is for you! These raw energizing squares contain all the best ingredients that are not only clean, but also packed with nutrients. These would be great to eat before a workout, or to pack for a snack on the go. They would also make great lunch box treats for all you parents out there!
Serves: 16-20 squares
Ingredients:
1 1/2 cups raw almonds
1 tablespoon maple syrup
1 tablespoon raw honey
1 teaspoon natural vanilla extract
3 tablespoon unsweetened apple sauce
1 cup rolled oats
1/2 cup coconut flakes
1/4 cup dried cherries
1/4 cup raw cocoa nibs
1/4 cup slivered almonds
Directions:
Preheat your oven to 200C (400F). Spread the almonds evenly on a baking tray and roast for about 10 minutes. Transfer the nuts into a food processor and process for about 10 minutes or until the texture is smooth and butter-like. Place the almond butter into a saucepan along with maple syrup, honey, vanilla and apple sauce and heat just enough to mix the ingredients together. Remove from the heat.
Mix the oats, coconut, cherries, cocoa and almonds in a separate bowl. Spoon the almond butter mixture on top and mix everything together. Be patient, the mixture is sticky but the stickier it is the better!
Spoon the mixture into a square tin (20 cm x 20 cm) rinsed with cold water. Spread evenly, then refrigerate for a couple of hours. Cut into squares before serving.
**Source: **scandifoodie.blogspot.com
---
7

Blueberry Almond Butter Smoothie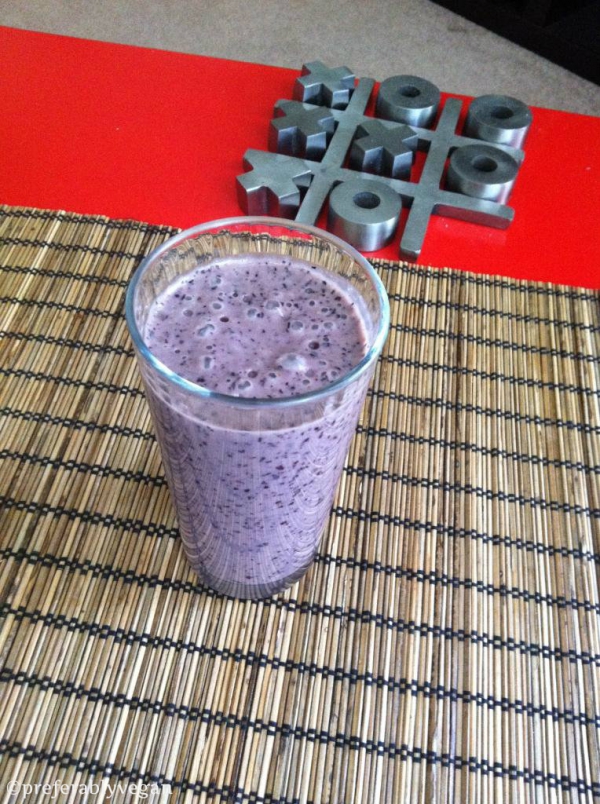 Oh how I adore blueberries and almond butter together! They are perfectly paired in a smoothie or in a muffin recipe. I love that this is flavored with nothing but simple, rich and sweet ingredients. When you eat your calories from nutrition-packed foods instead of processed foods, your body lets you know it is satisfied sooner. Your energy levels also soar when you eat your calories from high nutrient dense foods. Blueberries and almonds are two foods recommended for women because they are packed with fiber, sugar, potassium, and many vitamins and minerals, along with antioxidants to reduce inflammation. I encourage you to try this recipe if you like smoothies. I promise you it will become a quick favorite in your kitchen!
Serves: 2
Ingredients:
1 banana, peeled
1 cup frozen blueberries
1/2 cup almond butter
1/2 cup plain yogurt
3/4 cup almond milk
3 dates, pitted and quartered
1 cup ice, or as needed
Directions:
Combine all ingredients in a blender; purée on high speed until smooth. Add a few ice cubes and blend until it reaches your desired consistency.
**Source: **loveandoliveoil.com
There's not one person I know who isn't in love with nut butter, and almond butter is a top favorite of so many! If you're one of the many who love almond butter out there, try one of these tasty recipes! Or, do you have an almond butter recipe to share with me?
---
Comments
Popular
Related
Recent