Ordering take-out pizza can get expensive, not to mention you don't need to order pizza when you can easily prepare your own homemade pizza concoctions right at home! Depending on how much time you have, you could either make your own crust or you can easily purchase fresh pizza dough from your local grocery store. Pizza is flexible like a sandwich! You can put whatever you desire on the pizza and omit whatever you dislike. So here are some ideas to get you started with 8 homemade pizza concoctions to cook.
---
1

Biscuit Pizzas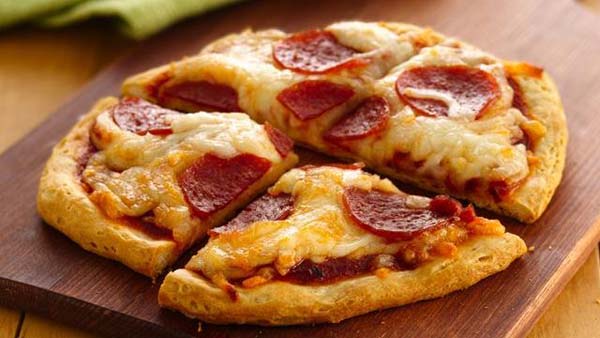 Need a quick and easy dinner for your family using whatever you already have in your fridge? Then mini biscuit pizzas are the way to go. All you need to make these easy and delicious pizzas are a can of Pillsbury biscuit dough, pasta sauce, cheese, and whatever toppings you want! It takes only 10 minutes to prep and 15 minutes to cook! This is one of the best homemade pizza concoctions because it is an easy, cheap, and delicious dinner that will cause you to never order delivery again!
Ingredients:
1 can (16.3 oz) Pillsbury® Grands!® refrigerated biscuits
1 cup pizza sauce
2 cups shredded mozzarella cheese (8 oz)
1 package (3.5 oz) sliced pepperoni
Directions:
Press each biscuit into 6-inch round. Place on 2 large or 3 small greased cookie sheets. Top each round with pizza sauce, cheese and pepperoni. Bake at 375°F 10 to 15 minutes or until bottoms are deep golden brown and cheese is bubbly. It's as easy as that and it makes 8 pizzas!
---
2

Cauliflower Crust Pizza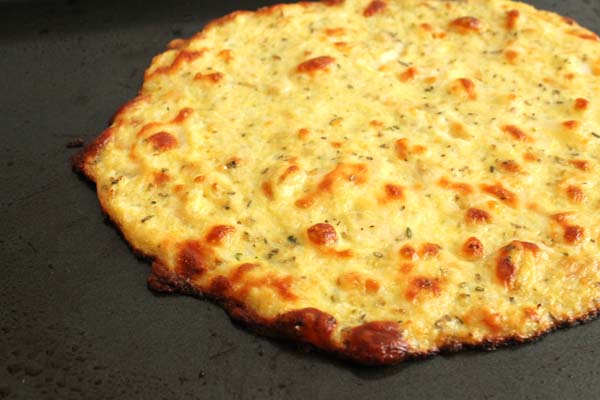 Trying to stick to your low-carb diet but seriously miss eating pizza? Then why not try cauliflower crust pizza? Now, I'm not going to lie and say that it's just like eating a flour crust pizza because it's not. But surprisingly, it's not like eating cauliflower either! If you don't tell those eating the pizza that it was made with cauliflower, they wouldn't even be able to guess what it was made of. The one problem with this dish though is that it is somewhat difficult to pick up a slice and eat it with your hands. It is much easier to use a fork to eat this pizza. But I must say that's a small price to pay in order to feel better about what we're eating!
Crust Ingredients:
1 cup cooked, riced cauliflower
1 cup shredded mozzarella cheese
1 egg, beaten
1 tsp dried oregano
1/2 tsp crushed garlic
1/2 tsp garlic salt
Olive oil (optional)
Other Ingredients:
Pizza sauce
Mozzarella cheese, shredded
Other additional toppings of your choice
Directions:
To rice your cauliflower, take 1 large head of cauliflower, remove the stems and leaves, and chop the florets into chunks. Add to a food processor and pulse just until it looks like rice. Alternatively, you can grate the cauliflower with a cheese grater. Place the riced cauliflower in a microwave safe bowl, add 1/4 cup water, and microwave for 6-8 minutes, stirring half-way through. To make the pizza, preheat the oven to 450 degrees F. Spray a pizza pan or cookie sheet with non-stick cooking spray. In a medium bowl, combine the cauliflower, mozzarella cheese and egg together and stir until well incorporated. Add the oregano, garlic, and garlic salt. Transfer to the cookie sheet, and shape into a 9-inch circle. Brush the crust with olive oil to help it brown in the oven. Bake at 450 degrees F for 15 minutes, until the crust is browned and cooked through the middle. Remove the crust from the oven, add your sauce and toppings. Place under a broiler at high heat until the cheese is melted and bubbly. (About 3-4 minutes). Allow the pizza to cool slightly, then cut into slices and serve. This recipe makes a big enough pizza to serve 2.
3

Macaroni and Cheese Pizza Recipe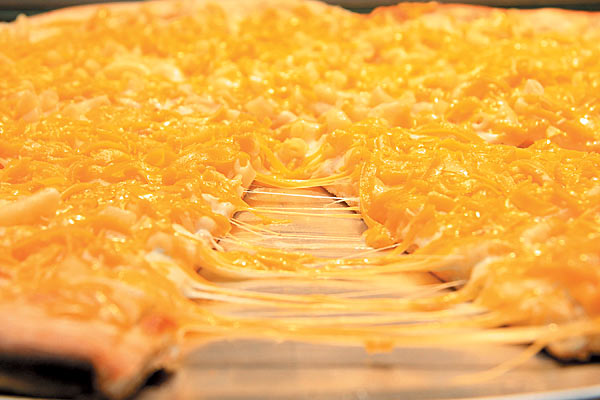 Macaroni and cheese? Delicious! Pizza? Delicious! Macaroni and cheese pizza? Phenomenal! What better topping for a pizza than cheesy pasta? Obviously this pizza is not for the low-calorie or carb conscience dieter, but it is a delicious and unique mash-up that will totally be worth it! Besides the normal pizza ingredients, all you need is elbow macaroni and Velveeta cheese. It's simple, easy, and totally delicious!
Ingredients:
1 (11 ounce) package refrigerated pizza crust
1 1/2 cups elbow macaroni
1/4 cup butter
1 tablespoon all-purpose flour
milk
3/4 pound processed cheese (such as Velveeta®), cubed
1/2 cup shredded mozzarella cheese
Directions:
Preheat oven to 400 degrees F. Spray a 10x15-inch baking sheet with cooking spray. Unroll pizza crust and place on the prepared baking pan. Bring a large pot of lightly salted water to a boil. Cook elbow macaroni in the boiling water, stirring occasionally until cooked through but firm to the bite, 8 minutes. Drain. Melt butter in a large saucepan over medium heat; cook and stir flour with butter until it has a slightly toasted fragrance, about 2 minutes. Whisk in milk and simmer until thickened, whisking constantly, 2 more minutes. Stir in processed cheese cubes. Let the cheese cubes melt, stirring often, to make a smooth cheese sauce. Spread about 3/4 cup of cheese sauce onto the pizza crust. Stir cooked macaroni into remaining cheese sauce in the saucepan and spoon the macaroni and cheese onto the crust in an even layer. Sprinkle top of pizza with mozzarella cheese. Bake in the preheated oven until the crust is lightly browned and the mozzarella cheese is golden brown, about 15 minutes.
---
4

Barbecue Chicken Pizza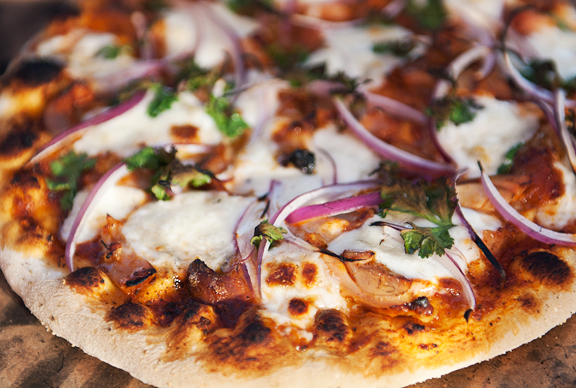 I had to put one of my personal favorite homemade pizza ideas on this list, Barbecue Chicken Pizza! This is a great pizza concoction to make if you have some leftover chicken in the fridge that you need to use up. It is also a great pizza to make if you are by chance out of pasta sauce and instead have some barbecue sauce handy as that replaces the normal pasta sauce on this pizza. Pizza with a twist of spicy, sweet, smoky barbecue, how can you not fall in love?
Ingredients:
2 balls of pizza dough
salt and pepper
1/2 cup barbecue sauce (I use the mutha sauce from the barbecue chicken recipe)
2 cups barbecue chicken, chopped
8 oz. mozzarella cheese, large dice
1/4 cup red onion, thinly sliced
1/4 cup fresh cilantro
Directions:
Sprinkle salt and pepper over the disk of dough. Spread enough barbecue sauce on the pizza dough (about 3-4 tablespoons) to cover it, but don't drown it (it will get soggy). Distribute pieces of torn mozzarella over the sauce (about 4 ounces), then distribute a cup (or less) of the chopped barbecue chicken over the pizza. Sprinkle a handful of red onion slivers on top. Transfer the pizza from the peel to the stone and bake for 8-10 minutes or until the pizza is done to your liking. Remove the pizza from the oven or grill and garnish with fresh cilantro. Serve. Repeat for the second pizza. Makes two 12-inch pizzas.
---
5

Lasagna Pizza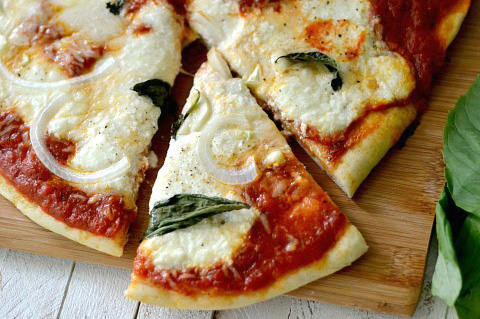 This pizza concoction brings together your favorite part of lasagna with the bold marinara sauce and the gooey, ricotta and mozzarella cheese mixture, with the best part of pizza, being the crust! After just one bite, you'll have serious trouble going back to regular pizza or regular lasagna again. This recipe is great if you have a bunch of different cheese in your fridge that you need to use as it calls for ricotta, mozzarella, and Parmesan Talk about cheese heaven.
Ingredients:
1 ball pizza dough
1 tablespoon olive oil
1/2 cup marinara sauce
7,5 ounces part-skim ricotta
1/2 cup shredded mozzarella cheese
1/4 cup shredded Parmesan cheese
1/4 medium onion, sliced
3 cloves garlic, minced
salt and pepper
Fresh basil
Directions:
Preheat your oven to 400 degrees F. Grease a pizza pan with nonstick cooking spray.
In a medium bowl, mix the yeast, water and sugar together. Let sit for 10 minutes or until foamy. Add in the flour, olive oil, salt and pepper and oregano. Stir the mixture with a wooden spoon.
Turn the dough onto a floured surface and knead until elastic, or about 8 minutes. Place the dough on the pizza sheet and roll (with a floured rolling pin) until about 1/4-inch thick.
Spread the olive oil over the crust and add the sauce. In a shallow bowl, mix together the ricotta and mozzarella. Press spoonfuls of the ricotta mixture on top of the tomato sauce, covering the pizza but still leaving some patches. Cover with olive slivers, garlic and Parmesan.
Garnish with additional salt and pepper and basil. Bake for 11 - 12 minutes, or until the crust is golden brown and cheese is melted.
---
6

Mushroom Pizzas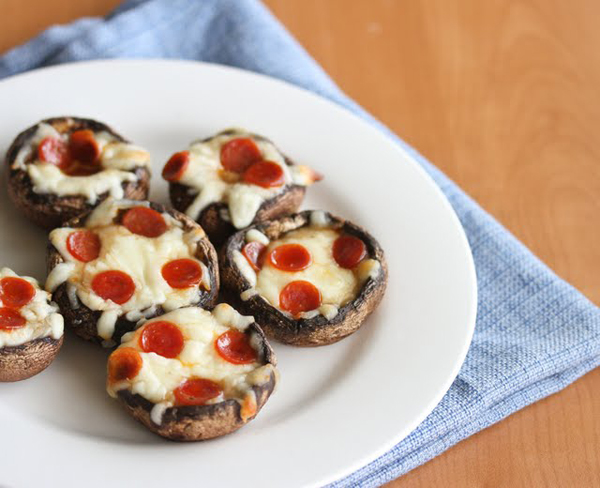 This super easy and tasty pizza appetizer is a great way to enjoy pizza while still being able to cut down on the carbs! For this pizza recipe, it's best to use larger mushrooms so you have more surface area to work with. If you're the type of person who always wants mushrooms on their pizza anyway, then this is the best of both worlds. This is one of the simplest recipes on the list and requires only three ingredients.
Ingredients:
Shredded mozzarella cheese
mini pepperonis
oversized mushrooms
Directions:
Preheat oven to 350F. Wash mushrooms and remove stems. Fill mushrooms with shredded cheese and top with 3-4 mini pepperonis. Place on baking sheet. Bake for approximately 10-15 minutes until mushrooms are cooked. Serve immediately.
---
7

Breakfast Pizza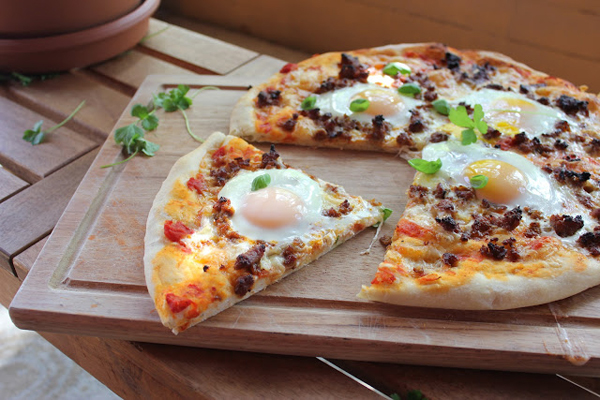 This delicious breakfast pizza only takes 30 minutes to make and consists of only marinara sauce, cheese, sausage, and eggs! You may think that an egg on a pizza is weird but there are tons of pizza places who now do this. Most likely because it is absolutely delicious! Plus, trying new things is good for you! Feel free to not just confine this recipe as a breakfast because this pizza concoction is great to make for any meal.
Ingredients:
1 ball of pizza dough
4 spicy sausages (2 per pizza)
marinara sauce
1 cup of your favorite cheese
4 eggs per pizza
fresh herbs
Directions:
Stretch the dough into the shape of your pan. No rolling pin required if your dough was properly rested. Cover it with a thin layer of marinara sauce. I say thin because a lot of people have the wrong idea of covering it with lots of pizza sauce. The only thing that will do is make a soggy pizza and it doesn't taste too good. One of those soup ladles will be enough. Take the sausages out of their casing and and break them up in the pan. After they've browned, take half of them and added it to the pizza. Cover with 1/2 cup of shredded cheese. Bake in a hot oven (425F) for 6 minutes. Crack 4 eggs on top and bake for another 10 minutes. The yolks should be slightly runny after 10 minutes. Cook it for longer if you prefer a hard yolk.
---
8

Tortilla Pizza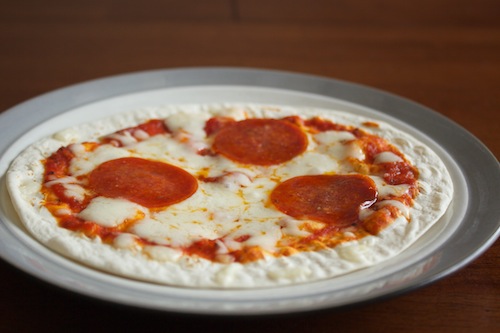 Having a super lazy day but really craving pizza? Then why not make a tortilla pizza? What's great about this pizza is that it can be made with ingredients you most likely already have and it's a lot healthier and lower carb than a regular pizza. This is another great pizza idea for those of you love thin crust or extra crispy crust pizza.
Ingredients:
Tortillas
Pizza Sauce
Shredded mozzarella cheese
Any Toppings
Directions:
Preheat the oven to 375F. Spread a thin layer on each tortilla (our tortillas were small taco sized so we had 2 apiece). Sprinkle some mozzarella and add your toppings of choice then bake. Takes about 8 minutes to cook.
Pizza is such an easy and customizable meal to make. Plus, it can be much healthier than ordering delivery, being that you control what goes into it. Pizza is also a great meal to make at home because you can make as much or as little pizza as you want! Whether it be cooking an individual pizza for yourself, or a few large pizzas for your family and friends. What is your favorite pizza concoction?
**Sources: **pillsbury.com, stickafork.net, allrecipes.com, userealbutter.com, chefmom.sheknows.com, kirbiecravings.com, sweetfrosting.ca, flowerandsugar.com
---
Popular
Related
Recent