7 Homemade Sinful Desserts That Are Worth the Cheat Meal ...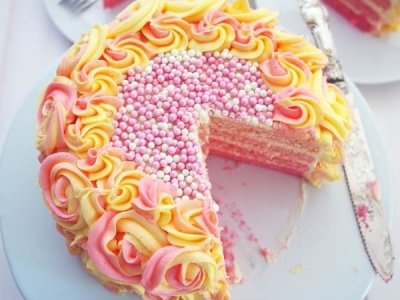 At the beginning of each year, you might swear yourself off of fatty foods and sinful desserts in your New Year's Resolution. But one cheat meal never hurt anyone, right? Some sinful desserts are simply too delicious to pass up! Here are some of my absolute favorites.
Doesn't the name just make your mouth water? This sinful dessert tastes just the way the name sounds: like a cinnamon roll pie. It's quick and easy to make, and will have your friends begging for more!
Ingredients:
1 DOUGH:
2 3/4 cups All Purpose Flour
3 tablespoons Granulated Sugar
1 teaspoon Baking Powder
1/2 teaspoon Baking Soda
1/4 teaspoon Salt
3/4 cup Earth Balance Soymilk, vanilla
2 teaspoons Apple Cider Vinegar
6 tablespoons Earth Balance Buttery Spread, melted
1/4 cup Maple Syrup
1 FILLING:
1 cup Brown Sugar
5 tablespoons All Purpose Flour
1 tablespoon Cinnamon
6 tablespoons Earth Balance Buttery Spread, melted
1 1/2 cups Pecans, chopped
1 GLAZE:
1 ounce Vegan Cream Cheese
1 tablespoon Earth Balance Soymilk, vanilla
2/3 cup Powdered Sugar
Directions:
Begin with the dough by combine soymilk and apple cider vinegar in a small bowl. Then, in a large bowl combine sugar, baking powder, baking soda, salt and 2 ½ cups of the flour. Add soymilk, melted buttery spread, and maple syrup to flour and stir. If the dough gets too sticky, add the remaining ¼ cup flour and knead into dough until it is easier to handle. Knead dough 2 minutes.
To make the filling combine brown sugar, flour, and cinnamon. Add melted buttery spread and stir to combine. To make the glaze, stir together cream cheese, soymilk, and powdered sugar until creamy.
To assemble, preheat your oven to 400°F. Roll out 2/3 of the dough and put it into your 9 inch standard pie pan. Spread 2/3 filling over the bottom of dough. Sprinkle 1 cup of the pecans over filling. Roll remaining 1/3 of dough into a large enough circle to cover your pecans and place into pan. Spread remaining 1/3 of filling over this layer of dough and sprinkle the rest of the pecans on top.
Bake for 20 – 30 minutes or until dough is nice and golden. Let cool a bit then drizzle glaze over top.
Enjoy!
NOTE: While this recipe is vegan, it doesn't need to be; when I make it I still use dairy products.
Source: mjr.earthbalancenatural.com
2.

Peanut Butter Cup Brownie Torte
This decadent dessert is so rich and satisfying, that you'll forget you were ever on a diet! But as long as you get back on track the next day, there's nothing to feel guilty about. Bake this delicious treat and share it with your friends at your next get together!
Ingredients:
6 Brownie Rounds:
7 TBSP unsalted butter, melted
1 cup granulated sugar
1 egg
1 egg yolk
½ tsp vanilla extract
¼ cup cocoa powder ( I used Green and Blacks)
½ cup all-purpose flour
¼ tsp baking powder
pinch of salt
½ cup semi-sweet chocolate chips
Peanut Butter Cream Cheese Mousse:
½ cup whipping cream, chilled
5 ounces cream cheese, at room temperature
1/3 cup plus 2 TBSP powdered sugar
1/3 cup peanut butter
Chocolate Ganache:
4 ½ ounces semi-sweet chocolate, chopped finely
½ cup heavy whipping cream
Directions:
Preheat your oven to 325°F. Butter and flour six 4 ½ -inch Diameter Spring Form Pans. Set aside. Use a stand mixer with the paddle attachment to mix together butter and sugar for about 2 minutes. Add in egg, egg yolk, and vanilla. Beat for another minute. Pour in cocoa, flour, baking powder and salt. Mix on low until fully incorporated. Fold in chocolate chips. Heap 1/3 cup of batter into each of the 6 prepared pans. Distribute extra batter evenly into prepared pans. bake for 20-23 minutes. Remove from oven and let cool.
For peanut butter mousse, whisk whipped cream on high until stiff peaks form. Set aside. Add cream cheese and peanut butter and whisk on medium high speed until until texture is light and fluffy. Place in fridge for at least 30 minutes while brownies cool.
For chocolate ganache, bring cream to a boil in a small sauce pan. Once cream begins to boil, pour over chocolate. Let sit for five minutes. Whisk until mixture is smooth and glossy.
To assemble the torte, remove brownies from their pans once completely cool. Add 1/8 cup peanut butter mouse and scatter a handful of peanut butter cups. Place another brownie on top of that, then add another 1/8 cup of mouse and peanut butter cups. Place final layer on top, and scoop 1/4 cup peanut butter mouse on top. Sprinkle more peanut butter cups and pour 1/2 of the ganache over torte. Repeat to make the second torte.
Source: culinaryconcoctionsbypeabody.com
Nutcrackle, or nutella cookies, are my one claim to fame! They are the sinful snack my friends and I cannot get enough of! They're not only fun to make, but a pleasure to indulge in. There is nothing nutritional about this concoction, but I guarantee you they are worth the cheat meal!
Ingredients:
3 cups (15 ounces) all-purpose flour
2 teaspoons baking powder
1/2 teaspoon fine sea salt
1-1/4 cups Nutella spread
4 tablespoons unsalted butter, softened
1-1/4 cups (8-3/4 ounces) granulated sugar
1 teaspoon pure vanilla extract
1 teaspoon instant espresso powder
2 large eggs, room temperature
1/3 cup whole milk
1-1/2 cups hazelnuts, toasted and chopped fine
1 cup (4ounces) confectioners' sugar
Directions:
Combine flour, baking powder, and salt in bowl. Set aside. With an elextric mixer, beat nutella, butter and granulated sugar for about 2 minutes on medium speed (until mixture is light and fluffy). Add vanilla, espresso, eggs, and mix until incorporated. REduce mixer to a low speed and add flour mixture and milk until just combined. Fold in 2/3 cup hazelnuts and refrigerate dough for one hour.
Preheat oven to 375°F. Line three baking sheets with parchment paper.
Place remaining hazelnuts in one bowl and confectioners' sugar in another bowl. One at a time, roll dough into 1-inch balls, then roll in hazelnuts and confectioners' sugar. Place balls 2 inches apart on prepared baking sheets. Refrigerate each sheet for 10 minutes while you prepare other sheets. Bake cookies for approximately 8 minutes, rotating sheets after 4 minutes. Cool cookies for five minutes on sheet, then transfer cookies to wire rack and cool completely. Repeat with remaining cookie dough and enjoy!
Source: hungryrabbitnyc.com
4.

French Toast Monkey Bread
Ooey, gooey monkey bread is an easy dessert that is worth the extra calories! It's sweet and satisfying, and great for breakfast or dessert! If you find yourself craving some sinful goodness, don't hesitate to bake some french toast monkey bread!
Ingredients:
1 cup heavy whipping cream or International Delight Cold Stone Creamery Sweet Cream coffee creamer
2 eggs, beaten
2 Tablespoons ground cinnamon
2 Tablespoons vanilla
2 cans of Pillsbury buttermilk biscuits
1/2 cup butter, melted
1 cup brown sugar
Powdered Sugar, if desired
Directions:
Heat overn to 350°F. Lightly grease a 12-cup fluted tube pan. Whisk together cream, eggs, cinnamon and vanilla. Cut each Pillsbury biscuit into quarters. Dip each biscuit into cream mixture and place in fluted tube pan. Repeat until all biscuits are evenly coated and distributed into pan.
Combine butter and brown sugar; pour evenly over biscuits. Bake for 28-32 minutes, or until golden brown. Cool in pan for 10 minutes. Turn pan upside down onto serving plate and sprinkle with brown sugar. Pull apart to serve.
Source: dineanddish.net
Nothing says sinfully delicious like deepfried cake slathered in sugar! Homemade funnel cake is always worth the cheat meal, and it's fun to make too! You'll feel like you're at the county fair when you dive into this scrumptious treat!
Ingredients:
3 cups all-purpose flour
1/4 cups sugars
1/2 tsp. salt
2 teaspoons baking powder
3 whole eggs
1/2 teaspoons vanilla extract
2-1/4 cups milk
Powdered Sugar (for Dusting)
Canola Oil
Directions:
In a large, deep frying pan, heat oil to 350°F (177°C). Combine all dry ingredients, then whisk in eggs, vanilla extract, and milk. Add as much milk as needed to achieve proper consistency (batter should resemble thin pancake batter). Carefully pour 1/2 cup batter through funnel while making circular, swirling motions into the hot oil. Fry for 2-3 minutes, flipping over cake halfway through. Drain on papertowel and coat in powdered sugar.
NOTE: If you don't own a funnel, you can still make funnel cakes! Simply cut a small hole in the tip of a gallon sized ziplock bag and use that as your makeshift funnel.
Source: sinfulsundays.blogspot.com
I fell in love with pink lemonade cake years ago when my sister found a Paula Deen recipe for this delicious dessert. I can find no flaws in this recipe, except maybe for the fact that it's all carbs. But if you're going to break your diet, you might as well go all out with pink lemonade cake!
Ingredients:
1 cup (2 sticks) unsalted butter, softened, plus more, for coating pans
1 (18 1/4-ounce) box white cake mix
1 teaspoon finely grated lemon zest
2 teaspoons vanilla extract
3 tablespoons sweetened pink lemonade drink powder
1 pound confectioners' sugar
5 tablespoons frozen pink lemonade concentrate
1 teaspoon vanilla
1 teaspoon finely grated lemon zest
Directions:
Preheat oven to 350°F. Butter two 8-inch round cake pans and line bottoms with parchment paper.
Prepare white cake according to the package directions. Add lemon zest, vanilla, and pink lemonade powder to the batter. Pour batter evenly into prepared pans and bake until golden brown (about 30-35 minutes). Let cakes cool in pans for ten minutes. Carefully turn cakes onto a wire rack to allow them to finish cooling completely.
While cake is baking, you can begin preparing the frosting. Beat together confectioners sugar and 1 cup butter until fluffy. Add frozen pink lemonade concentrate until combined.
Transfer one cake to a large platter, and spread the top of cake with a layer of frosting. Place the second cake on top of the first and spread remaining frosting over the top and sides of both layers of the cake. Slice and enjoy!
Source: foodnetwork.com
7.

Salted Caramel and Nutella Stuffed Double Chocolate Chip Cookies
Did your mouth just water reading that heading? If not, let me rephrase: these are decadent chocolate cookies, with delightful chocolate chips folded into the dough, stuffed with succulent salted caramel and drizzled with our favorite topping of all time, nutella. Now, as your preheating the oven and tying on your apron, here's how to satisfy your sudden hunger:
Ingredients:
Cookies
1/2 cup (110g) butter
1 1/2 cups (350g) light brown sugar
1/2 cup (55g) cocoa powder
2 eggs
1/4 tsp salt
3/4 tsp baking powder
2 cups (260g) all-purpose flour
100g milk or dark chocolate chips
flaky salt for sprinkling
approx. 1/2 cup (8 tbsp) nutella
1x recipe for Salted caramel OR 15-16 caramel-filled chocolates
Caramel
1 cup (200g) granulated sugar
6 Tablespoons (90g) salted butter, cut up into 6 pieces*
1/2 cup (120ml) heavy cream*
1 teaspoon salt
Directions:
Line a baking tray with parchment paper and preheat your oven to 350°F. In a medium saucepan, melt the butter. Remove from heat and stir in brown sugar and eggs. Then add cocoa, salt, and baking powder. Stir to combine. Add flour and stir until all of the floury patches are completely gone! Lastly, stir in chocolate chips.
To make caramel, heat sugar in a medium saucepan and stir constantly with a rubber spatula. Don't worry when the sugar forms clumps, that's all part of the process! Soon it will melt into a thick brown liquid. Be careful not to burn. Once sugar is completely melted, carefully add the butter. Stir butter into caramel until it is completely melted. Very slowly and carefully, drizzle 1/2 cup of heavy cream into the mixture. Allow mixture to boil for one minute, then remove pan from heat. Stir in 1 tsp of salt and allow to cool.
Sources: (Caramel): sallysbakingaddiction.com
(Cookies): topwithcinnamon.com
While munching on sweets all day is certainly bad for your health, treating yourself to a cheat meal once or twice a week is no crime. I love baking, sharing, and of course eating all of these sinful desserts, but I'm always eager to learn new recipes! What are some of your favorite delectable desserts? What desserts from this list are you craving now?
{{#comments_count}} Show Commnents ({{comments_count}}) {{/comments_count}}