Are you interested in trying unusual chocolate bars? You've probably tasted chocolate mixed with ingredients like peanut butter, coconut, mint, and almonds. However, chocolate companies have recently started catering to those with more adventurous palates. Now you can get chocolate paired with unexpected ingredients like peppers, meat, and potatoes. If you've got the guts to introduce your guts (and your taste buds) to some of the most unusual chocolate bars out there, here are a few bars to start your culinary adventure with:
---
1

Chuao Chocolatier Popcorn Pop Bar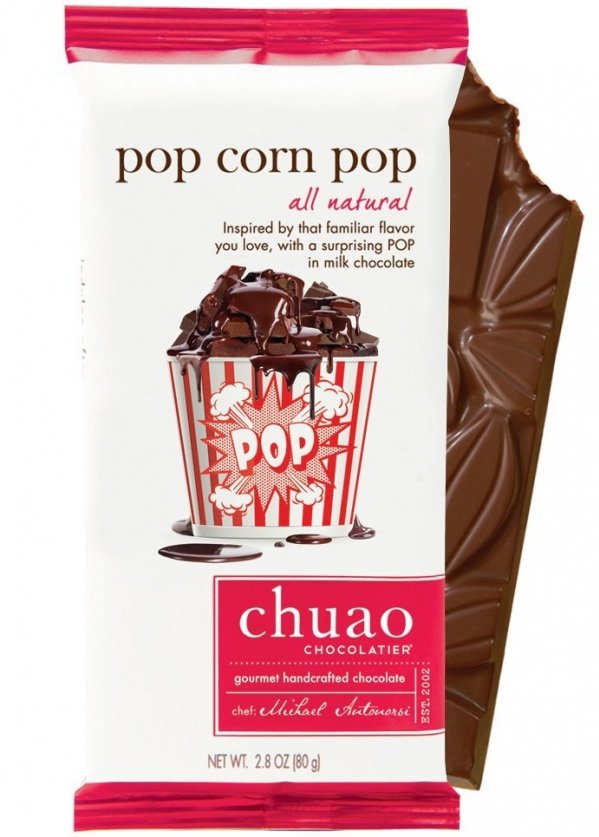 Buy Here: chuaochocolatier.com
Based on its name alone, this might not seem like one of the most unusual chocolate bars. After all, there are tons of recipes out there for making chocolate-covered popcorn. However, this milk chocolate bar doesn't actually contain popcorn. Instead its crunch is created with toasted corn chips and puffed whole grains. It also contains sea salt and popping candy to turn the inside of your mouth into a popcorn popper. It's the perfect snack for those who love getting a chocolate candy bar and a tub of popcorn at the movie theater (you might want to sneak one of these babies in instead).
---
2

Chocolove Chilies & Cherries in Dark Chocolate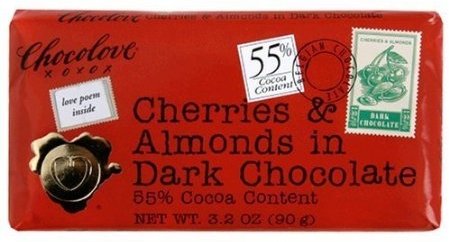 Buy Here: nuts.com
Looking for something nice that contains sugar and spice? This bar is perfect for those who enjoy a little heat with their sweet. The burn from the chilies gives the bar an unexpected kick, and the cherries add to its crazy flavor profile by giving some bites a bang with a little tang. The packaging resembles a love note, and there's a classic love poem inside each wrapper. It's the perfect gift for a hot lover who loves hot chili peppers.
3

Sanders Potato Chip Chocolate Bar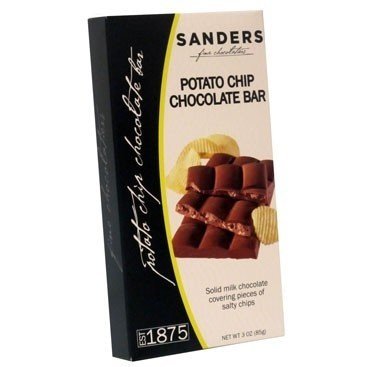 Buy Here: sanderscandy.com
This might sound gross, but my first thought about this chocolate bar is that it's the perfect PMS snack. You can cure your craving for something sweet and something salty by chowing down on this milk chocolate bar that's packed with bits of potato chips. It might seem like a strange combo, but chocolate and salt work surprisingly well together. If you like Reese's Peanut Butter Cups, you might enjoy this bar that pairs chocolate with another food that can be found underground.
---
4

Vosges Mo's Dark Chocolate Bacon Bar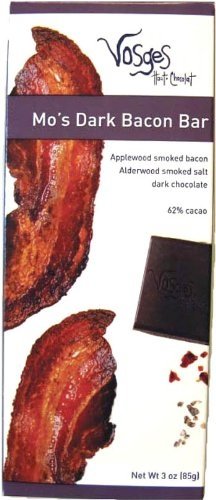 Buy Here: vosgeschocolate.com
Who says you can't eat chocolate for breakfast? If you enjoy having a piece of bacon with your Cocoa Puffs in the morning, this is definitely the right chocolate bar for you. It contains little bits of hickory smoked bacon, Alderwood smoked salt, and 62% dark chocolate. There's also a milk chocolate version available for those who like the sweeter stuff.
---
5

Wild Ophelia the Hunger Games Beef Jerky & Smoked Mesquite Milk Bar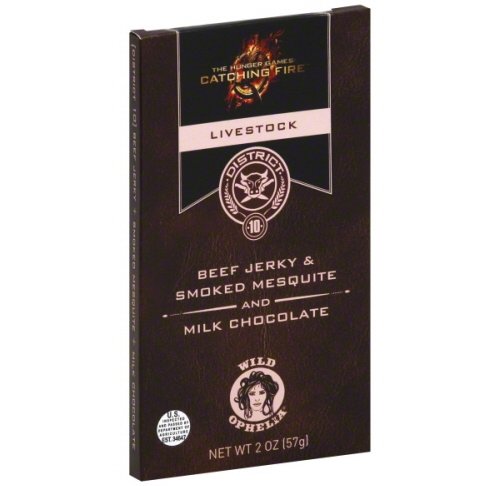 Buy Here: vosgeschocolate.com
If bacon isn't your favorite smoked meat, then perhaps you'd prefer a little beef with your chocolate bar. This sweet snack is inspired by "The Hunger Games." This movie connection might seem a bit strange, but the bar would make a great energy-giving gift to send to a tribute during a parachute drop. However, it sounds more like something that "The Hunger Games" star Woody Harrelson dreamed up when he was smoking a little you-know-what (yes, I know he's vegan, but I had to throw a Mary Jane joke in here somewhere).
---
6

Sriracha Hot Sauce Spicy Chocolate Bar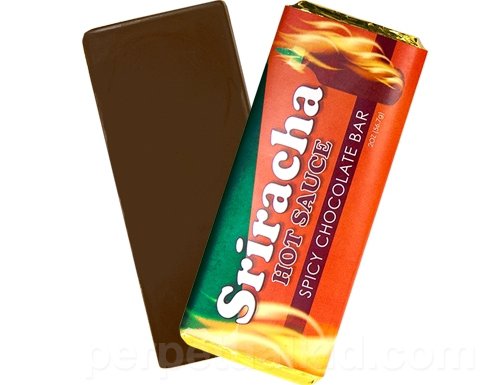 Buy Here: perpetualkid.com
If you're a member of the Sriracha cult, then you're probably wondering where this dream bar has been your whole life. Some people believe that Sriracha makes everything better, and they can try to prove it to themselves by consuming this crazy concoction. The combo of garlic, chili, and chocolate is a little too much for me, but I put this bar on this list because it's a must-try for chocolate fans who are really adventurous. It would also make a great gift for someone who is obsessed with Sriracha sauce.
---
7

Komforte Chockolates Ramen Noodle Bar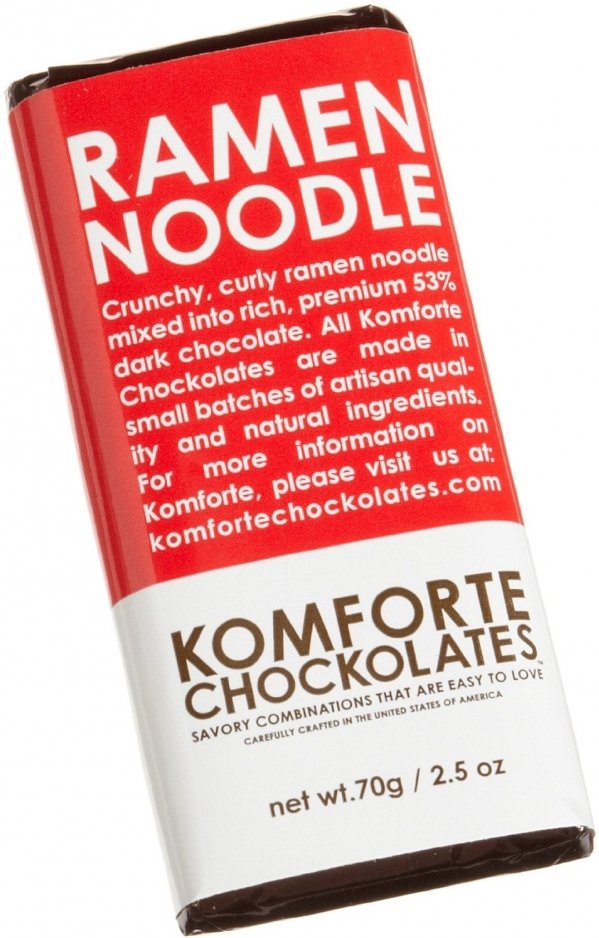 Buy Here: shop.seattlechocolates.com
This dark chocolate bar contains another cult food. If you like putting Sriracha in your ramen noodles, then perhaps you should try sandwiching this bar with the previously-mentioned treat. There are just enough dried ramen noodles to give it a bit of a crunch, so you'll be relieved to know that the inside of the bar doesn't look like Justin Timberlake's old hairstyle. This would make a great gag gift/dessert for a college student who noshes on ramen every night.
These snacks might be a little too strange for some, but others will find these crazy flavor combos rather appealing. You just have to have taste buds that like being a bit baffled. So do any of these unusual chocolate bars sound appetizing to you?
---
Comments
Popular
Related
Recent