Mug treats are awesome. If you've never tried to make a quick snack or meal in a mug, get ready for a delightful surprise! You can easily create a simple breakfast, yummy snack or dessert that you won't believe was made in a mug in the microwave. Mug treats are quick, easy and the ultimate lazy girl secret to making magically delicious treats in just a few steps. I know you've got a mug in the pantry just waiting to be filled up with some mouthwatering goodies - let's get cooking!
---
1

Coffee Cup Quiche
Let's start off this list of mug treats with breakfast. I can eat breakfast any time of the day and it always tastes amazing. Quiche, from what I've heard, can be a little tricky to make so when I saw that you can recreate the flaky and savory dish in just a few steps, I was sold.
Ingredients:
1 egg
1 ½ tablespoons of milk
Salt
Black pepper
¼ piece of bread or bagel
2 teaspoons of cream cheese
½ slice of ham or prosciutto if you're fancy
Freshly chopped thyme or green onions
Dijon Mustard
Directions:
Mix the egg and milk together with a fork in your mug, add salt and pepper to taste. Next, tear up the bread or bagel into small, dime-size pieces with the cream cheese and stir it all in. Cut up your ham or prosciutto, mix and sprinkle thyme or onions on top. Microwave the mug on high for about a minute and 10 seconds and garnish with additional thyme or chives on top.
Source: stltoday.com
---
2

2-Minute French Toast in a Mug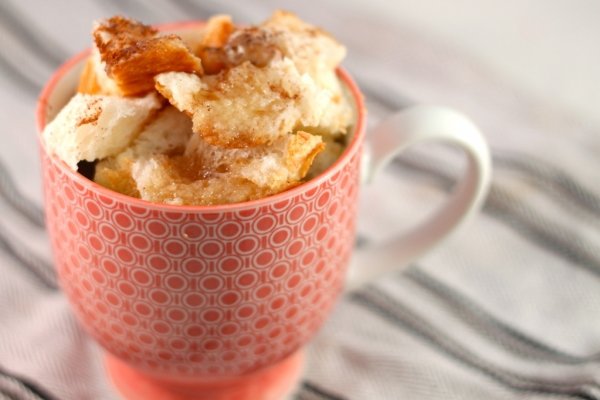 Another easy breakfast mug recipe to try is this 2-Minute French toast. French toast is like dessert for me and I'm always down for dessert as a meal so I can see quite a few of these being made in my future. I'm not encouraging eating on the run, but this is a fun way to enjoy a delicious breakfast even if you're short on time.
Ingredients:
1-1 ½ slices of bread of choice, cubed
Pat of butter
1 egg
3 tablespoons milk
Cinnamon
Vanilla Extract (optional)
Directions:
Place the pat of butter on the bottom of your mug and add in the cubed bread. You can smoosh the bread in a little if needed. Next, in a separate mug or bowl, crack the egg and add milk, cinnamon and the vanilla extract if desired and mix. Pour the mixture on top of the mug of cubed bread and give it a minute to soak in. Place your mug in the microwave and cook it until it's the desired consistency, typically around a minute and 20 seconds.
Source: prudentbaby.com
3

Blueberry Flaxseed Microwave Muffin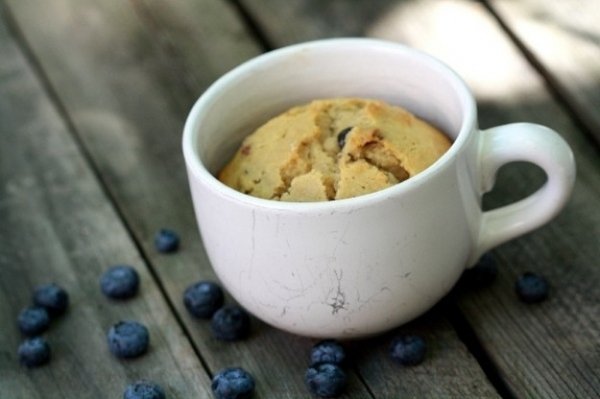 Why settle for store-bought muffins when you can make your very own mobile muffin in a mug? It only takes a minute to prepare and a minute and a half to cook and you'll be enjoying a mouthful of blueberry goodness with some healthy flaxseeds thrown in! Feel free to use regular pancake syrup instead of the sugar-free type if you like.
Ingredients:
1 ounce of frozen blueberries
¼ cup of ground flaxseeds, ground
½ teaspoon of baking powder
2 tablespoons of sugar-free pancake syrup
½ teaspoon of orange or lemon zest
1 egg white
½ teaspoon of nutmeg
Directions:
Combine all of your dry ingredients in a bowl and mix thoroughly. Next, add your egg white, syrup and zest. Grab a large coffee mug and spray it with your cooking oil of choice and pour in the mixture. Microwave the mug for 90 seconds and enjoy! If you want to make this recipe even better, add a tablespoon of melted butter into the batter.
Source: recipes.sparkpeople.com
---
4

2-Minute Omelet in a Mug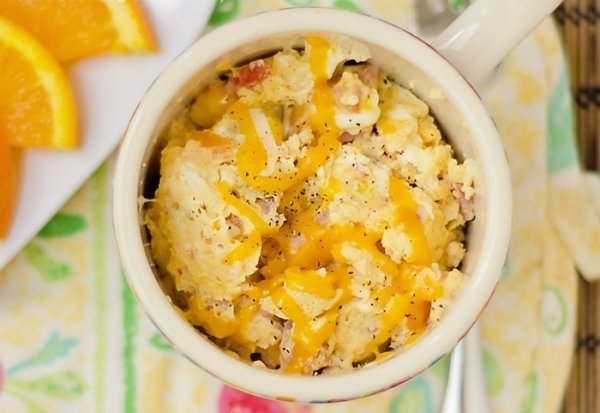 Who says you have to go to a restaurant to enjoy a dreamy omelet? You can easily make a divinely delicious omelet in a mug in less than five minutes and it makes a great protein-packed breakfast or snack. It's light, fluffy and perfect when you're craving some variety in your breakfasts.
Ingredients:
2-3 eggs
1 tablespoon of diced meat of your choice
1 tablespoon of salsa
1 tablespoon of shredded cheese of your choice
1 tablespoon green bell pepper
Cooking spray
Salt and pepper to taste
Directions:
Spray your mug with cooking spray and add in eggs. Whisk the eggs with a fork and add in the remaining ingredients and mix. Microwave the mug on high for one minute and stir up any large chunks. Return to the microwave for another minute or until the eggs are ready. Add some more cheese and salt pepper on top if desired.
---
5

Red Velvet Mug Cake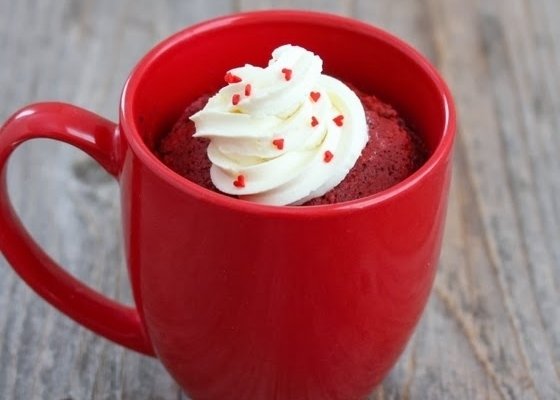 Enough of breakfast, let's get into some deliciously decadent desserts! Red velvet is one of my personal favorites and I like it so much that I'd probably eat socks if they had cream cheese frosting on top! I think this is the perfect way to satisfy a cake craving without having to make a whole cake or a bunch of cupcakes.
Ingredients:
4 tablespoons of flour, all purpose
2 tablespoons of sugar
½ tablespoon of unsweetened cocoa powder
1/8 teaspoon of baking soda
2 tablespoons of butter milk
1 tablespoons of fat free milk
½ tablespoon of vegetable oil
1/8 teaspoon of white vinegar
¼ teaspoon of red food coloring
Cream Cheese Frosting:
1 ounce of cream cheese
1 ounce of butter
4-5 tablespoon of powdered sugar
Directions:
Mix all of your ingredients into a large mug and whisk until your batter is smooth. Cook the batter in the microwave for about a minute. Now comes the hard part, letting it sit for about 30 minutes to let the cake cool and allow flavors to develop. While you're waiting, mix your cream cheese frosting ingredients together and mix on high speed until it's fluffy. Once your cake is ready, add the frosting and dig in.
Source: kirbiecravings.com
---
6

Vegan Banana Mug Cake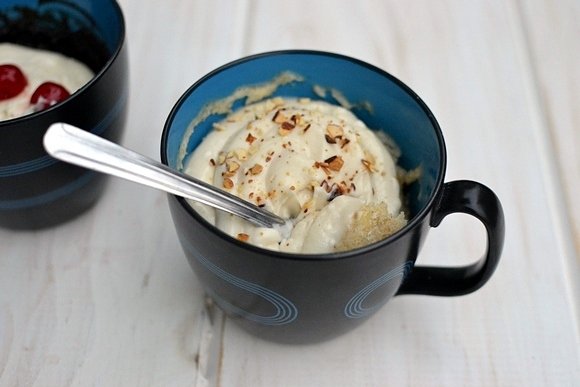 Yay for vegan microwave mug recipes! Whether you're vegan or lactose intolerant, this is a fab recipe with an incredible frosting to whip up a quick cake. If you're the only one in your home who is vegan and don't want to deal with a bunch of leftovers from a big cake, this mug cake is absolutely perfect!
Ingredients:
2 tablespoons of soy or almond milk
¼ teaspoon of vanilla extract
1 tablespoon of cooking oil
¼ cup or a half of a medium banana
A pinch of salt
A pinch of cinnamon
¼ cup of sugar
1/3 cup of flour, all purpose
¼ teaspoon of baking powder
Frosting (enough for 2 mug cakes):
3 tablespoons of vegan cream cheese
3 tablespoons of powdered sugar
2 teaspoons of soy or almond milk
2 drop of vanilla extract
Directions:
In a mug, combine sugar, baking powder, flour, cinnamon and salt. Next, add all of the wet ingredients and mix well. Microwave the mug on high for around 2 minutes until you can stick a toothpick in the middle and it comes out clean. To make the frosting, combine all of the ingredients until it's fluffy. Spoon or pipe the frosting on the cake and enjoy.
Source: cookshideout.com
---
7

Gluten-free and Vegan Chocolate Brownie Mug Cake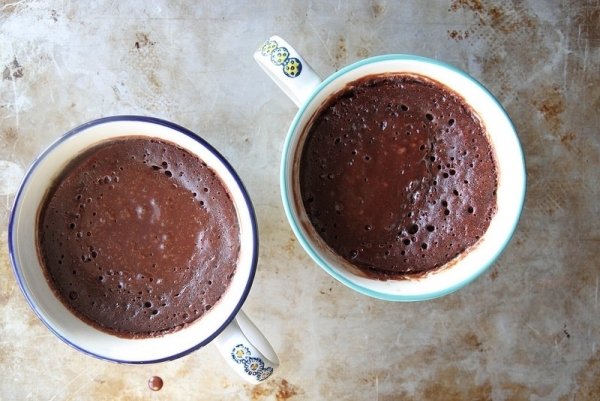 So you say you're vegan or dairy and gluten-free? No problem! There's a mug recipe just for you and it's unbelievably delish! It only takes a few minutes to prepare and cook and you've got your sweet tooth satisfied and you can feel good about it eating it.
Ingredients:
½ cup of gluten-free flour
½ cup of palm or beet sugar
4 tablespoons of unsweetened, natural cocoa
4 tablespoons of canola oil
½ cup of coconut milk
Pinch of salt
Whipped coconut cream (optional)
Directions:
In a blender, combine the flour, sugar, coconut milk, cocoa, salt and oil and mix until smooth. Divide the batter between two mugs and microwave for 1-2 minutes depending on your microwave. The cake should be moist when it's done. Lastly, let the cake cool and serve with whipped coconut cream or sorbet.
Source: heatherchristo.com
---
8

Five Minute Healthy Carrot Cake for One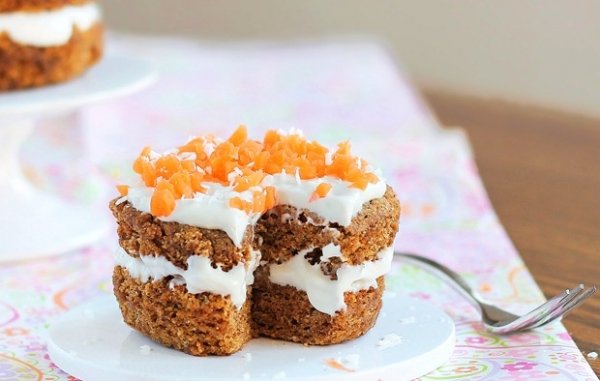 I know you're thinking that this carrot cake doesn't sound
healthy, but it really is! Even the frosting on top is pretty healthy compared to other frostings. What a great way to enjoy carrot cake without overloading on sugar or any other questionable ingredients. Make this as a quick weekday dessert or enjoy it on a lazy weekend with a friend.
Ingredients:
¼ cup flour (you can use spelt, white or Arrowhead Mills gluten-free)
½ teaspoon of cinnamon
¼ teaspoon baking powder
1/8 teaspoon baking soda
1/8 teaspoon of salt
½ an egg (you can also use ½ teaspoon of ener-g or 2 teaspoons of flaxmeal. You can omit this ingredient completely, but it won't rise as well)
1½ tablespoons of brown sugar (or use white sugar, xylitol or coconut sugar)
1 packet of Stevia (or sub for 1 tablespoon white sugar or Xylitol)
1/3 cup of canned carrots, drained (or sub for ¼ cup pureed pumpkin)
1 tablespoon of milk (you can use milk of choice)
1 tablespoon of cooking oil
¼ teaspoon of pure vanilla extract
Frosting:
¼ cup of Mori Nu Silken Tofu
¼ cup and 2 additional tablespoons of cream cheese style spread such as Tofutti non-hydrogenated
½ teaspoon of pure vanilla extract
Sweetener
Up to 2 tablespoons of your milk of choice
Directions:
Mix all of your dry ingredients in a small bowl. Next, mix all wet ingredients in a blender or Magic Bullet and combine with dry ingredients and stir. Spray your mug or ramekin with cooking oil and pour the batter in. Cook in the microwave for about 1 minute and 20 seconds. To make the frosting, blend all ingredients in a food processor or Magic Bullet and frost your cake!
Source: chocolatecoveredkatie.com
---
9

2-Minute Microwave Mug Cheesecake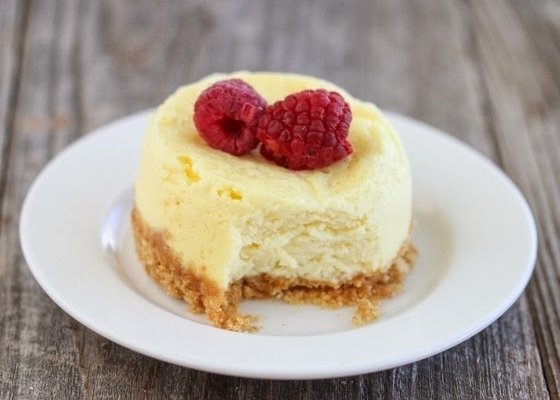 Who knew you could make a rich, mouthwatering cheesecake in two minutes flat? This is one of the microwave mug recipes that cheesecake lovers can't afford to pass up. Now you can satisfy that cheesecake craving in the comfort of your own home in a perfect serving for one.
Ingredients:
2 tablespoons of confectioner's sugar
2 tablespoons of sour cream, regular or low-fat
3 tablespoons of cream cheese, regular or low-fat
1/8 teaspoon of fresh lemon juice
¼ teaspoon of pure vanilla extract
½ egg or egg substitute beaten until fluffy
1 vanilla wafer or graham cracker
Toppings or add-ins of your choice
Ingredients:
Combine sugar, sour cream, cream cheese, egg and lemon juice in a small bowl or mug and mix. Fold in any mix-ins if you're adding any and microwave on high for one minute. Open your microwave door for 20 seconds, close the door and then microwave again for 45 additional seconds. If you added in ingredients (mix ins) you might need to microwave an additional 20 seconds. Take our your mug and let the cake cool for 10 minutes and then place it in the fridge for 2 hours. When it's ready, crumble the vanilla wafer or graham cracker on top. If you take the cake out of the mug, place crushed vanilla wafer or graham cracker on the bottom.
Source: hungrylittlegirl.com
---
10

Jorge Cruise's Skinny Muffin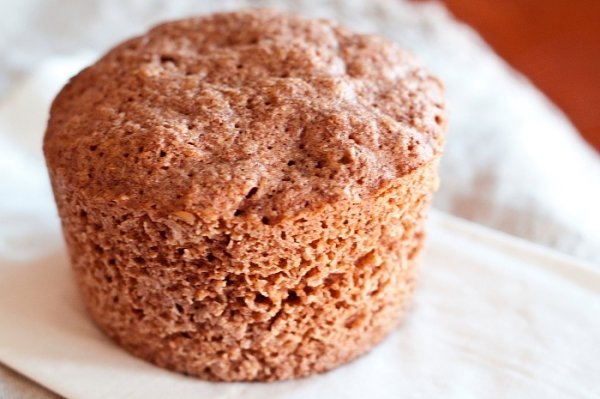 This skinny muffin recipe is brought to you by fitness expert and weight-loss coach Jorge Cruise. It makes a wonderful midday snack or even a fast breakfast. It's healthy, low in sugar and made to give you lasting energy so you can power through the day without a sugar crash.
Ingredients:
¼ cup of ground flax
1 teaspoon baking powder
1-2 teaspoons of cinnamon
1 teaspoon of coconut oil
1 egg
1 packet of Stevia
Directions:
Combine all of the ingredients in a mug and mix. Microwave for 50-60 seconds, cool and enjoy.
Source: doctoroz.com
---
11

60-Second Brownie for One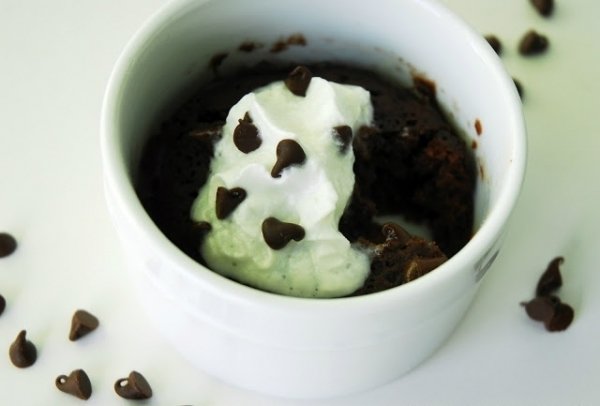 The last mug recipe is a real gem. You can enjoy a moist, delicious brownie in just one hot minute. I love brownies and while I'm always in the mood to eat them, I'm not always in the mood to make them. Now I can easily whip up a brownie and get my chocolate fix in a matter of seconds.
Ingredients:
2 tablespoons of brownie mix, regular or sugar-free
Non-stick cooking spray
1 tablespoon of water
Toppings (optional)
Directions:
Spray your mug or small bowl with non-stick spray. Next, add the brownie mix with water and mix it with a fork. Microwave for one minute, allow it to cool and add toppings if desired.
Source: thegunnysack.com
Be sure to try out some of these microwave mug recipes and let me know how you liked them! Don't be afraid to experiment with different ingredients. You never know, you might discover a new and even better recipe. What's your favorite food to make in a mug?
---
Comments
Popular
Related
Recent