Kale recipes are all over the place these days, which is great news if you need yummy ways to incorporate this superfood into your meal plan. Kale is affordable and it's super easy to work with, so you can really do your health some good by giving it a try. Check out these kale recipes to get you started, then feel good about trying others that highlight this delicious green.
---
1

Sautéed Kale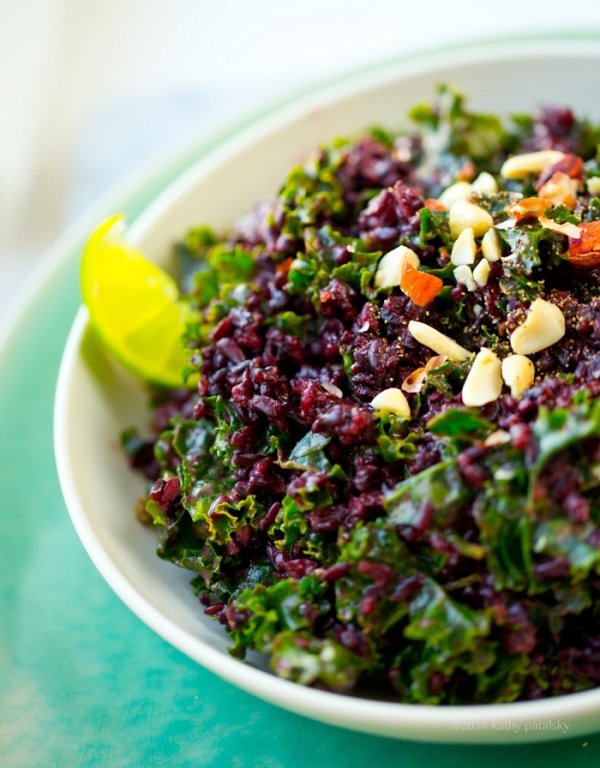 This comes courtesy of Bobby Flay, so you know it's one of the best kale recipes out there. It's super easy to pull off and you'll wind up with a delicious side dish that pairs wonderfully with chicken, steak or fish. You just can't go wrong with this recipe.
Ingredients:
1 ½ pounds kale, chopped
3 tablespoons oil
2 finely sliced garlic cloves
½ cup vegetable stock
Salt and pepper
2 tablespoons red wine vinegar
Directions:
Heat the oil over medium-high heat. Add the garlic and cook until soft, then add the kale, increase the heat to high and toss with the garlic. Cover the kale and cook for 5 minutes. Remove the cover and cook for an additional few minutes, or until the liquid evaporates. Season with salt, pepper and vinegar.
Source: foodnetwork.com
2

Chili Roasted Kale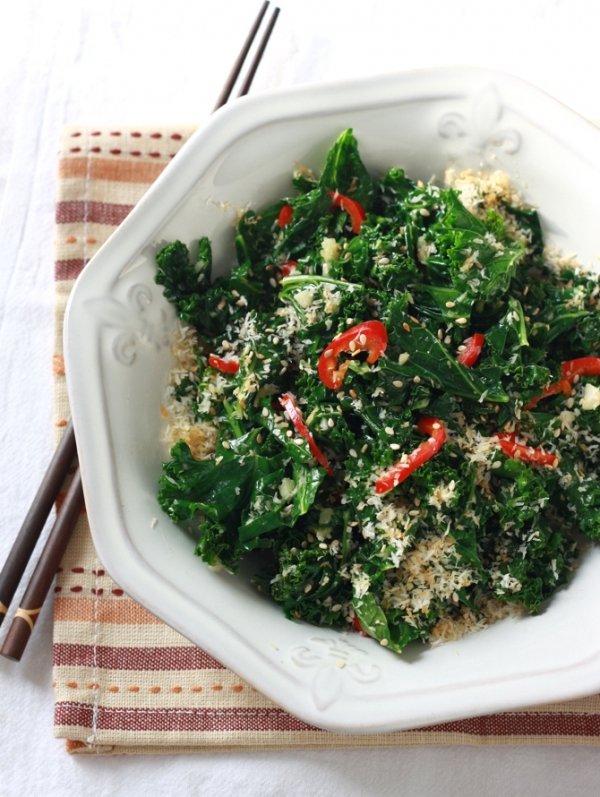 If you're like me and love all things spicy, this is definitely the kale recipe for you. It's got a hint of spicy flavor paired with the deliciousness of the kale. Layer this on tacos or serve it on top of burritos or enchiladas.
Ingredients:
4 cups kale, washed and stemmed
1 tablespoon olive oil
1 tablespoon chili powder
½ teaspoon salt
Directions:
Preheat the oven to 400 degrees. Toss the kale with the olive oil in a large bowl, then sprinkle with the chili powder and salt. Spread the kale on a baking sheet and roast for 5 minutes. Stir and roast for an additional 5 minutes.
Source: allrecipes.com
---
3

Kale with Roasted Peppers and Olives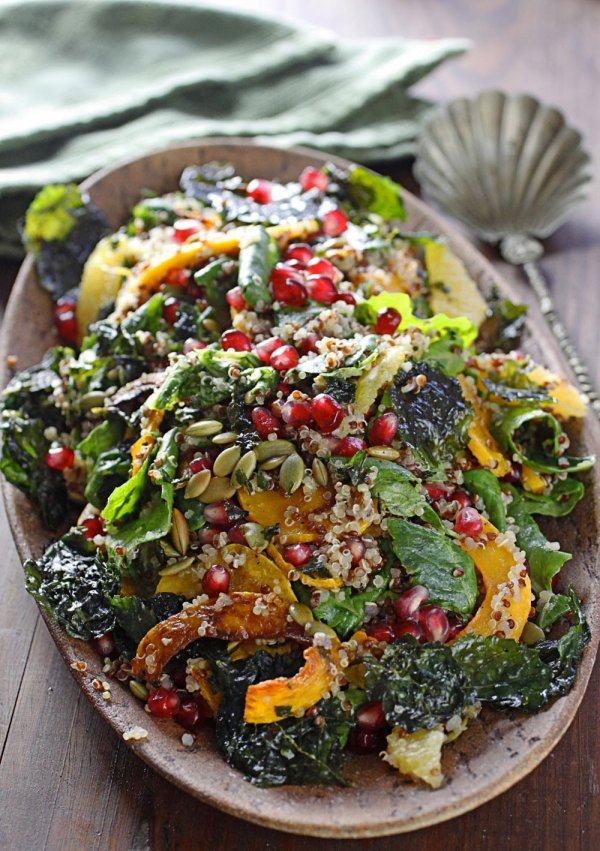 This recipe makes a great side dish, but you can even gobble a huge plate of it as a meal. It tastes great fresh or the next day as leftovers. Give this a try next time you want to impress your dinner guests.
Ingredients:
2 bunches kale, washed and chopped
2 tablespoons oil
2 thinly sliced garlic cloves
2 teaspoons sugar
1 teaspoon salt
12 Kalamata olives, chopped and pits removed
4 ounces jarred roasted red peppers
2 tablespoons balsamic vinegar
Directions:
Heat the oil and the garlic in a large skillet over medium-high heat. Brown the garlic, then remove it from the pan. Stir in the kale and cook for 5 minutes. Add ¼ cup water, cover the pan and cook for an additional 8 minutes. Remove the lid, add the sugar, salt, olives and peppers and cook until the liquid evaporates. Serve topped with the cooked garlic and balsamic vinegar.
Source: realsimple.com
---
4

White Bean Soup with Kale and Chorizo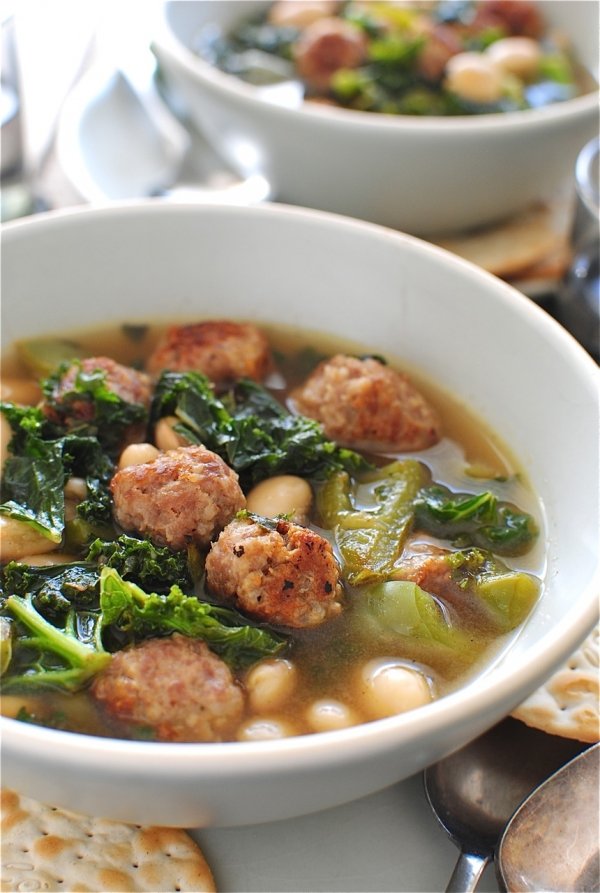 Soup is a great place to use kale. It wilts slightly so it gives the soup a great flavor and texture, as well as loading you up with lots of nutrients.
Ingredients:
2 ounces chorizo, finely chopped
1 cup onion, chopped
3 minced garlic cloves
3 cups low-sodium chicken broth
2 (15-ounce) cans cannellini beans, rinsed and drained
4 cups chopped kale
½ teaspoon pepper
Directions:
Heat a pan over medium-high heat and cook the chorizo for 1 minute. Add the onion and garlic and cook for 5 more minutes. Heat the broth in the microwave at HIGH for 3 minutes. Add the broth and beans to the chorizo and bring to a boil. Lightly mash the beans and add the kale and pepper. Cook for 6 minutes, then serve.
Source: myrecipes.com
---
5

Squash and Kale Toasts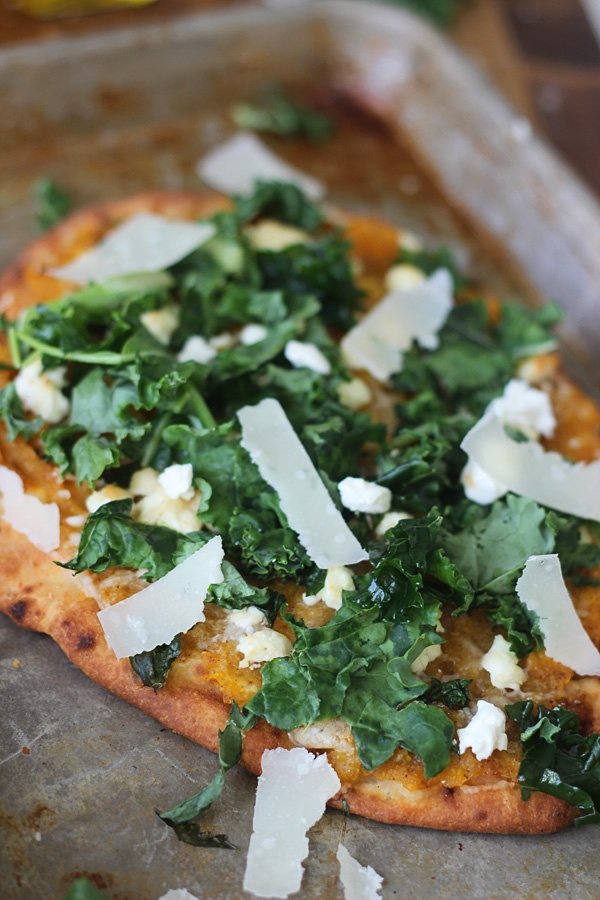 This is the perfect "wow" appetizer to serve at your next dinner party. The color of the squash combines perfectly with the kale and the flavor of this meal simply can't be beat. On top of all that, it tastes wonderful too!
Ingredients:
2 pounds delicata squash, peeled, halved lengthwise, seeds removed and sliced ½-inch thick
½ cup olive oil, plus more for brushing
Salt and pepper
1 pound kale, stems and ribs removed, coarsely chopped
4 thinly sliced garlic cloves
8 slices peasant bread
4 ounces shaved Parmigiano-Reggiano cheese
Directions:
Preheat the oven to 350 degrees. Place the squash in a bowl and toss with 2 tablespoons oil and season with salt and pepper. Bake the squash on a roasting sheet for about 30 minutes, turning once. Heat the remaining oil in a skillet and cook the kale for 8 minutes, or until wilted. Add the garlic and cook 3 more minutes. Season with salt and pepper, then add the squash. Brush the bread with oil and grill in a preheated pan until toasted on both sides. Top each toast with the kale-squash mixture. Top with the cheese and serve.
Source: foodandwine.com
6

Raw Kale, Grapefruit and Toasted Hazelnut Salad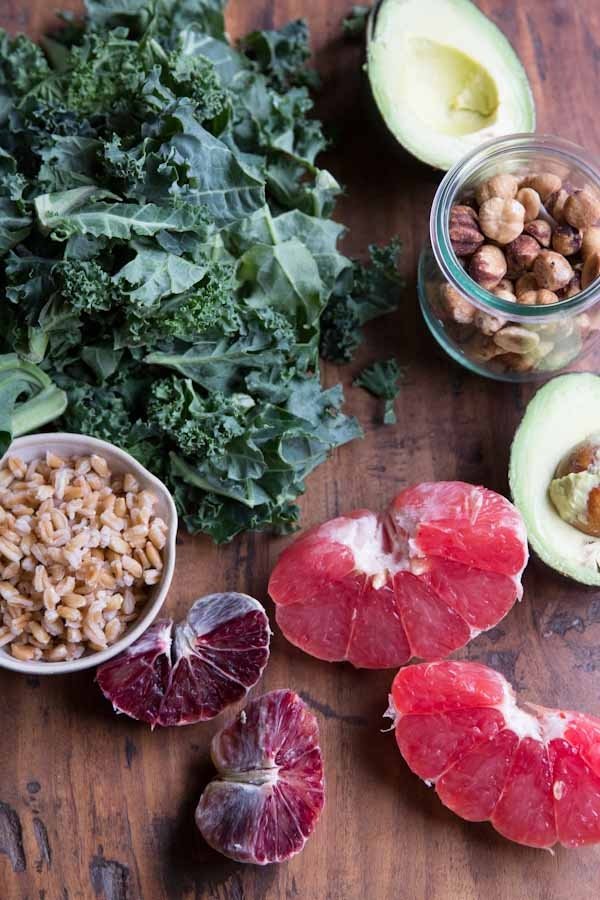 If you're a salad person, this is a totally tasty salad that showcases everything kale has to offer. It's perfect for a summer party, but it tastes great anytime of the year.
Ingredients:
2 pink grapefruits
½ red onion, thinly sliced
¼ cup lemon juice
½ cup plain yogurt
2 tablespoons olive oil
½ teaspoon salt
¼ teaspoon pepper
8 ounces baby kale, thinly sliced
1 ounce hazelnuts, toasted
Directions:
Peel the grapefruit and separate into segments. Reserve 3 tablespoons of the juice. Mince 2 onion rings and add to the grapefruit juice, then add the lemon juice, yogurt, oil, salt and pepper. Whisk to combine well. Toss the kale in the yogurt mixture and top with the grapefruit, remaining onions and hazelnuts.
Source: health.com
---
7

Kale and Banana Smoothie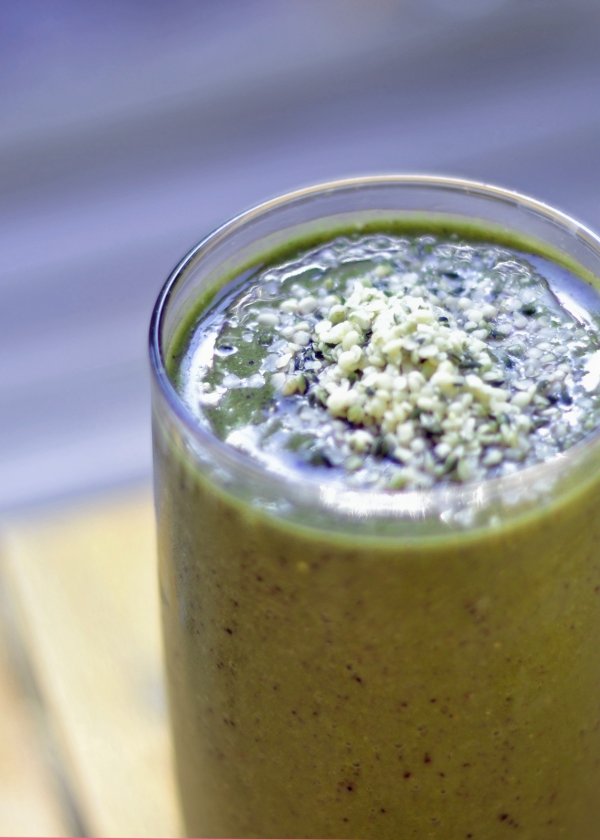 Kale gets a lot of hype as a great ingredient for smoothies, so I thought I'd better include at least one. The banana in this recipe helps mask the slightly bitter taste of the kale for a breakfast you can feel great about eating.
Ingredients:
1 banana
2 cups kale, chopped
½ cup unsweetened soy milk
1 tablespoon flax seeds
1 tablespoon syrup
Directions:
Place all the ingredients in the blender and puree. Pour over ice and serve.
Source: allrecipes.com
How do you serve kale? Which of these recipes will you try first?
---
Comments
Popular
Related
Recent