7 Positively Wonderful and Healthy Things to Make with Almonds in Your Kitchen ...
By Heather
Raw almonds are one of my favorite foods, and I have a huge list of things to make with almonds that I can't seem to stop adding recipes to! In fact, almonds seem to be a common obsession among people today with the rise of peanut allergies. Whether or not you're allergic to peanuts, try using almonds in one of your next recipes that calls for nuts. Or, instead of your typical unhealthy treats, try one of these things to make with almonds below. I just know you'll be a fan as much as I am!
---
1

Caveman Bars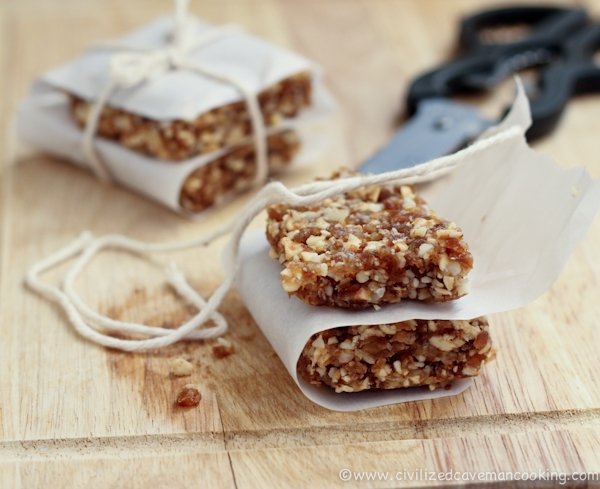 These are one of my absolute favorite things to make with almonds for a delicious treat. These little gems taste like fresh apple pie in just one or two bites! Make them for breakfasts for the week, or for a quick snack on the go. They keep well and will be sure to please anyone you give them to.
Serves: 6 small bars
Ingredients:
1 cup dates, soaked and rinsed
½ cup macadamia nuts
½ cup raw almonds
2 tbsp. coconut oil, melted
2 tsp. apple pie spice
Directions:
Add all the ingredients to your food processor and mix until you get a dough-like consistency. Shape into small 3 inch bars and place in the fridge to harden up. These will keep for 2 weeks on the counter in a container, but I doubt they last that long!
Source: soulfulspoon.com
2

Almond Green Smoothie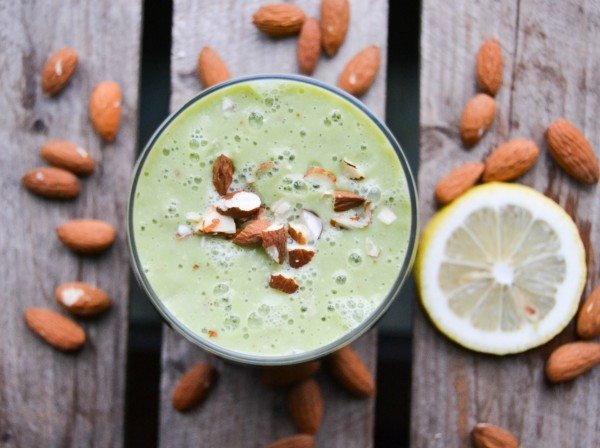 This lovely smoothie is rich in healthy fats and has a delightful creamy consistency. Try it next time you want something filling and healthy for breakfast!
Serves: 1
Ingredients:
3 leaves of dino kale, stems removed
¼ cup raw almonds, soaked
¼ avocado
2 slices of green apple
1 tsp. cinnamon
½ cucumber, chopped
1 cup cold water or almond milk
Directions:
Add all the ingredients to your blender and blend until smooth.
Source: soulfulspoon.com
---
3

Paleo Almond Hummus (Raw, Vegan)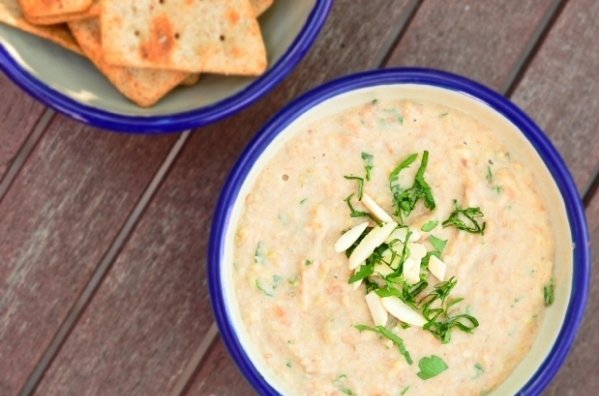 Have you ever tried to make hummus with almonds? It's delish, let me tell you! This version is simple, and Paleo friendly since it is chickpea-free. Paleo fans don't consume legumes like chickpeas, but even if you're not Paleo, you'll love this recipe, I promise!
Serves: 1 cup
Ingredients:
1 Cup raw almonds, soaked overnight, then drained and rinsed
1/2 cup tahini or you can sub in cashew butter or almond butter here
juice from one whole lemon
½ tsp. sea salt
3 tbsp. cold water
Optional: any seasonings you want such as garlic, onion, parsley, cilantro, or for a sweet version, try cinnamon, ginger or cardamom
Directions:
Place all the ingredients in your food processor and blend until you get a smooth consistency like hummus.
Source: therawcookedvegan.blogspot.com
---
4

Raw Almond Truffle Delights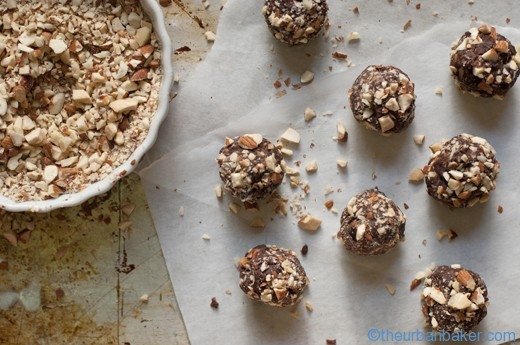 I love homemade truffles, and these delightful raw treats are one of my favorite recipes. They're also low in sugar, unlike most raw treats that use dates or other dried fruits. Try this recipe out, and you'll wonder why you ever got hooked on regular candy bars!
Serves: 20 truffles
Ingredients:
1 ½ cups raw organic almond butter
½ cup unsweetened shredded coconut
⅓ cup coconut oil, melted slightly
1 tsp. cinnamon
¼ tsp. pure stevia extract (or 10 drops of liquid)
¼ cup ground golden flax
¼ cup raw chia seeds
¼ cup raw hemp seeds
Optional: 1-2 tbsp. cocoa powder or 1 tsp. vanilla extract are also nice!
Directions:
Add all the ingredients to your food processor and process until you get a dough-like consistency. Roll into balls the size of small truffles, put on a glass plate, and freeze to harden up for 30 minutes. Remove and serve, or keep them in the fridge in a container. These make wonderful snacks!
Source: thenourishinghome.com
---
5

Raw Almond Yogurt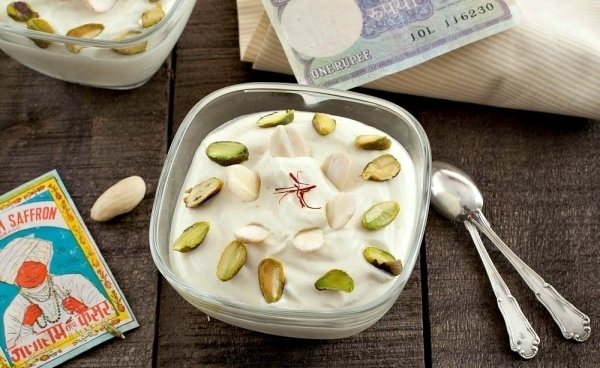 Okay, I think you all will love this recipe, I know I sure do! Raw almond yogurt is a must make if you love yogurt, but don't tolerate or don't eat dairy. It's also much healthier than almond yogurt you find at the store. Make this and I promise you'll never crave the store bought stuff again!
Serves: 4 cups
Ingredients:
2 cups raw organic almonds, soaked overnight, strained, and rinsed well
1 tsp. lemon juice (you can't taste it, don't worry!)
4 cups pure, filtered cold water
2 dates or 2 tbsp. raw coconut sugar (this will feed the probiotics)
4 probiotic capsules from your fridge
Directions:
After your almonds have soaked, been rinsed and drained, add them and the rest of the ingredients to your blender and blend on high until smooth (no almond clumps). Next, using a fine mesh strainer, or a nut milk bag, pour the mixture from the blender into the strainer or nut milk bag over a bowl very slowly. You're basically just wanting the liquid to come out into the bowl underneath. "Milk" the almond milk or let it strain until all the almond milk has been strained into the bowl. Cover the bowl with a clean dish towel and wrap it well. Let it sit at room temperature for 24 hours, or I like to place it in my oven with the oven off so it doesn't get any drafts of cool air. Just plan to do this after you haven't used your stove all day, and won't be using it for 24 hours. The next day, check it and you have yogurt if it smells like regular yogurt. Cover it, and let it chill in the fridge for 6-8 hours to cool. It will be good for about 1 week.
Source: figgyandsprout.com
---
6

No Bake Chocolate Almond Cake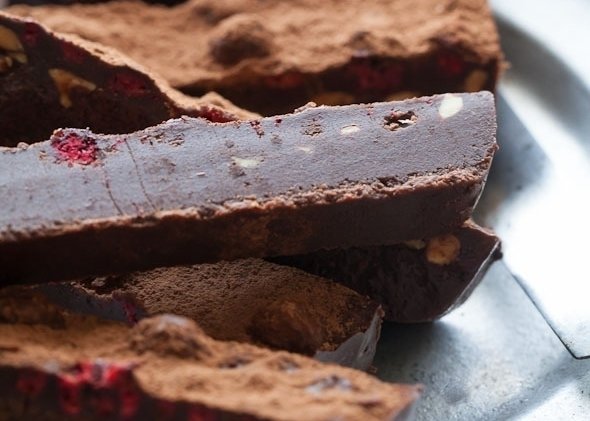 This recipe is adapted from one of my favorite blogs, Gourmande in the Kitchen. It's a raw, gluten-free chocolate cake that you're going to die over! Make this next time your chocolate craving kicks in and enjoy it guilt-free!
Serves: 8 small slices
Ingredients:
1 cup raw almond butter
1 cup raw coconut oil
1 cup raw cacao powder
⅓ cup freeze dried raspberries
½ cup honey, coconut nectar, or maple syrup
1/2 tsp. Himalayan sea salt
¼ cup raw cacao nibs
Directions:
Line an 8x8 inch loaf pan with parchment paper. You can spread coconut oil in the pan first to help the paper stick better if you like. Melt your coconut oil slowly. I like to place mine in a glass bowl, and put it on the hot plate of my coffee maker so it doesn't burn. This takes about 10 minutes. After it's melted, pour it in your blender, and add the cacao powder, sweetener of choice, almond butter, and salt. Then, blend until smooth. Scrape that mixture into a mixing bowl. Stir in the raspberries and cacao nibs. Pour this into the prepared pan, and let it sit in the fridge for at least 2 hours to harden, or the freezer for 45 minutes. Cut into slices and serve.
Source: gourmandeinthekitchen.com
---
7

Raw Almond Joy Cups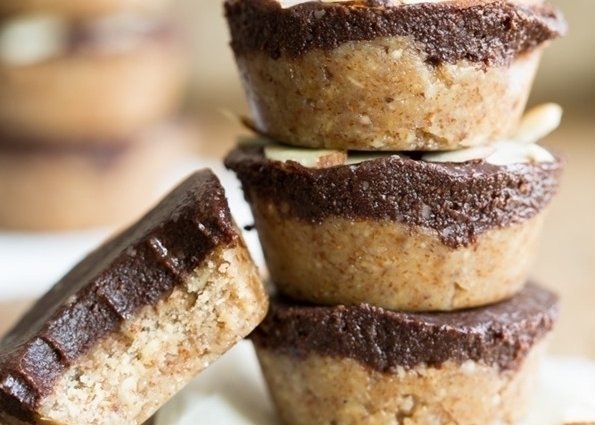 If you love Almond Joy bars and Reese's Cups, you have to try this recipe! It's adapted from another one of my favorite blogs, Oh She Glows. It's also vegan and gluten-free. The cups are full of almond butter flavor, and the tops of each cup are a nice chocolate fudge texture, much like hardened chocolate on Reese's Cups. Enjoy!
Serves: 6 muffin cup size cups
Ingredients:
For the Cups:
1 cup almond butter
¼ cup gluten-free oat flour (or make your own by grinding whole oats in a processor first)
2 tbsp. chopped almonds
2 tbsp. coconut oil or butter, melted
2 tbsp. your choice sweetener like maple syrup or agave (or use 10 drops liquid stevia)
pinch of cinnamon (optional)
1 tsp. vanilla extract
For the Tops:
¼ cup melted coconut oil
10 drops liquid stevia or use your choice sweetener (about 2 tbsp.)
2 tbsp. raw cacao powder or cocoa powder
Directions:
Add all the ingredients for the cups to a food processor and process until smooth. Scrape this out into silicon muffin cups, or muffin cups with paper linings, filling just below the tops. Set aside. Next, for the tops, melt the coconut oil slowly, pour into a bowl, and whisk in the sweetener and cacao powder (or cocoa powder). Pour this slowly on top of all your cups. Freeze the cups for 30 minutes to harden, or place in the fridge 1 hour. Serve, or keep these in the fridge for 2 weeks. Enjoy!
Source: ohsheglows.com
Almonds are such a delightful, healthy food. They're full of vitamins and minerals, and so tasty. Be sure to try them in some of these recipes if you're not so sure about these healthy nuts. I have a feeling you'll soon be a fan! Do you like almonds? What's your favorite thing to make?
---
Comments
Popular
Related
Recent