Don't know know what to get your loved ones this Valentine's Day. Here are some sweet and simple Valentine's Day treats anyone is sure to love and know that you love them.
---
1

Heart Shaped Rice Krispie Treat Pops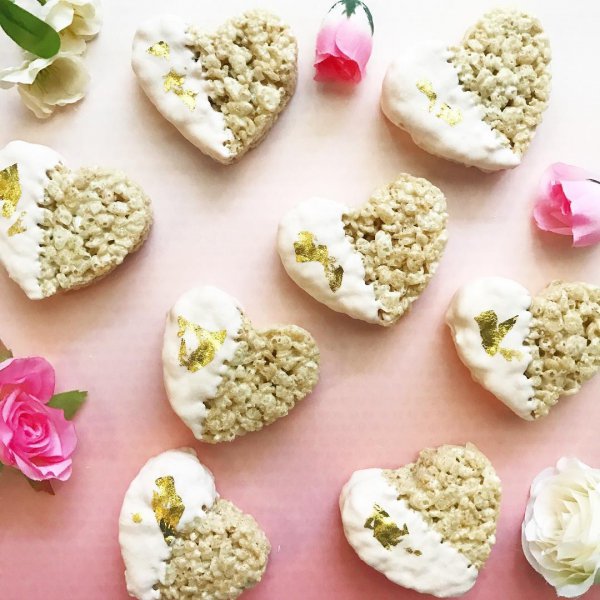 So first you'll have to make the rice krispie treats. Or you can buy a bunch of premade rice krispie treats. But rice krispie treats aren't hard to make and the recipe is on the rice krispie cereal box. After you make the treats, take a heart shaped cookie cutter to cut out the hearts. Then skewer the treats with popsicles or lollipop sticks. Now the link says to make icing and drizzle it over and add sprinkles. But you can decorate your treats however you like.
---
2

Watermelon Heart Fruit Salad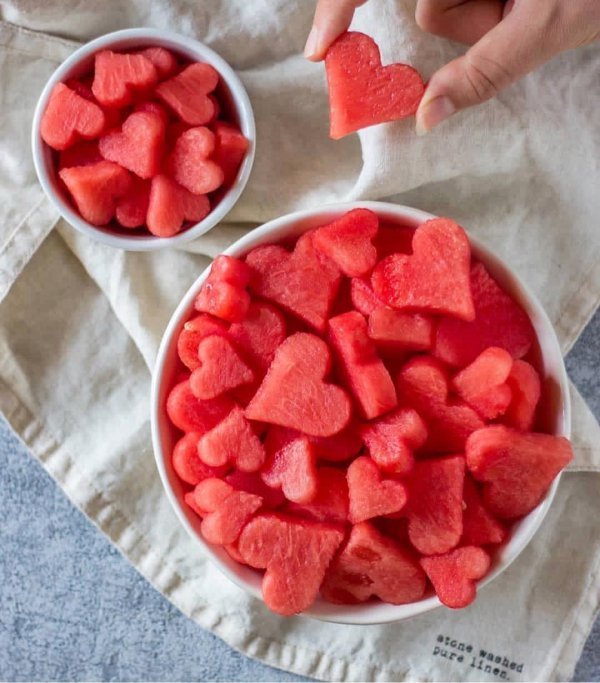 I think this treat will be the easiest to make. All you need is a heart shaped cutter and some watermelon. Cut the watermelon into heart shapes and add any accompanying fruit you would like. I think strawberries and blueberries would go well with this fruit salad.
3

Strawberry Valentine Sugar Wafers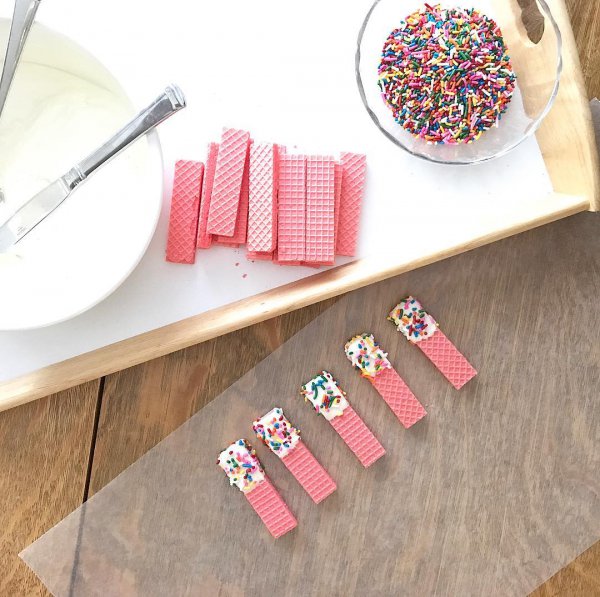 So what you'll need to make this sweet is just some strawberry wafers and some melted chocolate. Dip the wafers in the chocolate and decorate with different types of sprinkles.
---
4

Cupid's Arrow Pretzel Treats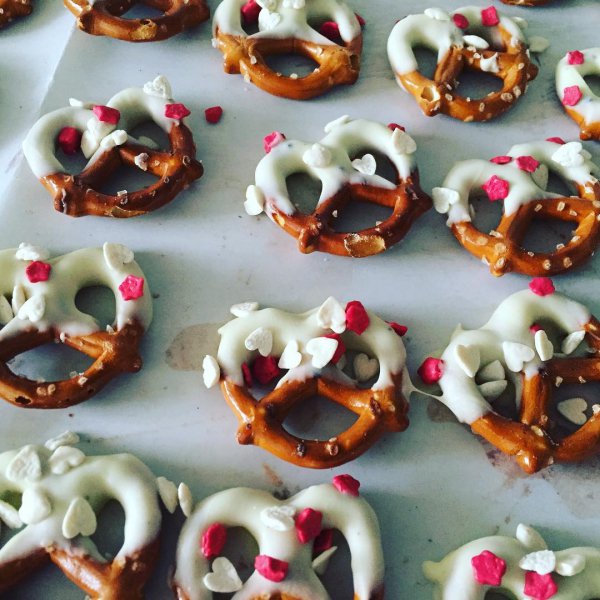 These are so cute! It's just a pretzel with gummy, candied hearts on the end. Really simple to make and no cooking required. Whew.
---
5

Vday Chocolate Covered Pretzels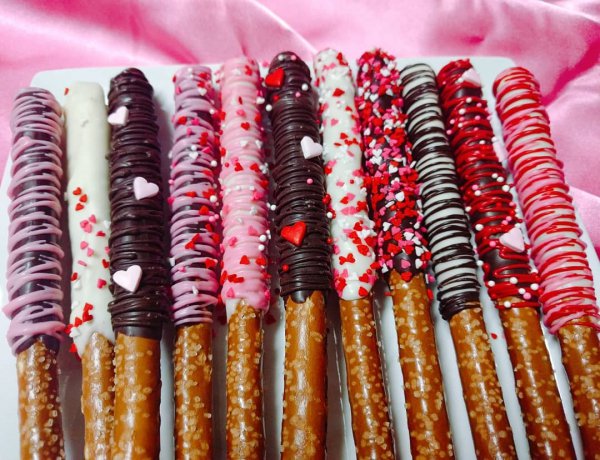 What you'll need is pretzel rods, 1 package of candy coating, and sprinkles. That's it! Now you melt the chocolate and cover the pretzel about 2/3 of the way. Enough to coat it but leaving room for people to grab the pretzel. Then cover the pretzels with whatever sprinkles you like. Allow to dry a bit before storing or sharing.
---
6

Red Velvet Oreo Fudge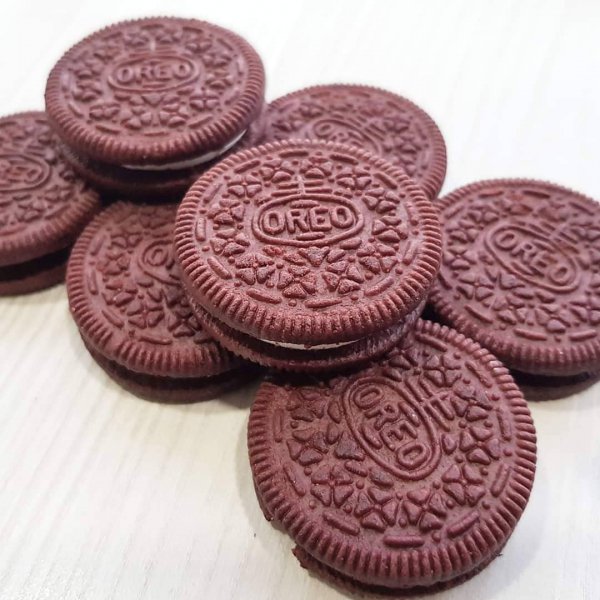 So you'll only need three ingredients to make this sweet treat work: white chocolate chips, cream cheese or vanilla frosting, and of course, Red Velvet Oreos. First, chop up the red velvet Oreos. You'll need one cup of finely chopped Oreos, and a cup of roughly chopped Oreos. I suggest a food processor for the finely chopped. Then melt the chocolate chips. Now mix together with the finely chopped Oreos and the frosting of your choice (cream cheese or vanilla). Spread your mixture into an 8 x 8 pan before pressing the roughly chopped Oreos onto the spread. Let it set in the fridge before cutting into the fudge with a heart shaped cutter.
---
7

Valentine's Day Bark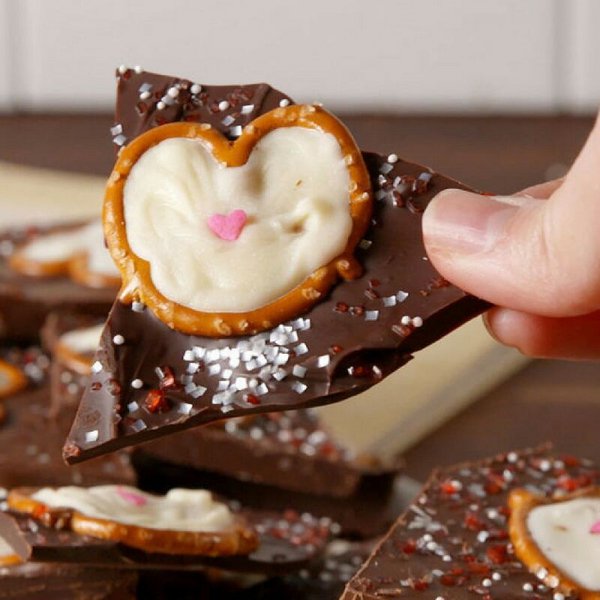 You'll need some vanilla coating candy, cherry chocolate M & M's, and sprinkles. First, you'll need to melt the coating candy and add red food coloring before pouring into a sheet pan. Then let it chill in the fridge for half an hour. Then melt more coating candy, stirring occasionally, and then pour over the first layer. Top with M & M's and sprinkles, and let chill in the fridge for an additional hour. Once completely hardened, break up into huge chunks and serve.
---
8

Red Velvet Popcorn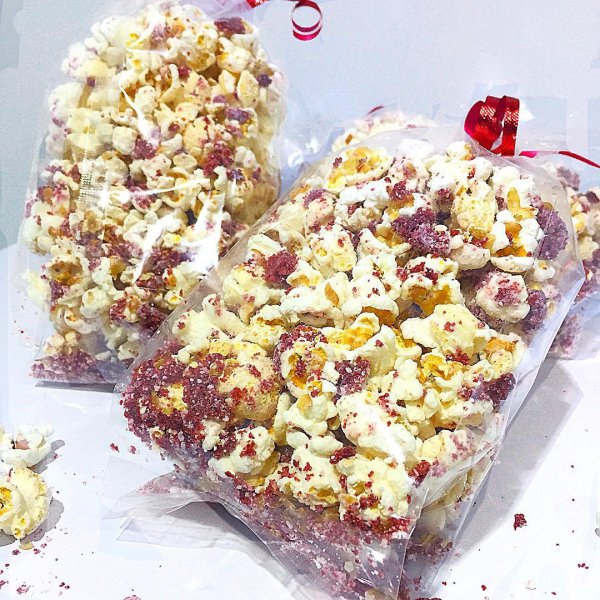 You'll need softened cream cheese, corn syrup, powdered sugar, vanilla, popped popcorn and red velvet cupcakes that are unfrosted. First, you'll need to combine the cream cheese, corn syrup, powdered sugar, and vanilla into a large mixing bowl. Then use a mixer (stand or hand held) to blend ingredients into a creamy glaze. Next, fold the popcorn into the glaze. Then crumble the red velvet cupcakes into the popcorn mixture. Now spread onto a baking sheet and allow the mixture to harden for 10 minutes. Enjoy!
---
9

No-Bake Heart Cake Pops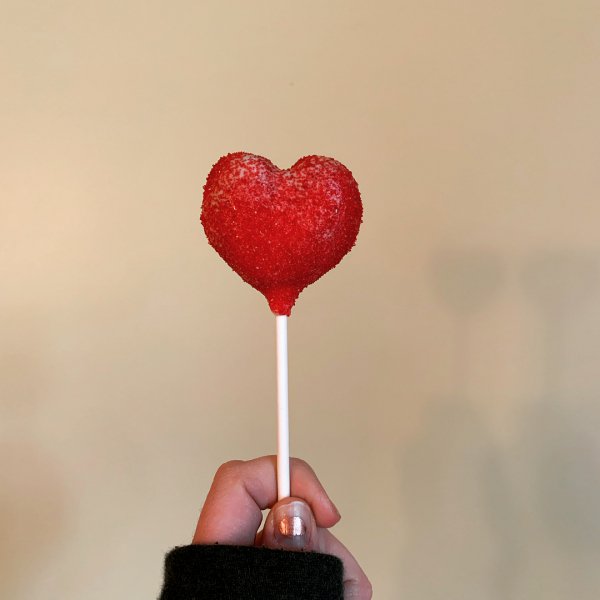 You'll need Be My Valentine snack cakes, lollipop sticks, sprinkles, pink candy melts, and Ziplock bag. First, dip the lollipop sticks in the melted candy before skewering the snack cake. Then take the melting candy and place into a piping bag (the Ziplock bag with a hole cut at the end of it) and drizzle the chocolate on the snack cake. Now add the sprinkles. Voila!
---
10

Conversation Heart Parfaits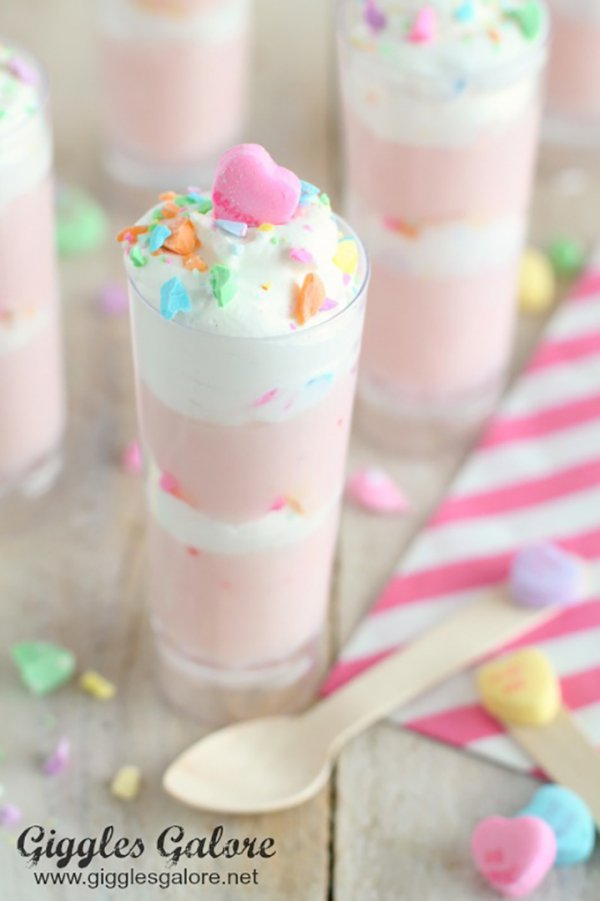 Now this is a sweet treat I can get behind. And they look so good. What you'll need is strawberry instant pudding, whipped cream, and conversation heart candies or Sweethearts candy. Now, take the Sweethearts and place them into a plastic bag. Then take a rolling pin or a thick wooden spoon and crush them up into smaller pieces. Then mix them into the whipped cream. Next, make the instant pudding and fill your dessert glasses 2/3 of the way. Then top with the Sweetheart whipped cream, then repeat with another layer of pudding and chopped candy whipped cream. Then sprinkle some more crushed Sweethearts to finish off the dish.
---
Popular
Related
Recent