I'm always looking for new Greek yogurt recipes, since the creamy staple is always lurking in my fridge. I've given up dairy before for skin issues, but Greek yogurt is typically the only kind I tolerate and it is so healthy for you! Greek yogurt is full of healthy protein, contains very little sugar if you buy the plain kind, and contains billions of probiotics, which can fight off infections and acne. Greek yogurt is also excellent for taming anxiety, lowering your blood sugar, and fighting off unwanted weight! You can also add Greek yogurt to just about anything. Check out these slimming Greek yogurt recipes, which are favorites of mine, for any kind of dish you could imagine. If you're vegan, don't worry, you can still buy Greek versions of dairy alternatives like coconut and almond milk based yogurt!
---
1

Coconut Almond Greek Yogurt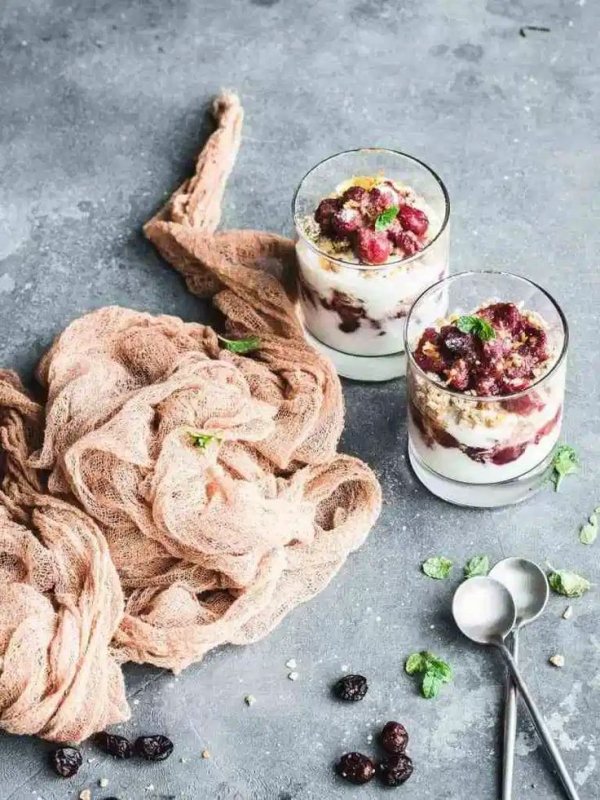 I'm in love with this recipe by Taralynn from Undressed Skeleton, which is one of the most unique Greek yogurt recipes I've found so far. It's so exotic and full of slimming ingredients!
Ingredients:
1 Cup fat Free Plain Chobani Yogurt
1 Small Coconut
1/4 Cup Shredded Coconut
Tsp Almond Extract
Tsp Vanilla Extract
1 Tbsp Pineapple
1 Packet Truvia
Directions:
Break open coconut and pour out coconut milk.
Add 1 Cup Chobani in a small mixing bowl and combine shredded coconut, almond extract, vanilla extract and Truvia.
Place in coconut half and garnish with pineapple.
**Source: **undressedskeleton.tumblr.com
---
2

Greek Yogurt Blackberry Smoothie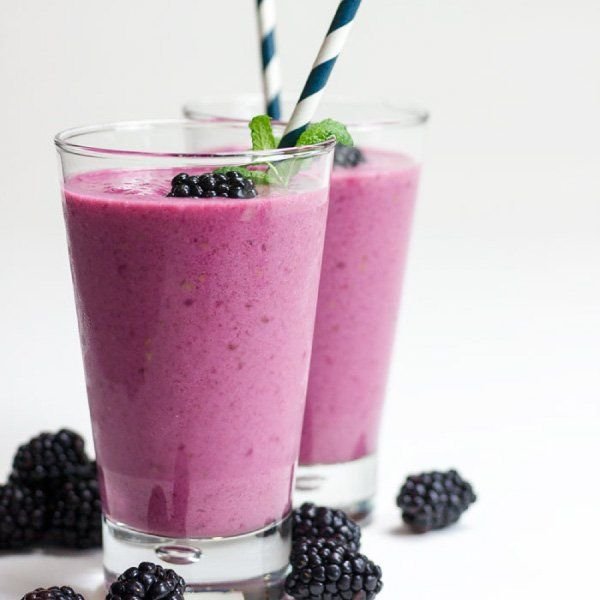 If you love smoothies like I do, you'll absolutely love this super slimming breakfast smoothie using delicious and protein-packed Greek yogurt.
Ingredients:
1 cup fresh blackberries
1/2 frozen banana
1 6-ounce container of plain nonfat/low-fat Greek yogurt
4 cubes of ice
1/2–3/4 cup unsweetened almond milk or other type of milk, if needed
A few drops of liquid stevia or other natural sweetener, to taste
Directions:
Place blackberries, banana, yogurt, ice cubes, and 1/4 cup milk in blender and blend until fruit is pureed and ingredients are well combined.
Add stevia to sweeten and add more milk to get the desired thickness (if necessary).
Source: eatingbirdfood.com
3

Flat Belly Smoothie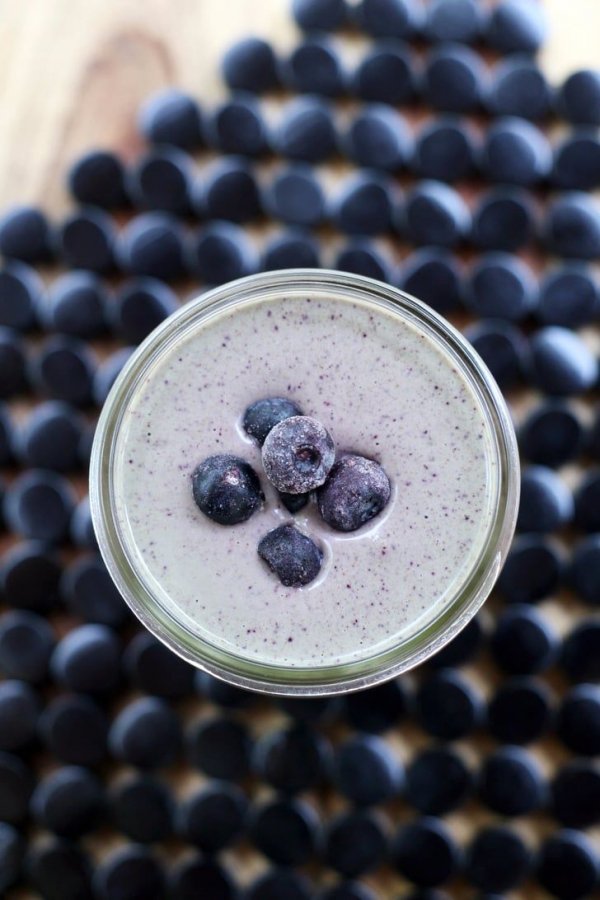 Just in case you want one more smoothie recipe, here's a great smoothie to tone your tummy and aid in bloating! This would be perfect for breakfast at the beach when you want to feel extra amazing in your swimsuit! Did I mention it tastes great?
Ingredients:
6 ounces of plain, nonfat Greek yogurt
1 tablespoon raw almond butter
1/2 cup frozen blueberries
1/2 cup frozen pineapple
1 cup kale or spinach
3/4 cup water
Dash of stevia if you need any extra sweetness
Directions:
Place all the ingredients in a blender and mix until smooth. Enjoy immediately.
**Source: **shape.com
---
4

Kale, Spinach & Artichoke Dip with Greek Yogurt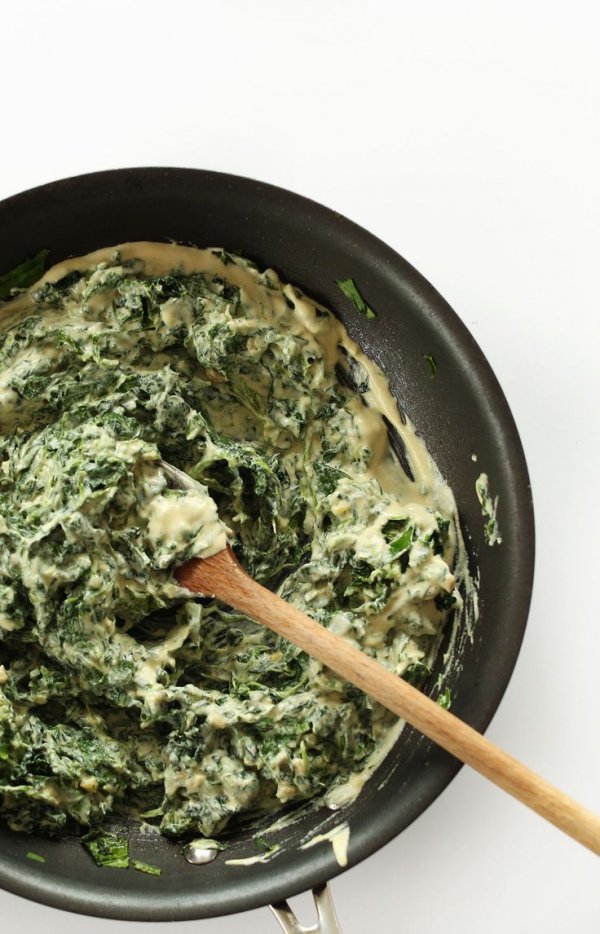 I am absolutely in love with this dip recipe! I actually like to make this and just eat it over a salad because it is full of so many veggies and contains tons of protein from the Greek yogurt. It tastes so rich and creamy, you'll never know it's good for you! It would be a great dip for a party or game day as well!
Ingredients:
2 cups Non-fat Greek Yogurt (I used Chobani Plain 0%)
1 carrot
2 cups kale
2 cups spinach
1/4 red onion
2 tbs minced garlic
1/2 cup marinated artichoke hearts
1 tsp salt
1/2 tsp black pepper
1/2 tsp paprika
2 tbs honey
Directions:
Process your veggies in a food processor until they are very finely chopped.
Mix your veggies into your Greek yogurt and stir.
Add in your salt, pepper, paprika and honey and stir until it is very well mixed.
**Source: **soletshangout.com
---
5

Cinnamon Maple Greek Yogurt Dip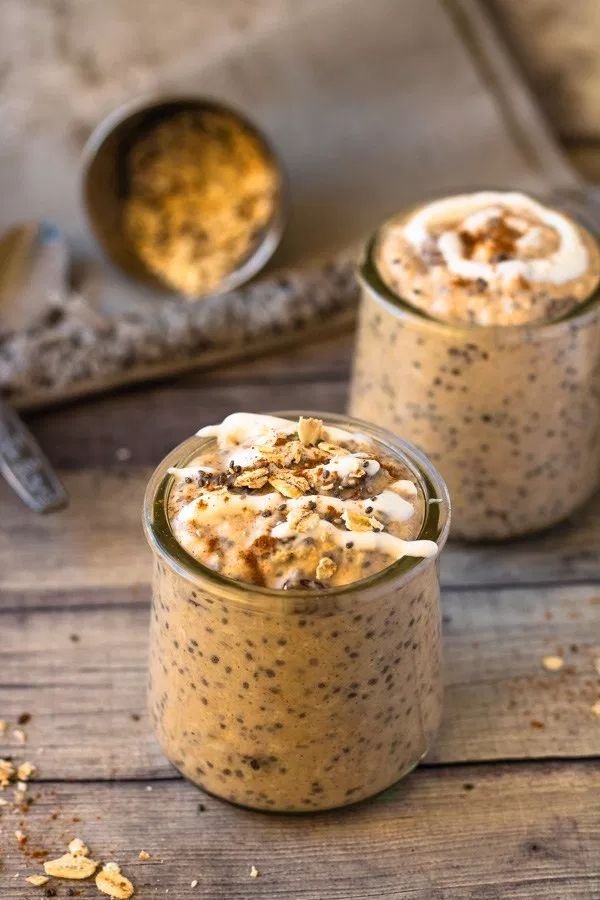 This recipe is technically a dip that you could use for fruit, but I say, just eat it alone as a snack! What a yummy twist on plain yogurt and virtually guilt free!
Ingredients:
1c nonfat plain Greek yogurt
3/4-1t cinnamon
1T maple syrup [or honey]
1/4t vanilla extract
shredded coconut + chopped almonds [topping]
Directions:
Mix ingredients together + chill [covered] in the fridge.
Top with shredded coconut and/or chopped almonds.
**Source: **edibleperspective.com
---
6

Greek Yogurt Chicken Salad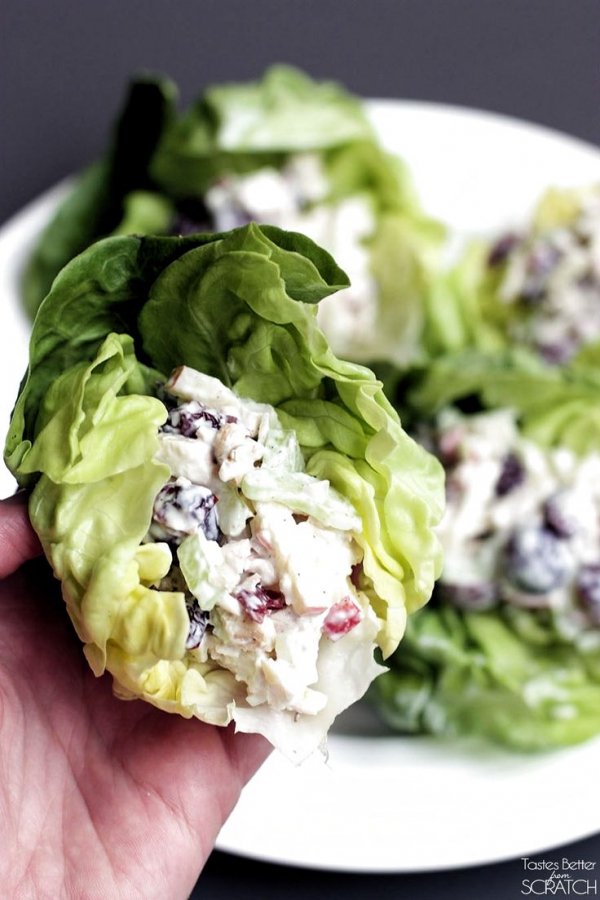 Here's a great take on chicken salad. It's cool, refreshing, and the Greek yogurt makes it incredibly rich, tasty, and healthy. Try it as a healthy lunch or eat it for dinner on those hot days that call for cooler foods.
Ingredients:
1 large chicken breast, cooked, cooled, and chopped
1/2 cup plain Greek yogurt
2 Tbsp Dijon mustard
1/2 lemon, juice
1/8 tsp dried dill weed
1 stick celery, diced
4 celery leaves (from the top of your celery stick), minced
2 Tbsp red onion, diced
1/2 cup apple, cut into chunks
1 heaping Tbsp raisins
6 walnuts, roughly chopped
8 grapes, sliced in half
Directions:
In a large bowl, combine all ingredients. Serve alone or over a potato for a complete meal.
Source: immaeatthat.com
---
7

Triple Chocolate Chunk Muffins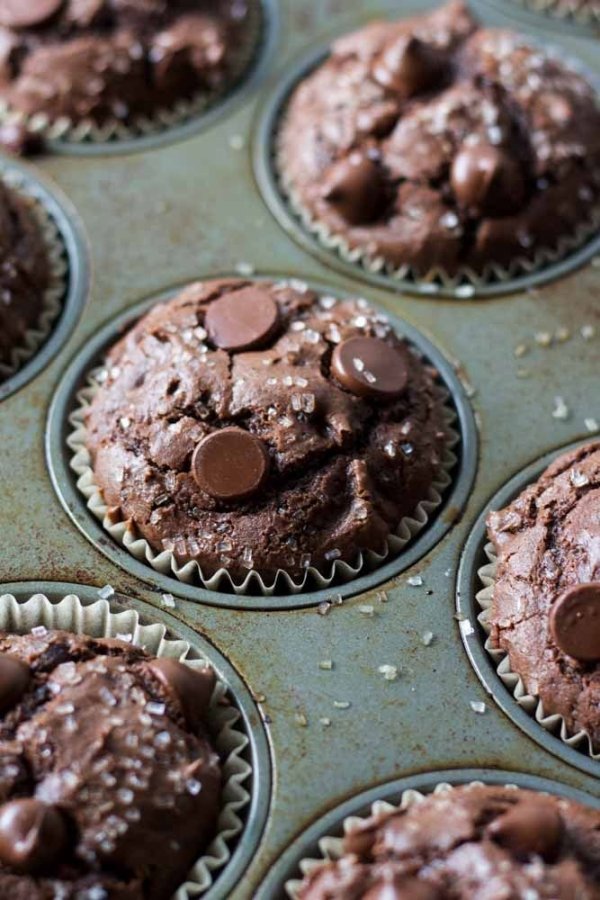 These muffins are so amazing! If you use gluten-free oats, this recipe can also be gluten-free! These muffins are so rich and creamy, yet are a delicious, skinny recipe that tastes like an indulgence! I highly suggest you give it a try next time you get a chocolate or muffin craving.
Ingredients:
1 3/4 c oats
3 egg whites
3/4 cup unsweetened cocoa
1/2 cup unsweetened applesauce
1 tsp. vanilla extract
1/2 cup plain Greek yogurt (or regular plain low fat yogurt)
1/2 tsp cream of tartar (or 1-1/2 Tbsp. vinegar)
1-1/2 tsp. baking powder
1-1/2 tsp. baking soda
1/4 tsp. salt
1 cup hot water
1 cup granular sugar substitute (like Truvia) OR 1/4 cup + 2 tbs stevia
1/2 cup semi-sweet chocolate chips (or use white chocolate or peanut butter chips!)* raw cacao nibs would also work for a sugar-free option
Directions:
Preheat oven to 350 degrees.
Line 2 (12-cup) muffin pans with foil cupcake liners, or spray muffin tin with non stick cooking spray.
In a blender, (or food processor), mix all of the ingredients together, except for the chocolate chips. Blend until oats are ground and mixture is smooth.
Place mixture in a bowl and gently stir in 1/2 of the chocolate chips (set the rest aside). Scoop mixture into prepared muffin pans.
Place muffins tins in the oven for 10 minutes.
After 10 minutes, remove muffins from the oven (but don't shut oven off), and distribute the other half of the chocolate chips on top of each muffin.
Place the muffins back into the oven and bake for an additional 2-5 minutes, or until a toothpick comes out clean. *Note, you could skip this step by putting all of the chips in the batter, and baking the muffins for 12-15 min straight. Cool muffins before removing from pan.
Source: myurbannutrition.com
---
8

Blackened Chicken Breast over Cilantro Lime Quinoa with Greek Yogurt Avocado Puree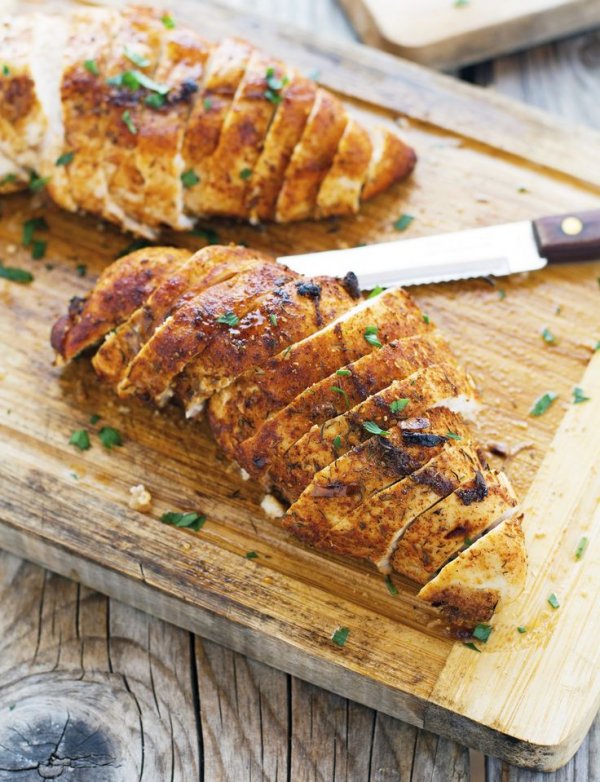 If you'd like to know how to use Greek yogurt in a dinner recipe, then this recipe would be great to try! It is full of flavor, but not fat, and it is also gluten-free!
Ingredients:
2 boneless skinless chicken breasts
½ teaspoon paprika
¼ teaspoon pepper
¼ teaspoon onion powder
¼ teaspoon cumin
1 teaspoon olive oil
2 cups low sodium chicken stock
1 cup quinoa
Juice and zest from two limes
Dash of salt and pepper
2 tablespoons cilantro, chopped
2 avocados
3 oz plain Greek Yogurt
Directions:
Combine all dry seasonings in a small bowl. Mix together and season both sides of a chicken breast.
Add the teaspoon of olive oil to a large pan or skillet.
Heat over medium/high heat. Add chicken, cover with lid, and cook for 7 minutes on each side.
Add chicken stock and quinoa to medium saucepan. Bring to simmer over medium/low heat. Reduce to low and simmer for 10-15 minutes with lid on, until all the stock has been absorbed.
Once chicken breasts are finished cooking, allow to cool before slicing. Toss cooked quinoa in lime zest, lime juice, salt, pepper, and chopped cilantro. Combine avocado, Greek yogurt, teaspoon of lemon juice, and a little cilantro in a mini-food processor. Serve over chicken.
Source: myurbannutrition.com
---
9

Rich Chocolate Fro Yo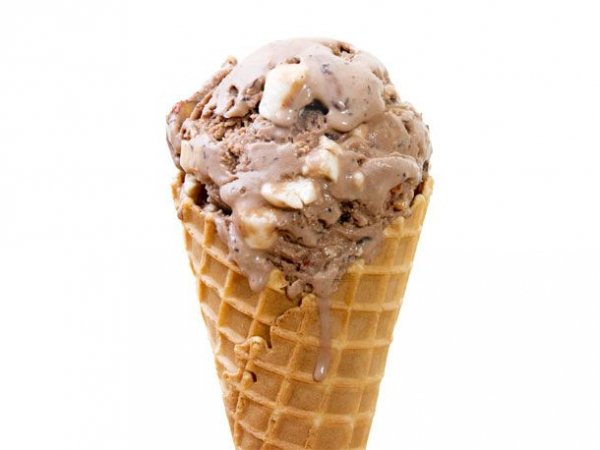 This my favorite way to enjoy Greek yogurt of all, plus it is so simple! It satisfies all my sugar and chocolate cravings too. Make this for a nighttime or afternoon snack when the sugar cravings come on, or just anytime you want something extremely delicious!
Ingredients:
6 oz nonfat Greek Yogurt
2 tablespoons unsweetened baking cocoa
Stevia to taste
Directions:
Stir all ingredients until smooth. Pop in the freezer for 30-45 minutes. Enjoy!
Source: myurbannutrition.com
---
10

Carrot Cake Protein Cookies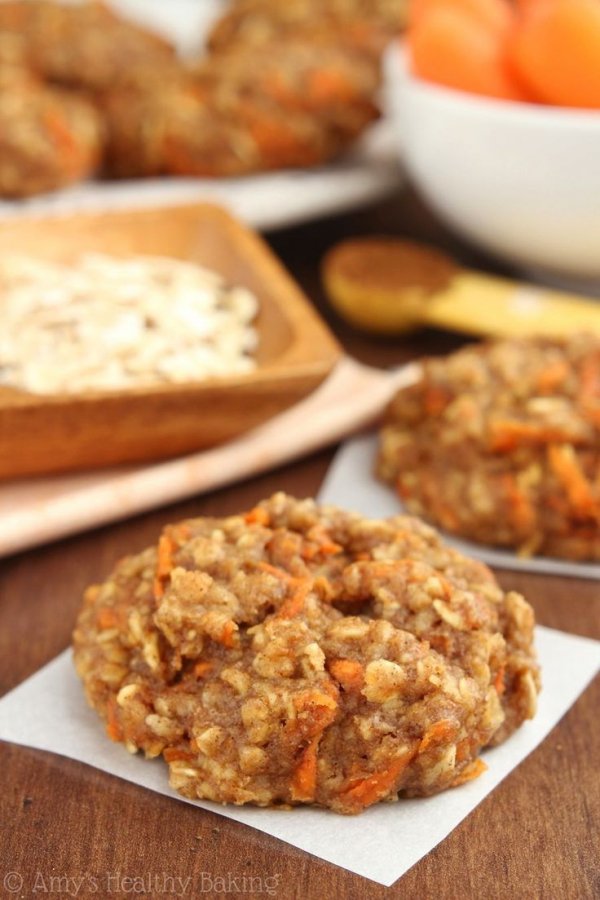 Alright, so maybe you need a little treat that is actually healthy for you too. Enter these protein cookies, which are completely free of added sugars and full of flavor and protein!
Ingredients:
(makes 15 cookies)
¾ cup oats, ground into flour
1 ½ scoops French Vanilla protein powder (Designer Whey)- or your favorite protein powder
½ cup almond flour
½ cup granulated Stevia (or sugar/sweetener of choice)
½ tsp. salt
½ tsp. baking soda
¼ tsp. baking powder
1 egg
1 tsp. vanilla extract
2 Tbs. plain Greek yogurt
2 tsp. cinnamon
¼ tsp. allspice (or nutmeg)
1 cup loose packed freshly grated carrot (appx. 2 large carrots)
Directions:
Preheat your oven to 350 degrees F. Line 2 baking sheets with parchment paper.
In a large mixing bowl, combine the oat flour, protein powder, almond flour, Stevia, salt, baking soda, and baking powder. Stir to combine.
Create a well in the center of the dry ingredients and add all of the wet ingredients and spices. Mix until the dough comes together. Finally, add the grated carrots and mix to combine.
Drop the dough (about a Tablespoon) onto the cookie sheets, well spaced. Bake for 12 minutes, or until the tops start to get golden brown. Let the cookies cool on a wire rack before serving. Enjoy!
**Source: **treatswithatwist.com
Now that you've got a nice little collection of slimming Greek yogurt recipes, find your favorite way to enjoy this healthy food. Maybe you like it savory, or if you have a mad sweet tooth like me, you prefer the sweet stuff. Either way, Greek yogurt is full of nutritional goodies. Just be sure to stick with plain for less added sugar, and nonfat versus full fat. I also suggest buying one free of added hormones, or buying organic. I like Fage, Chobani, Nancy's Organic, and Stonyfield brands, among a few others. Do you eat Greek yogurt and if so, with what?
---
Comments
Popular
Related
Recent