Tomato salad recipes are great to have when the weather warms up and you host parties in your backyard. They also make a delicious side dish to take to events you've been invited to. Tomatoes are inexpensive this time of year and if you grow a garden, you probably have more than you can eat ripening just about now. Use up some of your harvest by making these yummy tomato salad recipes. You won't be sorry!
---
1

Summer Tomato Salad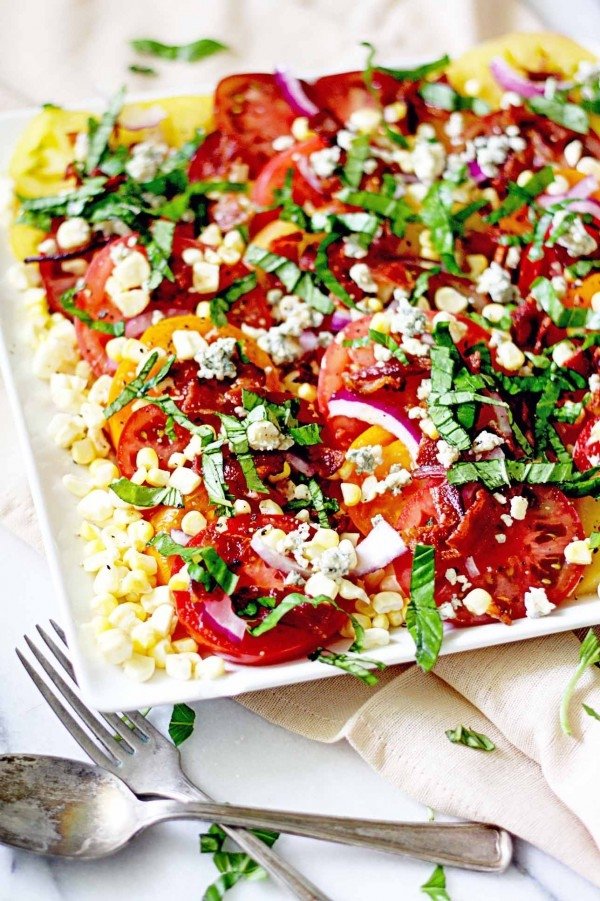 I love this because it highlights that flavor of the season so well. Once you eat this yummy dish, I think you'll agree that it's one of the best tomato salad recipes ever created. Make lots if you plan to share.
Ingredients:
1 pint halved cherry tomatoes
1 pint halved yellow pear tomatoes
¼ cup green onions, chopped
1 minced garlic clove
¼ cup fresh basil, chopped
¼ cup cilantro, chopped
Salt and pepper, to taste
Ground red pepper, to taste
Directions:
Toss all the ingredients together in a bowl and chill for 30 minutes before serving.
Source: allrecipes.com
2

Grilled Zucchini and Grape Tomato Salad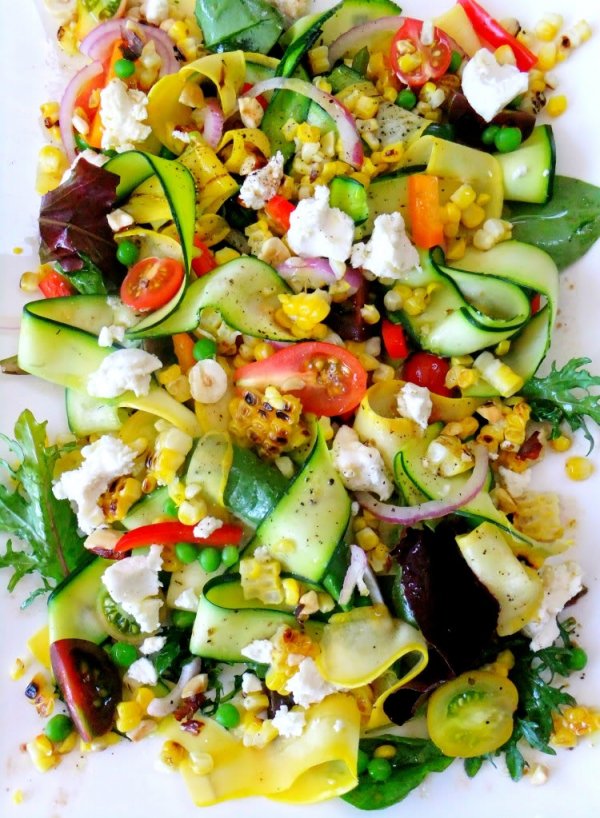 Another great ingredient you can find in abundance during the summer is zucchini. What better way to make salad than to combine them together in one dish? I love this salad fresh and leftover the next day.
Ingredients:
1 zucchini
Olive oil
1 pint halved grape tomatoes
Handful fresh herbs (your choice), minced
1 teaspoon balsamic vinegar
½ teaspoon sea salt
Pepper, to taste
1 tablespoon Parmesan cheese
Directions:
Cut the zucchini into half lengthwise, then cut each half in half again. Brush with olive oil and grill over medium heat for about 2 minutes per side. Dice the zucchini. Toss with the grape tomatoes and herbs. Add the balsamic, a drizzle of olive oil, salt, pepper and Parmesan and toss to combine.
Source: thekitchn.com
---
3

Marinated Tomato Salad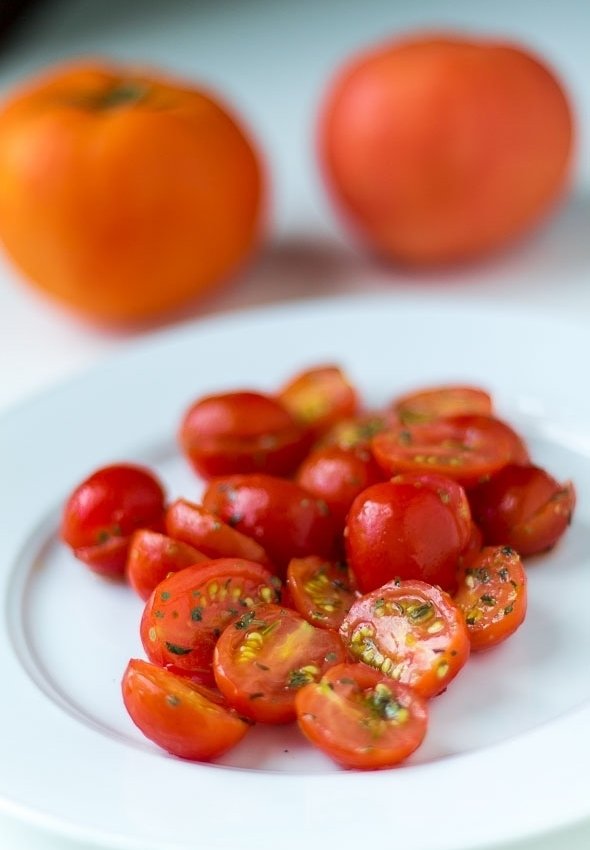 Tomatoes hold up well to marinades so you can really infuse them with lots of flavor without putting in much effort at all. Try this salad and you'll see exactly what I mean.
Ingredients:
4 large tomatoes, cut into wedges
½ teaspoon plus 1/8 teaspoon salt
2 cups baby arugula
¼ cup chopped fresh basil
1 tablespoon olive oil
1 tablespoon red wine vinegar
1 minced garlic clove
½ teaspoon black pepper
½ cup crumbled chevre
Directions:
Sprinkle the tomatoes with ½ teaspoon salt and toss together in a small bowl. Drain for about 15 minutes on paper towels. Flip, then drain 15 more minutes. Transfer to a bowl and add the arugula, basil, oil, vinegar, garlic, 1/8 teaspoon salt and pepper and toss to combine. Marinate for 15 minutes, then add the chevre just before serving.
Source: gonnawantseconds.com
---
4

Heirloom Tomato Salad with Anchovy Vinaigrette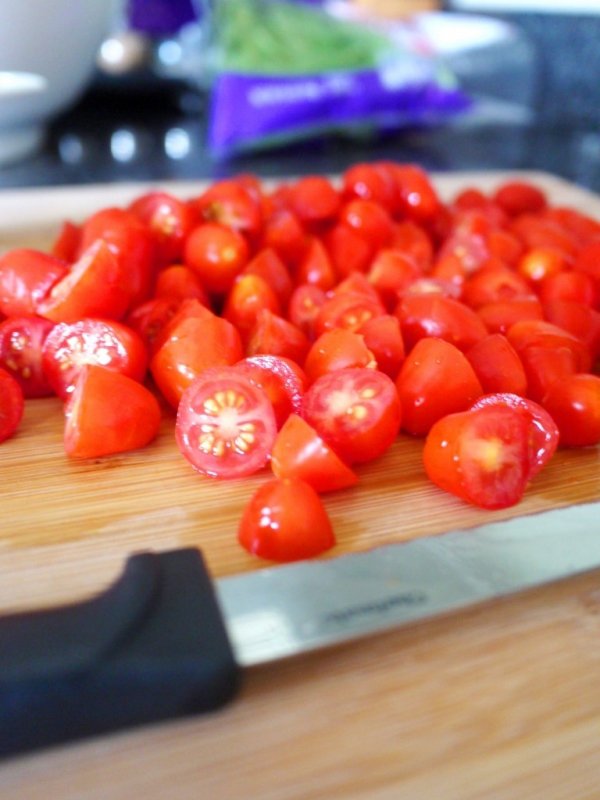 Those heirloom tomatoes at the farmers' markets are always so intriguing. They come in such fun shapes and colors. If you're looking for a new way to use them, this is the recipe for you.
Ingredients:
¼ cup olive oil
4 minced anchovies
1 minced garlic clove
1 teaspoon finely grated lemon zest
1 thinly sliced shallot
2 tablespoons red wine vinegar
2 large eggs
1 ½ pounds assorted heirloom tomatoes, sliced
Salt and pepper
Parsley and marjoram leaves, for garnish
Directions:
Place the olive oil, garlic, anchovies and lemon zest in a small skillet. In a bowl, mix together the shallot and vinegar and set aside for 10 minutes. Hard boil the eggs for 6 minutes, then place in cold water and peel. Place the tomato slices on a large plate and season with salt and pepper. Drizzle the shallot mixture over the tomatoes. Warm the anchovy mixture over medium heat, then pour over the tomatoes. Garnish with sliced eggs, parsley and marjoram.
Source: foodandwine.com
---
5

Grilled Corn and Tomato Salad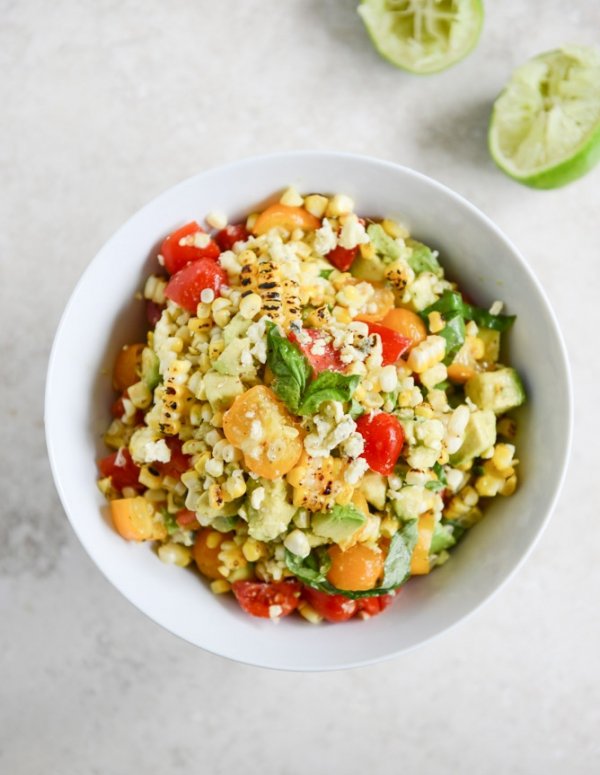 Summer is the perfect time to showcase fresh ears of corn in addition to all those delicious tomatoes hanging on the vines. You'll love the combination of flavors in this salad.
Ingredients:
1 tablespoon olive oil
3 ears corn, husks and silk removed
1 beefsteak tomato, cut into pieces
1 orange bell pepper, cut into small pieces
2 thinly sliced scallions
1 to 2 tablespoons red wine vinegar
Salt and pepper
Directions:
Grill the corn on your barbecue until slightly charred, turning occasionally. Cut the kernels from the corn and combine with the rest of the ingredients, seasoning with salt and pepper at the end.
Source: marthastewart.com
---
6

Bloody Mary Tomato Salad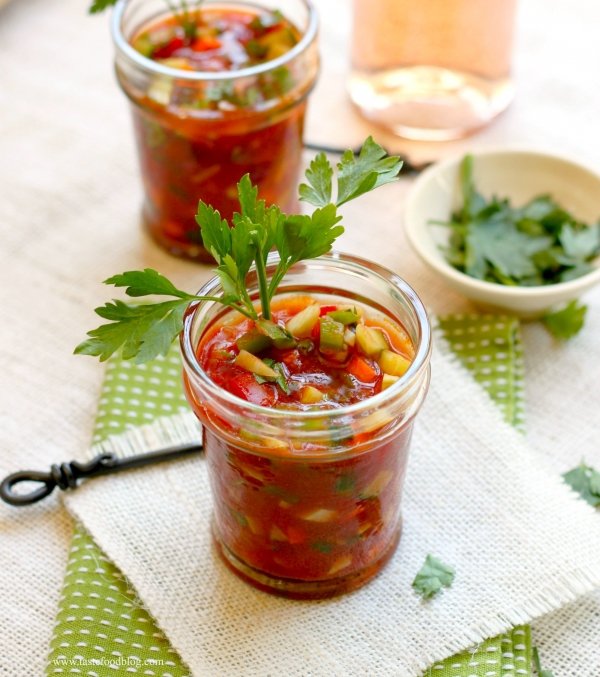 Who doesn't love a good bloody mary? It's definitely one of my favorite cocktails. If you feel the same, you're going to love this salad. It has everything but the vodka.
Ingredients:
4 to 5 tomatoes, diced
3 to 4 sliced celery stalks
Minced garlic cloves (as many as you want)
1 tablespoon celery seed
1/3 cup clam juice
3 to 4 tablespoons Worcestershire sauce
¼ cup olive oil
Tabasco sauce, to taste
3 tablespoons horseradish
1 to 2 teaspoons black pepper
1 tablespoon Dijon mustard
Capers, shrimp, lime juice, Spanish olives, dill pickles, optional (mix and match the ones you want)
Directions:
Combine the clam juice, Worcestershire, olive oil, Tabasco, horseradish, pepper and mustard and whisk to combine. Put the tomatoes, celery, garlic and celery seed in a bowl. Add any of the optional ingredients you want. Drizzle with clam juice mixture and serve.
Source: foododelmundo.com
---
7

Simple Cucumber Tomato Salad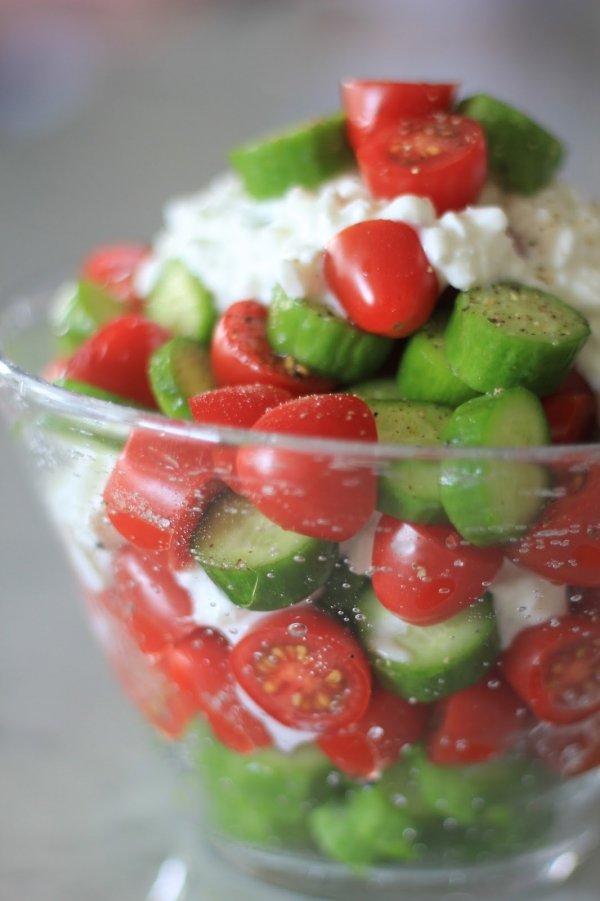 Tomatoes and cucumbers go so well together, so it's a great combination for making salad. This easy one is perfect for whipping up quickly. And it tastes great too!
Ingredients:
1 large diced cucumber
4 tomatoes, diced
1 diced red onion
2 tablespoons olive oil
1 tablespoon red wine vinegar
1 teaspoon salt
½ teaspoon pepper
Directions:
Combine all the ingredients in a large bowl. Toss to combine. Chill before serving.
Source: thetaylor-house.com
How do you use your summer tomatoes? Which recipe will you make first?
---
Comments
Popular
Related
Recent