Do you need some ideas for Christmas dinner starters? If you're bored with the same old starters, I've picked out some light and tasty recipes for you to try. They're so simple and quick to make so that you don't have to spend ages in the kitchen - there's already so much to do! Pick one of these Christmas dinner starters for your family or guests …
---
1

Prosciutto & Rocket Forks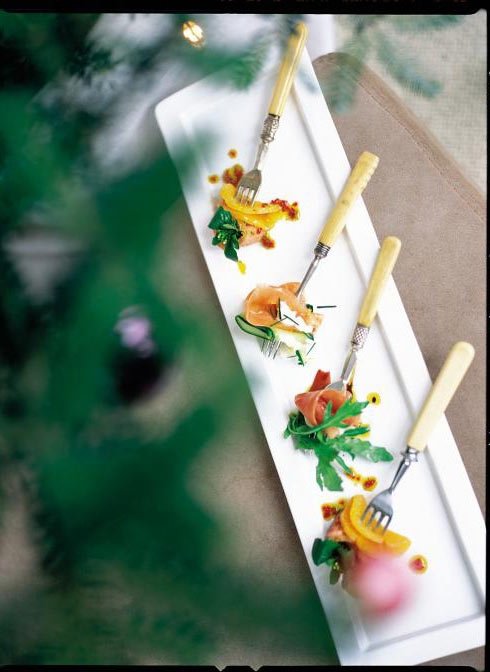 The first of the Christmas dinner starters I've picked out is this simple and fun starter. It couldn't be easier to put together, so you can spend more time chatting to your guests or preparing the more complicated dishes.
Ingredients:
6 slices quality prosciutto, halved
1 handful wild rocket, washed and dried
extra virgin olive oil
balsamic vinegar
Method:
Simply fold up a slice of prosciutto and skewer onto a fork, then some rocket. Serve on a plate with some olive oil and balsamic vinegar. Serves 12, so adjust for fewer guests.
2

Clementine, Feta & Winter Leaf Salad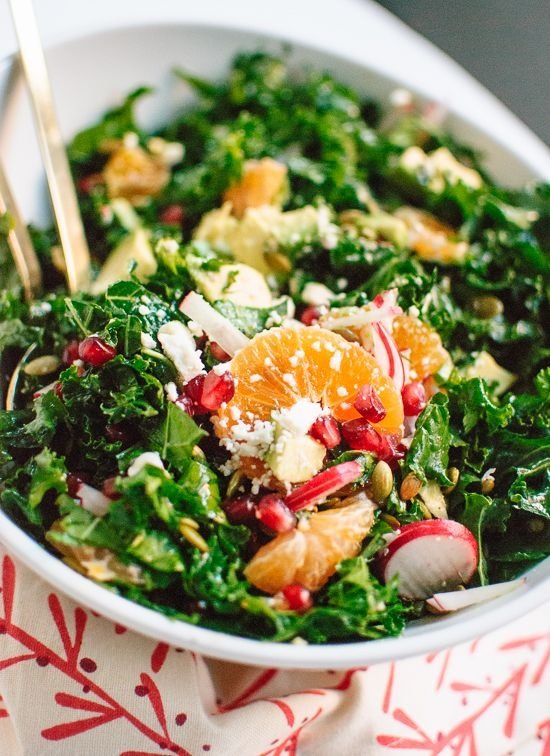 You could also begin your meal with this refreshing winter salad.
Ingredients:
6-8 seedless clementines
2 heads red chicory
100g watercress
1 fennel bulb, halved, cored and very finely sliced
1 red onion, halved and finely sliced
200g feta cheese, cut into cubes
small handful parsley, finely chopped
For the dressing
juice 1 clementine
juice 1 lemon
4 tbsp olive oil
Method:
Peel and slice clementines, then mix fennel, chicory, watercress and red onion (I'd leave the onion out if I were making the salad as I don't like raw onion). Pile the leaves on top of the sliced clementines, then scatter feta cheese on top. Make a dressing from lemon and clementine juice with olive oil, caster sugar and parsley. Precise quantities are given in the recipe, though I'd just guess. Serves 8.
---
3

Chestnut & Mushroom Paté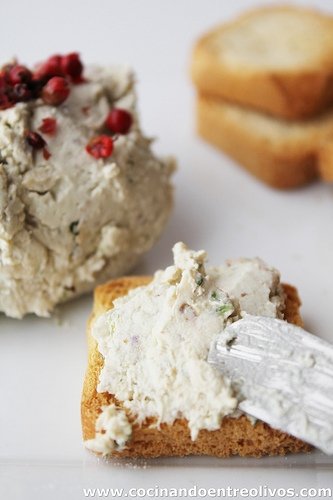 This recipe is slightly more complicated, but looks delicious.
Ingredients:
125g (4oz) chestnuts
2 tbsp olive oil
1 small onion, diced
1 garlic clove, chopped
250g (8oz) closed cup mushrooms, roughly chopped
2 tbsp thyme, plus extra to garnish
3 tbsp sweet sherry
3tbsp crème fraîche
2 tbsp single cream
Method:
Cut a cross in the base of each chestnut (this is important, so that the chestnuts don't explode) and roast for 30 mins at 200ºC/Gas 6. Skin and chop when done. Then fry the onion, garlic, mushrooms, thyme and most of the chestnuts. Cook on low heat for 20 mins. Add the sherry and cook on a higher heat until liquid is reduced. Blend with the crème fraiche and cream, and garnish with the remaining chestnuts. Serves 4.
---
4

Smoked Salmon & Melon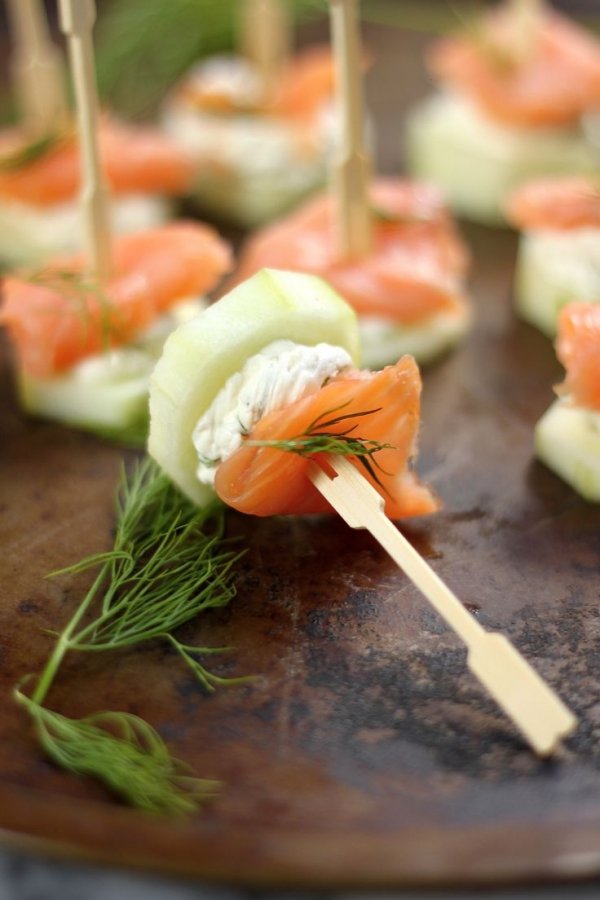 For fans of smoked salmon serve up this simple starter, which won't fill you up before the main course.
Ingredients:
1½ chilled ripe Galia or Cantaloupe melons, seeds removed, sliced
Juice of ½ lime
½ teaspoon preserved ginger, finely chopped
2 tablespoons extra virgin olive oil
Salt and black pepper
115g (4oz) smoked salmon slices
Lemon and lime wedges to serve
Method:
Mix lime juice, preserved ginger and olive oil, and season to taste. Drizzle over sliced melon, then add smoked salmon. Serve with slices of lemon and lime. Serves 4.
---
5

Bang Bang Chicken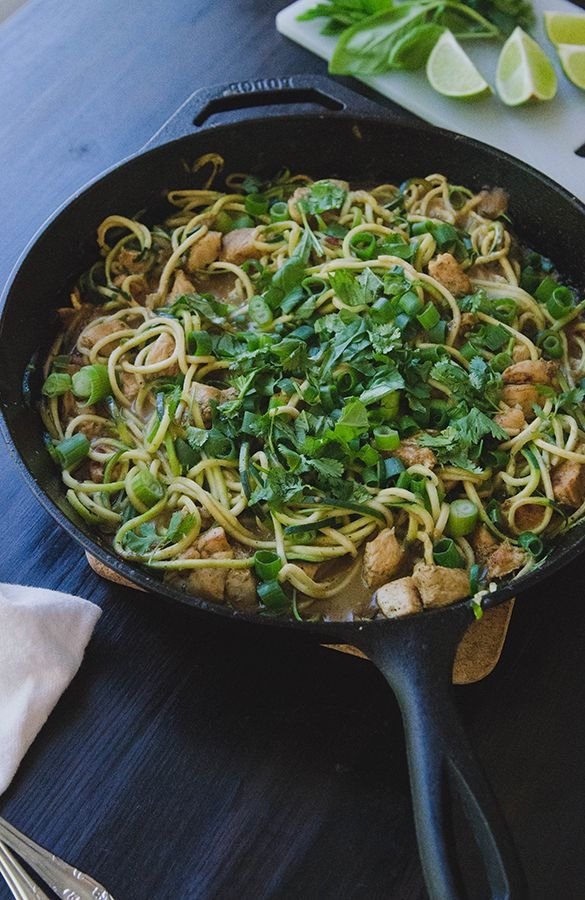 Here's another quick recipe that takes no preparation time and is ideal if you want a non-traditional starter.
Ingredients:
600g (1lb 5oz) ready-cooked rice noodles
1 cucumber, halved lengthways, deseeded and sliced
8 spring onions, finely sliced
4 large cooked, skinless free-range chicken breasts, shredded
500ml (18fl oz) satay sauce (we like Bart, from supermarkets)
handful each coriander and unsalted peanuts, to garnish
lime wedges, to serve
Method:
Simply mix the noodles with the cucumber and spring onion, add the chicken and drizzle over the satay sauce. Garnish with the coriander and peanuts. Serves 8.
---
6

Bruschetta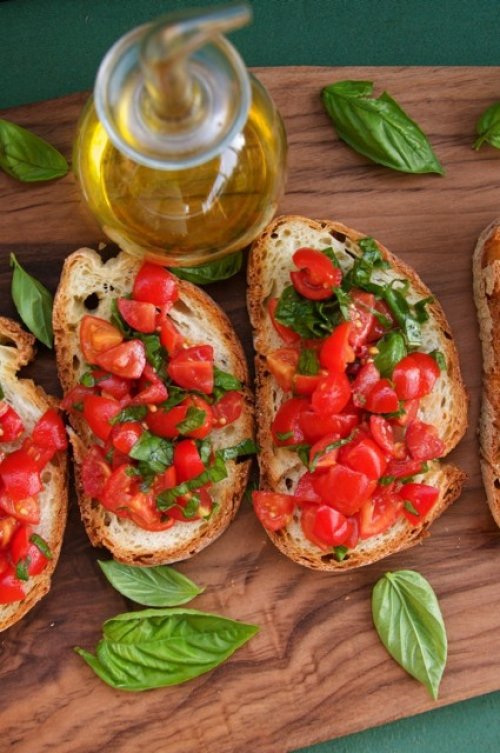 You can't get much simpler than this but it always looks good and tastes delicious.
Ingredients:
1/2 baguette or crusty long loaf bread, sliced (12 pieces)
2 large cloves garlic, cracked away from skin
Extra-virgin olive oil, for drizzling
3 small plum tomatoes, halved, seeded and chopped
20 fresh basil leaves
Coarse salt
Method:
Toast the slices of bread, then rub with garlic and drizzle with oil. Clump the basil together and chop into long pieces. Mix with the tomatoes, add a little oil and salt, and toss. Serve with the toast. Serves 4.
---
7

Avocado & Cucumber Soup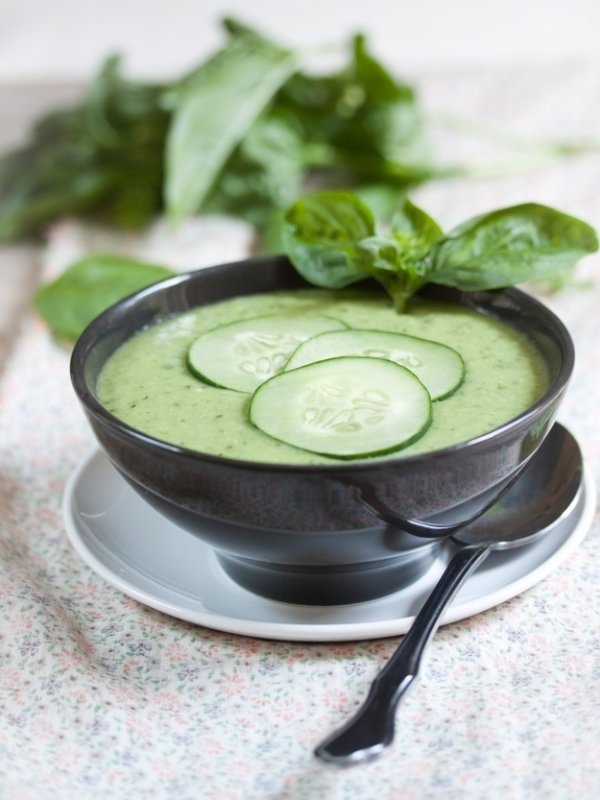 Or what about this chilled soup - they're not just good for summer! It's another no-cook recipe.
Ingredients:
2 large cucumbers, about 400g each, chilled
1 lemon, juice (or to taste)
2 ripe avocados
2 tbsp greek yoghurt
1 tbsp worcestershire sauce
1 sprinkle sea salt
1 sprinkle black pepper
½ red onion, finely chopped
1 plum tomato, deseeded and finely chopped
1 tbsp olive oil
4 basil leaves, finely shredded
Method:
Peel, quarter and deseed the cucumber. Chop, reserving some for a garnish. Blend with half the lemon juice. Chop one avocado half for the garnish, and drizzle with lemon juice. Blend the rest of the avocado with the cucumber, Greek yogurt and Worcestershire sauce. Season, add lemon juice to taste, and chill until ready to serve. Serves 4.
Your Christmas starter doesn't have to be traditional, so try one of these tasty recipes. What would your perfect Christmas meal consist of?
jamieoliver.com, bbcgoodfood.com, realfood.tesco.com, allrecipes.co.uk, womanandhome.com, foodnetwork.com, ocado.com
---
Comments
Popular
Related
Recent