These vegetable-packed recipes will make you excited about eating your daily quota of vegetables. Most people think vegetables are boring and bland, but they don't have to be if you prepare them correctly! Vegetables are packed with vitamins, minerals, and nutrients that give you a strong, healthy body. If you consume these delicious vegetable-packed recipes, you will be doing your health and taste buds a huge favor!
---
1

Lemon Spinach Hummus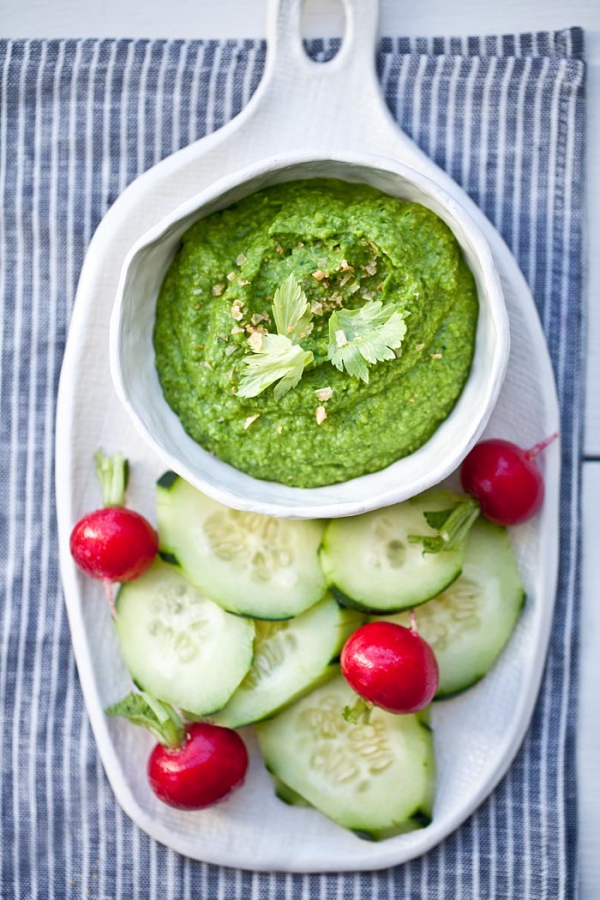 This is my favorite of these vegetable-packed recipes. I absolutely adore hummus, and this recipe does not disappoint. It's smooth and has a light lemon taste that is amazing. If you want a more traditional hummus, you can use tahini instead of the olive oil. You cannot even taste the spinach in this quick and easy recipe! For those who don't know, hummus is a chickpea (garbanzo bean) dip or spread that is extra creamy. You can use it to dip even more vegetables in or spread on sandwiches.
Ingredients:
1 can chickpeas, rinsed and drained
2 cloves garlic, peeled
3 tbsp. chopped chives
3 cups baby spinach leaves, washed and thoroughly drained
zest and juice of 2 small lemons – some comment have said it's too citrusy. start with one, taste it and add another if needed
1/4 cup extra virgin olive oil
kosher salt and fresh ground pepper, to taste
Directions:
Combine the chickpeas, garlic cloves, and chives in a food processor and pulse until roughly mixed. Add the spinach, lemon zest and squeeze in the lemon juice and puree until smooth. With the processor running, drizzle in the olive oil. Taste and season to your liking with salt and pepper. Garnish with some crunchy salt, some herbs or celery leaves or some chopped chives. The lemon in the recipe will help the hummus keep a vibrant color for a day or two if you store it in an air-tight container.
**Source: **runningwithtweezers.com
---
2

Cheesy Kale Chips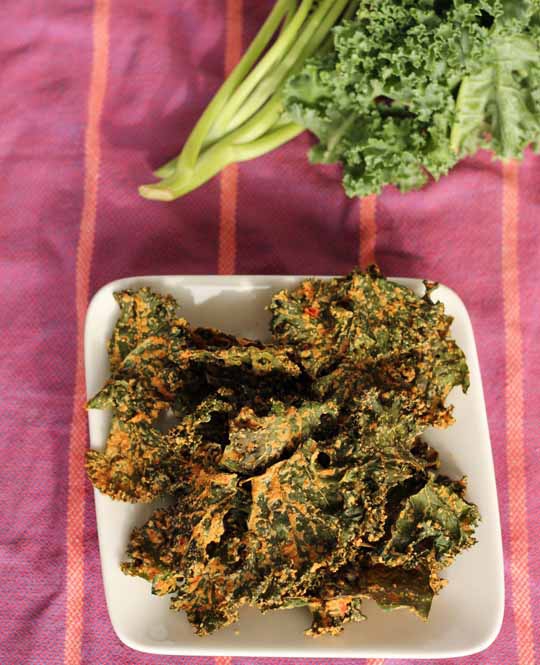 This is just about the best way to prepare kale, in my opinion. These kale chips are dairy-free, and the "cheese" sauce that coats these are made from cashews! You will not even miss the cheese when you try these though, because they are that good. I often make this as a salad dressing and I don't cook the kale chips. Either way you prepare it, you will be craving your greens and your kids will be asking for more.
Ingredients:
3/4 cup raw cashews
1 bunch kale, washed and dried
1/2 red bell pepper, stem and seeds removed, chopped into large pieces
1 clove garlic, peeled
1 tablespoon soy sauce
2 tablespoons vegetable oil
1/3 cup nutritional yeast (not to be confused with Brewer's yeast)
1 lemon, peeled, cut into wedges, and de-seeded as much as possible (a few stragglers are ok)
Directions:
Cover the cashews with water in a small bowl and let the soak for at least one hour before proceeding. Preheat oven to the lowest heat setting (mine is 180 degrees). Line several baking sheets with parchment paper. Drain cashews and set aside. Trim stems the from each kale leaf and cut each leaf into chip-size pieces. Add the cashews, red pepper, garlic, soy sauce, oil, and nutritional yeast to a food processor. Scoop the flesh from the lemon and add this to the food processor as well. Blend until smooth. (Alternatively, you can use just the lemon juice for a slightly less bright lemon flavor.) In a large bowl, combine kale and cashew paste, making sure kale is evenly coated. Place kale pieces on baking sheets allowing space between each piece so they do not touch or overlap. This will take more than one batch, so reserve any remaining kale and refrigerate, covered, until first batch has finished baking. Bake kale until crisp and completely dry, between 2 and 4 hours. Check after the first hour and turn leaves over. Check kale periodically. Chips will be ready when crunchy and stiff and topping doesn't feel chewy or moist. Kale chips will keep in an air tight container for one week.
**
****Source: **thekitchn.com
3

Rainbow Chard Banana Smoothie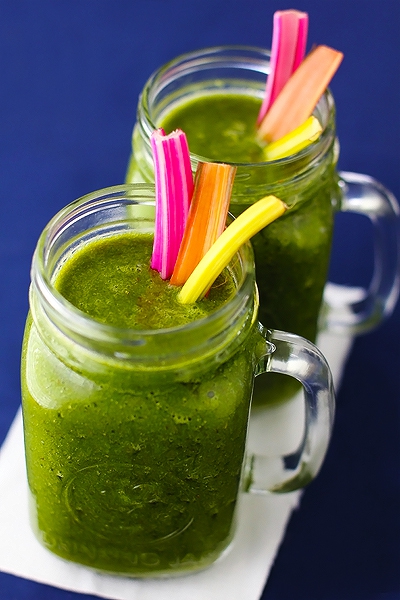 If you ever get your hands on rainbow chard, this smoothie is a real treat. Rainbow chard can be found at your local health food store, but you can always substitute Swiss chard or another green. You won't even taste the greens at all! All you will taste is a tropical, delicious smoothie. This smoothie is pretty versatile, so feel free to substitute the fruit juice for another one.
Ingredients:
3 cups loosely-packed rainbow chard leaves (stems removed)
2 bananas, frozen
1/2 cup orange or pineapple juice
1 Tbsp. ground flax seed
1 cup ice
Directions:
Combine all ingredients in a blender and blend until smooth.
**
****Source: **gimmesomeoven.com
---
4

Kale Soup with Ginger "Cream"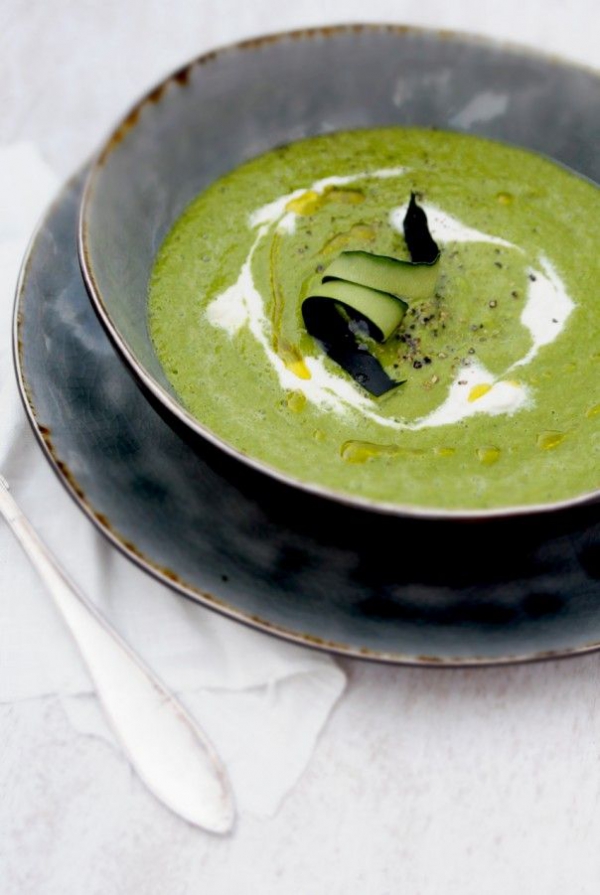 This is yet another kale recipe where you won't be able to taste it. The soup is completely raw, meaning you don't cook it. However, feel free to warm it up if you are craving a warm soup. There is also no dairy in this recipe, but the avocado still makes this soup really creamy. The raw ginger cream topping takes this recipe over the top because it is so delicious. I substitute raw cashews for the pine nuts because they are less expensive and still provide similar properties.
Soup Ingredients:
2 cups kale, packed
1 midsized zucchini
1 small leek (green part too)
2 handful parsley, roughly chopped
1 stalk celery
2 avocados
1 small lemon, the zest
1 clove garlic
1/4 tsp himalayan salt or other high quality salt
1 tbsp virgin olive oil
1 tbsp tamari
1 tsp balsamic reduction
pinch of chili powder (depending on the heat of your chili)
3 cups water
Directions:
Rinse and prepare the leek, kale, parsley, celery and zucchini and pop them into a high speed blender (alternatively an immersion blender will do the job but the result won't be as smooth) with the rest of the ingredients. Add more water if you feel like a lighter soup.
Raw Ginger Cream Ingredients:
1 cup pine nuts
1 cup water
2/3 tsp salt
1 tsp nutritional yeast
1 1/2 tbsp finely chopped ginger root
Directions:
Soak the pine nuts beforehand for a minimum of 5 hours, this will make them more easily digestible and leave you with a smoother cream. Rinse thoroughly after soaking. Peel the ginger using a teaspoon and finely chop up 1 1/2 tbsp. Add all ingredients to a high speed blender and blend away until very creamy.
Arrange:
Pour soup in bowls or glasses, add a couple of spoons of ginger cream (swirl if you wish) a drizzle of olive oil and some freshly cracked black pepper. Enjoy the summer abundance!
**
****Source: **earthsprout.com
---
5

Kale Guacamole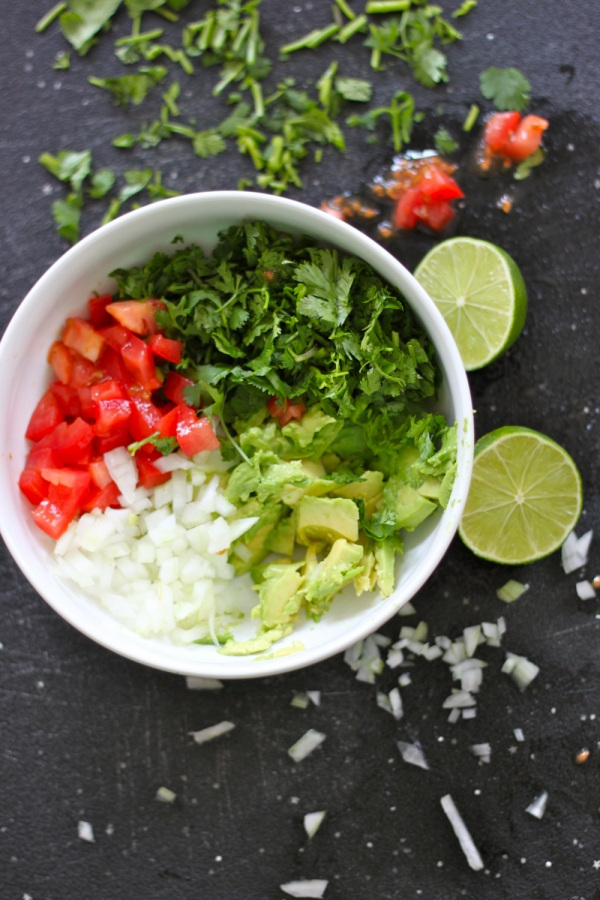 This recipe is a great way to add more vegetables to your diet. If you love avocados and guacamole as much as I do, you have to try this. The kale adds a refreshing note to this guacamole variation, but the onion, garlic, and spices overpower its bitter flavor. You can get even more vegetables in if you dip them in it, but you can still feel good about dipping tortilla chips in it too.
Ingredients:
1 avocado
4-5 stalks of kale
juice of half a lemon
Juice of half a lime
Large handful of fresh cilantro
3/4 cup water (optional)
1 garlic clove, minced
Salt and Cayenne Pepper to taste
1 small tomato
1/4 red or white onion
Directions:
In a blender or food processor combine avoacodo, kale, cilantro, and juices from the lemon and lime. Start blending and slowly stream in water until combined but still a bit chunky. I needed about 3/4 cup of water to loosen it up but if you have a good blender you may find you need less. Remove mixture from the blender and put into a mixing bowl. Mix in spices and garlic. Taste and adjust seasoning. I added lots of salt and extra garlic too. Chop tomato and onion and fold into guacamole.
**
****Source: **katiekdid.com
---
6

Strawberry Cashew Green Smoothie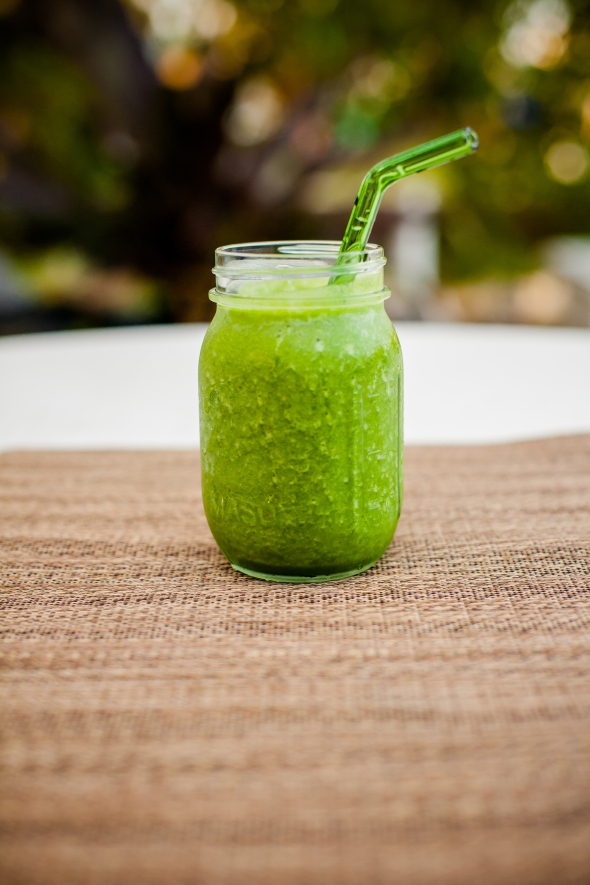 I love this smoothie! It is so creamy from the addition of cashews and coconut, but it is completely healthy and packed with vegetables. Romaine is used in this recipe, and this leafy green is not very bitter so you can't even taste it. The strawberry flavor is also very prominent, making it perfect for summer when they are freshest. I will note that if you don't have a high powered blender, this recipe may turn out chunky instead of creamy. To prevent this, grind your cashews in a coffee grinder beforehand so that it still adds thickness but it won't be chunky.
Ingredients:
2 cups romaine lettuce
1 cup strawberries, fresh or frozen
1 small can of coconut milk
1/2 cup cashews
1 tablespoon ground flax
1 tablespoon honey or agave syrup
1 cup ice
Directions:
In a blender, preferably a powerful one like Blendtec or Vitamix, combine romaine lettuce, strawberries, coconut milk, cashews, honey, ground flax and ice. Blend on the highest speed until smooth and creamy.
**Source: **wishfulchef.com
---
7

Multiple Personality Artichoke Arugula Soup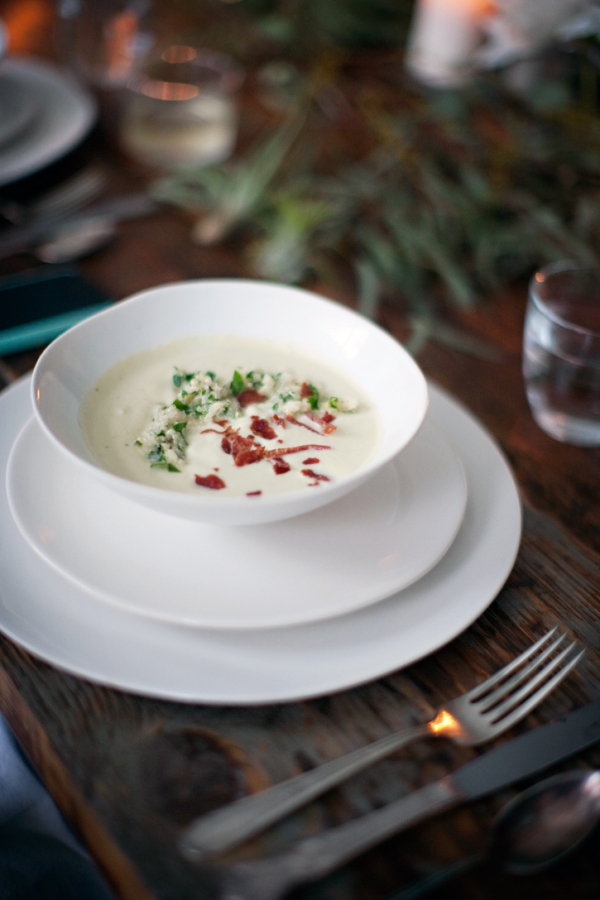 This is a soup recipe that isn't raw, so if you are looking for a comforting soup, this is the one for you! Arugula is a dark leafy green that has a spicy taste that is a pleasant addition to soups. This recipe is meant to be vegan because of the tofu, but feel free to simply substitute it with chicken or other meat. If you are interested in trying tofu, it will be prepared very well in this recipe so it's a good place to start. Your body will crave this soup in the winter either way, because it is so substantial and delicious.
Ingredients:
1 C. White onion, Diced
2-3 Cloves Garlic, Minced
6 oz. Steamed artichoke Hearts ( or in brine, drained)
1 1/2 C. Low-Sodium Vegetable broth
1 Cup Soft or Firm Tofu, Packed
3 Tbsp. Nutritional Yeast
2 Tbsp. Fresh lemon Juice
1 1/2 cups Baby Arugula, Loosely Packed
1 tsp. Sea salt
1/4 tsp. Black pepper
Directions:
Line a large pot with a thin layer of vegetable broth and warm stove top to medium heat. Once hot, start sauteing the onions and garlic in the broth until the onions become clear. Break apart the artichoke hearts and add them to the onion mixture. Lower the heat to low-medium, cover your pot and let simmer for 5 minutes. Using 1/2 Cup of the vegetable broth, puree the tofu with it until completely smooth in a food processor or blender. Carefully add the artichoke mixture to your food processor and pulse until slightly chunky (as shown). Or completely smooth if that's more your style. Transfer mixture back to the pot with heat at medium, stir the nutritional yeast, lemon juice and arugula into to the soup. Add remaining vegetable broth until you've reached a desirable consistency. Season with salt and pepper, serve very warm. Garnish with a couple of arugula leaves and a sprinkle of nutritional yeast/black pepper.
**
****Source: **veganyackattack.com
You don't have to worry about getting in healthy vegetables in with these recipes. Your body will love the benefits from consuming more vegetables, yet your mouth will enjoy their scrumptious tastes. What is your favorite way to eat more vegetables?
More
---
Comments
Popular
Recent