You should never skip breakfast, so these French toast recipes will come in handy when your stomach's grumbling. If you're too tired to cook once you wake up, just think about how delicious your breakfast will be. That thought alone will give you the energy to try one of these French toast recipes:
Table of contents:
1

Cannoli Stuffed French Toast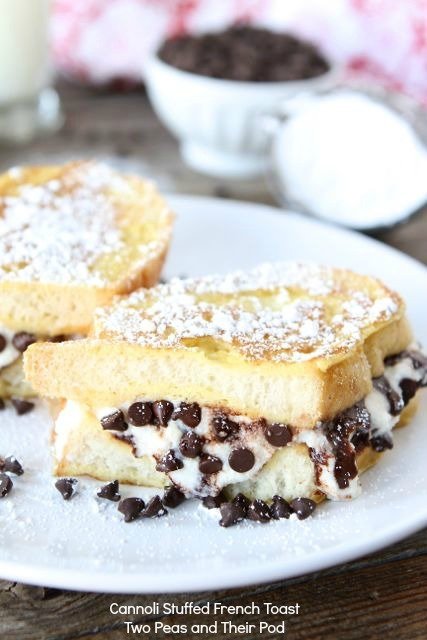 Breakfast is the most important meal of the day, but it doesn't have to be the healthiest. This is one of the French toast recipes that lets you treat your sweet tooth with scrumptious chunks of chocolate chips.
Ingredients:
1 cup ricotta cheese
1/4 cup powdered sugar
1/2 teaspoon vanilla extract
1/3 cup semi-sweet chocolate chips
2 large eggs
1/4 cup heavy cream (or milk)
4 slices French bread
2 tablespoons butter
Powdered sugar-for serving
Instructions:
Combine ricotta cheese, sugar, and vanilla. Stir in chocolate chips. In a shallow bowl, whisk together eggs and heavy cream. Spread two slices of bed with ricotta mixture. Place other slices on top. Dip both sides of sandwiches into egg mixture. Melt butter in skillet. Add toast and cook for 4 minutes per side. Dust with sugar.
2

French Toast BLT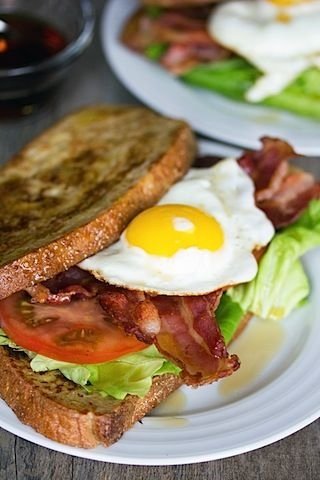 Why not turn your French toast into a sandwich? You can dip your bread in the same mixture you always do, and just add some bacon, lettuce and tomatoes. It's pretty simple.
Ingredients:
8 slices bacon
4 large eggs, lightly beaten
3/4 cup heavy cream
1/4 cup chopped fresh chives, plus more for serving
Coarse salt and ground pepper
3 tablespoons unsalted butter
4 slices crusty bread, cut 1 inch thick
4 lettuce leaves (romaine, Boston, or Bibb)
8 slices tomato
Instructions:
Preheat oven to 375F. Place bacon on baking sheet. Cook for 15 minutes. In a dish, whisk together eggs, cream, and chives. Season with salt and pepper. Lay bread in egg mixture. Soak for 3 minutes on each side. Melt butter in skillet over medium. Add bread and cook for 3 minutes per side. Layer lettuce, tomato, and bacon on each piece and sprinkle with chives.
3

Banana French Toast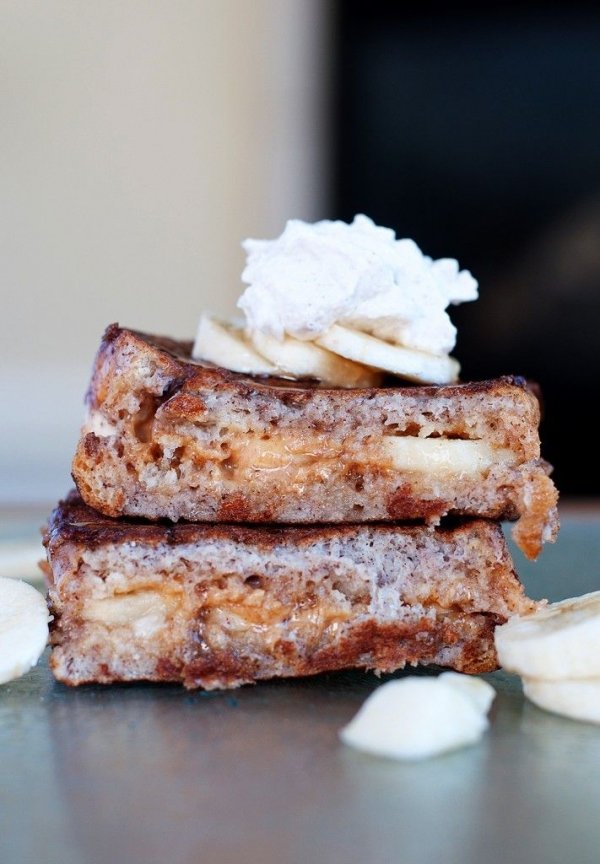 If you want to throw in something healthy, chop up a banana to go with your meal. If you don't use the whole thing up, keep it on the side of your plate to eat once you're finished with your toast.
Ingredients:
1/2 cup fat-free milk (skim)
1 large egg
1 tablespoon light-brown sugar
1/4 teaspoon ground cinnamon
Coarse salt
1/2 tablespoon butter
4 slices whole-wheat sandwich bread
1 banana
4 teaspoons pure maple syrup
Instructions:
Whisk together milk, egg, sugar, cinnamon, and a pinch of salt. Dip bread into the egg mixture. Melt butter over medium heat in a skillet. Place all 4 slices in skillet. Cook 2 minutes per side. Cut bananas and place on top of bread with syrup.
4

Crème Brûlée French Toast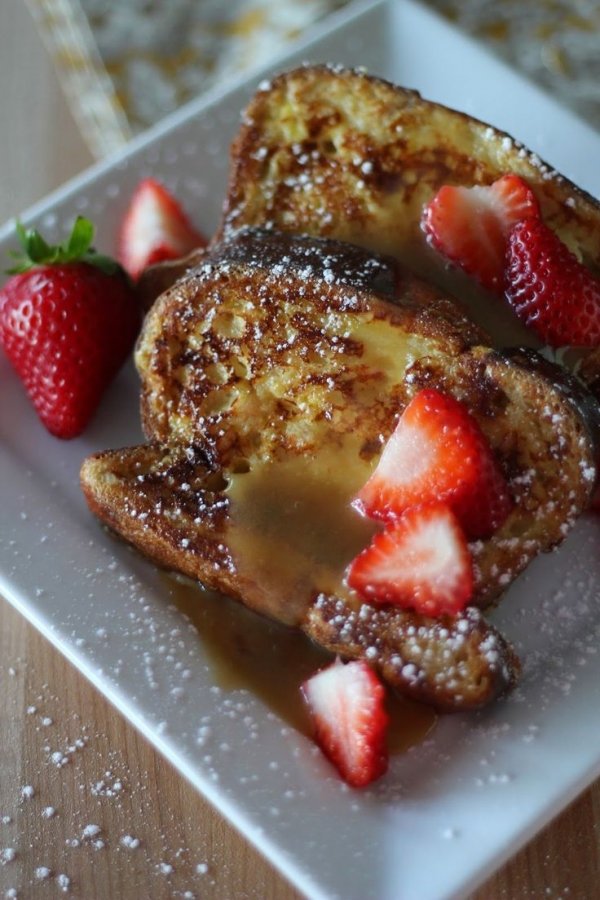 Start your day off by feeling fancy. When you have this meal on your plate, it'll be impossible to stay grumpy. Instead, you'll feel like a queen who only deserves the best.
Ingredients:
1 stick (1/2 cup) unsalted butter
1 cup packed brown sugar
2 tablespoons corn syrup
an 8- to 9-inch round loaf country-style bread
5 large eggs
1 1/2 cups half-and-half
1 teaspoon vanilla
1 teaspoon Grand Marnier
1/4 teaspoon salt
Instructions:
Melt butter with brown sugar and corn syrup until smooth. Pour into baking dish. Cut bread into slices and arrange in baking dish. In a bowl, whisk together eggs, half-and-half, vanilla, Grand Marnier, and salt. Pour over bread. Chill bread mixture for at least 8 hours. Preheat oven to 350F. Bake bread mixture for 35 minutes.
5

Peanut Butter Stuffed French Toast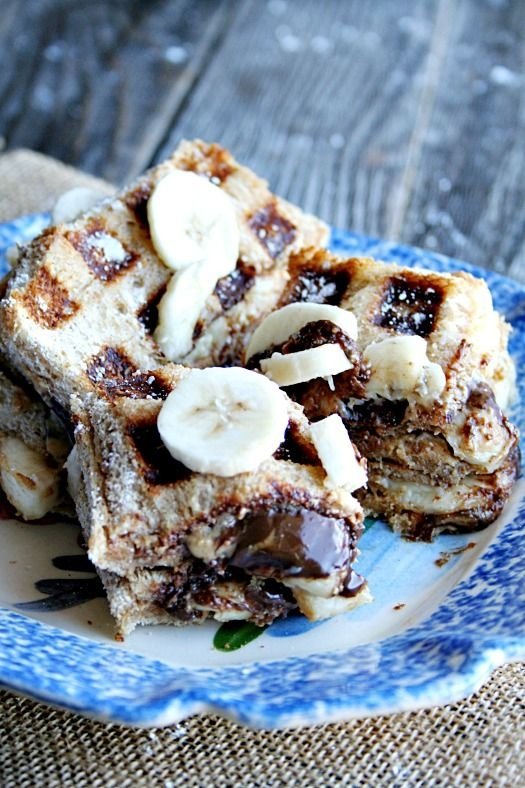 If you're a fan of peanut butter, mix it into your morning meal. You eat peanut butter and jelly on bread all the time, so why wouldn't you want to try eating it on French toast?
Ingredients:
¼ cup maple syrup
2 cups strawberries, sliced
½ cup peanut butter
8 slices whole grain bread
3 eggs
½ cup milk
1 tsp vanilla
1 tsp sugar
¼ tsp salt
1 tsp cinnamon
Instructions:
Preheat to 350F. Heat syrup in small saucepan. Add strawberries. In a bowl, mix together eggs, milk, vanilla, sugar, salt, and cinnamon. Top each slice of bread with peanut butter. Sandwich bread together. Dip in egg mixture. Cook for 3-4 minutes on each side. Top with strawberry mixture.
6

Chocolate Hazelnut Stuffed French Toast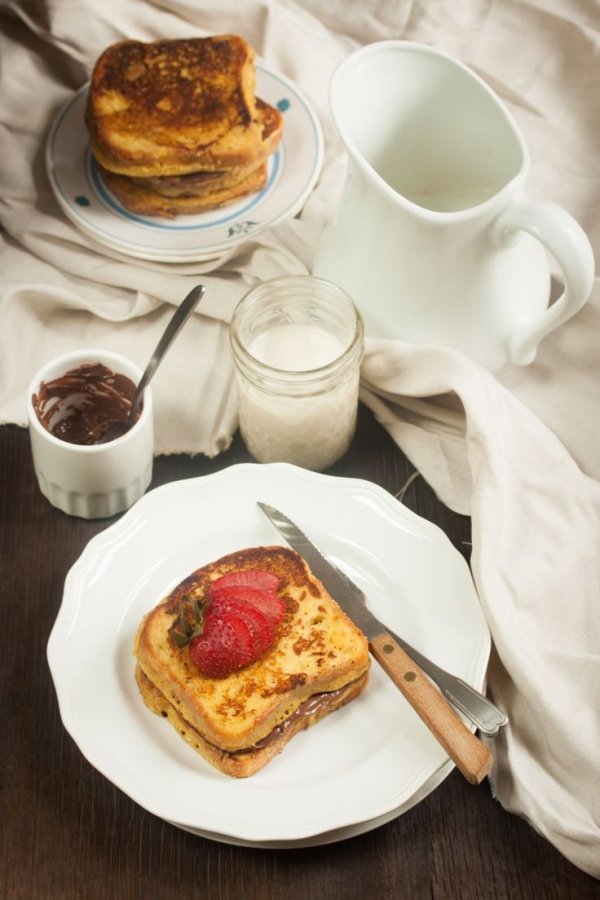 Never settle for boring, unstuffed French toast again. Spread whatever food you love in between the slices for an unforgettable meal.
Ingredients:
4 large eggs, lightly beaten
1 cup whole milk
Pinch of salt
3 tablespoons butter
8 (1/2-inch) thick slices brioche or challah bread
8 tablespoons chocolate hazelnut spread, divided
Grade B maple syrup or powdered sugar, for serving
Instructions:
Whisk eggs, milk, and salt. Melt butter in skillet. Dip bread in egg mixture. Transfer to skillet to cook. Spread 2 tablespoons of the chocolate hazelnut spread on 1 piece of the bread, and place the other piece of cooked bread on top. Repeat.
7

Berry Cream Cheese Stuffed French Toast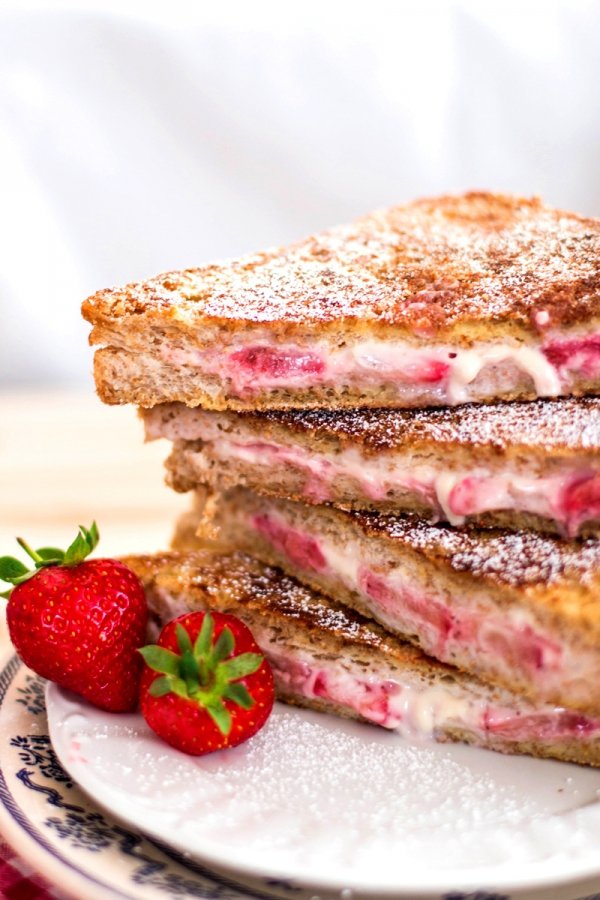 If you prefer berries to chocolates, you'll love munching on this meal before you start your day. There's nothing tastier.
Ingredients:
4 thick slices of French bread (about 2 inches each)
8 oz cream cheese
1/4 cup berry syrup or jam
3 large eggs
1/4 cup milk
Instructions:
Cut an incision into each slice of bread. Combine cream cheese and syrup in a bowl. Divide cream cheese evenly onto bread, stuffing it into the middle. Combine eggs and milk into bowl. Dip bread into egg mixture. Place onto griddle and cook for 3-4 minutes. Top with powdered sugar, berry syrup, and fresh berries.
Never skip breakfast, because it can be the most delicious meal of your day. How do you usually cook your French toast?
Please rate this article