26 Delicious and Colorful Meals ...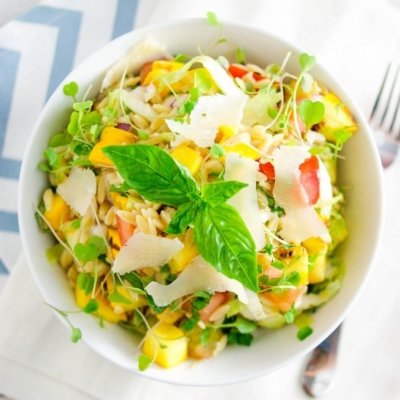 The word on the street is that colorful meals are healthy meals! And we all want to eat healthier, right? Many of these colorful meals look healthy and hearty… others just look plain fun and delicious!
Via 4th of July Kids Dinner: ...
Okay, I know that this colorful meal is cheating, but it just looks like so much fun! Use food dye to make your pasta patriotic and festive, matching whatever your country's colors are!
Via Skinny Slow Cooker Recipes
This vegetarian friendly meal of wild rice, basil, and corn is both colorful and healthy! Great for your eyes, mouth, and waistline.
3.

Roasted Vegetable Medley
Via Roasted Vegetable Medley -
A roasted vegetable medley can be the side dish to your main meal, or simply an afternoon snack! Either way, this colorful dish is healthy and delicious.
Via 56 Quick & Delicious Summer ...
You can prepare a variety of healthy summer salads, and the more colorful they are the better! Like this spinach salad with blueberries.
Via Corn-and-Zucchini Queso Chowder
Who knows how healthy chowder is, then again who cares! This colorful and delicious corn and zucchini chowder is the definition of comfort food!
Via Super Fast Food: 15 Meals ...
An easy and delightfully colorful dish comes together in one big pot! Get your family together to throw whatever you please into a basil and tomato pasta dish for dinner!
8.

Fragrant Fruit Salad with Spinach
Via Fragrant Fruit Salad
This salad includes almost everything under the sun! And there's no limit to the amount and variety of fruits you can add to it.
Via Vegetable Side Dishes for Winter ...
If your plate ever looks bland with just meat and rice, add a delicious veggie side dish! Simply adding asparagus to your plate is bound to brighten it up!
10.

Chicken-Pineapple Fajitas
Via Quick & Easy Spring Dinners
To me, fajitas scream summer! With a handful of juicy pineapple slices and a sprinkle of bell peppers, you'll have a colorful and delicious meal ready in a jiffy!
Via Colorful quinoa salad with orange ...
Another quick meal is a scrumptious quinoa salad! Throw in some avocado and oranges, and you've got yourself a simple, nutritious meal.
12.

Easter Colored Deviled Eggs
Via YUMMM
Maybe not the healthiest, but definitely among the most colorful! A creative twist on deviled eggs, food colored egg whites filled with the traditional goodness inside means a fun snack for the whole family!
Via The Lorax Dinner Makeover | ...
If you're a mom, I'm sure your kiddos would love colored pasta! Even though you know it's the same, they'll love it 10x more than regular pasta!
Via Tunay Na Mahal: Easy Summer ...
Pasta salad is a summer tradition in my family! You can toss virtually anything into this colorful and delightful summer dish.
Via Red Light, Green Light Cookies
Another treat that will be a favorite with your kids are these stoplight cookies. They're fun to eat and easy to make!
16.

Veggie, Beef, and Noodle Bowl
Via Quick Veggie & Beef Noodle ...
If you're craving an Asian meal, you're in luck! This colorful and quick meal can quench your craving in an instant!
Via Doable Challenge: Make a Colorful ...
You can go crazy with your salad and throw anything into it! It will be an exciting adventure with an awesome result!
18.

Paleo Stuffed Peppers
Via Easy paleo recipe for stuffed ...
The Paleo diet is gaining popularity every day! If you're struggling to stay strong, this tasty, colorful meal may be just the motivation you need to stay on board!
Via Chickpea Salad Recipe
I love chickpeas and couldn't imagine my life without them! Try this colorful meal and see if you don't love it!
20.

Colorful Hamburger Rice
Via Colorful Hamburger Rice
When you're craving a burger but trying to make a healthy choice, turn to hamburger rice! This colorful meal will save you calories and give you great nutrients from the carrots, peas, and other veggies you toss in!
Via Candy Cane Macarons | Mother ...
Maybe macarons aren't exactly a meal… but they are certainly colorful and delicious!
26.

Mexican Cornbread Salad
Via Mexican Cornbread Salad
Mexican food is notoriously colorful and tasty! This layered Mexican cornbread salad is a feast both for the eyes and the mouth!
Colorful meals make eating fun! After drooling over all of these gorgeous meals, which one are you craving the most?
{{#comments_count}} Show Commnents ({{comments_count}}) {{/comments_count}}