All of you cookie lovers should watch out, because there are Oreo themed desserts that will make your mouth water. As soon as you realize that they exist, you won't be able to stop yourself from whipping them up. Don't worry about making a mess of your kitchen, because even if you're not a talented baker, you can put together the following Oreo themed desserts:
---
1

Oreo Cheesecake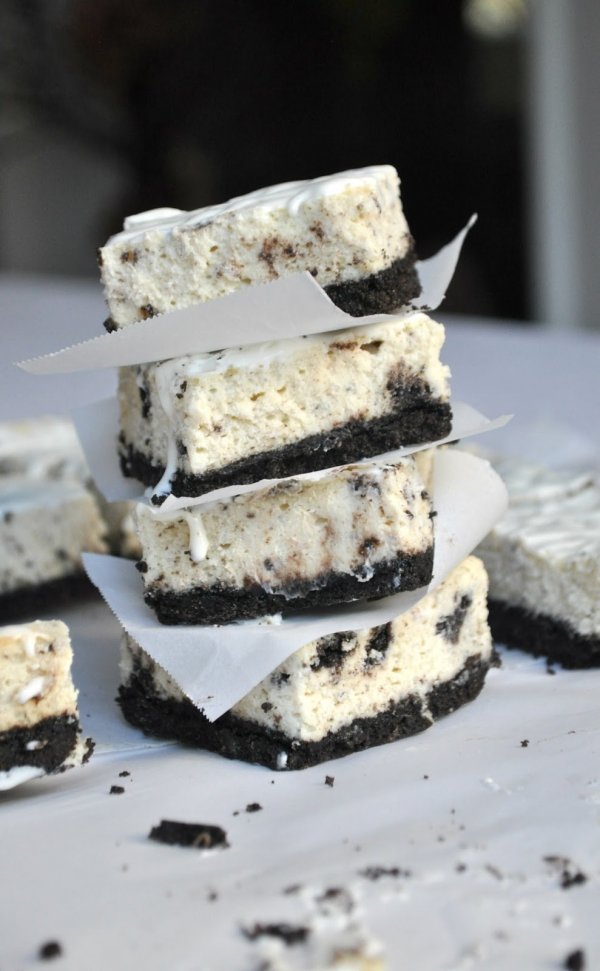 Who can resist cheesecake? Eating it plain is delicious enough, but throwing your favorite cookies in the mixture makes it even more tempting. This is one of the Oreo themed desserts you know you need to taste.
Ingredients:
36 OREO Cookies
1/3 cup butter or margarine, melted
3 pkg. (8 oz. each) Cream Cheese, softened
3/4 cup sugar
1 cup Sour Cream
1 tsp. vanilla
4 eggs
Instructions:
Heat oven to 350F. Crush 26 cookies into crumbs and chop remaining cookies. Mix crushed cookies with butter and press onto bottom and 2 inches up side of 9-inch springform pan. Beat cream cheese and sugar in large bowl until blended. Add sour cream and vanilla. Add eggs and blend. Stir in chopped cookies. Pour into crust. Bake for 55 minutes to 1 hour. Refrigerate 4 hours.
Source: kraftrecipes.com
2

Oreo Pudding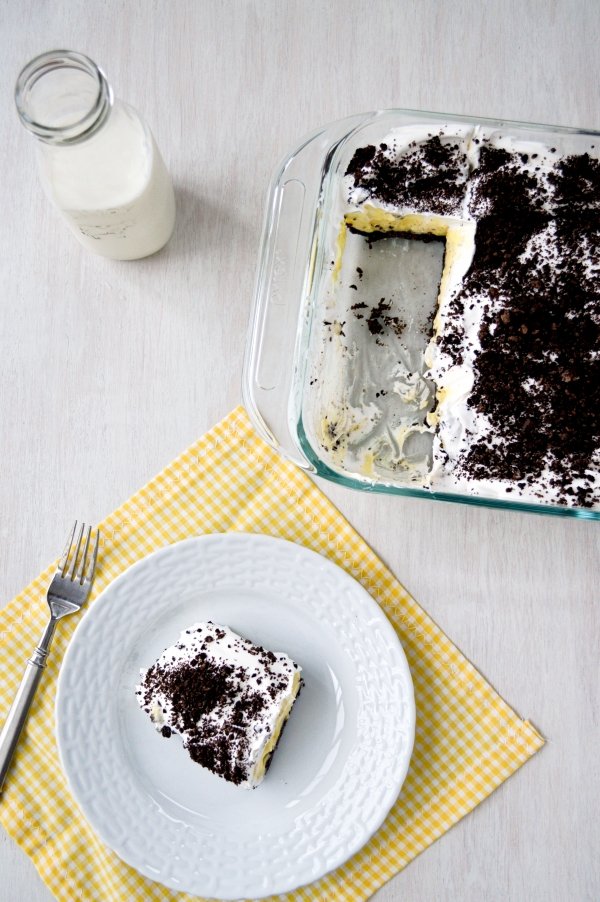 Vanilla's a fine flavor, but it can get a bit boring. To spice things up, throw some Oreo crumbs into it. It's a small change that causes big results.
Ingredients:
8 ounces cream cheese, room temperature
1 cup powdered sugar
3 cups milk
1 teaspoon vanilla
8 ounces Cool Whip
1 (1 lb) package Oreo cookies, crushed into chunks
4 tablespoons butter, room temperature
2 packages instant vanilla pudding (small size)
Instructions:
In a large bowl, cream the cream cheese, butter, and sugar with an electric mixer. Add the milk, vanilla, and pudding mixes and mix together. Fold in the Cool Whip. Place half of the cookies in the bottom of a large glass bowl and cover with the entire pudding mixture. Top with remaining cookie chunks. Refrigerate for 8 hours.
Source: food.com
---
3

Oreo Cupcakes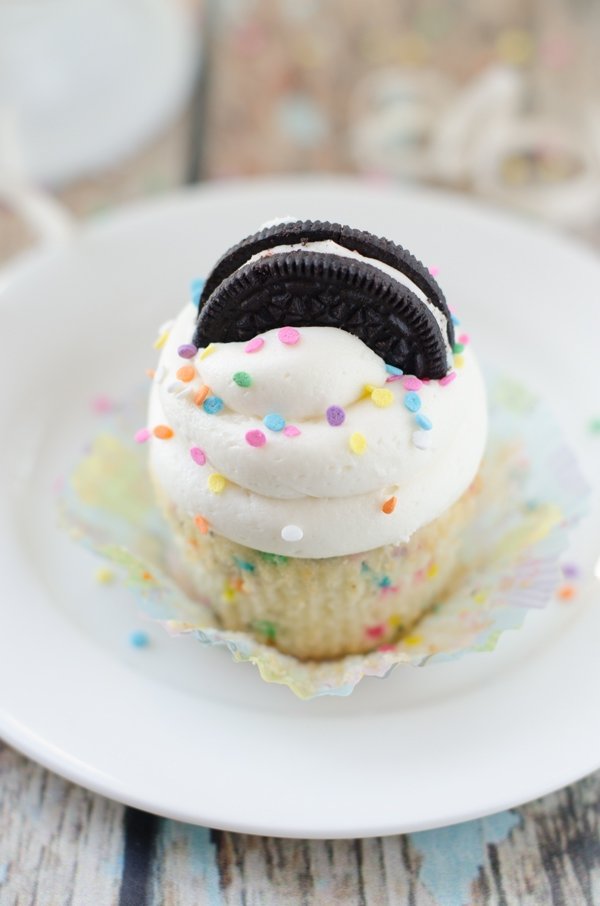 If you're going to make cupcakes, you need them to be spectacular. They're a dessert that is served at every birthday party and holiday, so they won't be memorable unless they're to die for. That's why this recipe is a keeper.
Ingredients:
1 package Oreo Cookies, regular size
1 package Mini Oreo Cookies, for decoration (optional)
1 package chocolate cake mix (mix according to directions on box)
8 ounces cream cheese, room temperature
1/2 cup butter (1 stick), room temperature
3 3/4 cups powdered sugar
1 teaspoon vanilla extract
Cupcake liners
Instructions:
Preheat oven to 350F. Mix packaged cake mix according to directions, but do not bake. Line cupcake tins with liner, and place a regular size Oreo cookie in the bottom of each liner. Take 1/2 of remaining cookies and chop to add to cake mix. Fill the cupcake tins. Bake for 15 minutes. To make frosting, cream together butter and cream cheese. Add vanilla, then add powdered sugar. Chop remaining regular-sized Oreos to add to frosting. After cupcakes have cooled, frost and decorate with Mini Oreos.
Source: instructables.com
---
4

Deep Fried Oreos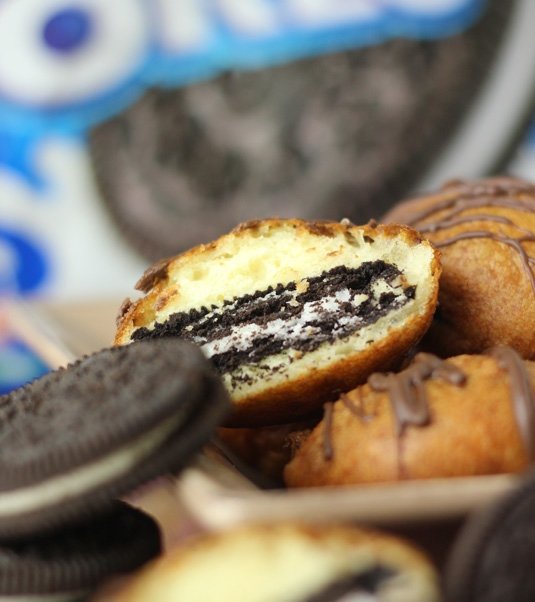 You've definitely heard of these, but have you tasted them? If not, it's about time you do. Even if you don't like them, at least you can say you tried them to see what the hype was about.
Ingredients:
2 quarts vegetable oil for frying
1 large egg
1 cup milk
2 teaspoons vegetable oil
1 cup pancake mix
1 (18 ounce) package Oreos
Instructions:
Heat oil in deep-fryer to 375F. Whisk together the egg, milk, and vegetable oil in a bowl until smooth. Stir in the pancake mix until no dry lumps remain. Dip the cookies into the batter and place into the hot frying oil. Cook until the cookies are golden-brown or for 2 minutes. Drain before serving.
Source: allrecipes.com
---
5

Oreo Milkshake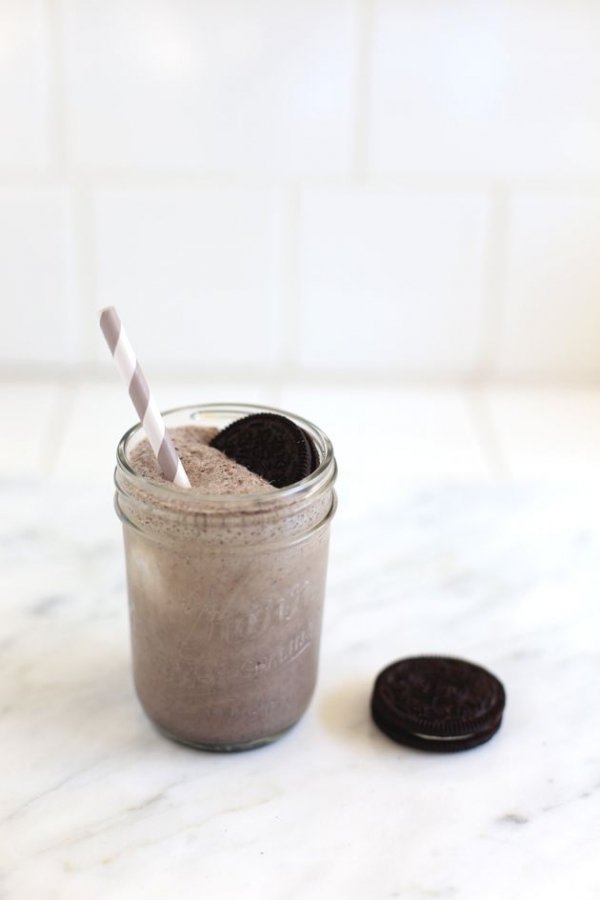 This milkshake will taste like you spent hours making it when it really only takes a few minutes. Yes, it's that scrumptious.
Ingredients:
4 tsp. chocolate syrup
8 OREO Cookies, divided
1 cups milk
2 cups vanilla ice cream, softened
Instructions:
Place 1 tsp. syrup into each of 4 glasses. Roll each glass to coat bottom and inside of glass. Chop up 4 cookies and set aside. Cut remaining cookies into quarters and place in blender. Add milk and ice cream, and blend until smooth.
Pour into prepared glasses and top with chopped cookies.
Source: snackworks.com
6

Oreo Popcorn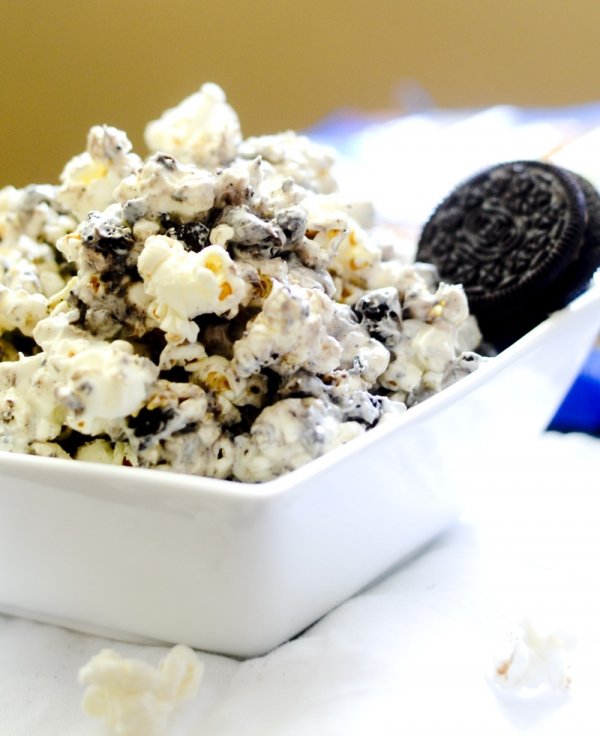 Have you ever heard of such a thing? Oreos are so tasty that you can mix them with anything--even foods you never thought would go well with them. Oreo popcorn sounds bizarre, but the taste speaks for itself.
Ingredients:
9 cups popped popcorn
20 Oreos, finely crushed
24 oz. White Vanilla Almond Bark
Instructions:
Pop popcorn. Melt white vanilla chocolate and drizzle over popcorn. Sprinkle finely crushed Oreos over the top.
Source: chef-in-training.com
---
7

Oreo Ice Cream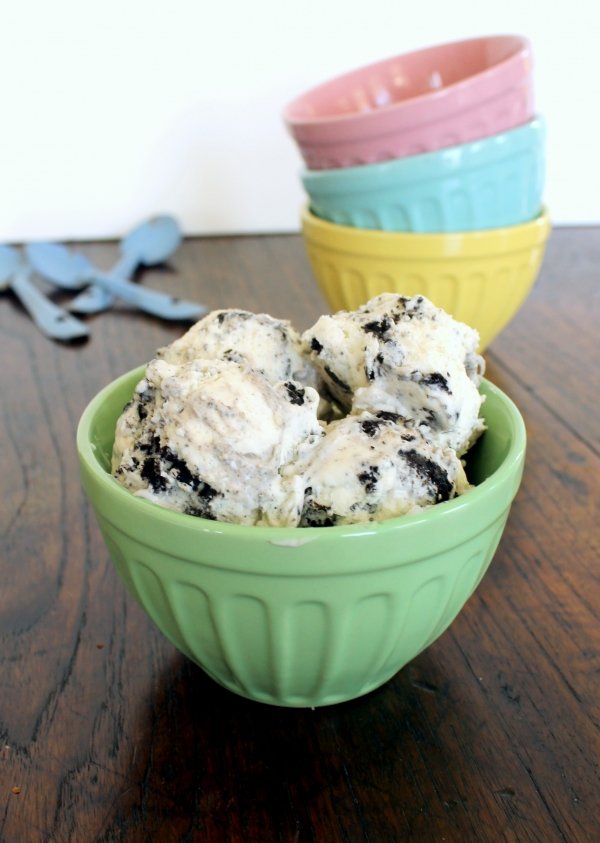 You don't have to buy Oreo ice cream when you can make it yourself. If you already have a container of vanilla ice cream and a sleeve of Oreos, there's nothing stopping you. Go for it.
Ingredients:
1 Cup Whole Milk
¾ Sugar
2 Cups Heavy Cream
1 Tablespoon Vanilla
1 Cup Crushed Oreo Cookies
Instructions:
In a medium bowl, whisk the milk and sugar until the sugar is dissolved. Stir in the heavy cream and vanilla. Refrigerate for 2 hours. Pour the mixture into the frozen freezer bowl and let it mix until thickened (about 20 mins). Add the Oreo Cookies to the ice cream while it's still mixing in the machine.
Source: thetaylor-house.com
Oreos are one of the yummiest cookies out there, so you might as well mix them with other desserts you love. What do you usually eat cookies with?
---
Comments
Popular
Related
Recent