One of my favorite healthy secrets to maintaining my weight and starting the day off on the right foot is finding healthy desserts to eat for breakfast. During my former dieting days, I ate the traditional egg whites and veggies for breakfast, just like many women out there trying to stay lean and thin. Boy, did this get old! To this day, sometimes I don't even want to look at eggs! I finally started trying something new instead. I started creating my own healthy dessert items that could also serve as a satisfying breakfast option to eat. This worked like a charm, filling me up and keeping me satisfied, not deprived! Here are 7 great ways to enjoy desserts for breakfast. Many are from my favorite bloggers, and one recipe is even my own favorite recipe I wanted to share with you. Now put down that boring cereal bowl and try some of these ideas instead!
---
1

Chocolate Green Dream Smoothie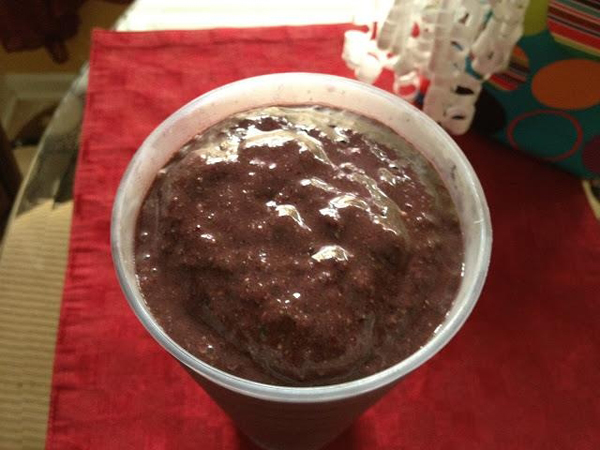 I have loved ice cream since I was a girl, yet obviously Ben and Jerry's isn't one of the desserts to eat for breakfast I'm talking about here. I created a delicious chocolate green smoothie five years ago that I eat almost every single day with some variation. I love chocolate to my heart's end, so it is no surprise that eating chocolate for breakfast is one of my favorite ways to start the day. Here's a chocolate smoothie recipe to get your brain and body primed for a great day. Enjoy!
Ingredients:
2 cups cold water (filtered tastes best)- you can also use 1 cup almond milk and 1 cup water if you want.
2 tbsp. cocoa powder or raw cacao powder
1 scoop of your favorite protein powder- I use Sunwarrior Raw Warrior Blend in Vanilla or Vega One French Vanilla
1 tbsp. chia seeds
1 tbsp. flax seeds
Small handful of raspberries or blueberries (about 1/4 cup)
2 packed cups of spinach or kale greens
Stevia to taste (I used 1/8 tsp of NuNaturals Stevia)
1 tsp. peppermint extract (optional but I love the chocolate and mint together)
Dash of vanilla extract
1/4 tsp. cinnamon
5 ice cubes if you want it thick (2 if you want it thinner)
Directions:
Add all the ingredients in order to a blender or the NutriBullet and blend on high until completely liquefied but still thick like a shake.
Freeze for 10-20 minutes to get it nice and cold and eat it with a spoon for an ice cream like treat!
**Source: **soulfulspoon.com
---
2

Pumpkin Bread in a Bowl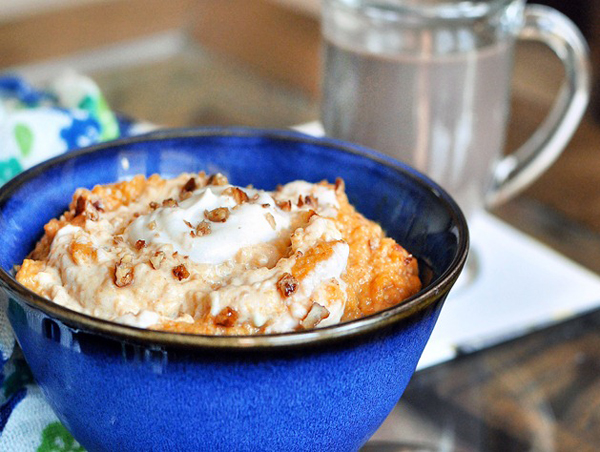 Vegan or not, I don't know many people who don't just love Chocolate Covered Katie's blog, who inspired all of us to indulge in healthy desserts more often than not. Her Pumpkin Bread in a Bowl is one of my absolute favorite breakfast recipes to eat for dessert. I use cooked whole grain oats or quinoa to make this a bit healthier than plain cereal. Katie's recipe is full of nutrients, incredibly tasty and so satisfying. Give it a try if you're in the mood for something cozy!
Ingredients:
1/3 c canned pumpkin (or cooked pumpkin)
3/4 c milk of choice
1 cup flake cereal (I like spelt flakes, but bran, corn, etc will work. Some people have even used oatmeal!)
1/4 to 1/2 tsp pure vanilla extract
1/2 tsp cinnamon
1/8 tsp salt
Sweetener (such as stevia, sugar, or even maple syrup)
Optional: chocolate chips, pecans
Directions:
Blend all ingredients together. The cereal will have a thin consistency at first, but if you leave it in the fridge (after blending) for even just 10 minutes, it starts to get really thick!
Source: chocolatecoveredkatie.com
---
3

Oatmeal Raisin Cookie Larabars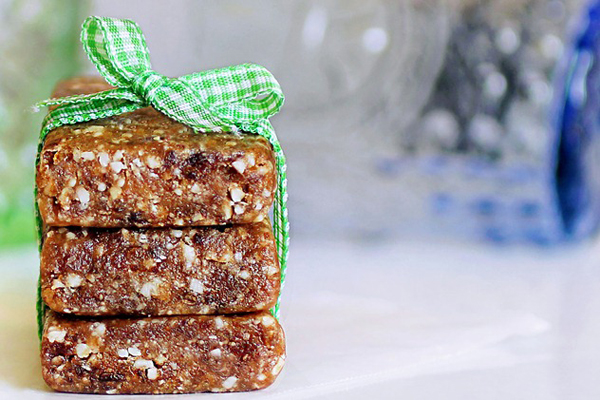 Here's another delicious recipe by Katie Higgins from the Chocolate Covered Katie blog that you are going to love! If you like the famous Larabars, turn them into breakfast by implementing oats and raisins in this scrumptious recipe that tastes like dessert!
Ingredients:
1/2 cup raisins (80g)
6 tbsp quick oats (30g)
1/2 cup walnuts (40g)
1/8 tsp plus 1/16 tsp salt
1/4 tsp pure vanilla extract
Directions:
Pulverize the oats in a food processor, then add all other ingredients and blend very well. Form into balls or bars. (If you want, you can portion the dough into plastic bags before smushing the bars, so your hands don't get sticky.)This recipe makes a little over three Larabar-sized (45g) bars. I like to double the recipe—the bars last at least two weeks in the fridge. They can also be frozen.
**Source: **chocolatecoveredkatie.com
---
4

Banana Berry Yogurt Parfait, Vegan and Raw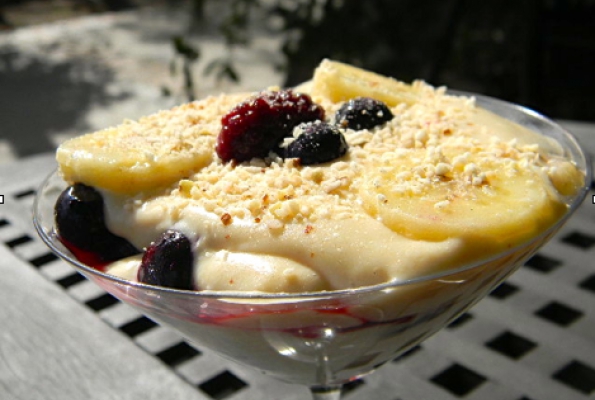 Here's a great parfait that works for breakfast or dessert! It's fresh and full of nutrients for a healthy, energizing boost.
Ingredients:
Meat from 1 young Thai coconut
1/2 cup coconut water
4 to 6 dates, soaked to help blend
juice of 1/2 lemon
1/2 sliced banana (fresh or frozen)
1/2 cup mixed berries (fresh or frozen)
1/2 Tb finely shredded coconut for garnish
Directions:
Place all ingredients in blender except for banana and berries, and blend till completely smooth. In a decorative glass, layer yogurt and fruit evenly. Garnish with finely shredded coconut.
Source: vegweb.com
---
5

Almond Butter Banana Shake,Vegan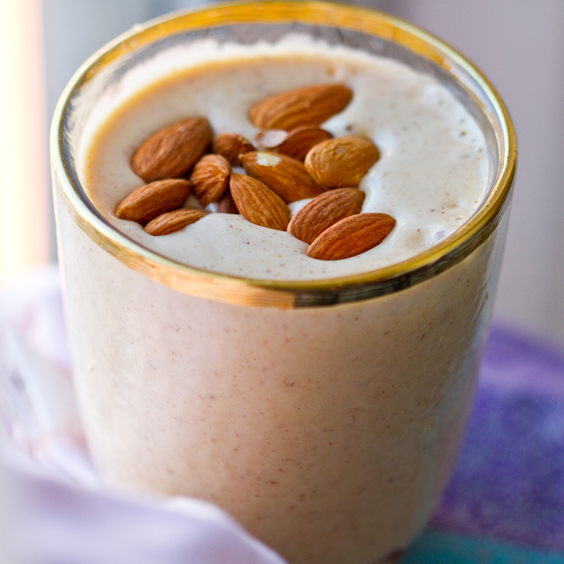 Kathy Patalsky is one of my favorite vegan bloggers, and here she gives us a treat to start our day off with this delightfully indulgent, healthy breakfast smoothie. This recipe is so simple and the combination is just amazing. You won't be hungry for several hours after this, plus this smoothie is filled with B vitamins, magnesium and potassium to keep you energized all morning long.
Vegan, Serves 2
Ingredients:
1 - 1 1/2 cups almond milk or soy milk, vanilla flavor
*the less liquid you add the thicker the shake will be
2 large frozen bananas, ripe
2 heaping Tbsp creamy almond butter, salted (raw or roasted)
1/4 cup ice (optional)
1/4 tsp cinnamon
garnish: roasted almonds
"Spiced Up" Version: Add-In 1/2 tsp ginger powder, dash of cayenne, dash of nutmeg
Directions:
Place all ingredients in a high power blender. Blend on high until smooth and thick.
Pour into glasses and garnish with roasted or raw almonds.
Source: kblog.lunchboxbunch.com
---
6

Strawberry Parfaits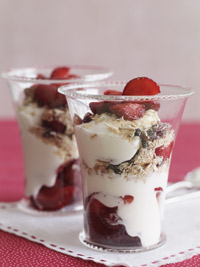 This recipe is so simple, and can be thrown together on a quick morning in any container you choose, or it can be enjoyed at home in a lovely parfait glass. It is perfect for those hot summer days when you need something cool to start your day with. This parfait recipe is packed with fiber, antioxidants and protein to keep you healthy, plus refreshing sweet ingredients to satisfy your sweet tooth.
Serves 1
Ingredients:
½ cup strawberries
½ cups low fat vanilla yogurt (or fat-free plain for less sugar and less fat)
1-2 tbsp. muesli or granola
Directions:
Layer ½ each of the ingredients in the order listed into a parfait glass.
Repeat the process again until the ingredients are gone.
**Source: **recipes.womenshealthmag.com
---
7

Creamy Strawberry Smoothie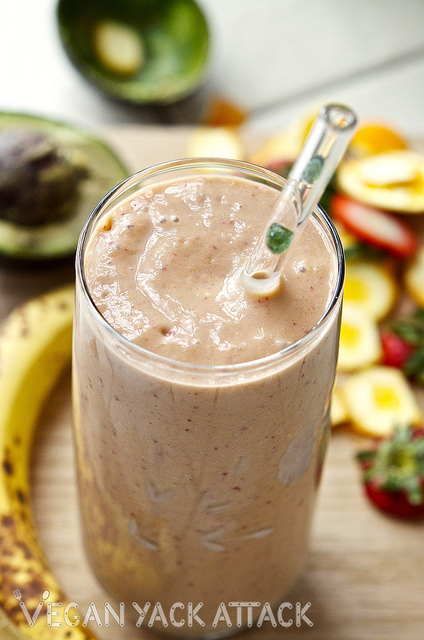 If you're looking for a healthy milkshake/smoothie recipe, this is it! This recipe tastes like dessert but is full of nutritious ingredients. This smoothie would be perfect on a hot summer morning or afternoon when you're craving something sweet and filling.
Ingredients:
1 Medium-sized Banana
1 Orange, Peeled (Equivalent to 1 Cup)
1 Cup Chopped Strawberries
⅓ Cup Avocado
1 Cup Sprouts
½ Cup Water
A Few Ice Cubes
Optional: Add in your Favorite Protein Powder
Directions:
Place all ingredients into a blender, with soft items closest to the blades, and puree until completely smooth. Serve immediately.
Source: veganyackattack.com
I just love eating dessert recipes for breakfast. I find it really helps weed out the temptations for sweets during the day by eating a breakfast that tastes like dessert. What about you? Do you have any breakfast recipes that taste like dessert?
More
---
Comments
Popular
Recent