As the temperatures continue to rise, I keep searching for frozen dessert recipes that will help me cool off and taste great. I'm all for enjoying a store-bought treat, but sometimes I like to get creative and make dessert on my own! This way, you know exactly what was used when it was made and you can show off your super cool culinary skills to all of your friends and family! Take a gander at these refreshing frozen dessert recipes; I think you're going to love them!
---
1

Peach-Lime Sorbet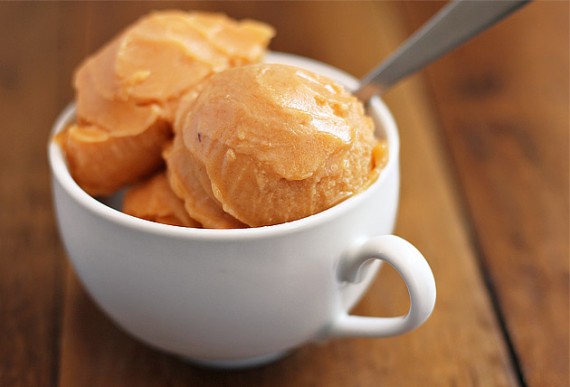 Let's start off these frozen dessert recipes with a light, refreshing frozen dessert that is perfect to enjoy after a meal or on a lazy afternoon. Sorbets really pack a punch when it comes to flavor, yet they don't contain all the calories or fat that ice cream typically does. This particular recipe features the juicy peach and tart lime for a delicious way to cool down!
Ingredients:
1 1/2 cup(s) water
2/3 cup(s) sugar
2 tablespoon(s) light corn syrup
1 pound(s) fresh peaches or nectarines, halved and pitted
1 teaspoon(s) freshly grated lime zest
6 tablespoon(s) lime juice
1/4 teaspoon(s) salt
Directions:
Stir water, sugar and corn syrup in a large saucepan over medium heat until the sugar dissolves. Add peaches (or nectarines); bring to a simmer. Reduce heat, cover and simmer for 10 minutes.
Pour the fruit-syrup mixture into a blender. Add lime zest, juice and salt; blend until smooth. Pour into a large bowl and refrigerate until cold, 4 hours or overnight.
Freeze the sorbet mixture in an ice cream maker, according to the manufacturer's directions. (Alternatively, pour the mixture into ice cube trays and freeze until solid, about 4 hours. Unmold cubes, place half in a food processor fitted with the chopping blade, and process, scraping the sides as necessary, until fairly smooth but still icy. Repeat with the remaining cubes.)
Source: delish.com
---
2

Pink Lady Milkshake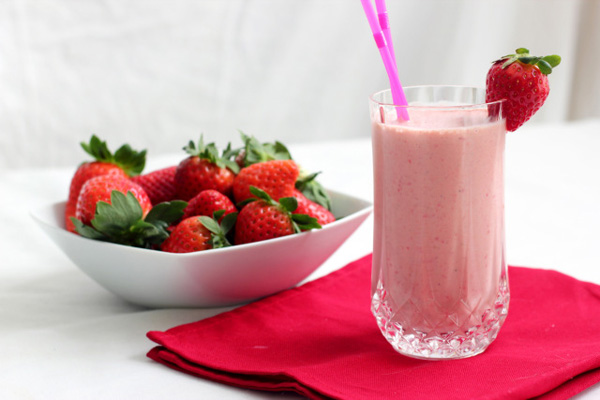 This next dessert recipe sounds innocent enough, but it's actually an adult beverage! Think sweet strawberry milkshakes with a hit of rum, vinegar and pepper to create an icy treat that you can enjoy with your girlfriends, or nix the rum and make it for the kiddos! This would make an excellent drink to make for a summer girls' night in!
Ingredients:
4 ounces fresh strawberries (about 3 large), hulled and quartered
1 tablespoon sugar
3 tablespoons dark rum, 80 proof
1 teaspoon Champagne vinegar or white wine vinegar
1 pint strawberry ice cream
Whipped cream
Freshly, finely ground black or pink pepper
Directions:
Combine strawberries and sugar in a small bowl; let macerate until juices are released, about 30 minutes. Add rum and vinegar.
Scoop ice cream into a blender. Add strawberry mixture and blend until smooth. Divide milk shake among small glasses. Top each shake with a dollop of whipped cream; sprinkle lightly with pepper. Serve with a straw (or two).
Source: bonappetit.com
3

Cocoa Banana Almond Dairy Free "Ice Cream"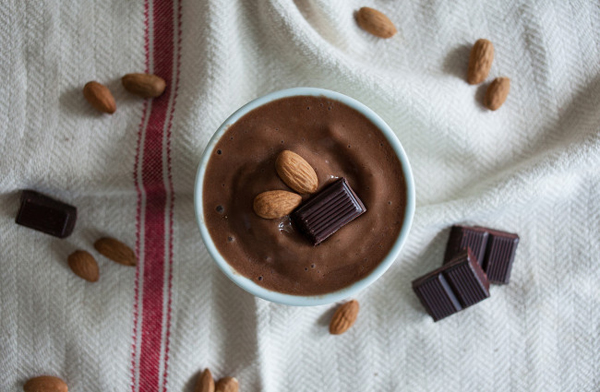 This dessert recipe only requires three ingredients and is deceptively easy to prepare! Don't you just love it when you make something healthy and delicious in a matter of minutes?! This frozen dessert is perfect if you're vegan, lactose-intolerant or just looking for a healthy dessert alternative. Another great thing about this dessert is that it's only 135 calories per serving!
Ingredients:
1 frozen banana (cut in half)
1 tbsp. unsweetened cocoa powder
1/4 cup unsweetened vanilla almond milk
Directions:
Combine everything in a blender or food processor, and blend until smooth. Enjoy!
Quick Tip 1: To freeze my bananas, I wait for them to brown and then I cut them in half and seal each pair of halves in snack-sized zip top baggies and store them in the freezer door. This way they're already divided into single servings, and I can toss them right into the blender the minute I need them.
Quick Tip 2: When I'm eating a single serving of this "ice cream", I like to use a tiny spoon so it lasts longer. Maybe I'm crazy, but it makes me feel like I'm getting more, and tiny spoons are just more fun!
Source: offbeatandinspired.com
---
4

Watermelon Popsicles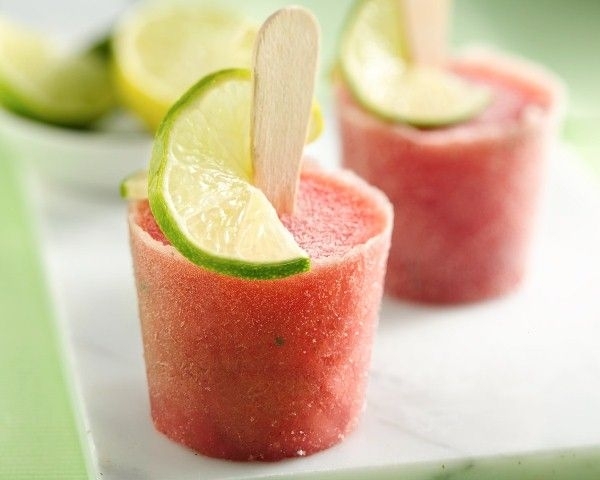 Here's another twist on a classic American summer treat! Take the quintessential summer fruit, mix in some sigar, salt, and garnish with some spearmint leaves, and you've got a refreshing treat on a stick! Not only do these babies look totally delectable, they don't take long to make, so you can quickly whip them up, freeze overnight and enjoy the next day!
---
5

Frozen Raspberry Pie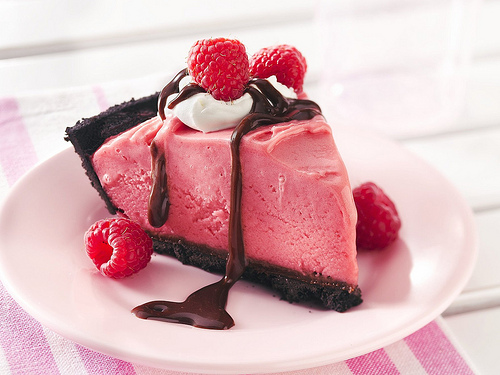 I love pie and I love it even more when I can enjoy it on a hot summer night to help cool me off! This frozen raspberry pie takes a little longer to make than the other recipes on this list, but I think it's well worth the wait! If you love the flavor combination of chocolate and raspberries, I think you're going to fall in love with this frozen dessert!
Ingredients:
Crust:
32 chocolate wafers, (about 6 1/2 ounces; see Note), plus 1 for garnish
1/4 cup confectioners' sugar
2 tablespoons canola oil
2 tablespoons skim milk
1 tablespoon butter
Filling:
3 cups raspberries, fresh or frozen (thawed)
2 tablespoons lemon juice
1/4 teaspoon salt
2 large egg whites, at room temperature (see Tip)
1/2 cup granulated sugar
1/2 teaspoon cream of tartar
Directions:
Preheat oven to 350°F. Coat a 9-inch pie pan with cooking spray.
To prepare crust: Process 32 wafers, confectioners' sugar, oil, milk and butter in a food processor until finely ground. Press the mixture into the bottom and up the sides of the prepared pan, creating an even, dense crust. Bake for 12 minutes. Cool on a wire rack to room temperature, about 1 hour, pressing any puffed parts of the crust back into the pan.
To prepare filling: Meanwhile, puree raspberries, lemon juice and salt in a blender or food processor until smooth. Strain through a fine-mesh sieve into a medium bowl, pressing with a rubber spatula to extract the juice; discard seeds.
Bring 1 inch of water to a slow simmer in a large saucepan. Combine egg whites, granulated sugar and cream of tartar in a 3-quart stainless-steel bowl. Beat with an electric mixer on medium speed until foamy. Set the bowl over the simmering water and continue to beat on medium speed, moving the mixer around, until the mixture is glossy and thick, about 3 1/2 minutes. Increase the speed to high, and continue beating over the simmering water until very stiff and glossy, about 3 1/2 minutes more (the eggs will be at a safe temperature, 160°F, at this point). Remove from the heat (be careful of the escaping steam) and continue beating on medium speed until room temperature, 3 to 5 minutes.
Fold the raspberry puree into the meringue until combined. Pour the raspberry filling into the pie crust; crumble the remaining chocolate wafer over the top. Place the pie on a level surface in your freezer and freeze until solid, at least 6 hours. To serve, let the pie stand at room temperature until softened slightly, about 10 minutes, before slicing.
Make Ahead Tip: Cover with plastic wrap and store in the freezer for up to 2 weeks.
Note: Look for chocolate wafer cookies without any partially hydrogenated oils. Our two favorites were both from Newman's Own Organics: Tops & Bottoms and Chocolate Alphabet Cookies. Chocolate Snaps from Mi-Del will also work, but the chocolate flavor isn't as rich.
Tip: To get the most volume from beaten eggs, it's best for them to be at room temperature. Either set the eggs out on the counter for 15 minutes or submerge them in their shells in a bowl of lukewarm (not hot) water for 5 minutes.
Source: eatingwell.com
---
6

Gluten-Free Chocolate-Dipped Yogurt Bites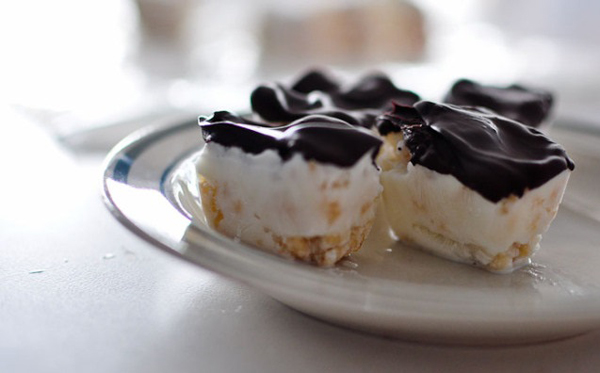 I tend to like anything that's dipped in chocolate, but I always thought something tart like yogurt and chocolate didn't quite go well together, until this! This frozen dessert totally changed my mind about combining to the two together because it really turned something that tastes like it should be bad for you into something good! All you need are four ingredients and you're set!
Ingredients:
1/2 cup plain Greek Yogurt
1/4-1/3 cup rice krispies cereal (no salt or sugar added)
8 drops Vanilla Creme Sweetleaf Stevia
1/4 cup dark chocolate chips
Directions:
Combine the first three ingredients and mix together well. Divide the mixture between ice cube trays and stick in the freezer for a couple of hours, preferably overnight.
Then take the yogurt cubes out, as you would with ice cubes.
Melt chocolate in a microwave on 30 second intervals, making sure to mix in between so you don't burn it.
Dip one end of each yogurt cube into the chocolate and let stand. Microwave the chocolate again to melt it if it cools too much from the frozen cubes. Continue until you have dipped all of your yogurt cubes.
Put on a plate and put them back in the freezer. After an hour, put the cubes in a ziplock bag. Keep in the freezer.
Source: sensualappealblog.com
---
7

Mocha Madness Oreo Ice Cream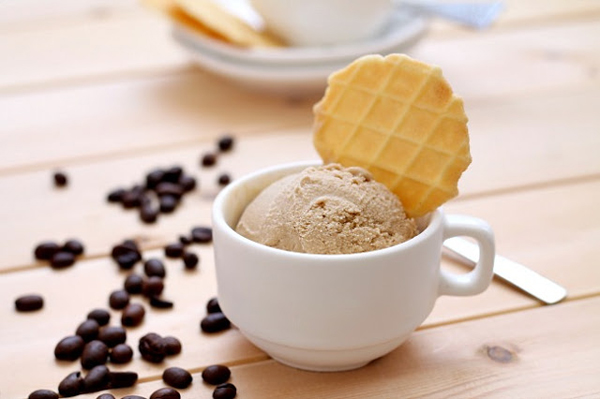 Doesn't the name of this dessert recipe just make your mouth water?! Being a huge fan of coffee, Oreo cookies and ice cream, I nearly jumped out of my chair when I came across this recipe! You'll need an ice cream maker for this frozen dessert so if you don't have one, I say borrow one just so you can experience this tasty ice cream and brag about making it!
Ingredients:
1 cup whole milk
3/4 cup sugar
2 tablespoons instant espresso powder
2 tablespoons Dutch-process cocoa powder
2 cups heavy cream
1 teaspoon vanilla extract
1 tablespoon Kahlua
1 cup chopped Oreos
Directions:
In a medium bowl, whisk together the milk, sugar, espresso powder, and cocoa powder until the sugar has dissolved and the mixture is well combined. Whisk in the heavy cream, vanilla, and Kahlua until incorporated. Cover the bowl with plastic wrap and chill in the refrigerator for a few hours (or overnight, which is what I did).
Freeze in your ice cream maker according to the manufacturer's instructions. When the ice cream reaches soft serve consistency, add the chopped Oreos and continue churning until incorporated, another minute or two. Store in an airtight container in your freezer. Makes about 1 quart.
Source: traceysculinaryadventures.com
I hope you're as excited as I was when I found these frozen dessert recipes! For the most part, they're simple to make and totally drool-inducing. Do you have any favorite frozen dessert recipes you like to make in the summer? What's your favorite cold treat?
More
---
Popular
Recent