In 2004 I cut all sugar out of my diet after finding a link between sugar intake and a type of seizure disorder I had, which first led me to think I had to give up sugar-free desserts. Let me tell you, I was a sugar-obsessed girl growing up. I preferred sweets to salty foods, and regularly would order ice cream out at dinner instead of a meal. I never passed on the bread, the cookies or the late night ice cream fix. Sugar was like my other half, so deciding to give it up without any hesitation for my health came as a huge shock to me. I was prepared to live a life without a sweet tooth, but what I learned was I didn't have to! Thanks to my creativity in the kitchen and my own curiosity, I learned ways to make sugar-free desserts while not eating sugar at all. I also had to even cut out fruit, even though fruit is healthy, since it causes the same issues for me as regular sugar. Lucky for me, sugar-free desserts can actually be 100% sugar-free and fruit free and still be healthy too. I don't eat artificial sweeteners either, just in case you're wondering! Check out some of the latest sugar-free desserts I found around the web and ones I've tried in my own kitchen. I think you'll be surprised just how sweet life can be without sugar.
---
1

Homemade Peanut Butter Frozen Yogurt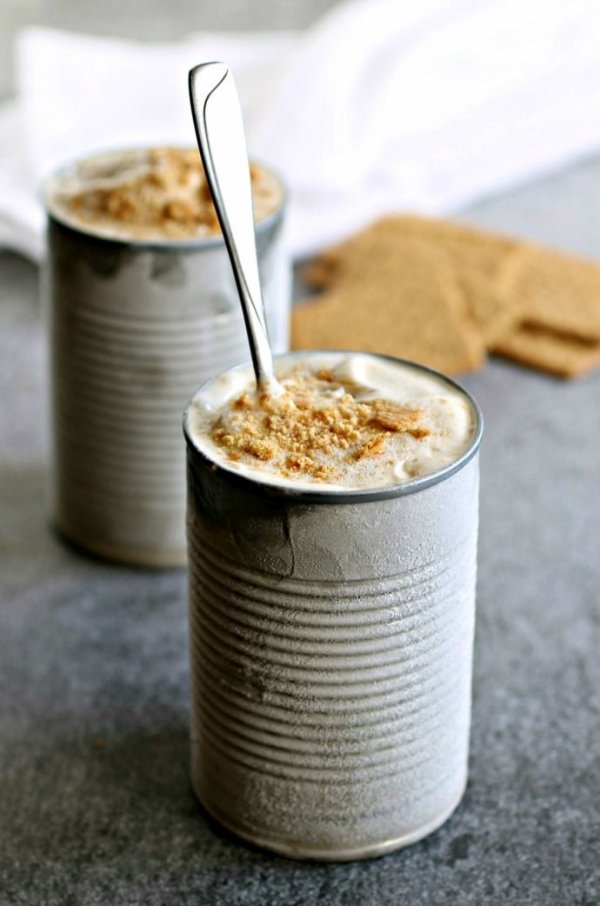 After becoming interested in making my own sugar-free desserts, I also started looking online to certain bloggers for their ideas. When I discovered Chocolate Covered Katie's blog, I knew I would never run out of great sugar-free desserts of my choosing. Katie's blog is full of amazing recipes and many are sugar-free, like her homemade peanut butter frozen yogurt. Though I'm not vegan and don't use vegan yogurt, the recipe works the same no matter what yogurt you choose to make. I also advise using plain yogurt in this recipe to avoid added sugar from flavored kinds.
Ingredients:
2 cups plain or vanilla yogurt (such as So Delicious) (440g)
1/2 cup milk of choice (120g)
about 1/2 cup peanut butter (or almond butter or allergy-friendly alternative) (100g)
1 1/2 tsp pure vanilla extract (omit if using vanilla yogurt) (6g)
1/4 tsp salt
pure stevia extract to taste, or 1/3 cup sugar of choice (more if using an unsweetened yogurt)
Directions:
Blend all ingredients except optional chips (or stir very well by hand) until completely smooth. If you have an ice cream maker, transfer mixture to the machine and churn according to manufacturer's directions. My Cuisinart took 9 minutes. Add chips if desired.
Eat immediately as soft-serve, or freeze in an airtight container for a half hour if you want a firmer texture. (If you don't have an ice cream machine: simply transfer the blended mixture to an airtight container, freeze, and stir well every half hour for 2-3 hours. The texture won't be as creamy, but it still works.)
Source: chocolatecoveredkatie.com
---
2

Crustless Pumpkin Pie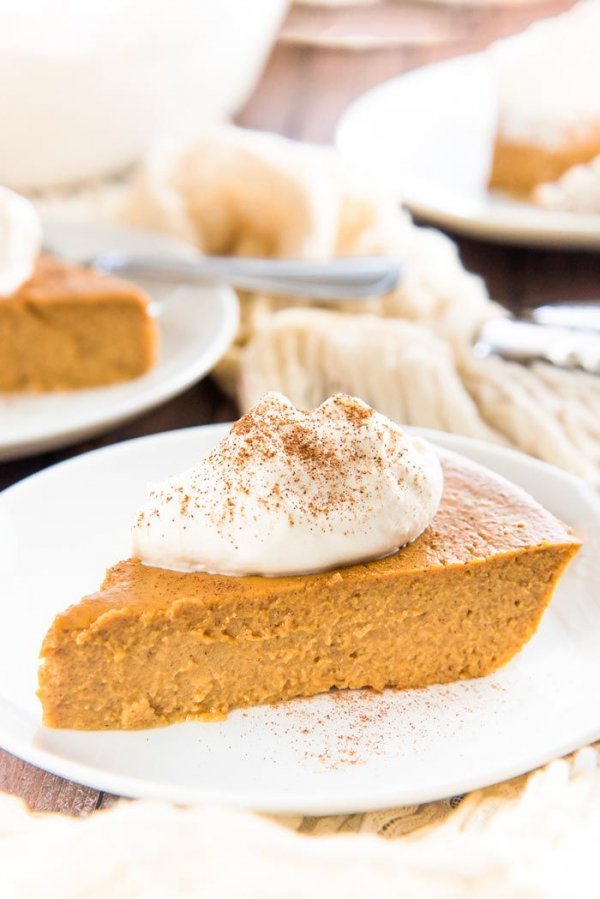 I am a huge pumpkin pie fan, what about you? I quit eating my mom's sugar-laden version several years back, but last year I was given a treat when I discovered Chocolate Covered Katie's Crustless Pumpkin Pie. This stuff is really good! It tastes so indulgent, just like the real deal. I don't use regular flour like Katie calls for since I avoid refined flours. Instead, I like to use coconut flour, which Katie advises against, but I find it works just fine. The cake is a little dense, but it still tastes incredible. Almond flour may work better if you want a grain-free option, though I haven't altered her recipe with any other flour yet. I also used an extra pack of stevia instead of xylitol or brown sugar.
Ingredients:
1 tsp pumpkin pie spice
2 tsp cinnamon
1/2 tsp salt
2 tsp baking powder
1/3 cup flour (Almost any will work, but not coconut flour) (42g)
1/3 cup xylitol or brown sugar (You can use a liquid sweetener. It'll just be a bit gummy) (53g)
2 nunaturals stevia packs, or 2 extra tablespoons brown sugar
1 (15-oz) can pumpkin puree
3/4 cup plus 2 tbsp milk of choice (210g)
2 tbsp oil, or omit and increase milk to 1 cup
1 tsp ener-g powder or 1 tablespoon ground flax 2 1/2 tsp pure vanilla extract
Directions:
Preheat oven to 400 F, and grease a 10-inch round pan. In a large mixing bowl, combine first 7 ingredients, and stir very well. In a separate bowl, combine all liquid ingredients with the energ or flax, and whisk. Pour wet into dry, stir to combine, then pour into the pan and bake 35 minutes. (It'll still be gooey after baking, but that's ok.) Allow to cool completely before transferring uncovered to the fridge to "set" for at least 6 hours before trying to slice.
Source: chocolatecoveredkatie.com
3

Sugar-Free Chocolate Pudding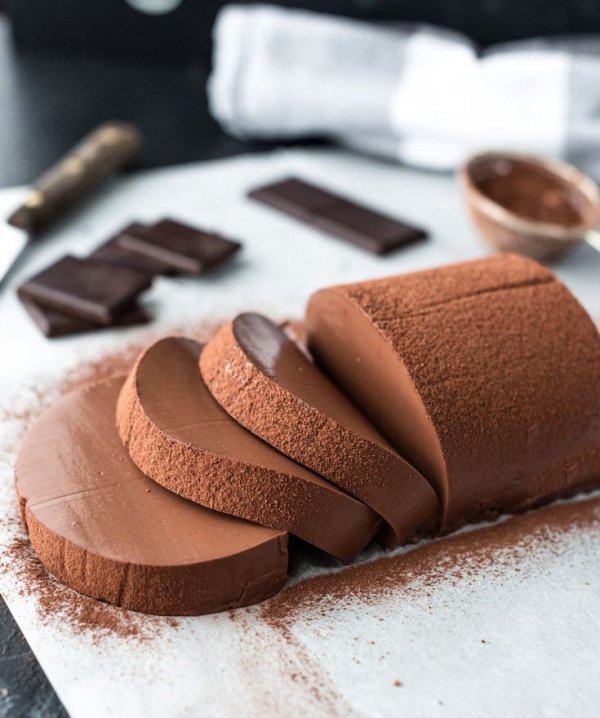 This recipe has been lurking around the web for many years. I'm not sure who discovered this magical treat, but it is amazing. You'll never believe avocados are in this pudding once you taste it. It tastes incredible and is so filling! If you need a healthy fix, whip this up for your next chocolate craving instead of eating ice cream. Here's my personal recipe I like, though there are many variations out there.
Ingredients:
1 ripe avocado
3 tbsp. raw cacao or cocoa powder
2 packets of NuNaturals white stevia or 2 full drops of the liquid
1 tbsp. unsweetened almond milk
Drop of vanilla extract
Directions:
Scoop the avocado flesh out of the fruit. Put it in a blender or small food processor. Add the rest of the ingredients and blend or process on low, and then proceed to high. Scoop out into a bowl and serve. The thick pudding-like consistency of avocados is what makes this pudding so great, and when combined with the other ingredients, you don't even taste it!
---
4

Healthy Mounds Bars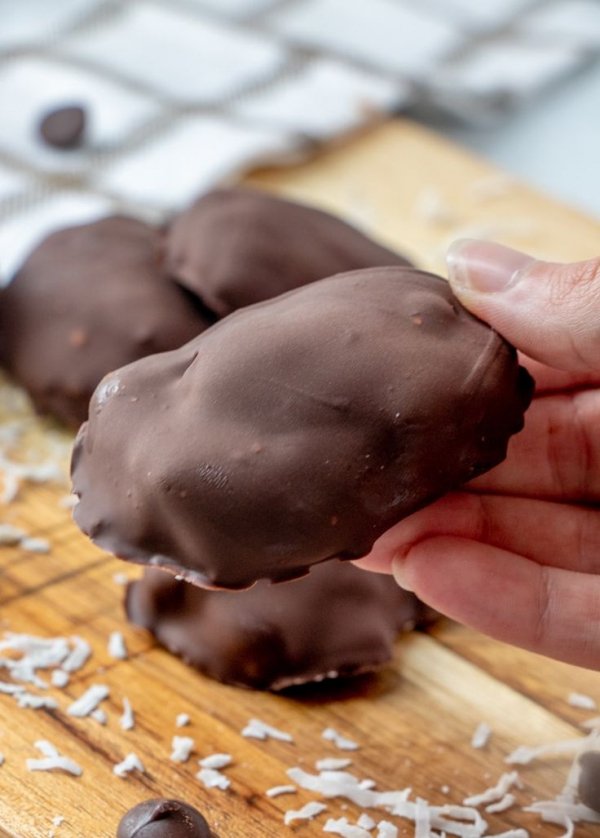 My favorite candy bar brand growing up was Mounds bars. I just love coconut and chocolate! Chocolate Covered Katie has now given me the ultimate recipe for making my own Mounds bars at home, completely sugar-free. I make these on a regular basis and keep them in my freezer for storage. To make these sugar-free, follow Katie's directions listed in the ingredients and use stevia instead of agave or maple syrup as the sweetener.
Ingredients:
1 cup shredded coconut (unsweetened) (80g)
3 1/2 to 4 tbsp agave or pure maple syrup (or 3 tbsp water and 2-3 nunaturals stevia packs) (48g)
2 tbsp virgin coconut oil (See nutrition info link below, for all substitution notes on this recipe.) (20g)
1/2 tsp pure vanilla extract
1/8 tsp salt
1/4 cup plus 1/2 tbsp cocoa powder (22g)
a few stevia drops, or up to 1 1/2 tsp pure maple syrup
1/4 cup liquid virgin coconut oil (Or omit these last three ingredients and simply melt 2/3 cup chocolate chips instead.) (57g)
Directions:
Combine first 5 ingredients in a food processor. (You can try to mix by hand if you don't have a food processor, but the dough won't stick together as well.) Press the filling into the bottoms of mini muffin cups. (Press HARD!) Freeze at least 25 minutes. Meanwhile, make the chocolate coating by mixing the last three ingredients together to make a thin sauce. Line a tray with wax or parchment paper, then pop out the now-hardened coconut treats and coat in chocolate. Immediately put them in the fridge or freezer, as coconut oil melts when warm. These last at least a week.
Source: chocolatecoveredkatie.com
---
5

Coconut Crack Bars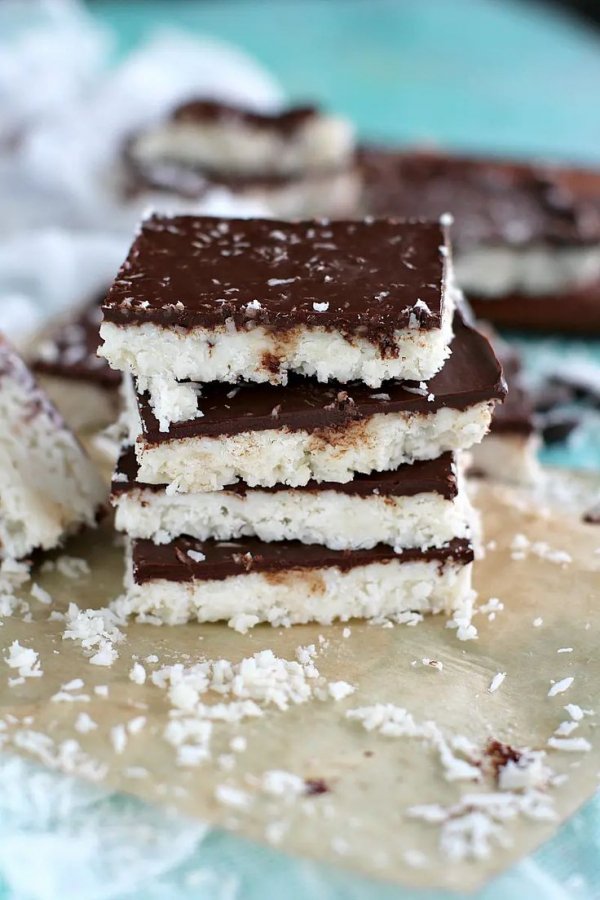 Obviously you guys know by now that I love coconut and Chocolate Covered Katie, but this recipe takes the cake, so to speak! This recipe can be made completely sugar-free with the use of stevia, as noted in the directions. Oh, and don't fear the fat in coconut, it's fantastic for your hair, skin, nails and your metabolism!
Ingredients:
1 cup shredded coconut (unsweetened) (80g)
1/4 cup agave or pure maple syrup (or 1/4 cup water and 2-3 NuNaturals stevia packs)
2 tbsp virgin coconut oil (See nutrition info in link below, for all substitution notes on this recipe.)
1/2 tsp pure vanilla extract
1/8 tsp salt
Directions:
Combine all ingredients in a food processor. (Perhaps you can mix by hand if you don't have a food processor, but I haven't tried.) Squish into any small container (I used a 7×5) and fridge for an hour before trying to cut. (Or freeze for 15 minutes.) Can be stored in the fridge or freezer, for at least a few weeks.
Source: chocolatecoveredkatie.com
---
6

Two-Ingredient Frozen Yogurt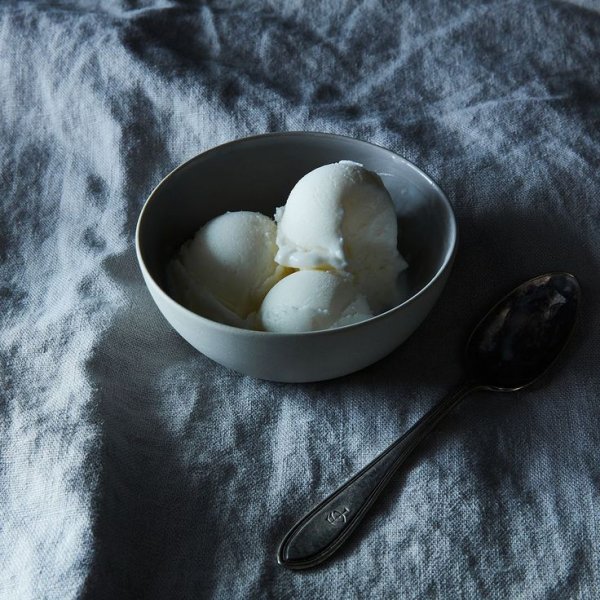 I really adore yogurt! It was the first somewhat sweet and creamy food I started eating when eating sugar-free for good. I didn't choose the sugary kind either. Unfortunately, back then, I ate the artificially sweetened kind. Since the increase of health issues with artificial sweeteners, I haven't touched them in years. I love stevia as my choice of sweetener since it is all natural, and comes from an actual herb. I choose NuNaturals stevia that contains no allergens, MSGs, GMOs or any other nasty stuff to sweeten my yogurt now. I choose the plain Greek kind of yogurt and sweeten it with just a little stevia, give it a good stir, and then just pop the container in the freezer for an hour. If you want a more detailed directions, follow this recipe by Chocolate Covered Katie, who gives you a two-step recipe to your own frozen yogurt at home.
**Ingredients:
**3 cups plain, vanilla, or flavored yogurt of choice (I used 1 large container Wholesoy unsweetened)
Sweetener to taste, such as stevia or agave or sugar (amount will depend on your yogurt and whether you want tart or sweet froyo). Remember: the finished product will be less sweet, so make it just a little too sweet before freezing.)
optional: 1 tsp pure vanilla extract, unless using vanilla yogurt
Directions:
How to make frozen yogurt: Stir all ingredients together. If you have an ice cream maker, pour the mix into the machine and process according to your machine's directions. (My Cuisinart took 12 minutes.) If you don't have an ice cream machine, see "nutrition facts" link below, for options. To make it swirly, I poured the finished mixture into a piping bag, set it in the freezer for about 20 minutes to firm up even more, and then I squeezed it out. You can simply scoop it out of the machine with a spoon if you'd prefer, and you can put the finished mixture in the freezer for 30-40 minutes if you want a firmer result. Homemade ice cream is best served the day it's made, but it still tastes delicious for up to a month in the freezer (in an airtight plastic container). If you freeze for more than a day, you'll probably end up with a frozen block, so just be sure to thaw the ice cream for 15-20 minutes prior to serving.
**Source: **chocolatecoveredkatie.com
---
7

20 Calorie Low Carb Toasted Coconut Protein Brownie Bites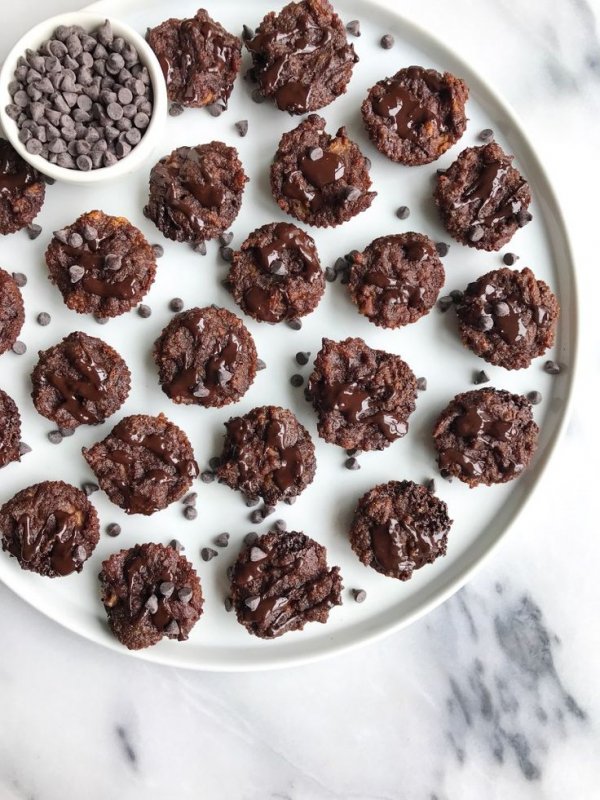 The name of this recipe may be a mouthful, but when you actually get a mouthful of these, you won't care one bit! Taralynn from Undressed Skeleton is possibly my favorite blogger. She has the same taste in food as I do, and she's just so darn cute! I am always looking through her recipe index to find something new to make. When I found these low-carb protein bites by her, I was in heaven! They are so easy and you'll never believe what she came up with to use these. They don't taste healthy at all!
Ingredients:
2 Large Eggs
2 Tbsp Flax Seeds Ground
2 Packets Stevia
1 Tsp Organic Vanilla Extract
3 Servings Chocolate Whey Protein
2 Large Zucchinis
2 Tbsp Unsweetened Shredded Coconut
Directions:
Chop up the zucchini, add it to a blender with the eggs and Stevia.
Scoop protein powder into the blender.
Add flax.
Blend on high.
Add a tsp of organic vanilla extract.
Chop up another zucchini and add it to the blender.
Mix on high.
Preheat oven to 315 degrees.
Grease an oven pan with organic cooing spray.
Poor brownie batter into the pan
Sprinkle the coconut over the top.
Bake 20-23 minutes or until a toothpick comes out clean in the center
Slice brownies into 42 pieces. (or however big you want them!)
Source: undressedskeleton.tumblr.com
---
8

Chocolate Acai Shake- Superfood Infused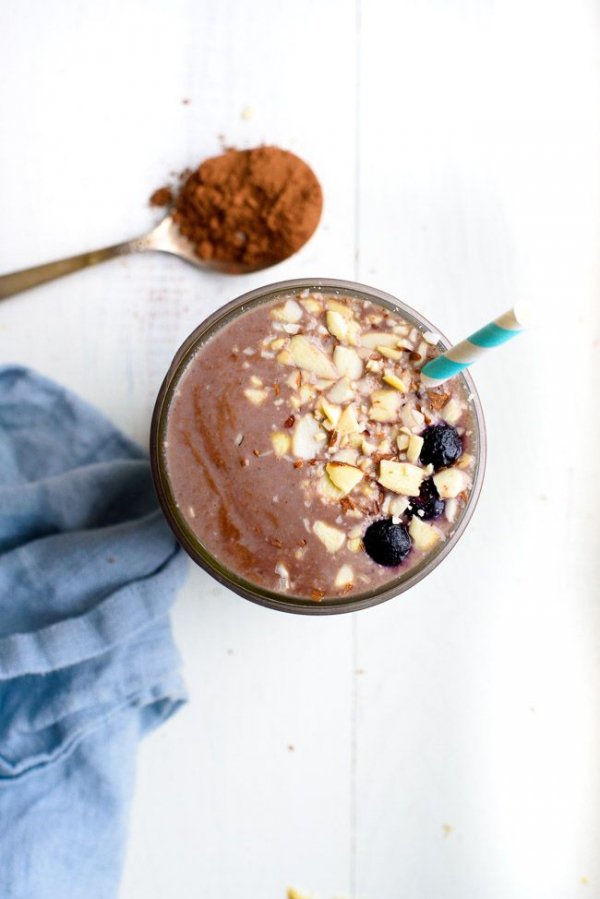 Lastly, I saved you my latest recipe, which is currently one of my dear favorites! I designed this shake last week, and shared it on my blog this week. I'll admit, I'm a little addicted to it and have eaten it everyday. This shake is completely free of added sugar. Give it a try, and let me know how you like it!
Ingredients:
1/4 cup organic kefir *or water
1 6 ounce container of organic, fat free Greek yogurt (plain, unsweetened) *or nondairy alternative*
1 cup raw spinach greens (you'll never taste 'em!)
1 tsp. your favorite superfoods powder plus 1 tsp. raw cacao if you don't use Bright Earth Foods blend, which has raw cacao
Dash of cinnamon
1/8 tsp. stevia powder
1 pack frozen acai puree (I used Amafruits, but you can buy other brands in the freezer aisle at Whole Foods)
3/4 cup very cold water
1/2 cup crushed ice cubes
Directions:
Place the spinach in your blender and then add the frozen acai pack.
Next add your superfood mix, stevia and cinnamon.
Scoop out the yogurt into the blender from the 6 ounce container, or measure out about 3/4 cup if you're using yogurt out of a bulk container.
Last, pour in the kefir and water and add the ice.
Blend until completely blended.
Source: soulfulspoon.com
I have many more sugar-free desserts I love, but these tend to be the most popular with other bloggers and are personal favorites of mine. I sure would love to hear if you all have any favorite sugar-free desserts! Do you have a sugar-free dessert recipe to share?
---
Comments
Popular
Related
Recent