Three months ago, one of our dogs developed some serious digestion issues, and after no answers from the vet, I decided to get rid of their gluten-filled, processed meat-filled dog food and make up some dog friendly recipes to feed them instead. I turned to Rachel Ray, who always has some super healthy homemade dog recipes in her magazine that are inexpensive to make and contain only pure ingredients. After just one week, our dog's issues were completely gone and she seemed so much healthier and happier. I also like Rachel Ray's brand of dry dog food in stores, if you're wondering what the best store bought options are. If your pet has skin allergens of any kind, digestion issues, or has no energy, then I suggest to eliminate gluten in their diet first to see if that helps. The best way to do that is to start making some of these simple dog friendly recipes. The dry brands of gluten-free, grain-free dog food at the store are so expensive and sometimes, they don't even work as well as real food. Your pup will be so excited when you go to fix their food and you'll be so happy knowing you're taking care of them by preparing something nourishing for them. Many people even notice that their dog's anxiety and nervous energy goes away after eating a whole foods diet. Treat your dog well, they deserve it!
---
1

Mighty Muffin Meatloaves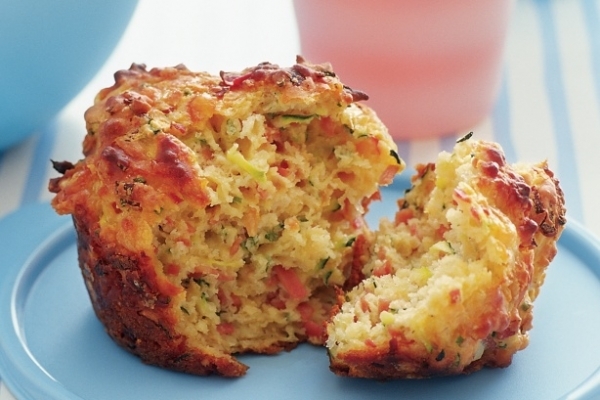 When feeding your pup dog friendly recipes, don't you dare forget about the simplicity of meatloaf! Remember how your mom would make that as a child, or if she didn't, I'm sure you remember your lunch room cafeteria serving it! Meatloaf can take on a bad connotation and many people don't like it, but guess what? Your pup LOVES it! This meatloaf recipe is really healthy and uses only fresh ingredients. Plus, you can freeze these individually and thaw anytime your little one wants something special!
Serves: 6
Ingredients:
1 pound lean chopped beef
1 cup thawed frozen peas and carrots
1/2 cup cooked brown rice
2 eggs
Directions:
Preheat the oven to 375 degrees . Generously grease 1 jumbo six-cup muffin tin. In a large bowl, using your hands, mix all of the ingredients thoroughly.
Fill each muffin cup with the meat mixture and bake until well browned, about 40 minutes. (You can wrap and refrigerate the cooked muttloaves for up to 3 days or freeze them for up to 2 months.)
**Source: **rachaelraymag.com
---
2

Sweet Pooch Pancakes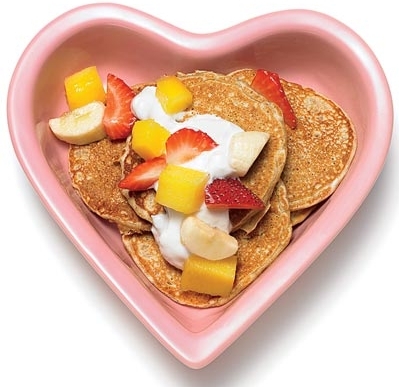 Pancakes aren't just for humans; dogs love them too! Make some of these simple pancakes, which you can store and freeze long term. I suggest using a gluten-free flour in place of the wheat and all purpose flours called for in this recipe though. I like using whole oats and grinding that into a flour instead, plus it is still economical if done this way too. Just don't drizzle these with pancake syrup like you might on your own pancakes! Your little one doesn't need all that sugar since they are sweet enough already!
Serves: 16
Ingredients:
2 large eggs
1 cup milk
1 1/2 tablespoons butter, melted, or vegetable oil
1 tablespoon honey
1 cup whole wheat flour
1/2 cup all-purpose flour
1 teaspoon baking powder
1/2 teaspoon ground cinnamon
Cooking spray
2 cups sliced banana, berries and mango
1 cup plain yogurt
Directions:
Preheat a griddle or large nonstick skillet over medium heat. In a medium bowl, whisk together the eggs, milk, butter and honey. Gently whisk in the 2 flours, the baking powder and cinnamon.
Spray the griddle with cooking spray. Drop the batter, 2 tablespoons at a time, onto the greased griddle; cook until bubbles begin to form and break, about 3 minutes. Press a few pieces of fruit into each pancake, then flip and cook until brown on the bottom, about 2 minutes. Drizzle with the yogurt and top with the remaining fruit.
**Source: **rachaelraymag.com
3

Sensational Salmon Cakes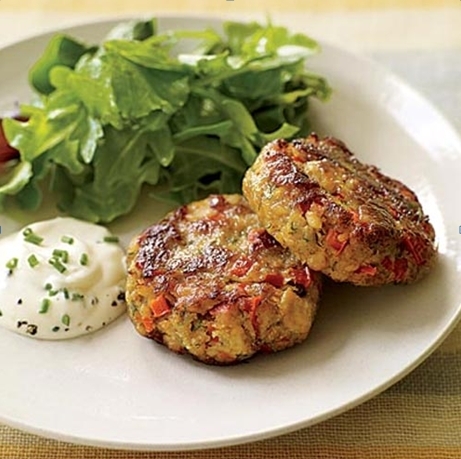 If you don't like the idea of feeding your dog meat, try fish. It is great for their coat, eyes, and their brain health. Fish is also easy on their digestion and won't aggravate their skin if they have allergies. Dogs love fish, believe it or not, and mine especially love canned salmon and tuna! Making these salmon cakes is an easy way to store the food for a long time since these can be frozen or kept in the fridge. I have a feeling that once you feed your dog one or two of these, you won't have too many left over for long though! Oh, and by the way, you can eat these too if you like! Just be sure to include the "People Only" ingredients in the salmon cakes you'll be eating and save the rest for your pup!
Serves: 5
Ingredients:
1 6 ounce can salmon, drained
1/2 cup cracker meal or dry bread crumbs
1 large egg, beaten
1/4 red bell pepper, finely chopped
1 tablespoon chopped fresh dill
2 tablespoons vegetable oil
FOR PEOPLE'S PORTIONS ONLY:
Mixed greens, for serving
1/4 cup mayonnaise
Juice of 1/2 lemon
5 - 10 fresh chives, finely chopped
Salt and pepper
Directions:
In a medium bowl, gently mix the salmon and cracker meal. Mix in the egg, bell pepper and dill. If the mixture is too wet, mix in a bit more cracker meal. Form the mixture into five 2-inch patties.
In a medium skillet, heat the oil over medium-high heat. Add the salmon cakes and cook until golden-brown, 3 to 4 minutes on each side. Drain on a paper-towel-lined plate. Let cool before serving to your pup.
For people's portions only, arrange the salmon cakes on a plate with the mixed greens. In a small bowl, stir together the mayonnaise, lemon juice and chives; season with salt and pepper. Serve with the salmon cakes.
**Source: **rachaelraymag.com
---
4

Meat Me in the Backyard Hash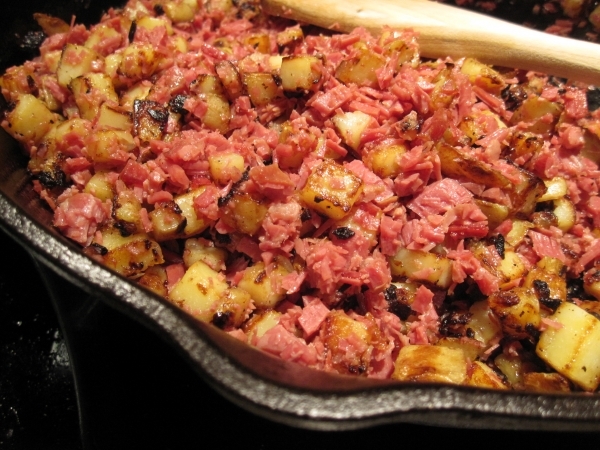 I may not eat it now, but as a child, barbecue hash was one of my favorite foods. This recipe gives your dog a taste of what hash is all about too. Hash is basically a hodgepodge of ingredients, so you can use whatever you have on hand. Either way, your little ones will scarf this stuff up and be getting in their daily dose of clean protein and superfood fruits and veggies!
Serves: 1
Ingredients:
1 tablespoon vegetable oil
1/2 pound ground beef
1 potato--peeled, cooked and coarsely chopped
1 small zucchini, coarsely chopped
1 apple--peeled, cored and coarsely chopped
1 carrot, chopped
2 tablespoons chopped parsley
1 teaspoon ground turmeric
Directions:
In a medium skillet, heat the oil over medium-high heat. Add the beef and cook through, breaking it up with a wooden spoon, about 5 minutes. Stir in the potato, zucchini, apple, carrot, parsley and turmeric and cook for 3 minutes. Let cool slightly before feeding to your dog.
**Source: **rachaelraymag.com
---
5

Thank Your Dog Casserole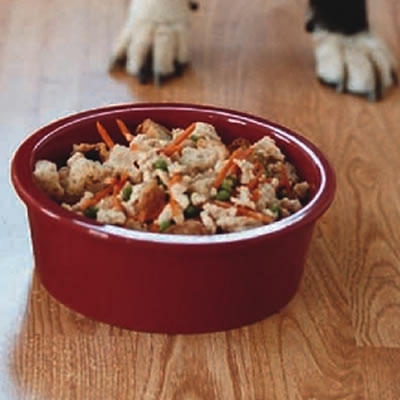 Casseroles aren't just for people, if you didn't already know. They're an easy recipe to make for your little doggie too! Try making this incredibly simple dog casserole. It stores well, can easily be doubled, and you can use oats in place of the flour to go gluten free!
**
****Serves:** 1
Ingredients:
1 tablespoon extra-virgin olive oil (EVOO)
1/4 pound ground turkey
1 small carrot, chopped or grated
1/4 cup green peas
1 cup unseasoned stuffing bread cubes
1/2 tablespoon butter
1/2 tablespoon flour
2 cups turkey or chicken stock
**
****Directions:**
In a medium skillet, heat the EVOO, 1 turn of the pan, over medium heat. Add the turkey and cook until light brown, about 2 minutes. Add the chopped carrot and cook for 5 minutes. Add the peas and lower the heat to low. Stir in the bread cubes and remove from the heat.
In a small skillet, melt the butter over medium heat. Whisk in the flour, then add 1 cup turkey stock and cook, whisking constantly, until the gravy thickens, about 3 minutes. Remove from the heat.
Soften the stuffing with the remaining 1 cup stock. Place in a bowl for your pup and let cool for about 5 minutes. Top with the gravy and let cool for another minute before serving.
**Source: **rachaelraymag.com
---
6

Pupkin Biscuits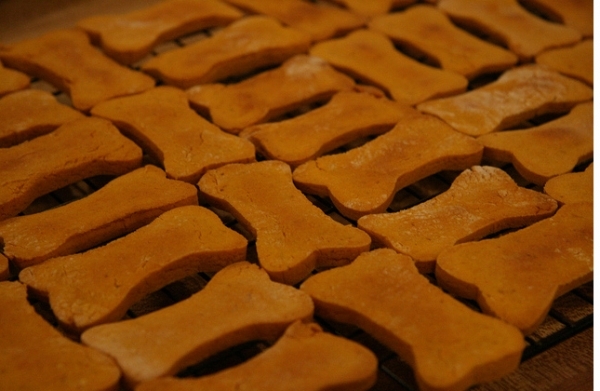 This recipe is super simple and the perfect solution to your regular dog treats. Plus these "pupkin" treats that contain pumpkin, are great for your dog's digestive system and skin. Dogs also love pumpkin, believe it or not. It makes a great addition to any meal and you can easily add it without them noticing. Plus, it makes a great thickener in recipes. Feel free to use oats in place of the flour in this recipe if you want to avoid gluten, or you can use a gluten-free alternative. I suggest only making about half this recipe since they won't keep over a week. You may also consider freezing them and thawing about 5 at a time for a few days.
Serves: 36
Ingredients:
2 eggs
1/2 cup canned pure pumpkin puree
2 tablespoons dry milk powder
2 1/2 cups white or whole wheat flour
Directions:
Preheat the oven to 350 degrees . In a bowl, stir together the eggs, pumpkin puree, milk powder and flour; add 2 tsp. water, or enough so that the dough just comes together.
On a lightly floured surface, roll out the dough 1/2 inch thick. Cut into shapes with 1-inch cookie cutters. Gather the scraps, combine, roll and form more biscuits; repeat until all the dough is used.
Place the biscuits 1 inch apart on an ungreased baking sheet. Bake for 20 minutes, then turn over and bake until hardened, another 20 minutes. Let cool on the pan for 5 minutes.
**Source: **rachaelraymag.com
---
7

K-9 INGREDIENT MEATBALLS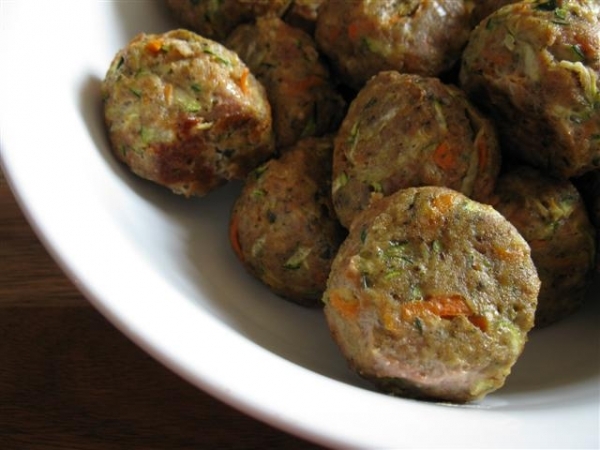 Meatballs aren't just made for spaghetti, though they are tasty that way! Meatballs are great to serve alone for your dogs as a meal. They're easy to make, easy to store and similar to meatloaf so you can keep the same ingredients around to make multiple recipes with. Plus, most of these ingredients are ones you can use too, so you don't have to shop separately for your pup!
Serves: 12
Ingredients:
1/2 pound ground beef
1/2 cup cooked brown rice
1 carrot, shredded
1 stalk celery, finely chopped
1/2 cup frozen chopped spinach, thawed and drained
2 tablespoons chopped flat-leaf parsley
2 tablespoons parmigiano-reggiano cheese
1 large egg
2 teaspoons ground turmeric
Directions:
Preheat the oven to 400 degrees . Grease a muffin pan or a baking sheet. In a medium bowl, combine all of the ingredients and mix well. Fill each muffin tin with about 1/4 cup of the mixture, or form the mixture into 10 balls and place on the baking sheet. Bake until cooked through, about 15 minutes. Let cool completely on a rack.
Source: rachaelraymag.com
Next time you want to do something special for your dog, don't buy them another toy; just make them a meal! They will be much happier and healthier for it, and you'll feel good knowing you're taking such fabulous care of them! Do you make your own dog's food?
---
Comments
Popular
Related
Recent