Protein pancakes have taken the blog world by storm these days, along with a majority of foodie articles or websites around the net boasting new protein pancake recipes. Protein pancakes are basically a health food nut's dream answer to the ultimate childhood comfort food. I mean, who didn't love pancakes as a kid, right? Protein pancakes are my favorite way to indulge in this classic, warm, bready comfort food for breakfast without the bread! I'd like to share with you my favorite protein pancake recipes that have no refined flour, no refined sugar and no artificial colors, preservatives or ungodly amounts of sodium. Make any of these recipes and you can be on your way to guilt free comfort food that tastes like a sinful indulgence in just minutes.
1

Single Serve Protein Pancake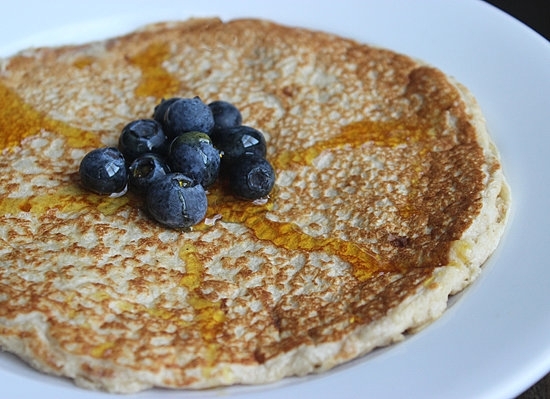 This is one of the simplest, tastiest and most basic protein pancake recipes you'll find across the web. It features filling oats, a high quality protein powder, creamy and protein-rich cottage cheese, which makes the pancakes fluffy and contain extra protein, plus a few other ingredients for taste. I recommend not using maple syrup as a topping if you want to keep the calories down. Instead, opt for some fresh fruit, a dollop of organic Greek yogurt, or even some coconut nectar, which is lower in calories and sugars than maple syrup and completely natural too. Or, if you're like me, you prefer your pancakes dry, which makes them 100% portable and low- glycemic.
Serves: 1 ( 1 very large pancake or 2 smaller pancakes)
Ingredients:
1/2 cup quick oats, dry
1/2 cup low-fat cottage cheese
3 egg whites
1 tablespoon brown rice protein powder, vanilla
Nonstick cooking spray
Fresh blueberries, optional
2 teaspoons maple syrup, optional
Directions:
Combine quick oats, cottage cheese, egg whites, and protein powder in a blender. Mix well until it resembles traditional pancake batter.
Heat a large pan over low heat, and lightly coat with nonstick cooking spray. Pour in all the batter to the center of the pan. Let it cook for approximately 3 minutes until the sides easily lift. Flip pancake and cook for an additional two minutes.
Serve with fresh fruit, maple syrup, or the topping of your choice.
2

Flour- Free Almond Pancakes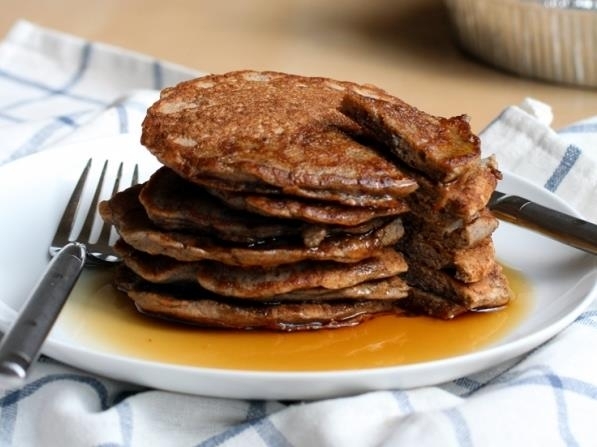 These pancakes look amazing, don't they? Well I can promise you they are and they have no flour whatsoever included in them, or even grains if you're watching your carb intake or are sensitive to grains. These pancakes feature protein-rich and incredibly nutritious almond meal, which is ground down shelled almonds. Almond meal is a grain-free baker's pantry staple since it holds up well during cooking and can be used in multiple types of recipes. The beauty of almond meal is it cooks up very nice and soft and makes for a perfect fluffy and tasty pancake. If you don't eat almonds or don't think you'll like them, trust me, almond meal actually doesn't taste like almonds, but more like a soft, fluffy vanilla flavored flour. It truly is delicious and a wonderful source of vegetarian protein. Try these easy pancakes next time you get a craving for something healthy and tasty too.
Serves: 14 ( 4inch) pancakes
Ingredients:
3 cups almond meal
1 tablespoon ground flaxseed
1/8 teaspoon sea salt ( optional)
1/2 teaspoon baking soda
3 large eggs
3/4 cup unsweetened almond milk, light coconut milk, or milk
2 tablespoons extra-light olive oil, walnut oil, coconut oil, or butter, melted
Directions:
In a medium bowl, combine the almond meal, flaxseed, salt, and baking soda.
In a large bowl, whisk the eggs, then add the milk and oil or butter and whisk thoroughly.
Gradually whisk the flour mixture into the egg mixture. Add more milk as necessary, one tablespoon at a time, to reach pancake-batter consistency.
Lightly oil a skillet and heat over medium heat. Pour 1/4 cup batter onto the skillet. Cook for three minutes, or until bubbles form and edges are cooked. Flip and cook for three minutes or until underside is lightly browned. Repeat with remaining batter.
Serve with desired toppings.
Trendinig Stories
More Stories ...
3

Vanilla Protein Pancakes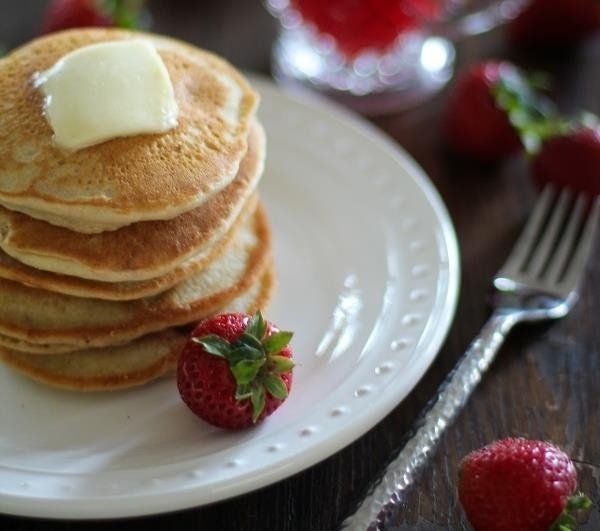 I just adore all things vanilla. I mean, why mess with such a wonderful, incredibly simple and amazing flavor, right? These pancakes by the author of the blog Muffin Topless take vanilla to a whole new level, and they are also so rich in protein and high in quality ingredients to boot. No words you can't pronounce are included in this ingredient list, for sure! Make these and consider yourself a protein pancake fan with the first bite.
Serves: 1 serving ( 1 large or 2 small pancakes)
Ingredients:
1 Scoop Vanilla Whey
1/2 Cup Oats (Blended – or 1/4 Cup Oat Flour)
1 tsp Baking Powder
1 Egg White
1/4 Cup Plain Nonfat Greek Yogurt
1 TB Unsweetened Coconut Milk (or milk of choice)
Directions:
Blend oats in a blender or magic bullet. Stir dry ingredients together. Add wet ingredients and mix well (batter will be thick). Heat pan on medium heat. Spray with nonstick spray and slowly spoon or ladle batter into pan. Cook time will vary; mine took about a minute and 30 seconds before I flipped them. Top with fruit, Greek yogurt, pure maple syrup or whatever your little clean eating heart desires.
---
4

3 Ingredient Banana Protein Pancakes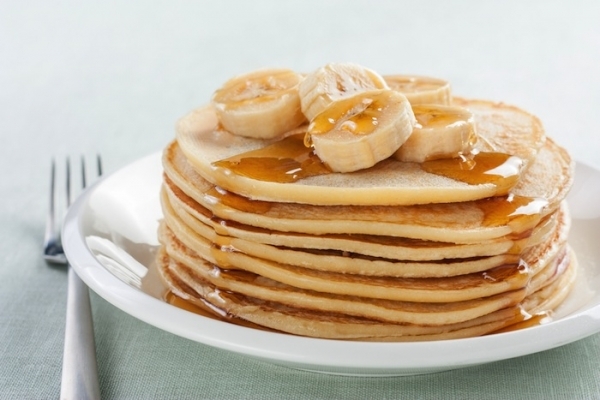 If you're looking for the easiest protein pancake recipe to make possible, and also have it taste amazing too, then you'll love this recipe! Bananas help this pancake recipe hold together well and give it that sweet, comforting flavor we all love. Mixed with egg whites and a serving of protein powder, this is the simplest protein recipe you can make. Feel free to substitute the banana with ¼ cup canned pumpkin or even sweet potatoes, which also work the exact same way as bananas do, but add a different flavor. If you choose to use pumpkin or sweet potatoes, you may want to use a little sweetener of choice since they are lower in sugars than bananas. Enjoy!
Serves: 1
Ingredients:
1 scoop ( ¼ cup) vanilla protein powder ( or your favorite flavor)
1/3 cup egg whites
1/3 small banana
Directions:
Blend all this together in your blender. A Magic Bullet works great, or food processor would work too.
Grease a pan or skillet with some coconut oil or nonstick pan spray.
Cook for 1-2 minutes on the first side and then flip and cook for 30 seconds to 1 minute more on the remaining side until golden brown.
Serve with your favorite sides, toppings, etc. Enjoy!
---
5

Peanut Butter Pancakes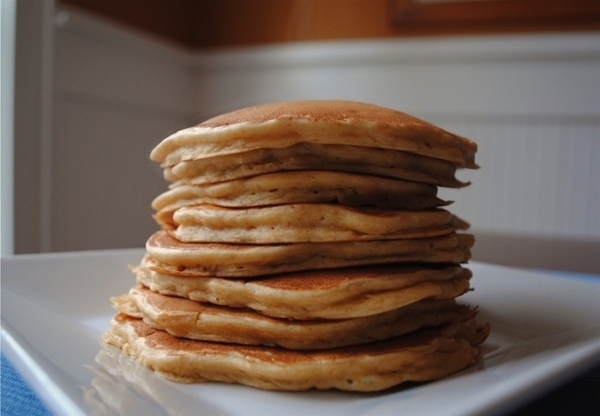 Having a peanut butter craving first thing in the morning? Just make these healthy pancakes! Or, if you're not a peanut butter fan or are allergic, substitute your favorite nut butter, like my favorite, raw cashew butter! Either way, these pancakes aren't only filling, but also so satisfying and fluffy. They really hold up well for travel too, which is nice if you want to eat them on the go.
Serves: 1
Ingredients:
½ scoop vanilla protein powder ( or chocolate for a chocolate peanut butter combo)
3 egg whites
1-2 tbsp. peanut butter or your favorite nut butter ( use natural kinds, not processed)
¼ cup unsweetened almond milk
Directions:
Combine everything in the blender or food processor and blend well.
Grease a nonstick pan with spray or coconut oil.
Cook for 1-2 minutes on the first side and 30 seconds to 1 minute on the remaining side until golden brown.
Add your favorite topping and enjoy!
---
6

No Grains Protein Pancake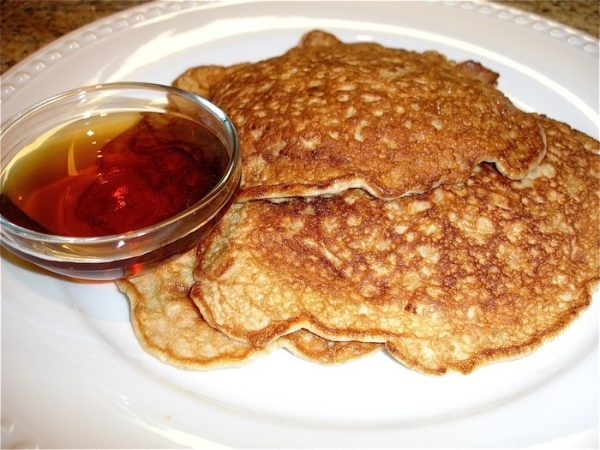 Perhaps you're avoiding grains for whatever reason, or curious to know how to start preparing grain-free recipes, which are delicious, by the way. Coconut flour has been my best friend in the kitchen for three years now. It is the most delicious grain-free flour I've ever had and it fluffs up perfectly, making it essential for my pancakes. This recipe on the web is one of my favorites that features coconut flour and contains no sugar whatsoever. Make these fluffy, moist and tender pancakes if you get a few minutes. I buy all my coconut flour online, but common stores such as Whole Foods carry it as well. Enjoy!
Serves : 1
Ingredients:
¼ cup coconut flour
1 tbsp. ground flaxseed
1 egg
3 egg whites
¼ cup unsweetened almond milk
½ tsp. baking soda
¼ scoop vanilla protein powder
Directions:
Blend all the ingredients in a blender or food processor until a batter is formed. Grease a nonstick pan with spray or coconut oil.
Cook on each side until thoroughly done and remove from the heat.
Serve with sugar-free pancake syrup such as Walden Farms brand, or top with fresh fruit, yogurt, etc.
---
7

Hi Protein Coconut Pancakes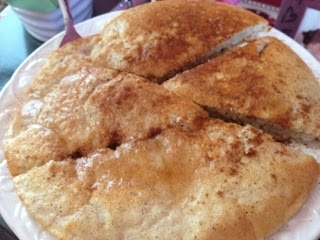 This recipe is my very own from my blog, The Soulful Spoon, and one of my old time favorites. If you're not into whey protein, no worries since any protein powder will work just great. I currently use Sunwarrior vanilla protein powder in this recipe and it works just as wonderfully. Make these and enjoy with a piping hot cup of coffee or hot tea. I love topping these with some sugar-free jam, or even homemade sugar-free pumpkin butter in the fall. Enjoy!
Serves : 6 small pancakes or 2 large ones ( as pictured above)
Ingredients:
3/4 cup whey protein powder ( or your favorite kind)
2 tbsp. coconut flour
1/4 tsp. cinnamon (optional but I love it - You can also add a dash of ginger for a gingerbread flavor:)
2 packets of your choice of noncaloric sweetener ( I used stevia, my choice sweetener)
3/4 cup egg whites ( I use the ones in a carton for ease of use)
1/4 cup water
Directions:
In a small bowl, mix the dry ingredients together very well, and then stir in the egg whites and water next, very slowly. You can also blend everything together in a blender or food processor. This makes a set of thick pancakes. Add ¼ cup more water for thinner pancakes.
Ladle the mixture out onto a pre-greased skillet about ¼ cup at a time, or ½ cup at a time for larger pancakes.
Cook 1-2 minutes on each side.
Repeat with remaining batter.
Serve immediately or let cool on the counter to store and freeze long term.
These can easily be thawed on the counter straight from the freezer in 30 minutes or reheated in the microwave if you want to store them for the week.
---
8

Almond Butter Protein Pancakes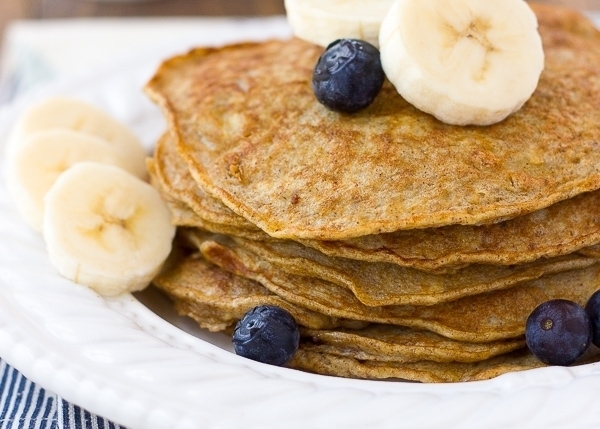 If you love the toasted flavor of almond butter, you are going to adore these pancakes. They don't like your average pancake, but they more than make up for it with their delicious flavor. Not only that, but you can count on the protein boost that you're looking for.
Ingredients:
1 scoop Optimum Nutrition Gold Standard 100% Whey Vanilla Ice Cream
3 egg whites
1/4 cup water
1 tablespoon almond butter
1 packet of Splenda
2 tablespoons sugar-free syrup
Directions:
Combine all of the ingredients in a bowl. Cook the batter in small batches over medium heat until cooked through on both sides. Top the pancakes with the almond butter, Splenda and syrup. Add some fresh fruit, if desired.
Boydbuilding.com: bodybuilding.com
---
9

Pumpkin Spice Protein Pancakes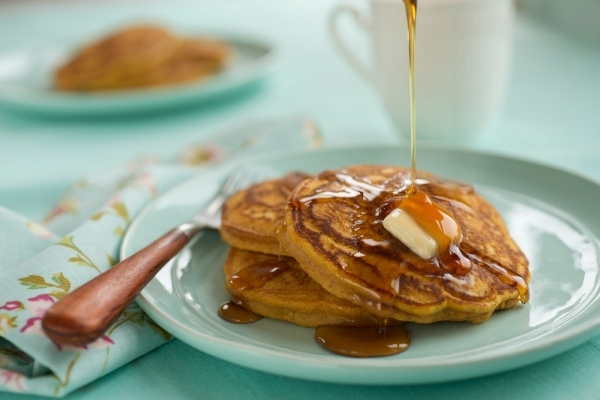 Could anything be better than protein pancakes? Yes! Protein pancakes flavored with pumpkin spice. These are a tasty breakfast option in the fall, but you can enjoy them anytime of the year too. You'll be so impressed at what a tasty meal these pancakes make.
Ingredients:
1 scoop protein powder
1/2 cup canned pumpkin (not pie filling)
'1/2 teaspoon cinnamon
1/2 teaspoon baking powder
2 egg whites
1/2 cup oats
1/2 cup plus 2 tablespoons water
1/2 to 1 tablespoon sweetener
Directions:
Place all of the ingredients in your blender and whip until smooth. Heat your griddle to medium heat and spritz it with cooking spray. Use a 1/4 cup of batter for each pancake, cooking until both sides are browned. Serve hot.
Dashing Dish: dashingdish.com
---
10

Red Quinoa Pancakes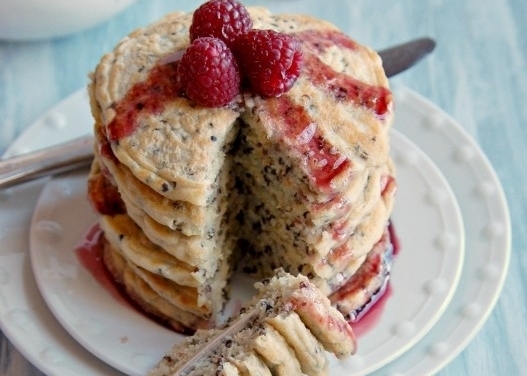 By now I'm sure you've heard all about the wonders of quinoa. It's high in protein, which makes it the perfect ingredient for making pancakes. Red quinoa has lots of additional nutrition as well as a great color.
Ingredients:
2 eggs
2 cups coconut milk
1 1/2 teaspoons lemon juice
4 tablespoons coconut oil
2 1/2 cups all-purpose flour
1 tablespoon coconut palm sugar
2 teaspoons baking powder
1 teaspoon baking soda
1 teaspoon salt
2 cups cooked red quinoa
Directions:
Put the milk in a bowl, add the lemon juice, stir and allow to sit for 5 minutes. Combine the flour, sugar, baking powder, baking soda and salt in a large bowl. Beat the eggs, then add the coconut oil, flour mixture and milk mixture and stir well. Add the quinoa and mix again. Heat and grease your griddle and cook the pancakes, using about a 1/4 cup per pancake until browned on both sides. Serve with your favorite toppings.
The Kitchen McCabe: thekitchenmccabe.com
---
11

Cinnamon Roll Protein Pancakes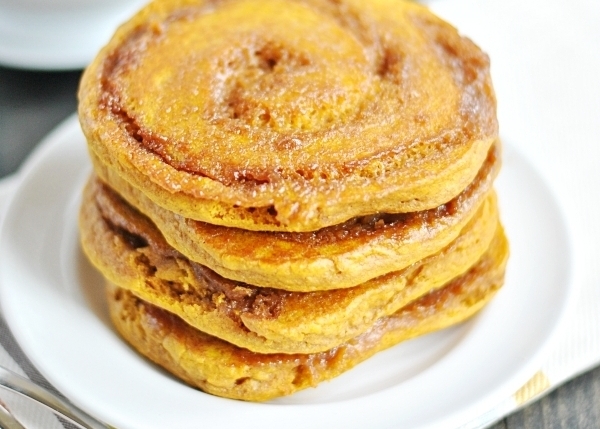 And the best for last! Everyone loves a warm, gooey cinnamon roll for breakfast, right? That doesn't mean you can't pump up your protein intake at the same time. Make these cinnamon roll pancakes and you can get your desired quota of protein without having to give up a favorite breakfast treat.
Ingredients:
1/3 dry instant oats
1 scoop vanilla whey protein powder
1/4 cup liquid egg whites
1/4 cup plus 1 tablespoon Greek yogurt, fat-free
1/2 banana
1 teaspoon vanilla extract
1/2 teaspoon cinnamon
1 tablespoon low-fat cream cheese
1 to 2 tablespoons almond milk, unsweetened
1 packet of your favorite sweetener
Nonstick cooking spray
Directions:
Put the oats, protein powder, egg whites, 1/4 cup of the yogurt, the banana, vanilla and cinnamon in the blender and blend until smooth. Heat a large skillet and coat with nonstick spray. Cook the pancakes for about 4 to 5 minutes on each side. To make the frosting, combine the remaining yogurt with the cream cheese in a bowl. Microwave until soft and stir. Slowly add the almond milk until the icing reaches the desired consistency. Sweeten to taste. Eat the pancakes topped with the icing.
The Slender Student: theslenderstudent.com
Protein pancakes are my go-to breakfast in winter if I'm not craving a smoothie, or they make the perfect snack in the afternoon too. Have you ever had protein pancakes before? If so, what do you like to top yours with?
Sources: fitsugar.com, fitsugar.com , muffin-topless.com, skinnymom.com, skinnymom.com, skinnymom.com, soulfulspoon.com
This article written in collaboration with editor, Eliza Martinez
---
Comments
Popular
Related
Recent