7 Terrific Tuna Recipes to Make Next Time You Need Something Healthy for Lunch ...
By Heather
Tuna has been one of my favorite foods since I was a child, and since then, I've come across some really tasty and filling tuna recipes that are easy to make and healthy for you too! Many people are wary of buying canned foods with good reason these days due to BPA and such. Tuna is also somewhat higher in mercury than other fish, so I always suggest buying sustainable canned fish when you can that are made without BPA can liners, and have reduced mercury levels. Alternately, you can reduce the amount you eat per week in general. One of my favorite brands is Wild Planet Foods, which carries a great line of canned salmon and tuna that doesn't contain BPA liners and also has much less mercury than other brands of tuna. Tuna is a fantastic source of protein and the mineral selenium. Selenium is so important for your thyroid and your metabolism. Protein is essential to keep you full, prevent insulin surges, and build lean muscle. Tuna also contains only 1 gram of fat or less when you buy varieties without oil, and it makes for the perfect lunch to combat cravings, enhance your mood and sustain you throughout the day. Plus, it is just so tasty! Try some of these new tuna recipes instead of your old standby. They'll give you a new taste of this fantastic fish that offers so many benefits.
---
1

Wild Planet Salade Nicoise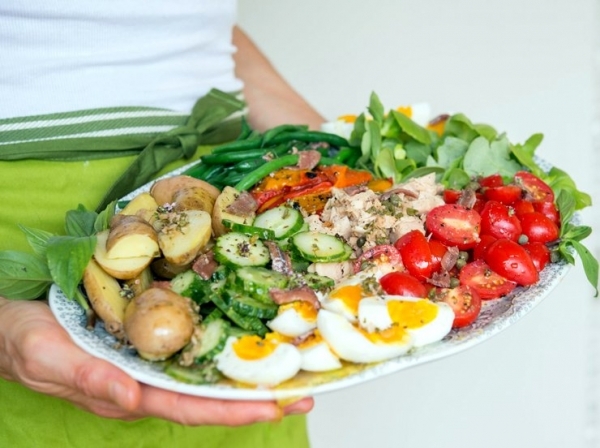 This recipe is a fantastic source of nutrients and one of my favorite tuna recipes of all time. It is simple to make and contains a good variety of veggies so you get a filling plate that is nutritious and delicious. If you haven't ever had a version of Tuna Nicoise, make this recipe the first you try. I promise, you'll be hooked in no time!
Serves: 2
Ingredients:
1 can (5oz) Wild Planet Wild Albacore Tuna, undrained
6 small red potatoes, quartered, steamed and cooled
12 fresh green beans, halved, steamed lightly and cooled
1/2 cup grape or cherry tomatoes, halved
2 Tbsp capers, drained
1/2 cup chopped cucumber
1/2 cup Nicoise or other olives
1/4 cup thinly sliced red onion
4 Tbsp olive oil
2 Tbsp red wine vinegar
1 tsp Dijon mustard
1 tsp fresh chopped thyme, basil, parsley or dill
Mixed salad greens
2 hard boiled eggs, sliced into 1/4" thick slices
Directions:
Place Wild Planet Wild Albacore Tuna and juices from the can into a large bowl. Flake tuna with a fork to separate into bite size pieces. Add steamed potatoes, green beans, tomatoes, capers, cucumbers, olives and red onion, mix to combine. Whisk together olive oil, vinegar, Dijon mustard and herbs to create a vinaigrette. Pour over tuna mixture and mix lightly. Arrange salad greens on two plates, top with tuna mixture and garnish with hard boiled eggs. Season with sea salt and pepper.
---
2

Wild Albacore Tuna, Pasta and White Bean Salad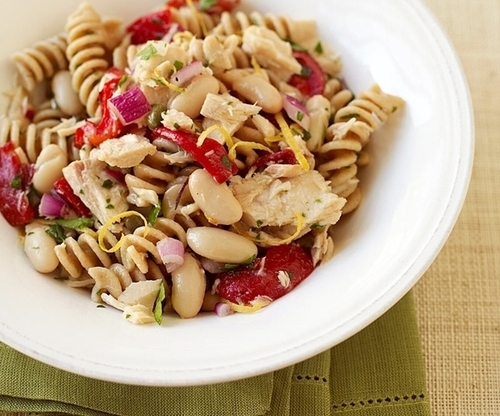 If you're a pasta girl, then you'll love pairing tuna with your noodles! Tuna and pasta go together perfectly in a salad and make for such a filling lunch! White beans add a creamy extra source of protein and fiber, plus antioxidants to boost. The best part about this recipe is the seasonings, so don't skip any of them. If you're following a gluten-free diet, feel free to sub the pasta in this recipe with your favorite gluten-free version.
Serves: 4
Ingredients:
1/2 pound whole wheat ditalini, small shells or other small shaped pasta
2 cans (5oz each) Wild Planet Wild Albacore Tuna, undrained
1 can small white beans, great northern beans or other bean of choice, rinsed and drained
1/2 cup seeded and chopped tomato
1/4 cup chopped fresh parsley
Sea salt and freshly ground pepper, to taste
Freshly squeezed lemon juice, to taste
Best quality olive oil, to taste
Directions:
Cook pasta according to package directions. Rinse with cool water and drain well. Place Wild Planet Wild Albacore Tuna and juices from the cans into a large bowl and lightly flake with a fork. Add drained pasta, white beans, tomato and parsley. Mix gently to combine all ingredients. Season with sea salt, pepper and lemon juice. Drizzle with olive oil and serve.
3

Wild Planet Mediterranean Tuna Salad
Mediterranean salads are full of filling nutrients, primarly healthy fats and veggie-rich ingredients. Chickpeas that are featured in Mediterranean salads are a great source of zinc, an important mineral for your immune system, your hormones, and your metabolism. Chickpeas are also filling, and contain high levels of B vitamins to keep your mood and energy levels optimal. Pairing tuna with chickpeas is a fantastic low-glycemic approach to getting in healthy carbohydrates and protein together in one single serving. The marinated artichoke hearts here help to detox your liver and add a sweet, slightly salty taste that you'll love, so don't skip them!
Serves: 4
Ingredients:
2 cans (5oz each) Wild Planet Wild Albacore Tuna, undrained
1 jar (6oz) marinated artichoke hearts, drained and coarsely chopped
1 can (15.5oz) chick peas, rinsed and drained
1/2 cup chopped red bell pepper
1/4 cup pitted Kalamata or other olives, coarsely chopped
1/2 cup chopped red onion
1/4 cup chopped fresh parsley
1/2 cup shredded carrots
2 Tbsp chopped fresh basil or oregano, or 1 tsp dried
3 Tbsp capers, drained
Juice of one lemon
4 Tbsp olive oil
2 Tbsp red wine vinegar
Sea salt and freshly ground pepper, to taste
Directions:
Place Wild Planet Wild Albacore Tuna and juices from the cans into a large bowl. Flake with a fork to separate tuna into bite size pieces. Add artichoke hearts, chick peas, red bell pepper, olives, red onion, parsley, carrots, basil or oregano, capers and lemon juice to tuna in bowl. Mix gently to combine all ingredients. In a small bowl, whisk together olive oil and vinegar; season with sea salt and pepper. Pour over tuna salad and stir to combine.
---
4

Tuna in a Pita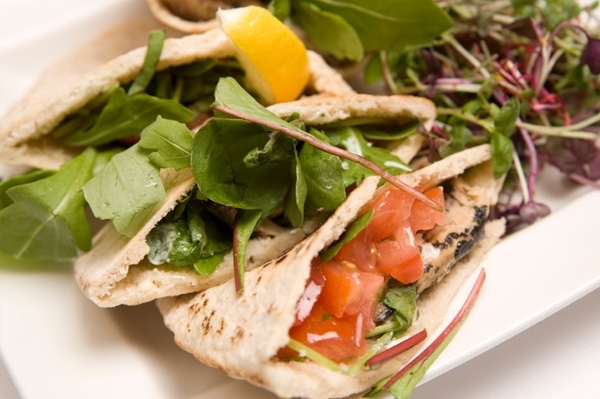 Who doesn't love the ease of making a pita for lunch, right? Pairing tuna in a pita pocket is such an easy way to give yourself a healthy, easy-to-eat meal. Adding a few classic salad ingredients to your can of tuna and mixing it all up to pile in a pita is a fun way to eat like a kid again and give yourself a filling meal. Plus, the secret serving of fruit in this recipe adds a sweet touch to the recipe to give your tastebuds a dose of something extra special!
Serves : 1-2
Ingredients:
1 can of tuna
1 hardboiled egg
1/4 diced celery
1 tablespoon minced onion
1/2 teaspoon Dijon mustard
2 tablespoons mayonnaise
1 cup ripped romaine lettuce
1/2 cup sliced or diced tomatoes
1/2 cup unsweetened diced pineapple (optional
Pita bread cut in half to create pockets
Directions:
Drain tuna and flake in a bowl.
Chop the boiled egg and gently fold into the tuna with the celery, pineapple and onion.
Stuff each half of the pita pockets with lettuce and tomatoes; stuff the tuna mixture in behind the lettuce and tomatoes.
Serve with carrots, chips and salsa.
---
5

SPINACH TUNA SALAD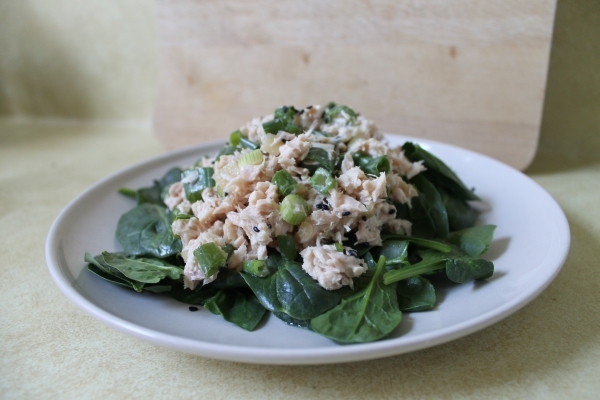 Spinach is hands down my favorite green to eat in a salad. I mean, I love kale and all just like the next girl, but why mess with Popeye's favorite go-to green, right? Pairing spinach and tuna together makes for one powerful protein pairing ladies! Spinach is rich in protein with 5 grams per cup and tuna has around 20 grams per 2 ounce serving, which is insane for the amount of calories these foods contain, which are very few. Adding in some tasty onions, almonds and your favorite dressing is a super simple way to add flavor, heart-healthy fats and antioxidants to your salad. The flavors of this meal are really balanced and zesty, so definitely give it a try next time you want a filling and healthy lunch to power you through your day!
Serves: 4
Ingredients:
12 cups pre-washed fresh trimmed spinach
2 6 oz. cans drained tuna
1 cup medium onions, thinly sliced into wedges or rings
1 cup crumbled blue cheese
1/4 to 1/2 cup candied pecans or almonds
Your favorite balsamic vinaigrette or other cream based dressing
Directions:
Place 3 cups fresh spinach on plate.
Gently flake 1/2 cup tuna over spinach and top with 1/4 cup each of onions and crumbled blue cheese.
Sprinkle salad with 1 to 2 tablespoons candied pecans or almonds and serve with your favorite dressing.
---
6

YUMMY TUNA BURGERS

If you're not into beef, you don't have to miss out on burger night! Just make some of these tasty tuna burgers instead. With the tangy ingredient profile these burgers have, you'll probably have a few requests from everyone else for you to make some extras for them too! Plus, these burgers make great leftovers for lunch the next day in case you're making a batch for yourself. Feel free to play around with the seasonings if you want to personalize your burgers your favorite way too. For instance, I sub in ground flax seeds or coconut flour for the bread crumbs for a lower glycemic approach and instead of using mayo, I use Greek yogurt. Try a few different options until you find one you like.

Serves: 4
Ingredients:
3 (6-ounce) cans light tuna in water, drained
1/3 cup light mayonnaise
3 tablespoons seasoned dry breadcrumbs
2 tablespoons chopped fresh parsley leaves
1 teaspoon Dijon mustard
1 teaspoon hot sauce
1/4 teaspoon salt
1/4 teaspoon freshly ground black pepper
1 tablespoon olive oil
4 hamburger buns or Kaiser rolls
1 beefsteak tomato, sliced
1/4 cup thinly sliced sweet pickles (such as gherkins)
Directions:
In a large bowl, combine the tuna, mayonnaise, breadcrumbs, parsley, mustard, hot sauce, salt, and pepper.

Mix well and shape the mixture into four equal patties, each about 1-inch thick.

Heat the oil in a large skillet over medium heat. Cook tuna patties until golden brown and heated through, 3 to 5 minutes per side.
Serve the burgers on buns with sliced tomato and pickles.
---
7

Tuna Spaghetti Marinara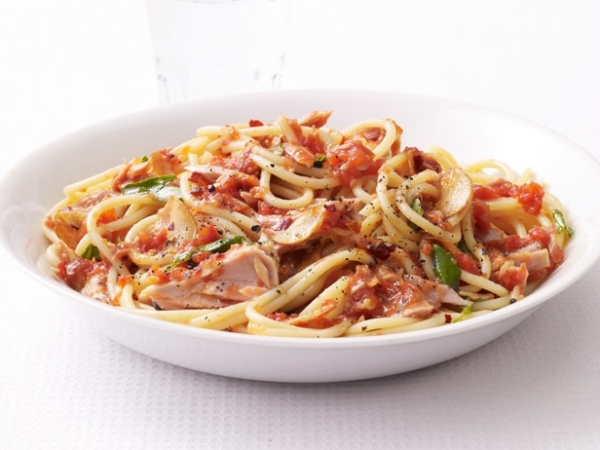 Have you ever thought about subbing in tuna for beef in spaghetti dishes? It is amazing! I know it sounds a little odd and strange, but it is quite honestly one of the tastiest pairings I've ever had. For a healthier option, I use gluten-free noodles or spaghetti squash in place of the noodles, and omit the oil. I don't miss out one bit, but it makes the dish just a wee bit healthier for you. Definitely try this recipe no matter what type of noodles you use. If you don't want to make your own marinara, feel free to grab a low-sodium jar variety instead! Either way, this tuna spaghetti is sure to become a favorite if you're a fan of tuna already. Just don't forget to make enough for leftovers since we all know spaghetti tastes even better the next day!
Serves: 4
Ingredients:
Kosher salt
1 1/2 pounds plum tomatoes (6 to 8 tomatoes)
2 1/2 tablespoons extra-virgin olive oil
3 cloves garlic, thinly sliced
1/4 to 1/2 teaspoon red pepper flakes
1/2 cup dry white wine
12 ounces spaghetti
1 5-ounce can light tuna packed in water, drained
Freshly ground pepper
1/2 cup roughly chopped fresh basil
Directions:
Bring a large pot of salted water to a boil. Meanwhile, puree the tomatoes in a blender or food processor; set aside. Heat the olive oil in a large skillet over medium heat. Add the garlic and red pepper flakes and cook, stirring, until the garlic is just golden, about 2 minutes. Increase the heat to medium high, add the wine and cook until reduced by half, about 1 minute. Add the pureed tomatoes and 3/4 teaspoon salt and simmer, stirring, until the sauce thickens slightly, about 6 more minutes. Remove from the heat and keep warm.
Add the pasta to the boiling water and cook as the label directs; drain. Return the skillet to medium heat, add the pasta and tuna and cook, tossing, 1 minute. Season with salt and pepper. Remove from the heat and stir in the basil.
If you're not into tuna, feel free to sub in canned salmon or chicken, though I really hope you'll try the tuna! It is one of my favorite easy lunches to make when I'm busy and want something satisfying. As a bonus, tuna even gives you some beauty benefits like less wrinkles and being less prone to breakouts! Do you like to eat tuna a certain way?
Sources: wildplanetfoods.com, sheknows.com, foodnetwork.com
---
Comments
Popular
Related
Recent