Every day when five o'clock rolls around you may be wondering what healthy dinners you can create. With limited time and a low budget, it can challenging to figure out what to make. It is possible but it takes time and a little imagination. There are endless possibilities of easy and healthy dinners you can create with a limited ingredient list. Here are a few of my favorite healthy dinners that will serve four, but you can add or reduce to change serving size:
Table of contents:
1

Turkey Meatloaf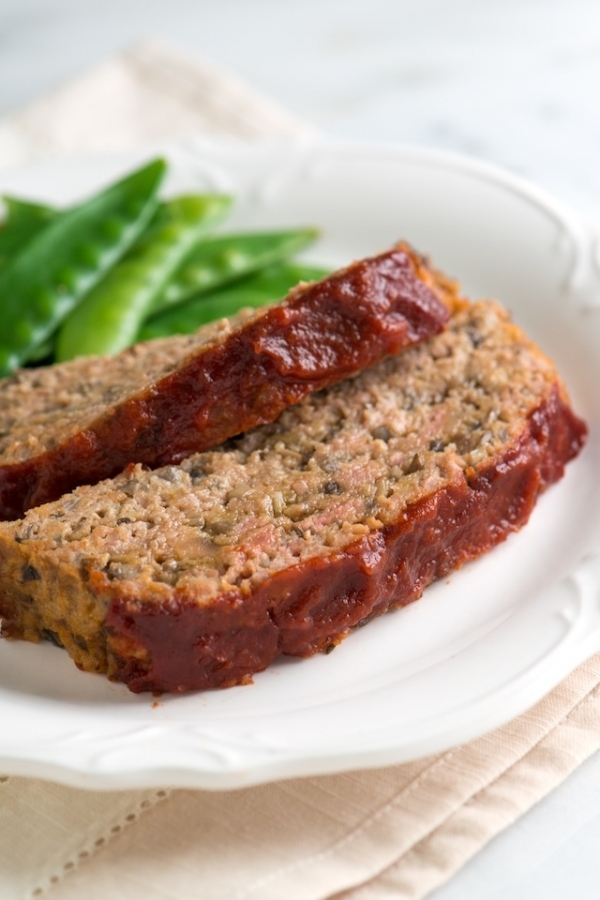 This is one of my favorite health dinners that I actually cooked all the time when I first got married because it was quick, easy, and healthy and tastes great! Did I mention also this was one of the few recipes I knew how to cook when I first got married? Now just 10 years later and with our growing family of 3 children, I still love cooking turkey meatloaf. I hope you enjoy it as much as we have!
Ingredients:
3/4 pound ground turkey
1 egg or egg white
1 teaspoon oregano
3/4 cup chopped onion
1/2 cup dry bread crumbs
lemon pepper to taste
Directions: Preheat oven to 350 degrees F (175 degrees C). In a large bowl combine the turkey, egg, oregano, onion, bread crumbs and lemon pepper. Mix well with hands until blended. Press mixture into a loaf pan. Bake in the preheated oven for 25 minutes.
Source: funfitmama.com
2

Lemon Stir Fry Chicken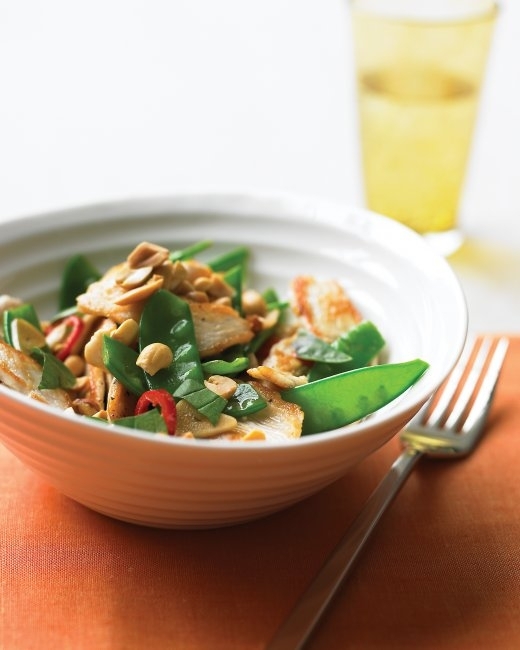 Spiked with lots of flavor, this chicken stir-fry dish has a colorful mix of snow peas, carrots and scallions. But feel free to substitute other thinly sliced vegetables, such as bell peppers or zucchini. Serve with: rice noodles or brown rice and enjoy this great meal!
Ingredients:
1 lemon
1/2 cups reduced-sodium chicken broth
3 tablespoons reduced-sodium soy sauce
2 teaspoons cornstarch
1 tablespoon canola oil
1 pound boneless, skinless chicken breasts, trimmed and cut into 1-inch pieces
10 ounces mushrooms, halved or quartered
1 cup diagonally sliced carrots, (1/4 inch thick)
2 cups snow peas, (6 ounces), stems and strings removed
1 bunch scallions, cut into 1-inch pieces, white and green parts divided
1 tablespoon chopped garlic
Directions:
Grate 1 teaspoon lemon zest and set aside. Juice the lemon and whisk 3 tablespoons of the juice with broth, soy sauce and cornstarch in a small bowl. Heat oil in a large skillet over medium-high heat. Add chicken and cook, stirring occasionally, until just cooked through, 4 to 5 minutes. Transfer to a plate with tongs. Add mushrooms and carrots to the pan and cook until the carrots are just tender, about 5 minutes. Add snow peas, scallion whites, garlic and the reserved lemon zest. Cook, stirring, until fragrant, 30 seconds. Whisk the broth mixture and add to the pan; cook, stirring, until thickened, 2 to 3 minutes. Add scallion greens and the chicken and any accumulated juices; cook, stirring, until heated through, 1 to 2 minutes.
Source: funfitmama.com
3

Vegetable Wrap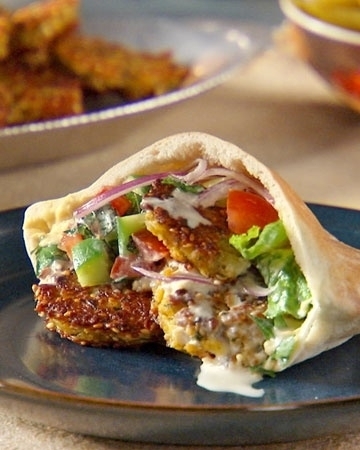 I love having vegetable wraps for dinner because they are simple and healthy. This is an easy and quick recipe for someone on limited time.
Ingredients:
10 ounces mushrooms, halved or quartered
1 cup diagonally sliced carrots, (1/4 inch thick)
1 cup diced tomatoes
1 cup diced eggplant
2 cups snow peas, (6 ounces), stems and strings removed
1 bunch scallions, cut into 1-inch pieces, white and green parts divided
1 Tablespoon olive oil
1 teaspoon oregano
4 whole wheat wrap
Directions: Combine all mushrooms, carrots, tomatoes, eggplant, snow peas, scallions, olive oil and oregano and mix. Heat a large skillet, pour mixture and cook on low for 9 minutes. Then spread veggie mixture across whole wheat wraps and enjoy. Serve alone or with a side salad!
Source: Tara's imagination
4

Grilled Salmon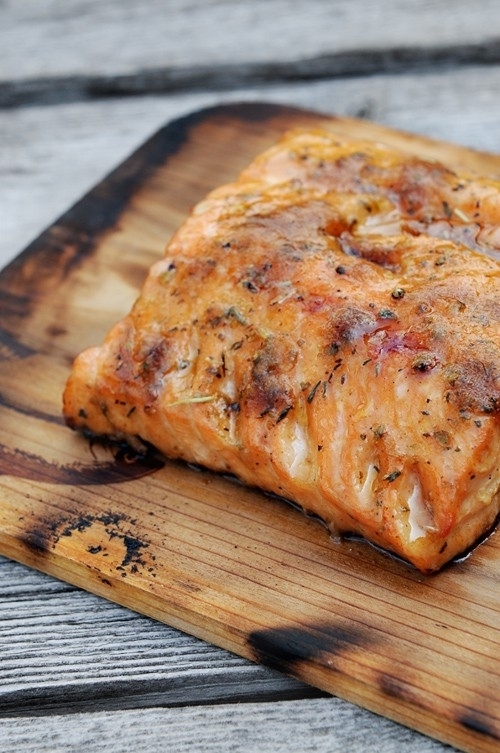 Salmon cooks over a bed of lemon and fresh herbs to infuse it with flavor and keep the fish tender and moist. We like a blend of thyme, tarragon and oregano, but any of your favorite herbs will work. Make it a meal by serving it with grilled new potatoes tossed in an herb vinaigrette and steamed green beans.
Ingredients:
2 lemons, thinly sliced, plus 1 lemon cut into wedges for garnish
20-30 sprigs mixed fresh herbs, plus 2 tablespoons chopped, divided
1 clove garlic
1/4 teaspoon salt
1 tablespoon Dijon mustard
1 pound center-cut salmon, skinned
Directions: Preheat grill to medium-high. Lay two 9-inch pieces of heavy-duty foil on top of each other and place on a rimless baking sheet. Arrange lemon slices in two layers in the center of the foil. Spread herb sprigs over the lemons. With the side of a chef's knife, mash garlic with salt to form a paste. Transfer to a small dish and stir in mustard and the remaining 2 tablespoons chopped herbs. Spread the mixture over both sides of the salmon. Place the salmon on the herb sprigs. Slide the foil and salmon off the baking sheet onto the grill without disturbing the salmon-lemon stack. Cover the grill; cook until the salmon is opaque in the center, 18 to 24 minutes. Wearing oven mitts, carefully transfer foil and salmon back onto the baking sheet. Cut the salmon into 4 portions and serve with lemon wedges (discard herb sprigs and lemon slices).
Source: funfitmama.com
5

Balsamic Chicken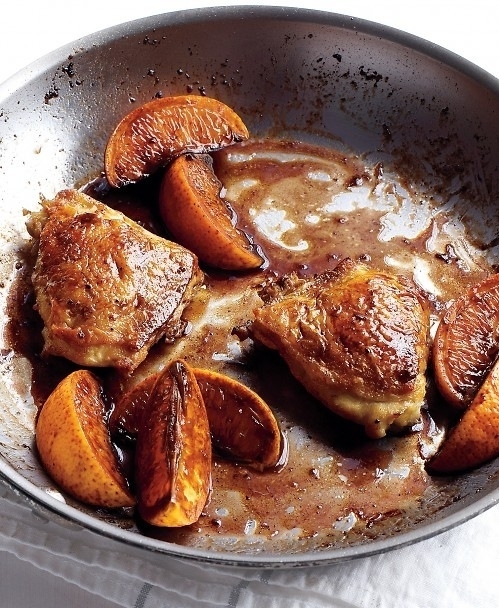 This recipe is great because it tastes indulgent without the excess fat or calories. This is a favorite of mine because it just tastes that good!
Ingredients:
1 cup tomatoes diced
1 cup sliced baby bell mushrooms
1 cup onion
1 T oregano
½ cup low sodium, low calorie balsamic dressing
1 pound diced skinless boneless chicken breast
1 teaspoon olive oil
Directions: Heat skillet for 3 minutes and then add all combined ingredients. Cook on low for 14 minutes. Serve with steamed brown rice or alone and enjoy!
Source: Tara's imagination for someone with limited time
6

Quinoa and Black Beans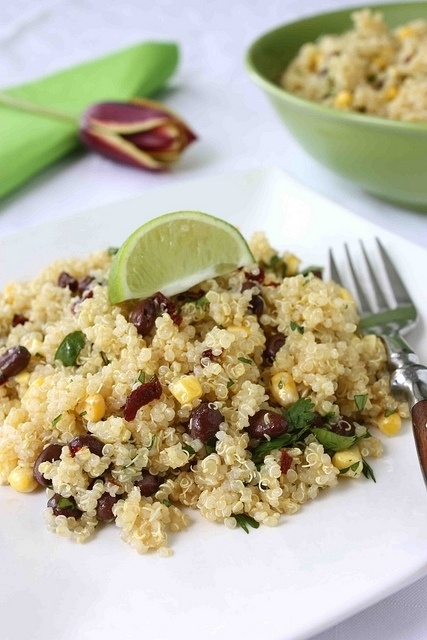 This savory recipe is one of my favorite healthy dinners because as well as being healthy, the nutty flavor of the quinoa tastes great! This is one my favorite recipes because it tastes so good and it has high protein for health.
Ingredients:
1 teaspoon vegetable oil
1 onion, chopped
3 cloves garlic, peeled and chopped
3/4 cup uncooked quinoa
1 1/2 cups vegetable broth
1 teaspoon ground cumin
1/4 teaspoon cayenne pepper
salt and pepper to taste
1 cup frozen corn kernels
1 (15 ounce) cans black beans, rinsed and drained
1/2 cup chopped fresh cilantro
Directions:
Heat the oil in a medium saucepan over medium heat. Stir in the onion and garlic, and sauté until lightly browned. Put quinoa into the saucepan and cover with vegetable broth. Season with cumin, cayenne pepper, salt, and pepper. Bring the mixture to a boil. Cover, reduce heat, and simmer 20 minutes, Stir frozen corn into the saucepan, and continue to simmer about 5 minutes until heated through. Mix in the black beans and cilantro.
Source: funfitmama.com
7

Thai Turkey Lettuce Wraps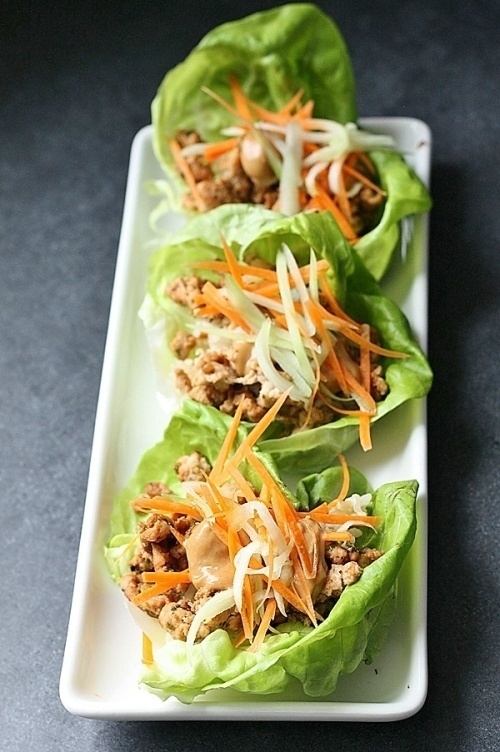 Based on a popular Chinese dish, these fun and delicious wraps also make appealing appetizers for entertaining. Or better yet why not make it a meal?
Ingredients:
1/2 cup water
1/2 cup instant brown rice
2 teaspoons sesame oil
1 pound 93%-lean ground turkey (or diced chicken)
1 tablespoon minced fresh ginger
1 large red bell pepper, finely diced
1 8-ounce can water chestnuts, rinsed and chopped
1/2 cup reduced-sodium chicken broth
1/2 teaspoon salt
2 heads Boston lettuce, leaves separated
1/2 cup chopped fresh herbs, such as cilantro, basil, mint and/or chives
1 large carrot, shredded
Directions: Bring water to a boil in a small saucepan. Add rice; reduce heat to low, cover and cook for 5 minutes. Remove from the heat. Meanwhile, heat oil in a large non-stick pan over medium-high heat. Add turkey and ginger; cook, crumbling with a wooden spoon, until the turkey is cooked through, about 6 minutes. Stir in the cooked rice, bell pepper, water chestnuts, broth and salt; cook until heated through, about 1 minute. To serve, divide lettuce leaves among plates, spoon some of the turkey mixture into each leaf, top with herbs and carrot and roll into wraps.
Source: funfitmama.com
I hope my easy and healthy meals help make meal planning a cinch! What meal will you create next? Hope you and your guests enjoy!
Please rate this article