Do you know how versatile recipes for chutney actually are? Having recently fallen in love with this delectable garnish – or side, or spreadable, or condiment – I've been looking for all sorts of recipes. Chutney just makes everything better, and no matter what your taste preferences, you're sure to find a recipe for it. My obsession started when my mom and I made a cranberry apple chutney to go with some delicious homemade duck breasts, but we added the remains to some leftover turkey for amped up holiday sandwiches, and then moved on to mango and … you get the idea. Here are some of the recipes for chutney the Robinson ladies experimented with, and a few I've found since then! I hope you enjoy them too!
---
1

Spiced Cranberry Apple Chutney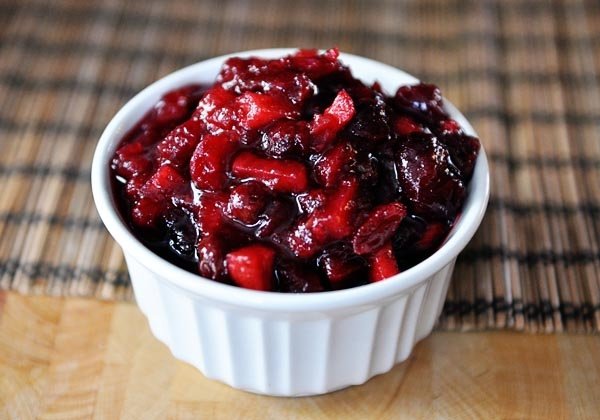 Here it is, the recipe that started the obsession! Most recipes for chutney are quite quick, but this one takes a little while to cook. That being said, prep is still incredibly easy, and with few exceptions you may already have all the ingredients. Feel free to substitute or add some of your own favorite ingredients and spices, but I promise you, it's perfect as is!
Ingredients:
2 cups fresh cranberries
2 cups white sugar
3 tablespoons water, or more as needed
1 large Granny Smith apple - peeled, cored and chopped
2 stalks celery, finely chopped
1 tablespoon grated orange zest
1 cup fresh orange juice
1/4 cup pecans (optional)
1 cup golden raisins
1/2 teaspoon ground ginger
1/4 teaspoon ground cloves
1 pinch salt, or to taste
Directions:
Get a large saucepan and add in the water, your sugar, and your cranberries, then let it sit on high until it starts to boil. Take it down to medium heat and keep cooking until the cranberries pop; this usually takes between 8-10 minutes.
Once the cranberries pop, add your apple, zest, juice, celery, raisins, pecans, cloves, ginger, and the salt, then continue cooking at medium heat. Stir often. It will take about 30-35 minutes until the celery gets tender and the sauce itself reduces.
At that point, turn off the burner, put the lid on your pan, and give the chutney a chance to set and thicken. It will take 15 minutes or so.
Source: allrecipes.com
2

Mango Chutney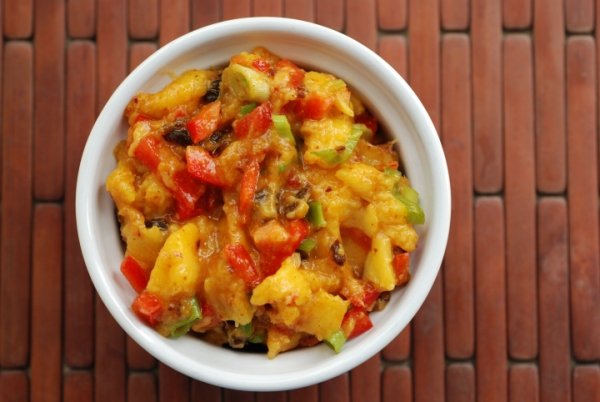 Bless Alton Brown. This recipe is just to die. It takes about 45 minutes to cook, but the final result is worth every minute. This has a little heat to it too, so it's almost savory – definitely great to use as a glaze on meats or vegetables. We tried it with a pork loin, and it was out of this world!
Ingredients:
4 pounds fresh mangoes, ripe but not too soft, peeled
3 tablespoons vegetable oil
1 teaspoon chili flakes
2 1/2 cups medium dice red onion
1/4 cup minced fresh ginger
1 cup small dice red bell pepper
8 ounces unsweetened pineapple juice
4 ounces cider vinegar
1/2 cup brown sugar
1 1/2 tablespoons curry powder
Kosher salt and fresh ground white pepper
1/2 cup raisins or golden raisins
1/2 cup toasted, roughly chopped macadamia nuts
Directions:
Prepare your mango by cutting the flesh off of its pit, then give the flesh a rough chop.
Grab a saute pan and heat up your oil, then add in the chili flakes. Toast it up, but don't burn it, then add your onions and let them sweat until they get soft. After that, throw in your peppers and ginger, then saute the whole mix for a minute or two. Now you're ready to add in the mango, which you'll cook for another minute.
Get a bowl and add the vinegar, pineapple juice, the curry powder, and the sugar. Give it a light mix to combine everything, then add it to your saute pan. Bring everything to a very light simmer and reduce it for about half an hour, stirring often. Season it to taste with salt and pepper before adding your nuts and raisins. After that, grab another bowl or heat-safe container, pour in your chutney, and let it cool on top of an ice bath.
Source: foodnetwork.com
---
3

Mint Chutney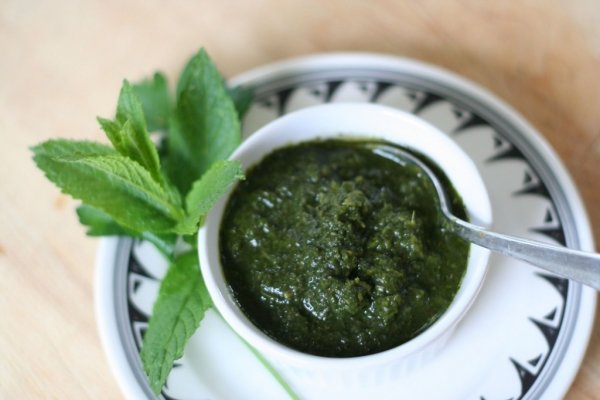 This is a simple but tasty recipe you can make in just ten minutes! It's absolutely amazing with lamb and would, with the right meat or vegetable, even make a great dipping sauce. How would you eat mint chutney?
Ingredients:
1 bunch fresh cilantro
1 1/2 cups fresh mint leaves
1 green chile pepper
1/2 teaspoon salt
1 medium onion, cut into chunks
1 tablespoon tamarind juice or lemon juice
1/4 cup water, or as needed
Directions:
Combine the mint, chile pepper, cilantro, onion, tamarind juice, and salt in your food processor. Process it until it turns into a fine paste, adding water as needed to make it thick. That's it!
Source: allrecipes.com
---
4

Plum Chutney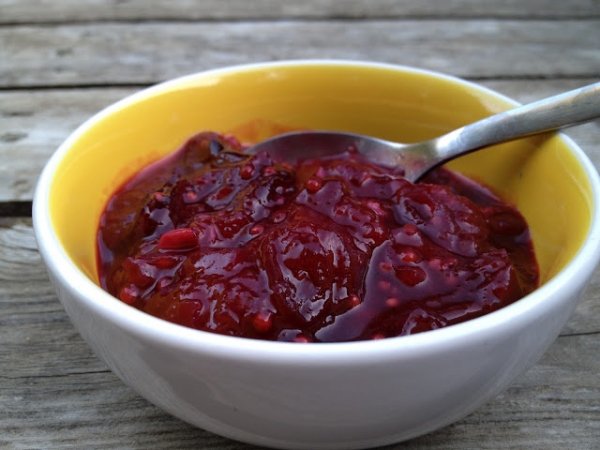 I absolutely adore plums, and this recipe is so quick and easy, I like making it on the fly. It's delicious and sweet, but it's got a kick thanks to the vinegar and the red pepper flakes. Use it to top toast, crackers, biscuits, or bagels, or turn it into a dipping sauce. It's great with grilled chicken and certain cuts of pork, but personally? I adore it with jalapeno poppers!
Ingredients:
4 plums, (about 1 pound), pitted and chopped
3 tablespoons red-wine vinegar
3 tablespoons honey
Pinch of crushed red pepper, or to taste
Directions:
Grab a saucepan and toss in your plums, the honey, the red wine vinegar, and the red pepper. Bring it up to a simmer, using high heat. Stir it occasionally and keep an eye on the plums. After 5-10 minutes they should start breaking down. At that point, transfer the mixture to your food processor or your blender and pulse it until it takes on the consistency of a coarse puree.
Source: eatingwell.com
---
5

Zucchini Chutney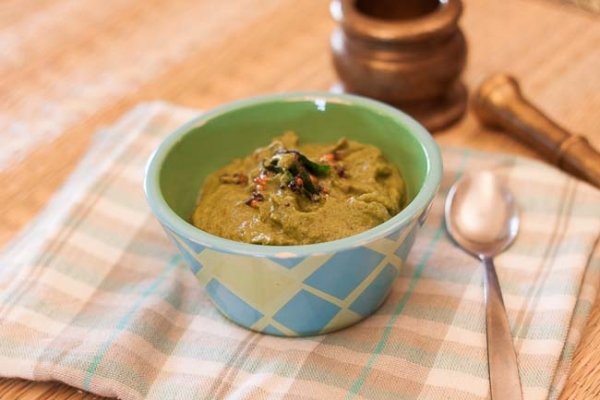 I tried this recipe solely because I adore zucchini. I think it's going to be a summer and fall staple for sure. It's got some wonderfully authentic ingredients that lead to a rich, mouth-watering flavor profile. I love it enough that I just use it as a dip.
Ingredients:
Zucchini - 1 (washed, peeled and cubed)
Green chiles - 3 (chopped)
Tamarind pulp - 1/2 tsp
Urad dal - 2 tblsp
Coconut (grated) - 2 tblsp (optional)
Garlic - 1 clove
Asaefoetida - a pinch
Cumin seeds - 1/4 tsp
Mustard seeds - 1/4 tsp
Cilantro - handful
Curry leaves - 4
Red chile - 1
Salt - to taste
Oil - 2 tblsp
Directions:
Grab a pan and heat your oil, then roast the coconut and the urad dal until you can really smell it. Remove the mixture and set it aside.
Add your zucchini and the chiles to the same pan, frying them until they get tender. Next up, toss in the tamarind, garlic, cumin seeds, Asaefoetida, and the cilantro, then saute it all for several minutes.
Transfer the mixture to your blender, along with the coconut and urad dal. Pulse it until it turns into a fine paste, adding a little bit of water at a time, as needed.
In another pan, heat some more of your oil, then splutter your red chile, the mustard seeds, and the curry leaves.
Add that mixture to your paste and serve!
Source: simpleindianrecipes.com
---
6

Green Tomato Chutney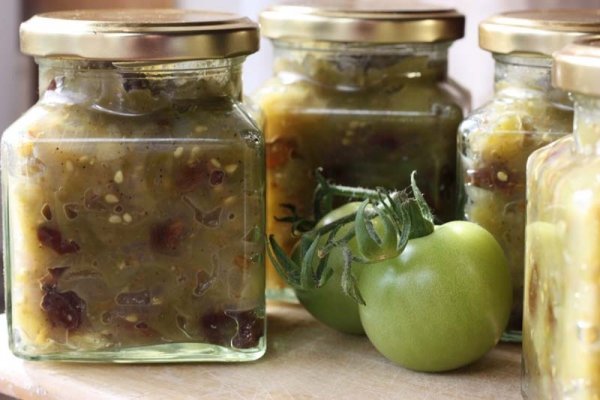 The inclusion of green tomatoes makes this chutney wonderfully tangy. If you're a fan of fried green tomatoes, you'll love this, I promise! You may choose to leave out the vermouth, which is fine. I didn't notice that it really took away from the taste, but then, I've never been a huge fan of the stuff.
Ingredients:
1 1/4 pounds green tomatoes, diced
1 cup diced onion
1/2 cup currants
1/3 cup sweet vermouth
2 tablespoons brown sugar
1 tablespoon cider vinegar
2 teaspoons mustard seeds
1/2 teaspoon salt
Directions:
Grab a saucepan and toss in your tomatoes, the onion, the vermouth (if applicable), the currants, the vinegar, the sugar, the mustard seeds, and the salt. Bring it all to a boil, cover your pan, and reduce the heat. Let the mixture simmer for 30-40 minutes, or until it's tender. And that's it; you're done!
Source: eatingwell.com
---
7

Peach-Jalapeno Chutney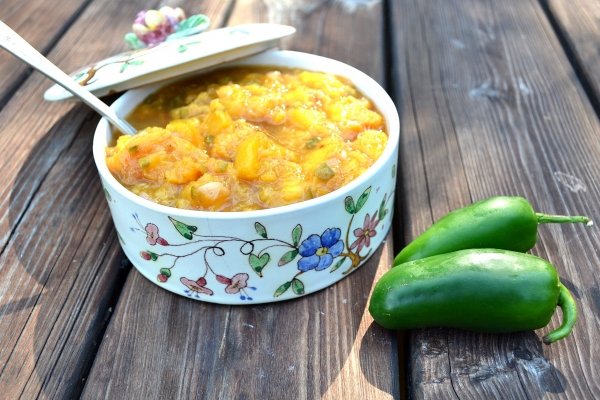 I can't even talk about this. It's so good. It's the perfect mix of sweet and spicy. I tried this with pork as well, and imagine it would also be delicious with chicken or duck, both of which pair so well with fruity flavors. Don't fear the jalapenos, okay? They make this chutney.
Ingredients:
5 peaches, ripe
2 jalapenos, stems removed, diced
1 tablespoon ginger, finely diced
1 tablespoon sugar
1 teaspoon ground cinnamon
2 teaspoons lemon juice
Directions:
Peel all your peaches and remove the pits, then dice three of them into medium-sized chunks and set them aside.
Puree the two peaches you have left in your blender. Get a saucepan and pour in the mixture, along with your jalapenos, the lemon juice, ginger, cinnamon, and sugar.
Place the burner on medium heat and reduce your mixture, giving it an occasional stir, until it thickens. This should take 5-6 minutes.
Pour in the peaches you diced and cook them as you stir occasionally. Keep them on for about three minutes; you just want to mixture to be hot. Remove from the stove and serve warm or cold.
Source: food.com
My favorite thing about chutney is that you can switch up the flavor profiles so easily. It's that versatility factor, it's so perfect! What are some of your favorite recipes for chutney? What foods do you pair your recipes with?
---
Comments
Popular
Related
Recent