Gourmet dinners can turn any boring day into something special. And you don't have to go to a pricey restaurant to get one either. By making simple tweaks to your favorite meals, you can create gourmet dinners that rival anything you'll see a chef make. So, today is the day you should make yourself a gourmet meal to finish your day off right. Let me know how it works out for you!
---
1

Chicken Bacon Ranch Pasta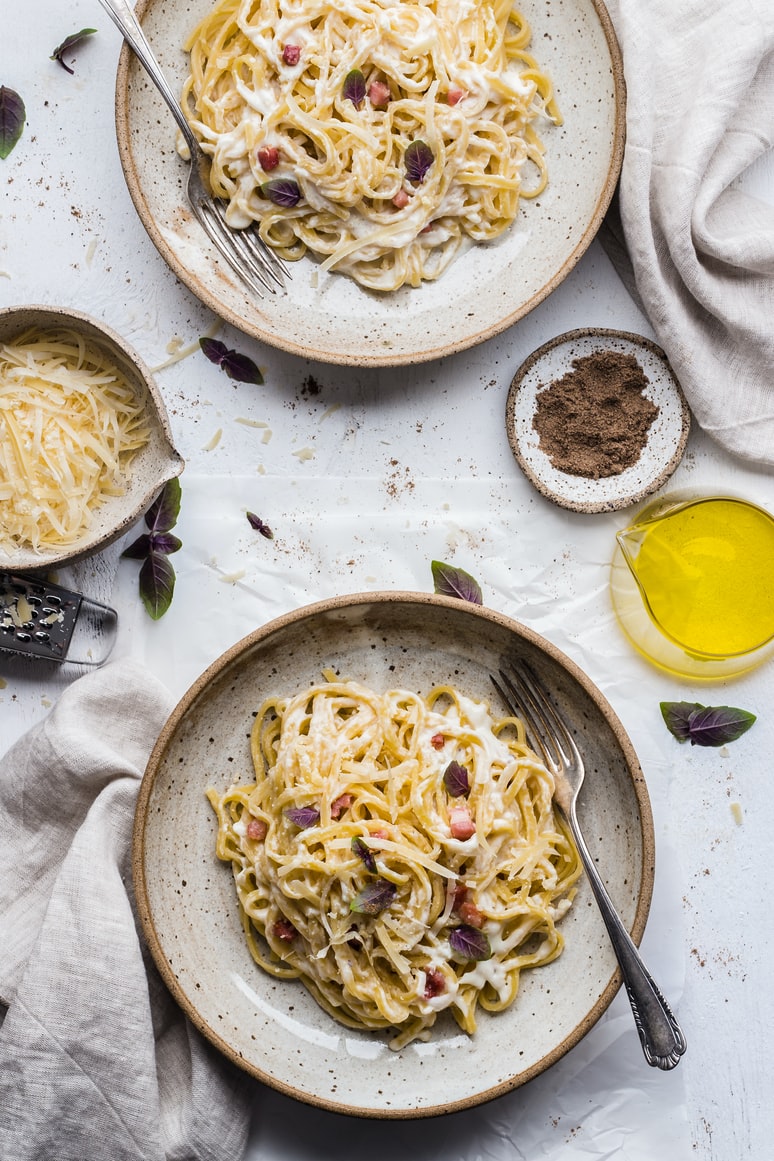 Cooking gourmet dinners at home is easy, especially when ordering produce from top services like Crowd Cow - one of the top meat subscription services today. High quality ingredients will allow you to create incredible restaurant quality meals in the comfort of your own home. With locally grown and seasonal vegetables and best quality meats, which you can have delivered to your door, you are all ready to make your first gourmet dinner right in your kitchen!
Make a boring dish of noodles one of your favorite gourmet dinners by jazzing it up with bacon and cream sauce. Chicken bacon ranch pasta is a quick and easy dinner recipe that is sure to please. It includes bacon, chicken, fresh spinach, garlic, onion, glass noodles or spaghetti pasta, milk or cream, cheddar cheese sauce mix also known as cheddar soup mix.
This dish is great because it has healthy ingredients that are good for you.
You can add various sorts of fresh or frozen greens. You can also use different kinds of pasta noodles, whichever you personally prefer.
Mary
The paragraph above the recipe talks about spinach...
---
2

Curried Roasted Eggplant with Smoked Cardamom and Coconut Milk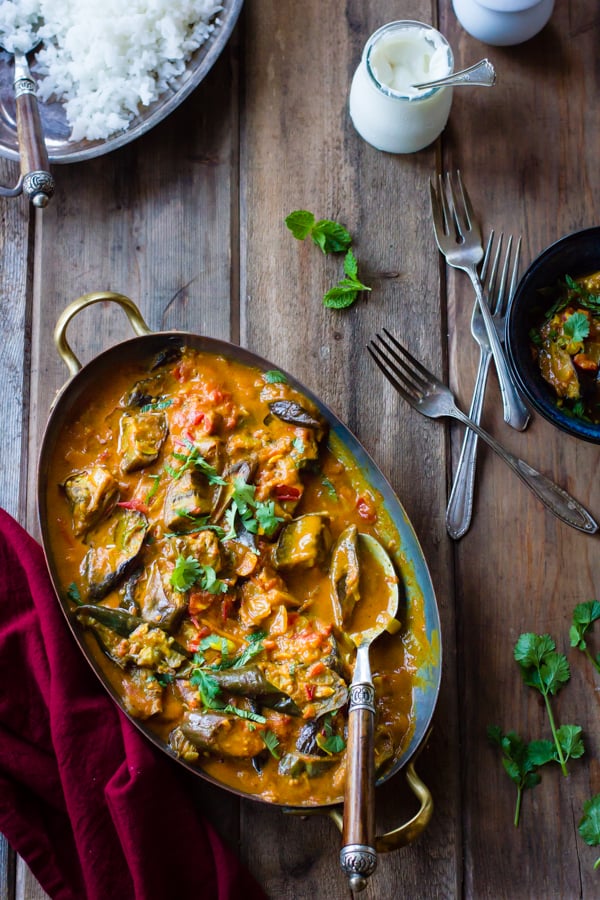 The name says it all. None of the ingredients in this meal is hard to find, which makes cooking it up simple and delicious.
This recipe is guaranteed to make your curry loving friends go wild! The roasted eggplant combined with the smoky cardamom and creamy coconut milk will fill you up in seconds. It's a healthy, vegetarian substitute to heavy curries, without sacrificing any flavor. This meal can be made quickly in less than 30 minutes, making them perfect for wintertime or when you need something fresh and easy for lunch.
Ingredients:
Curry
2 pounds of eggplants (about 10 medium Chinese or Japanese eggplant)
3 tablespoons olive oil
salt to taste
3 tablespoons
2 cups diced yellow onion (from 2 medium or 3 smaller onions)
5 black cardamom pods, cracked
1 dried chile de arbol (or other medium-spicy chile), crumbled (more or less to your taste)
8 green cardamom pods, cracked
2 tablespoons coriander seeds
1 teaspoon black peppercorns
1 tablespoon ground turmeric
4 large garlic cloves, peeled and slivered
1 " chunk of ginger, peeled and cut into long, thin strips
1 pound ripe tomatoes (10 medium dry-farmed Early Girls), stemmed and diced
1 can full-fat coconut milk (13.5 ounce / 400 mL)
1/2 cup water
a few handfuls cilantro leaves, chopped
a handful mint leaves, slivered
1 pint whole milk (Greek)yogurt, for serving
Rice:
2 cups long-grain basmati rice
3 1/2 cups water, plus more for rinsing the rice
1 teaspoon fine sea salt
Instructions:
Place the racks in the upper and lower thirds of the oven and preheat it to 400º Cut the eggplants into 1-inch thick slices or 2-inch square chunks.
Place the eggplant slices/chunks on a rimmed baking sheet and sprinkle with the olive oil and 1/2 teaspoon salt, toss.
Redistribute the eggplant pieces on two baking sheets, and roast until golden for 15 minutes. Flip the slices over, and roast until the other side is tender and golden, 5-10 more minutes.
Remove and turn off the oven.
Heat the ghee or olive oil in a large soup pot or dutch oven over a medium heat until it simmers.
Add the onion, black cardamom pods, and crumbled chile de arbol. Reduce the heat to medium-low and cook, stirring occasionally, until the onions are golden and tender, 10-15 minutes.
Meanwhile, break open the green cardamom pods and shake out the black seeds.
Combine the seeds with the coriander and peppercorns in a clean coffee grinder or spice grinder and grind finely.
When the onions are soft, stir in the ground spice mixture, turmeric, garlic, and ginger.
Cook for a few minutes to toast the spices, then stir in the chopped tomatoes, coconut milk, water, and the roasted eggplant.
Increase the heat to bring the curry to a simmer, then reduce the heat and simmer gently for 20-30 minutes, stirring occasionally.
When done, the eggplant should still hold its shape, but the sauce should be thick. Taste the curry, adding salt if needed.
The sauce will thicken whilst cooling down.
While the curry simmers, make the rice.
---
3

Mushroom Asiago Chicken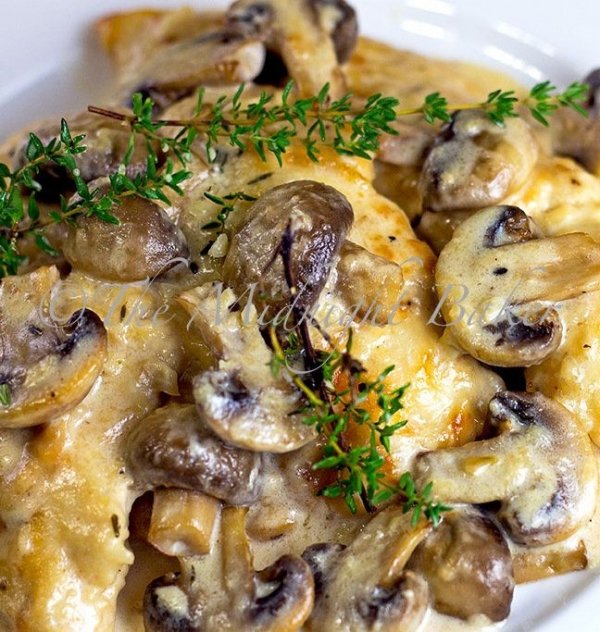 There's something about topping meat with fancy cheese and mushrooms that instantly turns it into a gourmet meal.
For those looking for a flavorful alternative to the usual creamy chicken pasta dish, you are at the right place! This chicken recipe is quick, easy, and so tasty. It's one of my favorite dishes to make with my daughters. Here are a few tips that will help you save time and effort.
First, season the breadcrumbs with salt and pepper then soak them in water for about 10 minutes. This will remove excess starch from the breadcrumbs which helps keep your sauce smooth.
Ingredients:
Directions:
Steve
Are there really no mushrooms in the mushroom reci...
---
4

Apple Harvest Salad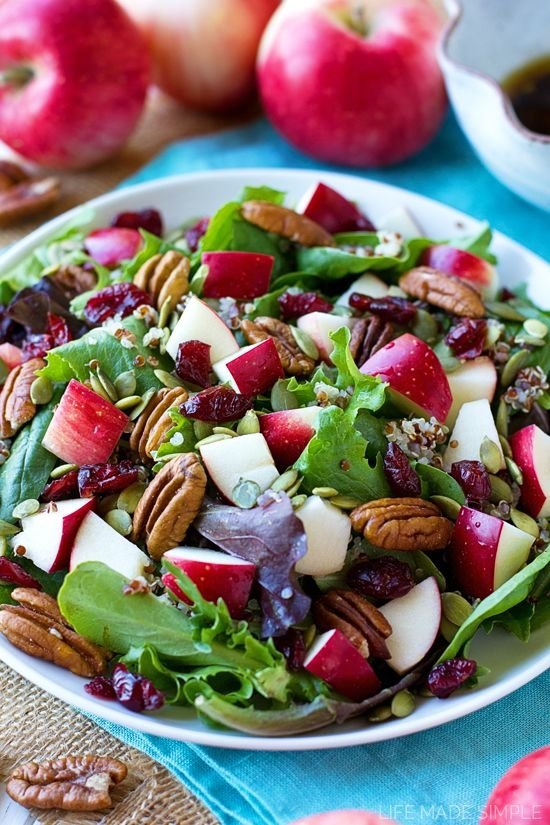 This is definitely not your average salad. Pecans, cranberries and apple? Yes, please!
It is cold this time of year and I love making salads that are hearty enough to quell the fall chill. My Harvest Apple Salad recipe has quickly become a staple in my house, especially on Thanksgiving where it is often consumed by heaping scoopfuls. I hope you enjoy it as much as we do!
Serves 4-6
Ingredients:
Directions:
Note: This recipe keeps well for several days. I recommend adding dressing to each individual portion as you eat it (and I recommend you eat it! It is delicious!).
---
5

Green Goddess Sandwiches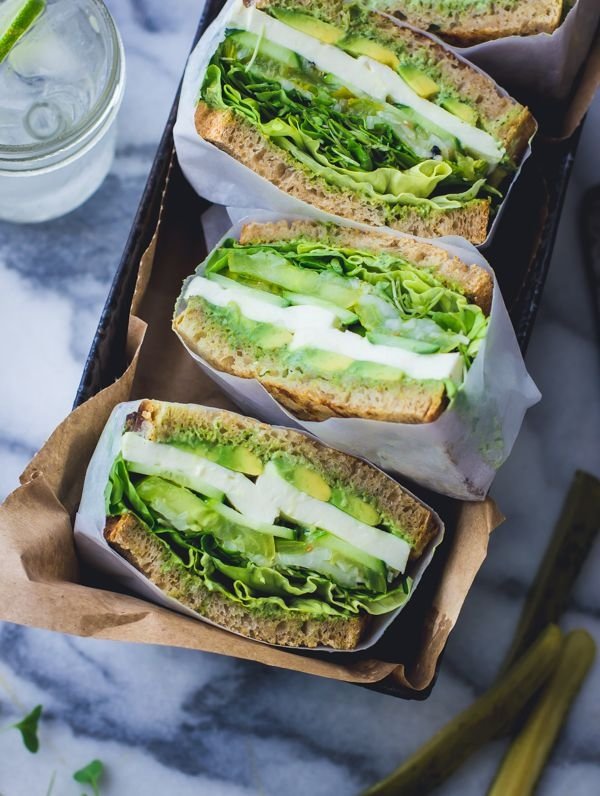 You might not think a sandwich is gourmet until you eat this delightful little gem.
Green Goddess sandwiches are a delight to behold and definitely worth the effort.
They are a beautiful balance of green and yellow vegetables, including either avocado or green beans. They're served at room temperature with a tasty vinaigrette on the side—and they're delicious. There's also an option to add grilled chicken or salmon.
The components of this dish were inspired by recipes that originated in 1930s. They were created by a restaurant owner who was inspired by actress Rosemary Clooney, who claimed to have learned them from "a friend of a friend".
Ingredients:
Instructions:
If you really want to go green, try this recipe for a tomato-based green goddess sandwich spread. You can leave out the anchovies or replace them with roast peppers. The roast pepper sub always wins the taste test.
Tom
Photo is not this sandwich. Photo has cheese and a...
---
6

This Toasted Italian Sandwich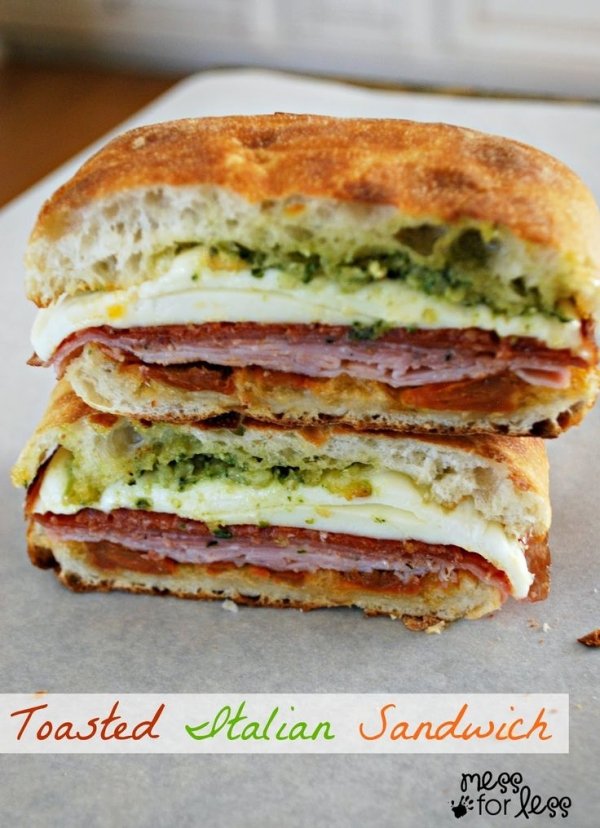 Speaking of gourmet sandwiches, this one fits the bill just right, don't you think?
We'll start with the basics first. A typical toasted Italian sandwich consists of some type of sliced, cooked meat, chopped tomato, sliced onion on your choice of fresh bread. It can come with lettuce and sliced pepperoncini peppers as well. The main thing is the quality of the meats you use.
Ingredients:
Directions:
Mary
This is not even the complete recipe! This is a ci...
7

Baby Asparagus, Garlic and Three Cheese Tart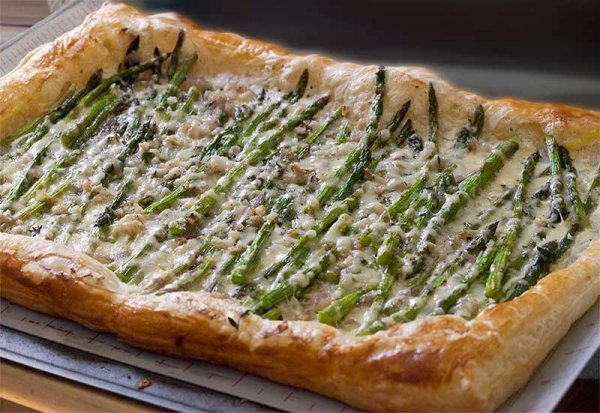 Here's another gourmet dish that uses simple ingredients, but makes for a mega presentation.
We're going to share a whole bunch of yummy baby asparagus recipes with you! Baby asparagus is a thinner, more tender version of the full-sized variety. It's perfect for packing into roasted spring vegetables or grilling on skewers. We'll also show you how to grill the asparagus on its own and serve it with a garlic and three cheese tart.
In this recipe, we'll show you how to make an appetizer from some fresh from the garden baby asparagus.
Ingredients:
1 bunch of freshly picked baby asparagus
2 cloves of garlic, minced
½ cup of cream cheese, softened
1/3 cup of grated Parmesan cheese
1 sheet of puff pastry, thawed and cut in half
Salt and pepper to taste
Directions:
Preheat oven to 450 degrees. Wash all the leaves on each Asparagus and then break off the bottom ½ inch or so of the stalk.
Melt 1 Tablespoon of butter in a skillet over medium heat. Add the garlic and cook until fragrant, about 30 seconds.
Transfer the garlic and butter into a mixing bowl, add cream cheese, Parmesan cheese, salt and pepper. Whisk until thoroughly combined.
Open up the sheet of puff pastry and lay it flat on a lightly floured surface.
Cut each sheet of puff pastry in half, making 4 rectangles.
Place a small handful of baby asparagus in the center of each rectangle, brush with some garlic and cream cheese mixture.
Roll each pastry rectangle to create a log, pressing along the seam to ensure it stays closed, and place seam side down on a baking sheet lined with parchment paper.
Bake for 15 minutes or until golden brown. Enjoy!
---
8

Creamy Baked Acorn Squash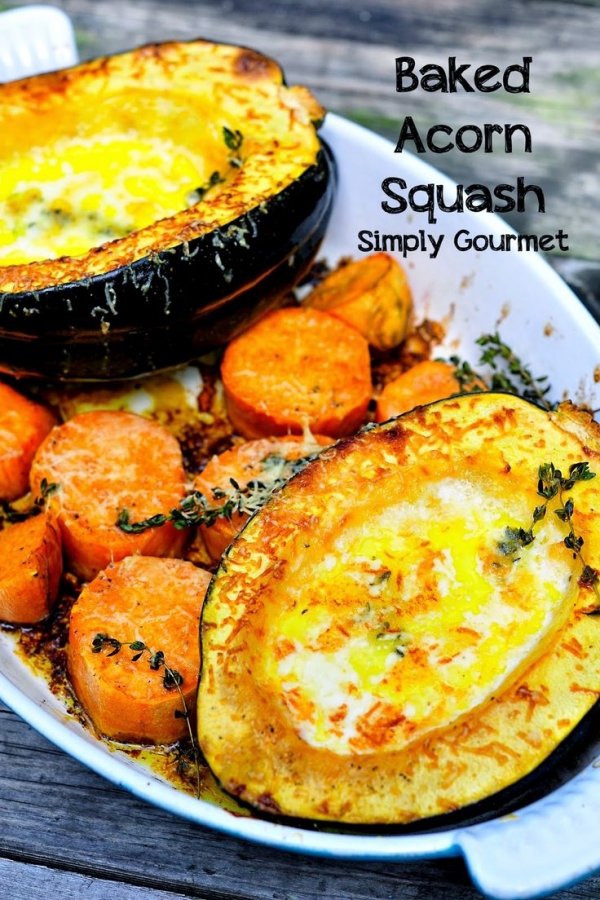 This looks absolutely delicious. I wouldn't need anything to go with it - this would be the entire meal.
I love acorn squash, whether it's roasted in the oven, or stuffed with things like quinoa, brown rice or black beans. But this time of year I really love it when I make this recipe for cheesy baked acorn squash. It's a great way to get in your veggies and use up some of that excess holiday turkey that you might have sitting around in your fridge.
Ingredients:
2 medium acorn squash
1/4 cup chopped pecans or walnuts
3 tablespoons butter, divided
1 1/2 cups cooked quinoa (about 3/4 cup dry)
1/4 cup grated Parmesan cheese, plus more for topping if desired
3 tablespoons honey or agave nectar or maple syrup, optional but it adds a nice caramel-y flavor to the recipe. Dark brown honey is my favorite.
Directions:
Start by baking the squash. Preheat the oven to 400 degrees and slice both acorn squashes in half long ways.
Scoop out the seeds with a spoon or a melon baller, or you can leave them in if you want to roast them too.
I line a baking sheet with foil, place the squash cut side down on it and bake for about 45 minutes. They will be done when they are golden brown and fork tender.
If you are stuffing the squash, you can just scoop out the cooked flesh with a spoon and hold it in the refrigerator until ready to use.
I used some of my acorn squash to make this creamy cheesy baked acorn squash recipe.
Grate the Parmesan cheese and set aside. I don't own a food processor, but if you do it would be much easier to grate the squash into a large bowl first then measure out 1/4 cup for this recipe.
Once the squash is cool enough to handle, scoop the squash flesh into the bowl. Beat (or blend) in a standing mixer with the whisk attachment at medium speed until smooth. It will take about 5 minutes of mixing by hand first.
Melt 1 tablespoon butter in a skillet on medium heat. Add half of the grated Parmesan cheese and stir continuously for about 30 seconds.
The parmesan cheese will smell sooo good at this point. Get your nose in there!
Add the quinoa to the skillet with the melted cheesy goodness and saute for 2-3 minutes, stirring constantly. It will smell even better at this point.
Take your squash out of the oven once it's done baking/roasting and preheat the broiler.
With a slotted spoon, transfer the cooked quinoa to a large bowl. Add back in the roasted squash and the rest of the Parmesan cheese and mix thoroughly.
Place on a serving dish or individual serving plates. Top with more Parmesan if you wish. Enjoy!
Notes:
I really liked the texture of this creamy cheesy baked acorn squash . It had a nice soft texture, but it had enough bite from the quinoa to hold up well on its own.
I served it at room temperature, but you could easily warm it up in the microwave or even on the stove top if you wanted to serve it warm.
I will definitely be making this again, but probably with a little less butter and maybe even some chicken broth. The flavors are so good though, I think I'll stick with the same amount of butter, but instead of using all butter for sauteing I'll use some chicken broth too.
---
9

Gourmet Cheese Board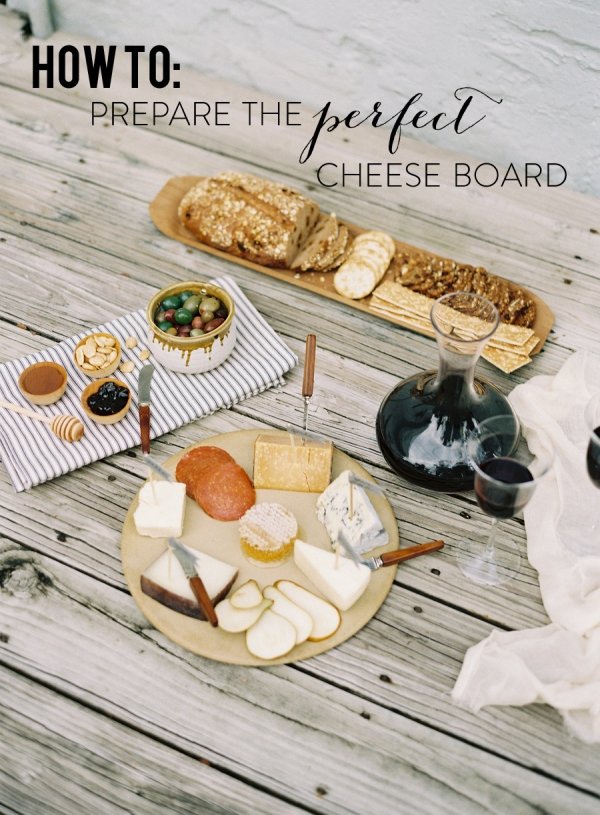 If you don't feel like cooking, a board with fancy cheeses, meats and olives is just the choice you need.
Gourmet cheese board with brie, cheddar, gouda, and more.
This gourmet cheese board is the perfect thing to have at your next party. It includes brie, cheddar, gouda, and more. You can't go wrong with this selection of tastes and textures! It will have something for everyone at your party to enjoy.
Ingredients:
4oz Brie cheese
8oz Gouda cheese
12oz Sharp white cheddar cheese
1 oz tomato paste (for gouda) or 4 oz Cheddar cheese (for the other two)
2 oz almond pistou (between gourmet cheeses) or 1/2 cup pistou (for the other two)
1.5 oz chopped pistou (for gourmet cheeses) or shredded Parmesan (for the other two)
1 tbsp crushed pistou (for gourmet cheeses) or 1 tsp basil (for the other two)
1/2 cup pineapple chutney
2 slices of bread, cut to fit in the trays, toasted and buttered.
Servings: 12 People. Preparation Time Required: 20 minutes. Total Cooking Time Required: 30 minutes. Serving Temperature: 68F - 72F.
Lay out the cheese, bread, pickles, olives, grapes, melon pieces, crackers on a beautiful large rustic serving board.
Serve with chilled wine - from classic reds to light white wines like the French Sancerre or Whispering Angel Rose - your guests will be impressed by the elegant presentation and the amazing combinations of taste.
---
10

Pan Seared Scallops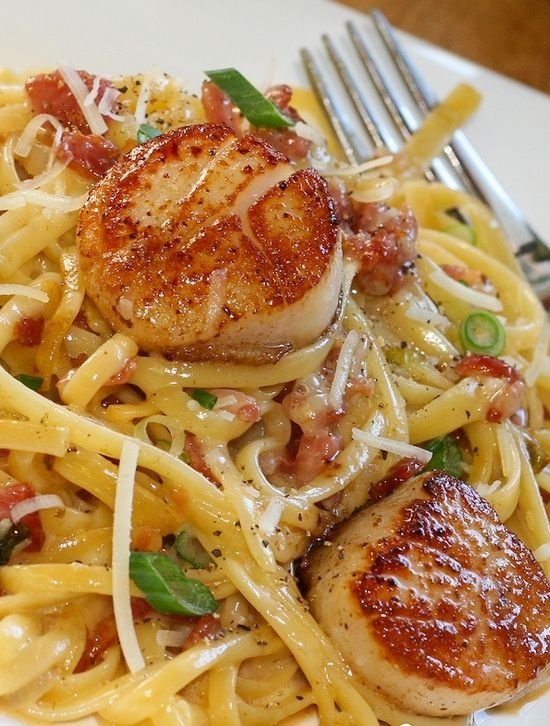 Scallops are certainly a gourmet food, but they are so easy to cook. Serve them with noodles, potatoes or rice.
If you're looking for a super easy, delicious seafood dish with minimal maintenance, then look no further than pan seared scallops. These sweet and delicate pieces of goodness can be found in nearly any grocery store and they're ridiculously easy to prepare. I always keep frozen scallops in my freezer and I'm happy to say that they cook up like a dream. All you need is a few simple ingredients and a sauté pan (plus parchment paper, of course) and you can make these beauties within minutes.
Ingredients:
• 4oz. of Scallops (about 2)
• 1 tsp. of Olive Oil
• 1 tsp. of Butter
• 1/8 tsp. of Kosher Salt
• 1/8 tsp. of Pepper
Directions:
All you need to do is give your scallops the thawing treatment by placing them in a bowl and covering them with cold water for about 5 minutes, then drain the water and pat them dry with a paper towel.
Now it is time to season your scallops all over with a pinch of salt and pepper. To cook your scallops, place a piece of parchment paper on a baking sheet and spread melted butter all over it.
Next, lay down your scallops in a single layer with no overlap and try to keep the gaps as small as possible.
Bake at 400 degrees for 12-14 minutes or until the scallops begin to brown slightly on the bottom.
After you remove your scallops from the oven, mix together 1 tsp. of olive oil, 1 tsp. of butter, and 1/8 tsp. of salt to make your sauce.
Toss the sautéed scallops in this sauce until they are heated through, then plate them up on some crusty bread with some greens on the side.
Makes 2 servings
Notes:
The scallops can be very salty when they come out of the oven so I would strongly recommend using less salt in the sauce.
---
11

Blackened Chicken Fajitas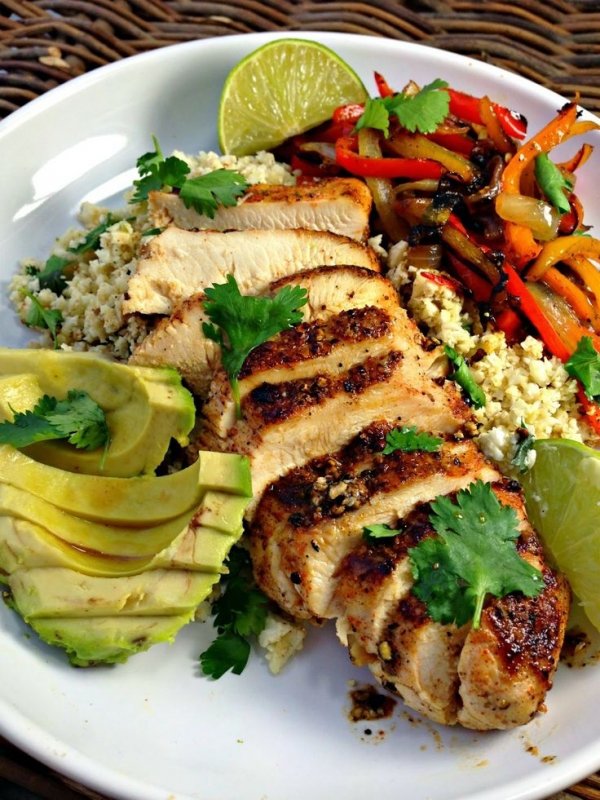 The presentation of these tasty fajitas is what makes them look so gourmet. I bet they taste great too!
If you are looking for a quick meal that is easy to make, flavorful, and nutritious, look no further than this blackened chicken recipe. With just a few ingredients and less than an hour of cooking time, these fajitas will have your whole family begging for seconds!
The best part about these fajitas is that they are low in calories and high in protein. And because it is blackening season, most of the time you already have all the spices required on hand.
Ingredients:
1-2 lbs boneless skinless chicken breasts, cut into 1" strips
1 tsp garlic powder
1 tsp onion powder
1/2 tsp black pepper
(or to taste)
(or to taste) 1 tbsp canola oil, divided. You can also use olive oil or coconut oil if wishr to use a Mediterranean dish.
3/4 cup salsa (salsa verde is excellent for this recipe but any other mild salsa will work fine too.)
Green or red bell pepper slices, thinly sliced. (about 1/2 cup)
Sour cream, optional
Lettuce, shredded, for serving
Directions:
Cut chicken into strips and sprinkle with salt and pepper. Set aside. (If marinating overnight put in fridge)
In a small bowl mix together garlic powder, onion powder, black pepper, cayenne pepper (if using), paprika and canola oil or other oil of your choice.
Heat a large skillet (such as cast iron) on high heat and add the tablespoon of oil of choice. Add chicken and cook until browned, about 2 minutes per side.
Remove chicken from pan then toss with your favorite salsa or any other mild salsa you have on hand. Top with sour cream and shredded lettuce if desired. Serve immediately!
ENJOY!
---
12

Quick Ravioli with Sun Dried Tomatoes, Arugula and Hazelnuts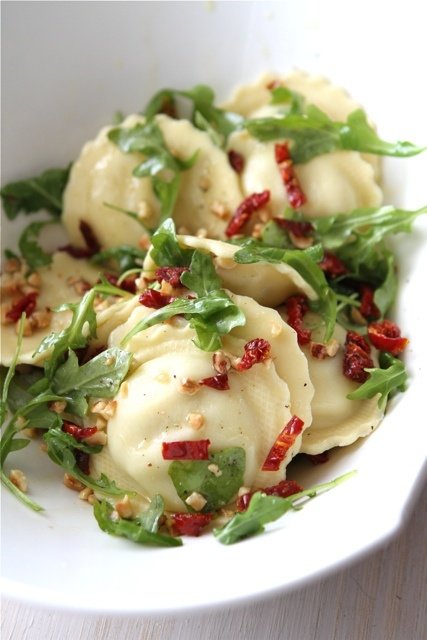 This looks just like something you'd get in a fancy pasta restaurant. Yum!
Use this recipe to make a delicious dinner in minutes.
Pasta shells are filled with tasty ingredients like sun dried tomatoes, arugula and hazelnuts. It's easy to make and even easier to clean up afterwards! Don't worry about not having fresh ingredients on hand because you can get them all at your neighborhood grocer.
Ingredients:
350g fresh, store bought pasta shells.
1 jar Sun Dried Tomatoes, drained and cut into smaller pieces.
1/2 cup arugula - rinsed and roughly chopped.
100g crumbled hazelnuts.
2 tablespoons extra virgin olive oil, divided into two equal amounts for cooking and salad dressing.
Instructions:
Cook pasta according to package directions. Reserve 1/2 cup of pasta cooking liquid.
Heat 1 tablespoon extra virgin olive oil in a large skillet over medium heat. Add arugula and cook for 4 minutes, stirring frequently. Add the hazelnuts and cook another 2 minutes, stirring frequently. Remove from heat and drain any excess liquid on paper towels before adding to pasta shells.
Assemble the pasta in four bowls. Layer sun dried tomatoes, arugula and hazelnuts in the shells. Add the pasta cooking liquid, season with salt and pepper if desired, and drizzle with 2 teaspoons extra virgin olive oil. Serve immediately.
Makes 4 servings.
---
13

Pumpkin Ricotta Gnocchi with Pancetta and Seared Radicchio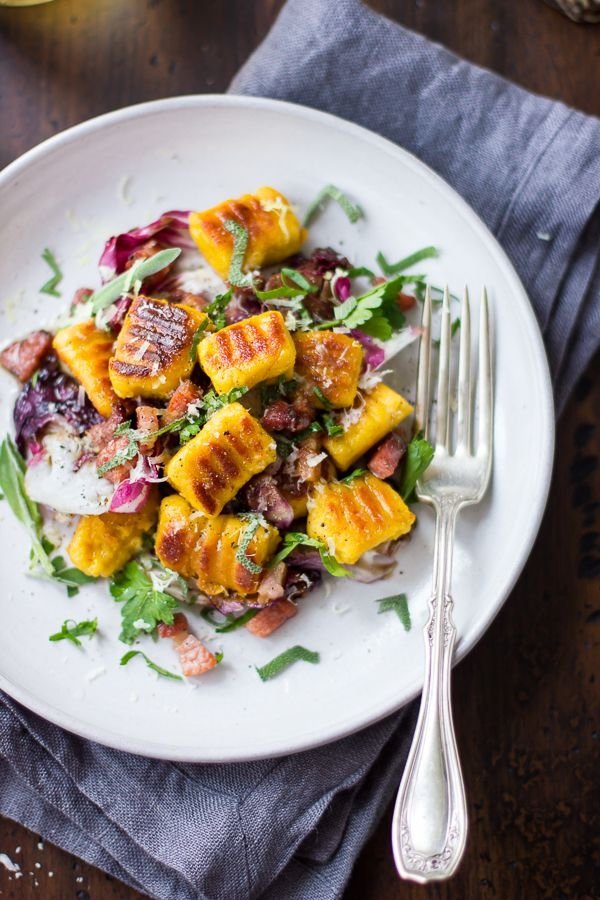 This pile of deliciousness is what I want for dinner tonight. What about you?
Pumpkin ricotta gnocchi with pancetta and seared radicchio, the perfect dish to warm up this fall. This dish is full of carbs, flavor, and texture. The pasta is made of pumpkin dough instead of the traditional dough. The browned pancetta adds a robust flavor that goes perfectly with the sweet pumpkin and salty cheese. Finally, seared radicchio gives this dish some color while adding a peppery kick paired with mellow balsamic vinegar.
Ingredients:
3 tbsp. olive oil
¼ cup chopped pancetta (about 2 oz.)
½ cup/45 g grated Parmigiano Reggiano cheese (about 1.5 oz. packed)
2 cups/85 g pumpkin gnocchi (1 lb. 6 oz.)
¼ tsp. salt
Directions:
Heat the oil in a large sauté pan over medium heat. Add the pancetta and cook for about 2 minutes, or until it begins to brown.
Add the pumpkin gnocchi, salt, and Parmigiano Reggiano cheese to the pan and toss to combine with the pancetta.
Cook for about 3 minutes, or until the gnocchi are lightly browned.
Reduce heat to low and cook for another 7–8 minutes, or until the gnocchi is a little tender and has a bit of a crispy bottom.
4 Servings
---
14

Quinoa Fruit Salad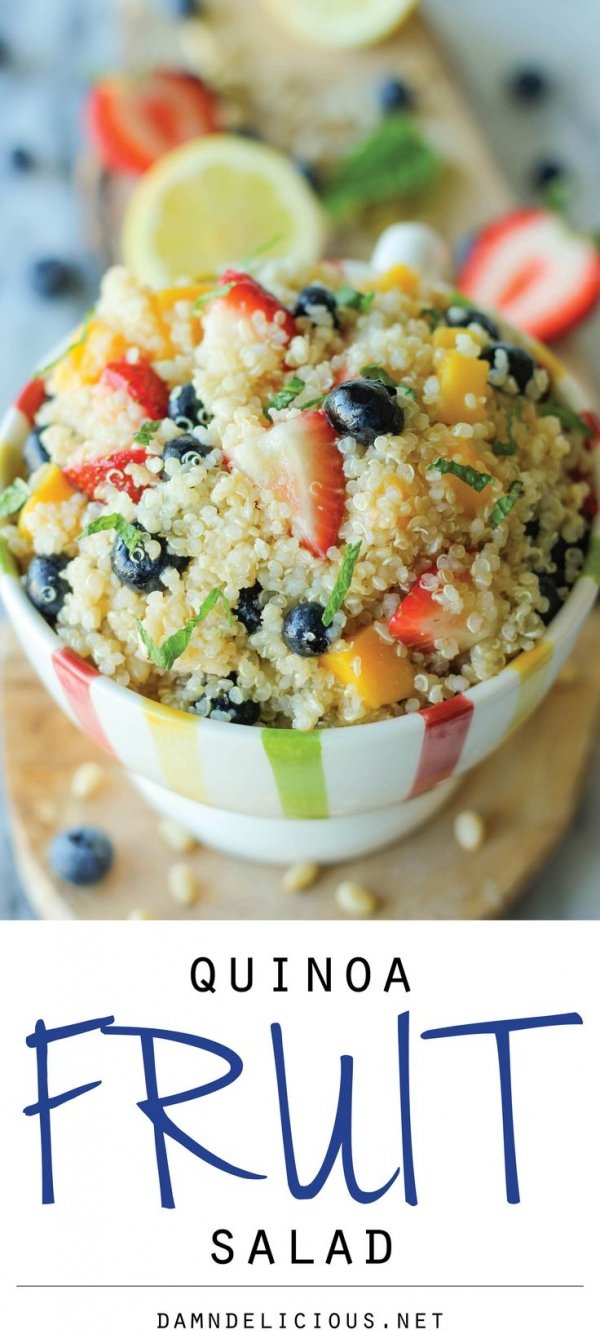 What a tasty and healthy way to start your day. Quinoa is a superfood, after all.
This delicious fruit salad recipe is perfect for breakfast or dinner and is the perfect meal to complete a healthy meal. This is a simple and cost-effective recipe that comes together quickly. It's also perfect for bringing to a potluck, BBQ, or picnic as it's easy to transport. The ingredients are mostly ingredients commonly found in most kitchens so it can be easily adapted to your tastes.
The quinoa cooked at the beginning of this recipe is going to become the base layer of a fruit salad hence it creates a yummy crunch on top of the whole dish.
Ingredients:
3 cups cooked quinoa
1 tablespoon of honey (optional)
1 tablespoon of orange juice concentrate (optional)
1/4 cup of walnuts, chopped
Instructions:
Cook the quinoa. If you haven't experimented with quinoa before, here's a quick tutorial on how to cook it. I generally like to use less water than the instructions say because it will turn out less mushy for this dish. This is important because you're going to layer the fruit on top of this layer of quinoa.
Place the quinoa in a bowl and pour your quinoa into a strainer to drain off any water that hasn't been cooked off. My dish never seems to hold all the water when I cook it so I do this step to ensure that my fruit doesn't get mushy.
Heat up a pan on medium heat. Once it's hot, add in the walnuts and chopped walnuts and toast them for about two minutes, but keep an eye on them as they burn easily.
Once you've toasted the nuts, mix them together with cooked quinoa and mix in the olive oil. Mix the honey and orange juice concentrate with this as well if you want a sweeter taste.
Now comes one of my favorite parts: layering the fruit! The crunch from the quinoa will pair so nicely with a sweet, fresh fruit like pineapple or apples. Add a few scoops of fruit on top of your base layer and you're on your way to a delicious dish!
Garnish with some mint leaves, pistachio nuts, or any other decoration of your choice.
4 servings
---
15

Seared Ahi Tuna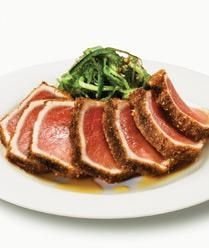 This is a gourmet treat I only order in restaurants, but I'd love to learn how to make it at home.
The first time I tasted seared Ahi Tuna, I was shocked that it tasted like steak on the inside. The outside was brown and slightly crunchy — a textural surprise — and the inside was wonderfully rare and tender. It looked as if it were barely cooked at all, but as you cut into it, the center would be tender and pink. So flavorful!
Ingredients:
1 Ahi tuna steak, about 1 inch thick (about 8-9 ounces)
Kosher salt
Pepper
Canola oil
Chipotle Lime Mayo:
Chipotle lime marmalade (I used this recipe but it is good without the chipotles) or use regular lime marmalade/jelly/preserves. I use the jelly version.
Instructions:
To start, I usually cut the tuna into 2-inch cubes.
I put them into a plastic bag and shake it around vigorously, pressing out as much air as I can. Then I massage the tuna with salt and pepper for about 10 seconds, place slices on a baking pan and brush with canola oil.
Preheat oven to 400° F.
Place the slices on a second sheeted pan, without crowding any slices together, and cook for 15 minutes.
According to the recipe, you remove the tuna from the oven then turn them over, brush with canola oil and cook for 15 minutes more. Looks like I was lucky with this tuna.
To create some grill marks on the outside, I heated my cast iron griddle to 400° F. It takes about 2-3 minutes for it to heat up so I placed a second cast iron pan on top of it so that it will heat up faster. I used my cast iron tongs to place the tuna on the griddle and let it sear for about 1 minute on each side. It is important to press down on the tuna with your tongs before you actually put it on the griddle.
Remove the tuna once done and place it on a paper towel while you make some chipotle lime mayo.
I added chipotles in adobo (about 2-3 tablespoons depending how spicy I wanted) along with 1 tablespoon of mayo, whisked until smooth. Then I added about 3 tablespoons of the chipotle lime marmalade/jelly/preserves. Just to give you an idea of how this tastes, it tasted like spicy guacamole!
Notes:
This was so good, I could have eaten it with a spoon! The tangy, slightly sweet chipotle lime jelly goes well with the fattiness of the tuna. The flavors are pretty distinct that you can taste each ingredient separately yet they all blend together nicely.
A perfect dish for entertaining.
---
16

Gourmet Burger Bar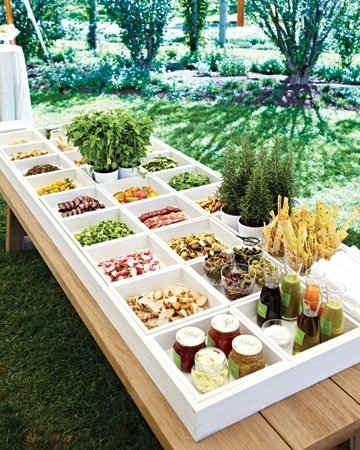 Impress everyone you know by setting up a gourmet burger bar like this one. It would be hard to pick which toppings I'd want the most.
There's a lot to love about hamburgers: they're cheap and easy to make, and they taste good. But if you want something more than just a plain old patty of ground beef on a bun, go for gourmet burgers! These tasty treats are guaranteed to please any palate, from traditional bacon cheeseburgers with caramelized onions and tomato sauce, to vegan black bean quinoa patties topped with salsa. With so many different types of gourmet burgers available, there's no reason to ever go back to boring old bacon cheeseburgers again.
There are plenty of ways to find out how to make gourmet burgers: just check out your speciality grocery store, or gather all your friends and family and ask them for tips! You'll be able to come up with some great ideas for gourmet burgers as long as you know the basic ingredients and terms used.
Ingredients:
Vegetables (onions, lettuce, tomatos, pickles)
Cheese (cheddar or cheddar)
Meat (ground beef, turkey, veggie burgers)
Buns (wheat or buns of choice)
condiments (ketchup, mustard, ketchup and BBQ sauce - for bacon cheeseburgers)
Instructions:
Warm up the buns in the oven
Sauté onions and add to hamburger mixture when making patties.
Add cheese to the hot patties.
For a bacon cheeseburger add chopped bacon on top of the patty after cooking.
Put a few rings of the onion, a ring of tomato and a couple of thin slices of a pickle on top of the patty
Add your condiments before covering the patty with the top bun.
---
17

Grilled Caprese Grilled Chicken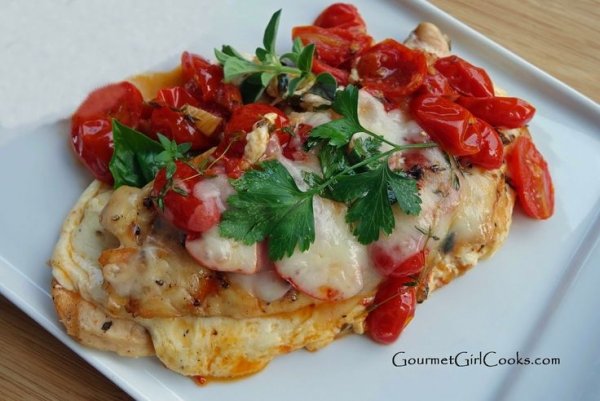 Jazz up a plain boring chicken breast by topping it with tomatoes, mozzarella cheese and fresh basil. Tasty!
This is a great grilled chicken recipe. It's fresh, juicy, with warm summer flavors of tomatoes, basil and honeydew melon.
This scrumptious dish can be prepared in under 30 minutes with pre-buttered aluminum foil, making it simple to throw together on the BBQ when you are short on time.
Ingredients:
1 Chicken breast (cut into 1 inch cubes)
2 tbsp Butter (melted)
1 small tomato (sliced into 8-12 slices)
8-12 Basil leaves (chopped fine)
3/4 cup of honeydew melon (sliced and chopped)
1/2 tsp salt and pepper to taste.
For Sauce:
3 tbsp of butter (melted)
Salt and pepper to taste.
Directions:
Marinate the chicken pieces for an hour before grilling in melted butter, salt and pepper.
Grill chicken cubes till cooked through on medium-heat for about 5 to 10 minutes.
Turn the flame down to low, place the grilled chicken cubes on aluminum foil, top them with sliced tomato, chopped basil leaves, honeydew melon slices and drizzle with melted butter sauce. Wrap everything completely by tucking edges under each other well.
Grill for a further 10 to 15 minutes or until done.
Remove from grill, serve with warm bread.
Garnish with additional basil leaves and enjoy!
Notes:
This grilled chicken can be made with thighs or other types of poultry breast that you like.
Boneless chicken breasts are better than bone in because it will be very dry when cooked.
You can use freshly grated parmesan cheese instead of the pine nuts to garnish the grilled chicken.
You can substitute basil leaves with fresh, chopped parsley.
You can also use other melons or vegetables that you prefer in place of the honeydew melon .
You can substitute the basil leaves with fresh parsley.
You can also omit the pine nuts if you wish to.
This recipe will be better when made an hour or more before cooking to allow the flavors to blend together.
---
18

Gourmet Homemade Pizza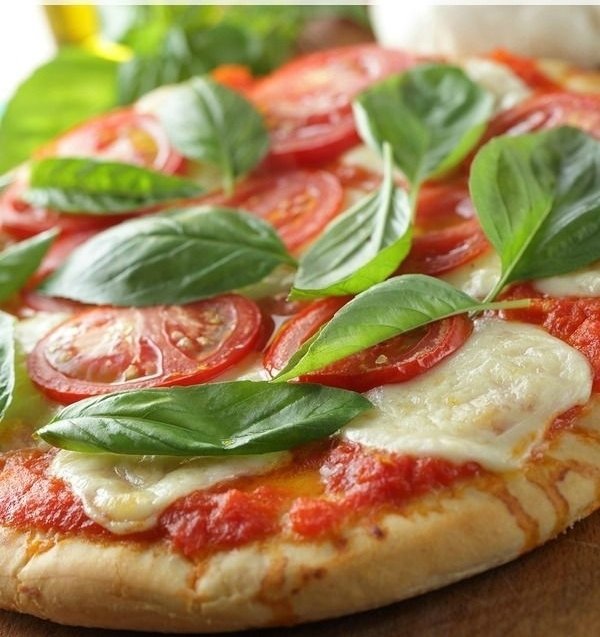 Or take those same ingredients and scatter them on a pizza crust.
If you've never made homemade pizza dough before, or if you have been trying to get away from store-bought dough, this recipe is perfect for you!
In the recipe, I've included step-by-step instructions so that even beginners can make this deliciousness at home. So what are you waiting for? It's time to break your old habits and start making your own fettuccine alfredo instead of getting it delivered! Learn how to make the pizza dough with these step-by step instructions below.
Ingredients:
1/2 cup lukewarm water (110F)
2 1/4 teaspoon active dry yeast (two 1.8oz pkgs)
1 tsp sugar
1 cup warm water (110F)
Toppings:
Marinara Sauce - 1 jar
Mozzarella - 1 lb
Heirloom tomatoes - sliced - 1 lb
Grated parmesan cheese - 0.25 lb
Fresh basil leaves - 1 pack
1 1/2 to 2 cups flour (All-purpose flour, Whole Wheat Flour, White Wheat Flour) - best texture comes from at least a 50/50 mixture of white and whole wheat. For 1 large pizza, I make one batch with half white and half whole grain. I do not recommend using 100% whole wheat flour for this recipe as the dough will be too dense and hard to roll out.
1 tsp salt
1 tbsp olive oil
What to do:
In a large bowl, combine lukewarm water, sugar, yeast & oil. Let sit for 8-10 minutes or until the mixture begins to foam. Stir in the flour & salt until the dough is well mixed. When done kneading - place on a floured surface and turn over once or twice to make sure all of the flour has been incorporated into dough. Allow to rest for 10 minutes.
After 10 minutes, continue following the above instructions to make pizza dough.
After the dough has browned (after ~20 minutes), remove the pizza dough from oven and immediately spread on sauce.
Place slices of mozzarella and heirloom tomatoes in geometrical shapes, covering the surface of the pizza.
Top each pizza with 1.5 tbsp grated Parmesan cheese. Cook for ~10 minutes or until bottom is golden brown. Sprinkle basil leaves for a beautiful presentation once the pizza is out of the oven.
---
19

Rock Lobster Tails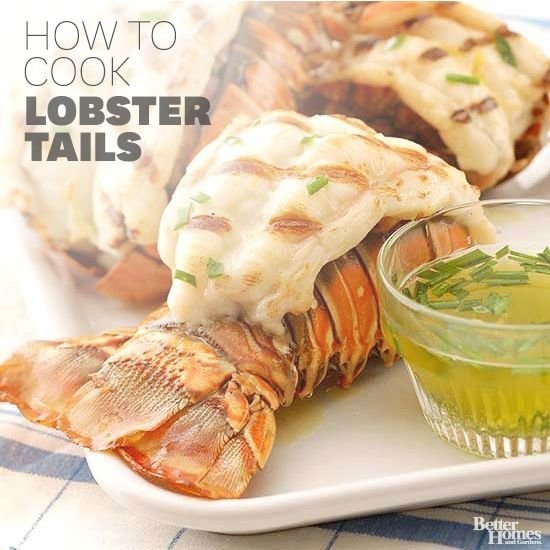 Could anything be more decadent and gourmet than a lobster tail?
If you're a seafood lover and yet don't know much about lobsters, this is the place for you! Lobsters are not only good for eating- they make delicious foods as well! Here are some recipes for lobster tails that your family will love.
In addition to being a tasty meal, there's also something special about eating what you cook. Eating your food is a shared moment between you and the elements of nature. This way, you can appreciate the process of cooking and appreciate how you've created something so wonderful for your family.
At sea's end, everything comes from the sea: fish, lobsters and even crabs! When we cook these foods we bring out their natural flavor and we can feel that we're truly enjoying ourselves. Therefore, I hope that the food I've prepared will be enjoyed by all of us.
Ingredients:
Serves 4
1 pound of lobster meat, remove the meat from the shell. 2 tablespoons olive oil
½ cup dry white wine
½ teaspoon salt, pepper to taste
¼ teaspoon ground nutmeg. 2 bay leaves. 1-2 sprigs parsley, chopped finely.
Directions:
Put the lobster meat into a bowl then sprinkle with salt, pepper, nutmeg, parsley and wine. Stir the ingredients well so everything is mixed together properly.
Set aside for 15 minutes so the flavors can seep in to the meat.
Heat oil in a pan over medium heat, sauté onions for 5 minutes or until golden brown.
Add in the lobster meat, add in the wine mixture and add in the seasonings.
Stir everything together and let it simmer for 10 minutes, covered.
Add water if needed if you want a tastier sauce.
Simmer for 10 minutes without uncovering.
Turn the heat down to low, cover the pan and let it steam in low heat for 10 minutes.
---
20

Baked Ravioli with Vodka Sauce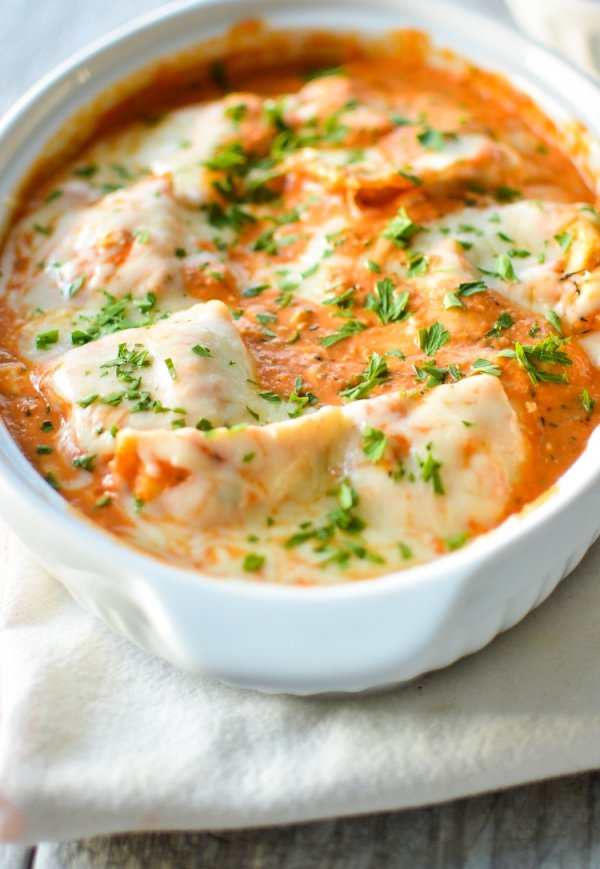 This gooey bowl of delight is something you'd expect to see on a gourmet menu.
Baked Ravioli with Vodka sauce is the perfect dish for an easy, one-pot meal. The vodka sauce can easily be adapted to use spaghetti instead of ravioli - just cook the pasta in boiling water following package instructions, place in colander and rinse with cold water.
For a faster option, you can use pre-made frozen ravioli and jarred Vodka Sauce. For those loving to cook from scratch, the recipe follows:
Ingredients:
Pasta dough for 40 ravioli (about 2 1/2 cups)
1 container (16 oz.) Ricotta cheese, drained
4 cups Vodka Sauce, divided, recipe follows.
1 cup freshly grated Parmesan cheese, divided
Directions:
Preheat oven to 400F.
Coat baking sheet with non-stick spray.
On lightly floured surface, roll pasta dough into large rectangle about 1/8 inch thick.
Place dough on prepared baking sheet.
Using large cutter, cut out as many ravioli as you can (about 40). (If you don't have a large cutter, use two smaller ones.)
Place ravioli on baking sheet. Place baking sheet in preheated oven and bake for 15-20 minutes or until golden brown and cooked through.
During last 5 minutes of cooking, sprinkle with 1/4 cup Parmesan cheese.
Remove ravioli from oven and let stand for 2 minutes.
If cooking with pasta, strain pasta, place on serving platter, drizzle with 1/4 cup vodka sauce and remaining Parmesan cheese. Serve immediately.
Vodka Sauce Ingredients:
1 tablespoon extra virgin olive oil
2 tablespoons minced onion
1/2 cup red wine tomatoes, chopped or 1 can (14 oz.) stewed tomatoes
1/2 teaspoon dried basil
2 cloves garlic, finely chopped
1 teaspoon fennel seeds
1/4 cup fresh parsley leaves, finely chopped
3 tablespoons grated Parmesan cheese
Salt and pepper to taste
Vodka Sauce Directions:
In non-stick skillet, heat olive oil. Add onion and garlic, sauté until translucent.
Add red wine or tomatoes, basil, fennel seeds and parsley. Bring to boil over medium high heat. Reduce heat to medium-low and simmer for 10 minutes.
Mash sauce slightly with wooden spoon or potato masher. Add salt and pepper to taste, stir in Parmesan cheese until well blended into sauce.
---
21

Steak and Potatoes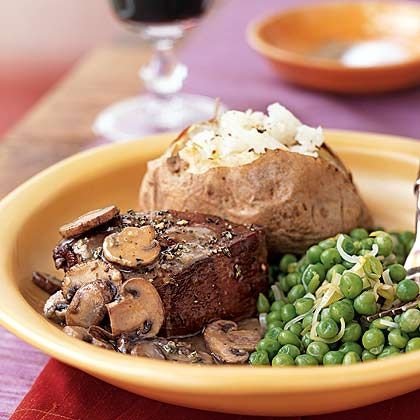 This looks like my favorite gourmet dinner when I go out to eat. Yum, right?
It starts with the steak. A ribeye, strip, or porterhouse is your best choice for a steak that can stand up to hours of cooking.
Next comes the potato. For these perfect potatoes, you'll need two russet potatoes and six tablespoons of butter; however, if you're looking for a grilled-potato recipe (one with readily available ingredients), increase the butter to eight tablespoons and make sure you use Yukon Gold potatoes instead of russets.
Ingredients:
2 large russet potatoes (about 2 pounds), peeled and sliced horizontally around 1/8-inch thick
Kosher salt
6 tablespoons (¾ stick) salted butter, melted and cooled slightly
1 teaspoon garlic-chili powder blend, such as McCormick's or Bufalo Dust (optional)
Directions:
Make the steak:
Preheat the grill to medium-high heat with the lid closed for 10 minutes. Season the beef with salt, pepper and spices.
Place the steak on the grill and cook, turning once, until medium-rare (130–140 degrees for medium-rare), about 6 minutes per side.
Remove from the heat and use an instant-read thermometer to check the internal temperature.
Let rest for 10 minutes before slicing thinly crosswise against the grain.
Meanwhile, make the potatoes:
Toss them with just enough oil to coat them in a large bowl. Sprinkle with salt and pepper to taste, then toss again.
While the potatoes are cooking, melt the butter with the garlic-chili powder in a small bowl.
Season the beef with salt and pepper to taste, then sear it in a large skillet over high heat until just browned, about 1 minute per side.
Transfer to the bowl of potatoes and toss with any leftover butter.
To serve: Divide the steak and potatoes among four dinner plates, sprinkling each portion with one quarter of the garlic-chili powder mixture.
Serve immediately.
---
22

Sweet Corn Quesadillas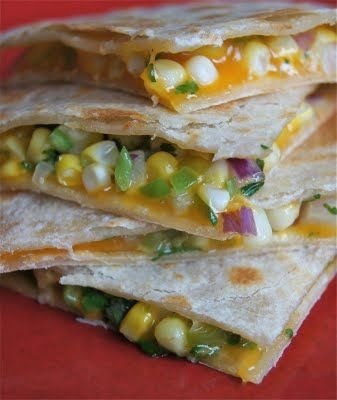 Turn this simple meal into something gourmet with corn, onions and herbs.
Come fall and winter, nothing says comfort food like a warm, gooey quesadilla. This super-easy Mexican recipe starts with freshly grated sweet corn and roasted poblanos. If you can't find either of those items or don't feel like roasting your own, just leave out the corn and poblano peppers, making this an even easier meal to prepare! Assemble your ingredients on a baking sheet before you start cooking.
Here's a traditional Mexican recipe for Sweet Corn Quesadillas. This one is so simple and delicious, you'll be sure to make it again and again!
Ingredients:
3 zucchinis, thinly sliced
4 medium onions, thinly sliced
2 cups (about 12 ounces) fresh sweet corn kernels (frozen corn works too)
1/2 cup vegetable oil (or canola oil)
6 poblano chiles, roasted and smushed (seeds removed), or 1 can (8-ounce) mild green chiles, chopped (I used Latino Sweet Salsa Mix)
1/3 cup all-purpose flour for dusting veggie peeler OR. use non-GMO corn tortillas
1/4 cup Mexican cheese blend or feta cheese, crumbled (I used Metto cheese)
1/4 teaspoon salt + more to taste
*For the Smashed Poblano Chiles: Place whole chiles directly on the oven rack, set timer for 5 minutes at 400°F. Set a kitchen towel on the counter and cover with a lid. After 5 minutes, flip them over so that they roast for another 5 minutes on the other side. You may need to rotate them a few times during the roasting process. Remove from oven and cover tightly with a kitchen towel. Let rest a few minutes before removing their skins, stems and seeds using a knife or your bare hands. If any of the chiles are still hard, place directly on the oven rack for 1 more minute to soften. Peel the skin off as you need it for this recipe.
Directions:
Preheat a grill or grill pan over medium-high heat.
In a skillet over medium heat, sauté onions and zucchini slices in oil for 5 minutes or until lightly browned.
Remove from the heat and set aside.
Preheat griddle to 350°F (190°C) Be sure it's well greased, use butter if needed. Lightly dust the vegetables with flour.
Place each vegetable one at a time on the griddle, creating veggie 'sheets'.
Turn after 1 minute.
Layer on top of the onions and zucchini with the corn, chiles, cheese and salt.
Cook each side for about 3 minutes or until desired doneness is reached.
Remove from the heat and serve with sour cream or salsa if desired.
---
23

Shrimp Bisque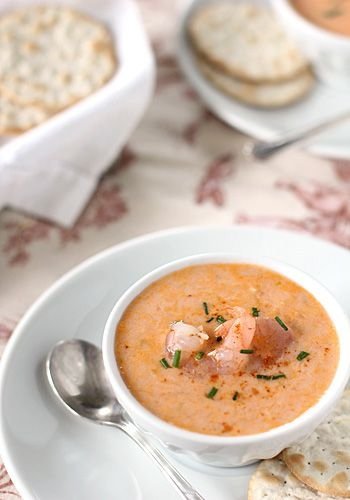 I just want to grab a spoon and start eating this. What about you?
Bisque is a class of thick soups made from shellfish, especially crab or lobster. The soup is typically rich and creamy, with rice in the recipe. It originated in 17th-century France where it was one of the many dishes that were held back for dinner guests not present at the meal. The dish became popular in America after being spread by people who fled to Louisiana during François I's reign, including Acadians who had been deported by Charles II because they refused to convert to Catholicism.
Ingredients:
4 tablespoonfuls of butter
1/4lb of lean ham diced
A pinch of pepper and salt to taste
1 tablespoonful flour
A pinch of cayenne pepper.
Directions:
Melt the butter in a saucepan.
When it's melted add the ham and cook for 2 minutes before adding the flour and cooking for another minute.
Add the liquid to the soup, cayenne pepper and salt.
Mix well and simmer for 20 minutes.
In a separate saucepan melt the butter, add the flour and cook for a minute until it's golden then add the liquid from the bisque to this mixture.
Confused
Double check your ingredients. Where are the shri...
---
24

Gourmet Burger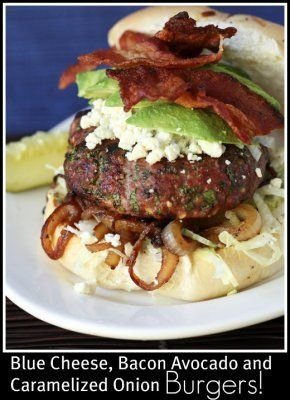 Talk about a gourmet burger! How would you even get your mouth around it?
Making your own gourmet burgers is a lot simpler than you think. The secret ingredient to any gourmet burger is salt and pepper, and it's surprisingly easy to make your own seasoning blends.
To use these seasoning blends, all you have to do is combine them in your food processor or mix them with a spoon. The powders won't clump up because they're so fine, so don't worry about it sticking together when you start mixing it in with your veggies or meat. Just give it a quick whir then combine with the meat or veggies. Once mixed, it's ready to go!
These seasoning mixes are handy because they can be used in many recipes to add flavor without making the recipe harder to follow when you want to substitute. One of our favorites, or go-to recipes when we're in a hurry to whip up something tasty are these juicy burgers.
Ingredients:
2 lb. ground beef (can substitute with turkey, bison, or venison)
1 tbsp. (or more) of salt
1 tsp. of ground black pepper
Gourmet seasoning mix
Gourmet Seasoning Mix Ingredients:
1 tsp. of ground basil
2 tsp. of ground cayenne pepper
1 tsp. of ground celery seed
2 tsp. of ground crushed red pepper flakes
1/2 a tbsp. of garlic powder
1/4 a cup of onion powder
To make this seasoned meat recipe, combine all ingredients in a bowl, and mix well with your big spoon or your hands if you feel so inclined, to get the seasoning all throughout the meat.
Cooking Directions for Burgers:
The following directions are for cooking up a large batch of burgers - just use an accurate meat thermometer to ensure that the internal temperature of the meat is above 140 degrees Fahrenheit.
Place the seasoned meat patties on the grill.
Cook them at medium heat for about 15 minutes.
Flip the burgers every few minutes to prevent burning, and to even out the cooking process. Cook until they are browned evenly, and cooked through with no pink meat inside.
When they're done cooking, remove them from the grill and let them sit for 5 minutes before eating so that the juices redistribute throughout the burger.
Serve on fresh or toasted buns with your favorite toppings.
To make this recipe healthier, you can choose to cook the meat patties in a frying pan with no oil.
To make the meat extra juicy, spray the pan with cooking oil before cooking each side of the patty.
Then use a mesh splatter screen to keep hot fat from spattering onto your hand as you flip them.
---
25

Spaghetti Squash Burrito Bowls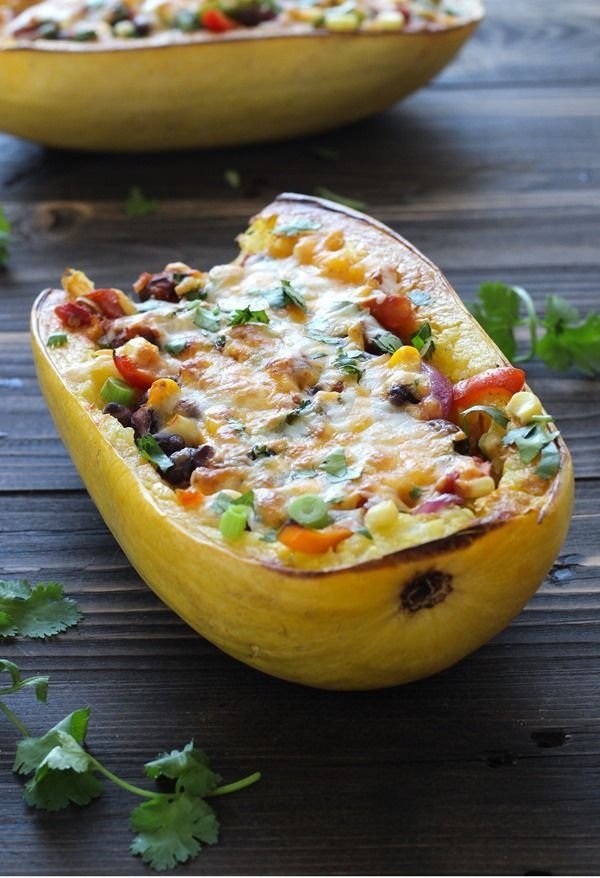 What a yummy way to eat a spaghetti squash. Doesn't this look gourmet?
What's your favorite gourmet meal? Do you have any tips for turning ordinary meals into gourmet treats?
I bet you didn't know that a spaghetti squash could actually replace a burrito tortilla! Crazy, right? The flavor is amazing and it's such a fun way to mix things up in the kitchen. If you're looking for a healthy lunch idea, this may be the one for you! I love to top mine with avocado, salsa, fresh lime juice, and cilantro.
Ingredients:
Spaghetti Squash
Bean and Veggie Burrito Style Filling:
1 can black beans, drained and rinsed
1/2 bell pepper, chopped (I used a red/green one to add color!)
1-2 cloves garlic, minced
Juice of 1 lime (about 1 tbsp)
Directions:
Preheat oven to 400 degrees.
Cut the ends off the spaghetti squash and remove the seeds - I like to cut it in half lengthwise, then slice into 2 inch long pieces.
Place the squash in a large bowl and cover with water; set aside for about 15 minutes.
After 15 minutes, drain the squash.
Place the squash on a baking sheet and drizzle with olive oil. Bake for 30-45 minutes, or until it is tender.
While the spaghetti squash is baking, prepare the filling by blending the black beans, bell pepper, garlic, lime juice, salt and pepper in a food processor or high speed blender until smooth and well incorporated.
Once the squash is done baking, shred it with a fork. Divide the filling between the squash "tortillas" and top with your favorite burrito bowl toppings, such as avocado, salsa, fresh lime juice, and cilantro!
---
Comments
Popular
Related
Recent