7 Mouthwatering Acorn Squash Recipes ...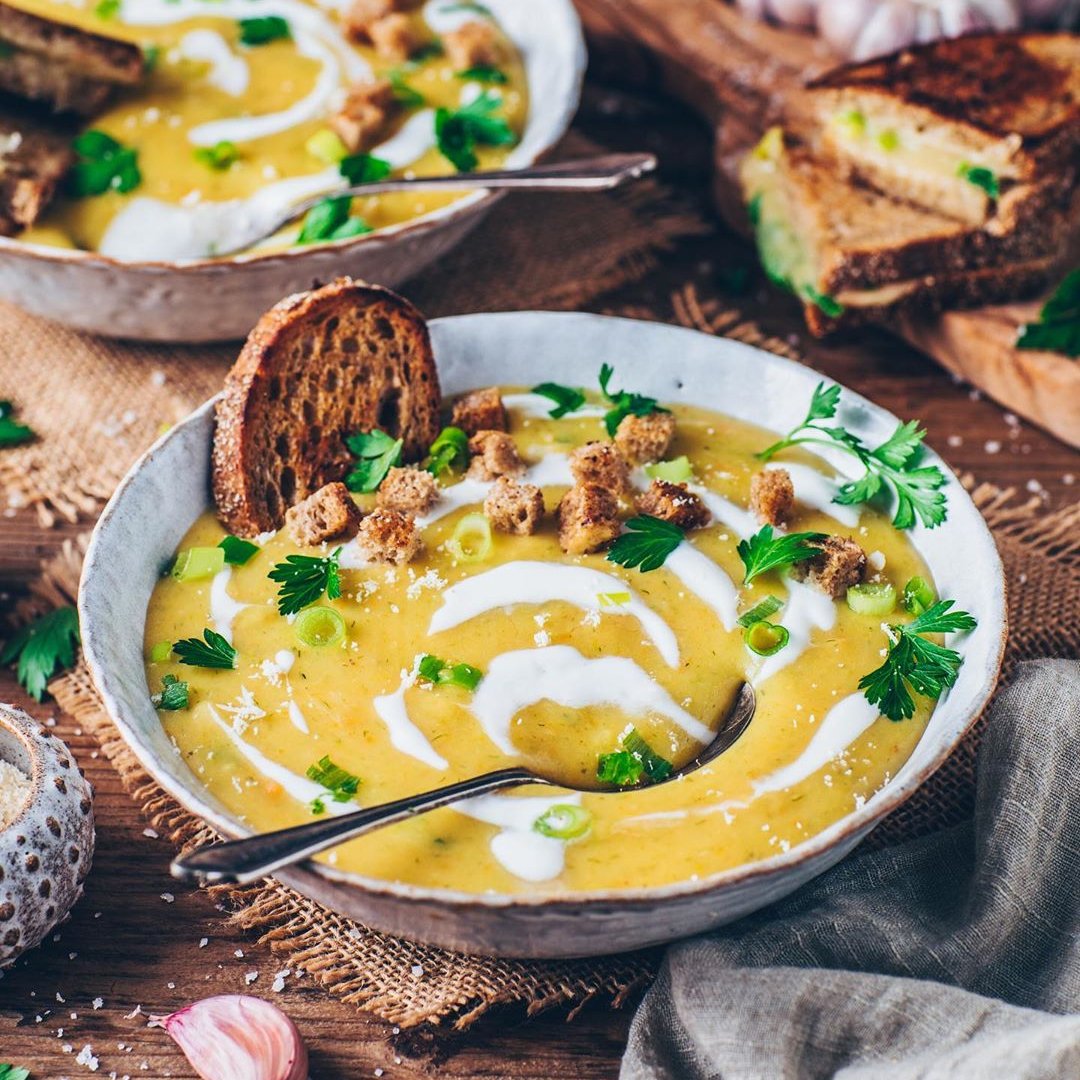 Now is the time for all kinds of foods to come into season, which makes acorn squash recipes something you'll love having right now. Acorn squash is super delicious and really easy to work with so you can use it to prepare a huge amount of yummy meals. I love serving acorn squash recipes for the holidays and your guests will love them too. Here are some good ones to get you started.
1.

Roasted Acorn Squash and Garlic Mash
If you've wanted acorn squash recipes you could serve as side dishes, this is the one for you. It has a really great garlicky taste that pairs really well with the mild flavor of the acorn squash.
Ingredients:
2 acorn squash, cut in half and seeded
1 head of garlic, wrapped in foil
7 tablespoons butter, unsalted
1 diced leek
1 Gala apple, cored, seeded and chopped
Salt
1 teaspoon thyme leaves, chopped
Directions:
Place the acorn squash, cut sides down in a baking dish with water. Roast the squash and the garlic for 1 hour at 400 degrees. Melt 1 tablespoon butter over medium-high heat and cook the leeks and apple for 6 minutes. Season with salt and set aside. Remove the flesh of the squash and put it into a bowl, then mash it until it's smooth. Add the roasted garlic to the squash and then the other 6 tablespoons butter. Mash well. Season with salt and thyme. Top with the apple mixture and serve.
2.

Crispy Acorn Squash Rounds
If you love French fries, you are going to love these crispy gems. They are much healthier and have loads of tasty flavor.
Ingredients:
2 acorn squash, sliced into rounds
½ teaspoon salt
½ teaspoon pepper
¼ teaspoon chili powder
¼ teaspoon nutmeg
1/3 cup pastry flour
½ cup cornmeal, finely ground
¾ cup panko breadcrumbs
6 chopped sage leaves
3 lightly beaten egg whites
Directions:
Preheat the oven to 425 degrees and cover a baking sheet with foil. Coat a wire rack with cooking spray and place it on the baking sheet. Peel the squash and season with salt, pepper, chili powder and nutmeg. Combine the flour, sage, cornmeal and panko in a bowl. Dredge the squash in the egg whites then the flour mixture and place on the wire rack. Lightly coat the finished rounds with cooking spray. Bake for 20 minutes on each side.
3.

Roasted Acorn Squash and Gorgonzola Pizza
I love pizza and it's always fun to try new topping combinations. If you feel the same, this version is well worth the effort. It's totally tasty, I promise!
Ingredients:
1 pound of acorn squash, peeled, halved, seeds removed and cut into slices
2 tablespoons syrup
1 tablespoon olive oil
1 teaspoon red pepper flakes
½ teaspoon salt, divided
½ teaspoon pepper, divided
1 pound pizza dough
1 cup shredded mozzarella cheese
½ cup Gorgonzola, crumbled
1 cup arugula
Squeeze of fresh lemon juice
Directions:
Toss the squash slices with the oil, syrup, red pepper flakes and a ¼ teaspoon each salt and pepper. Spread the squash on a baking sheet covered with parchment paper. Bake at 375 degrees for about 20 minutes. Roll out the dough on a piece of parchment paper. Place on a baking sheet and cover with both cheeses. Bake at 375 for about 30 minutes. Place the squash on the cooked cheese, then top with arugula, lemon juice and remaining salt and pepper. Slice.
4.

Acorn Squash with Bacon and Brown Sugar
Any recipe with bacon in it is a winner in my book. In this recipe, it adds just the right amount of saltiness to the dish. Yum!
Ingredients:
3 acorn squash, cut in half the short way and seeded
3 tablespoons butter
6 tablespoons brown sugar
6 slices bacon
Directions:
Add ½ tablespoon of butter, 1 tablespoon brown sugar and a slice of bacon to each acorn squash cavity. Place the squash on a baking sheet covered in foil. Bake at 375 degrees for about 30 minutes, or until soft.
If you need an easy side dish, this is the one for you. It's easy to prepare and makes for a great presentation when you serve it.
Ingredients:
2 acorn squash
4 tablespoons melted butter
4 tablespoons honey
1 teaspoon ginger
1 teaspoon black pepper
½ teaspoon nutmeg
½ teaspoon salt
Directions:
Cut the squash into ¾-inch slices and remove the seeds. In a bowl, stir together the butter, honey, ginger, pepper, nutmeg and salt. Brush the squash with the butter mixture and grill on indirect heat for about 45 minutes, basting and turning a couple of times.
Who doesn't love bisque? It's elegant and perfect for cold fall nights. No matter who you serve it to, they are going to love it.
Ingredients:
3 pounds acorn squash
1 tablespoon butter
1 finely chopped onion
Salt and pepper
½ teaspoon fresh thyme
14 ½ ounces chicken broth
½ cup half-and-half
Directions:
Microwave the squash for 8 minutes or until soft, then cut in half. Remove the flesh. Heat the butter over medium heat in a large saucepan and add the onion, season with salt and pepper. Cook until soft, then add the squash, thyme, chicken broth and 2 cups of water. Bring to a boil, reduce heat and simmer for 10 to 12 minutes. Puree the mixture until smooth and put back into the pan. Add the half-and-half and season with salt and pepper. Garnish with thyme and serve.
I cook gluten free because one of my kids is intolerant. If you're in the same boat, this is a recipe that is safe to eat. And it tastes good too!
Ingredients:
2 acorn squash, cut in half and roasted until soft
½ pound browned pizza meat (sausage, ground beef, etc.)
1 cup pizza sauce
1 cup mozzarella cheese
Directions:
Fill the squash cavities with an equal amount of pizza sauce and meat. Then top with even amounts of the cheese. Bake at 350 degrees until hot and the cheese is melted.
Don't you just love acorn squash? Me too! Which recipe will you try first?
{{#comments_count}} Show Commnents ({{comments_count}}) {{/comments_count}}