16 Beautiful Cookbook Covers to Inspire You in the Kitchen ...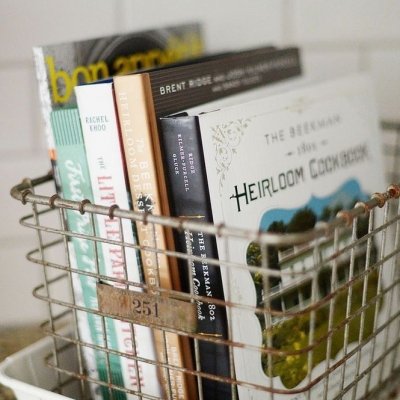 Sometimes when I'm in a cooking-routine rut, I like to salivate over cookbook covers to help me come up with new ideas. Just looking at the lovely photos of delicious meals is enough to make me unload my refrigerator and start cooking. And if cookbook covers aren't enough, you can always crack them open and find something inside that you want to prepare. Who knew cookbooks could be so inspiring?
1.

Williams Sonoma Salad of the Day
Via Williams-Sonoma Salad of the Day ...
This is one of my favorite cookbook covers because I love salad. And because there are so many tasty ways to make a salad, you can try virtually anything. And this cookbook gives you a new idea for every day of the week.
2.

The Truck Food Cookbook
Via The Truck Food Cookbook | ...
Do you love truck food? Well, this is the cookbook for you. Recreate your favorite street food by copying recipes from some of the most famous food trucks in America.
3.

Preserving by the Pint
Via 5 Best cookbooks for summer ...
I tried my hand at canning this summer and it's surprisingly easy. You can preserve a huge variety of foods, which gives you something totally yummy to eat all winter long.
4.

The Official Tailgating Cookbook
Via Get Your Game On: Our ...
There are some delicious recipes in this little gem! And you don't even have to be tailgating to enjoy them. Though it helps!
5.

The Pioneer Woman Cooks a Year of Holidays
Via Real Simple - Ideas, Tips, ...
If you want to cook up yummy meals for all the holidays, you must try this cookbook. The recipes are easy to carry out and each of them is worthy of a celebration.
6.

Home Cooking with Trisha Yearwood
Via Good Food from Trisha Yearwood
You might know her better as a country music singer and wife of Garth Brooks, but it turns out that she has cooking background and does Southern food justice.
Via Favorite Cookbooks Since 1995 - ...
Ina Garten, otherwise known as the Barefoot Contessa, has a ton of cookbooks, but this one tops the list. There are tons of yummy French recipes to impress your friends and family.
Via 16 Gifts for the Book-Loving ...
Fans of the Chopped television show will love remembering their favorite episodes by cooking up some of the winning recipes.
9.

1,000 Gluten-Free Recipes
Via 1,000 Gluten-Free Recipes
My middle son has to eat gluten-free so finding a cookbook full of safe recipes is one of my favorite things. Even if you aren't gluten-free, you'll love what this book has to offer.
10.

The Taste of Country Cooking
Via A Hunger Satisfied: Life Stories ...
You know this book is chock full of delicious meals. You will love each and every one.
Via 19 Cookbooks That Will Improve ...
When it comes to food, we all want plenty of it, right? Then this is the cookbook you must add to your collection. Just look at that cover - ohh, pomegranate!
Via Twitterature (June 2013 Edition)
Sounds good to me because I love to eat! This cookbook has a bunch of gourmet recipes that are simple to prepare and that taste out of this world.
Via Crafts & Activities | Babble
If you love canning as much as I do, this is another great cookbook to help you get going.
16.

Giada's Feel Good Food
Via Bustle
This cookbook from famous Food Network chef is full of realistic recipes that you can make at home.
What's your favorite cookbook? I have sort of a collection issue with cookbooks because it is very hard to turn them down. But, the more you have, the more access to recipes you have, right? Are you going to check out one of these cookbooks soon?
{{#comments_count}} Show Commnents ({{comments_count}}) {{/comments_count}}