I've always been a fan of hummus, which in my opinion is the perfect condiment, considering the endless ways to use hummus in any kind of meal you can think of. Okay, I haven't delved into making hummus ice cream or anything crazy like that, but I will say I've given this multipurpose food quite a run for its money in my kitchen! Check out these creative, yet simple ways to use hummus that I love. I've found most of them online throughout the years and love making spin off recipes of these in my own kitchen, so feel free to elaborate on these ideas based on your preferences. If you have one you'd like to share, be sure to do so in the comments section below!
---
1

Bring It to Breakfast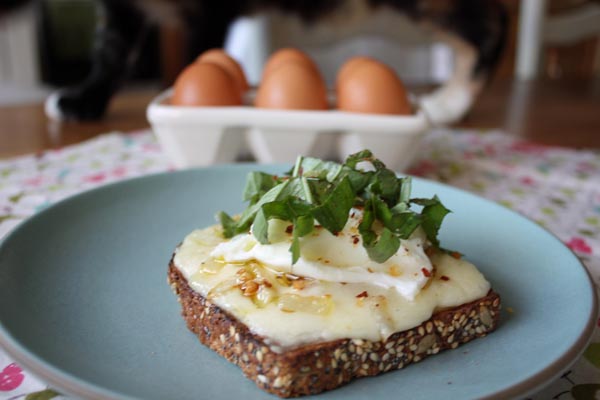 Did you know one of the best ways to use hummus in your meals is at breakfast? Don't restrict this incredible dip to just pita wedges and raw veggies; serve it up at breakfast in this protein-rich meal that takes just three minutes to make total and is full of healthy vitamins, minerals and antioxidants.
****
Ingredients:
1 egg
2 egg whites
1/2 cup chopped broccoli
1/4 cup shredded carrots
2 tablespoons roasted red pepper hummus
Directions:
Put egg, egg whites, broccoli, and carrots (or other veggies) in a microwave-safe bowl and cook for 2 minutes. Stir and cook a few more seconds, if needed. Mix in hummus and serve.
Source: shape.com
---
2

Sub It for Alfredo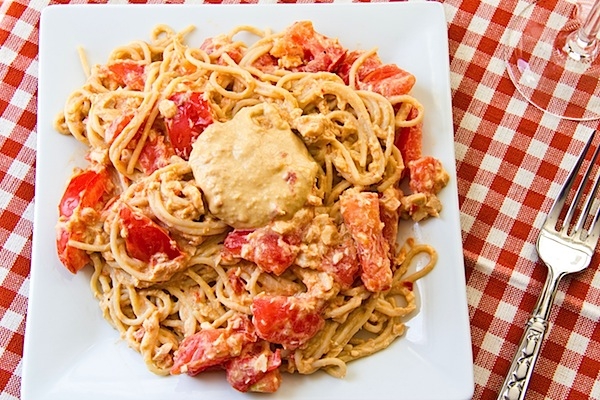 One amazing way to use hummus is to make a pasta sauce in place of your Alfredo sauce! Alfredo is so calorie dense, and what most people tend to like about Alfredo is that creamy factor. Well, I have great news! Hummus has that amazing silky texture that adds a wonderful creaminess to recipes, which makes it perfect for using as a pasta sauce. Follow this simple pasta recipe next time you want a delicious pasta sauce in seconds!
Ingredients:
8 oz. brown rice spaghetti (or pasta of your choice)
1 tsp extra virgin olive oil
2 medium tomatoes, chopped
1-6 oz can boneless wild Alaskan salmon
2/3 cup prepared roasted red pepper hummus (or make your own!)
salt and pepper to taste
Directions:
Bring 6 cups of water to boil in a large pot. Cook pasta on high heat for 12 minutes or until al dente. Drain.
In the same pot, sauté chopped tomatoes with extra virgin olive oil for 5 minutes. Remove from heat.
Add cooked pasta, salmon and hummus and stir until fully combined. Serve with extra hummus if desired.
Source: livelaugheat.com
---
3

Make Chicken Salad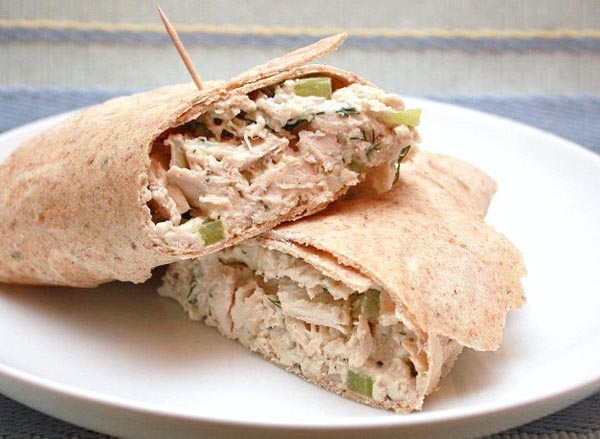 Instead of using mayo in your chicken salad, use hummus. I also love making tuna salad this way. Spinach artichoke hummus is my favorite kind to use, as is original flavored hummus and garlic flavored hummus varieties. Not only does this up the protein count, but it minimizes saturated fat content as well. Try this tasty recipe as a great example!
Ingredients:
1 cooked chicken breast, chopped
1 tablespoon dried cranberries
1/2 apple, chopped
2 tablespoons slivered almonds (or chopped walnuts)
1 tablespoon chopped onions
1 stalk celery, chopped
2 tablespoons low-fat Greek yogurt
1 squeeze lemon juice
Salt and pepper to taste
2 tablespoons hummus
Lettuce
Additional vegetables (optional)
Directions:
Mix everything but the last two ingredients together.
Serve mixture in a lettuce leaf wrap-style or as salad atop lettuce with your favorite vegetables.
Source: shape.com
---
4

Make Salad Dressing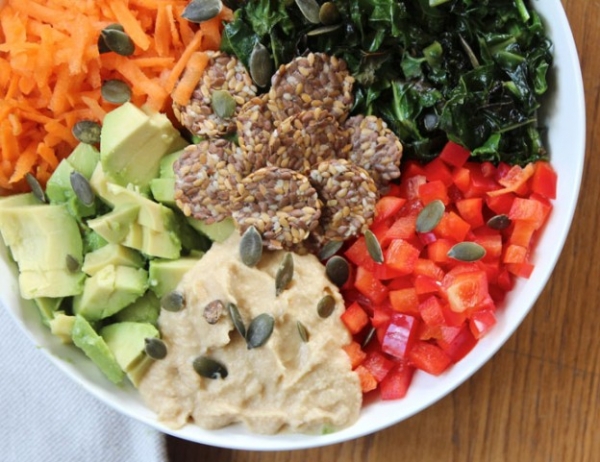 One of my favorite tricks to make a healthy salad dressing that doesn't contain lots of oils, sugar or preservatives, is to use 2 tbsp. hummus and blend it with 1 tbsp. apple cider vinegar, and add cracked black pepper as well as a squeeze of lemon. It makes a delicious salad dressing recipe that can be used on veggies, or even used as a meat marinade. I absolutely adore this recipe from Deliciously Ella, who uses hummus in an incredible salad dressing recipe. I know once you try it, you'll become as addicted as I am!
**Ingredients: **
For the bowl:
5 big handfuls of kale (it will shrink once cooked)
1 large red bell pepper
1 avocado
1 large carrot
a handful of pumpkin seeds
a large dollop of hummus
For the dressing:
2 tbsp. of water
1 tsp. of hummus
1 tsp. almond butter
1 tsp. of manuka honey/or pure maple syrup
1 tsp. apple cider vinegar
1/2 tsp. tahini
dash of salt
Directions:
Simply tear up the kale leaves into bite sized pieces, then drizzle with olive oil and salt and roast for 5-10 minutes at 180C, until the leaves are ever so slightly crispy but not burnt.
While the kale cooks peel and grate the carrot and chop both the red pepper and the avocado into small cubes, discarding their respective stones and seeds.
Next make the dressing by adding all the ingredients to a mug and whisking with a fork until smooth.
Once the kale is cooked assemble all the ingredients into a bowl, drizzle the dressing evenly, sprinkle a handful of pumpkin seeds and a little salt and then enjoy!
Source: deliciouslyella.com
---
5

Sandwich Spread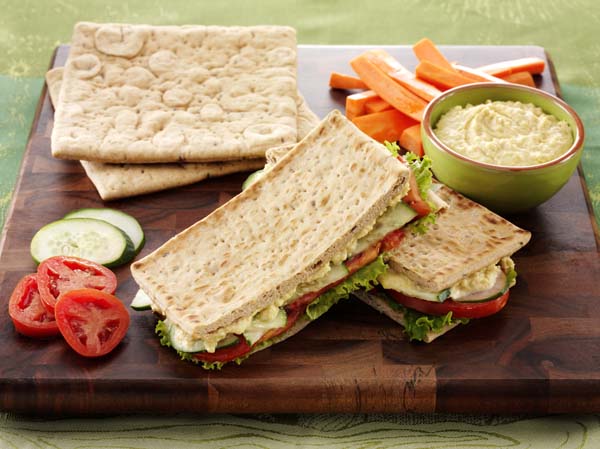 Using hummus on your sandwich as an alternative to mayo or nut butters is a great way to lower the fat content and add a distinct flavor. One great combo includes some hummus with sliced tomatoes, romaine lettuce, spinach and either canned chicken or tuna, or use organic deli turkey slices such as Applegate Farms. I also like using a few avocado slices and salsa for a veggie sandwich alternative. Try this tasty sandwich recipe I like as a go-to option for a quick meal that is satisfying, creamy, and so filling!
Ingredients:
3 tablespoons plain fat-free yogurt
2 tablespoons water
1 tablespoon lemon juice
1 tablespoon tahini (sesame-seed paste)
1/2 teaspoon ground cumin
1/4 teaspoon salt
2 garlic cloves, peeled
1 (15 1/2-ounce) can chickpeas (garbanzo beans), drained
12 (1-ounce) slices whole-wheat bread
2 cups shredded Bibb lettuce
8 (1/4-inch-thick) slices tomato
4 (1/4-inch-thick) slices red onion
1 cup (1/8-inch-thick) slices cucumber
4 cups alfalfa sprouts (4 ounces)
Directions:
Combine first 8 ingredients in a food processor; process until smooth.
Spread 2 tablespoons hummus over 1 bread slice; top with 1/2 cup lettuce, 2 tomato slices, 1 onion slice, 1 bread slice, 1/4 cup cucumber, 1 cup sprouts, and 1 bread slice.
Cut sandwich diagonally into quarters; secure with wooden picks. Repeat procedure with remaining ingredients.
Source: myrecipes.com
---
6

Pita Pizzas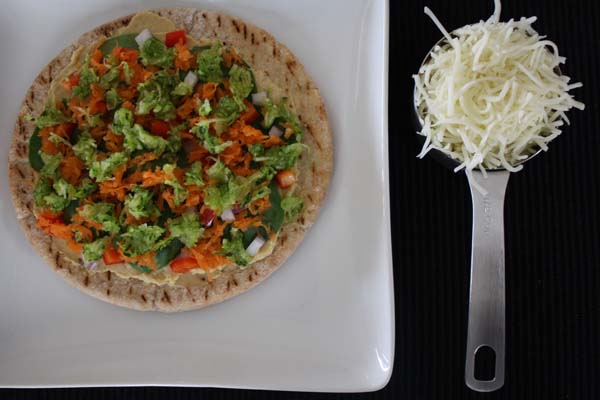 This recipe is great to make, especially for kids. It uses tons of veggies, and a whole wheat pita to make pita pizza. Mix hummus with some tomato sauce for an alternative to cheese, or even sprinkle a little Parmesan on top of the entire dish if you want. You could also use low carb wraps here if you're looking to watch your total carb intake. Either way, this hummus creates the richest tasting pita pizza you'll ever have. It also lowers the fat and calorie content of your pizza as an alternative to cheese.
****
Ingredients:
1/4 yellow squash, cut lengthwise
1/4 green zucchini, cut lengthwise
1/2 red bell pepper
4 asparagus tips
1 6-inch whole-wheat pita
2 tablespoons Mediterranean hummus (check the ingredients for paprika and olive oil which add flavor)
Directions:
Grilled veggies or roast in a 350-degree oven (place on a foil-lined pan and mist with olive-oil cooking spray) for 30 minutes, or until slightly brown. Slice veggies into desired-size pieces. Cover pita with hummus and top with veggies.
Source: shape.com
7

Use It in Your Tacos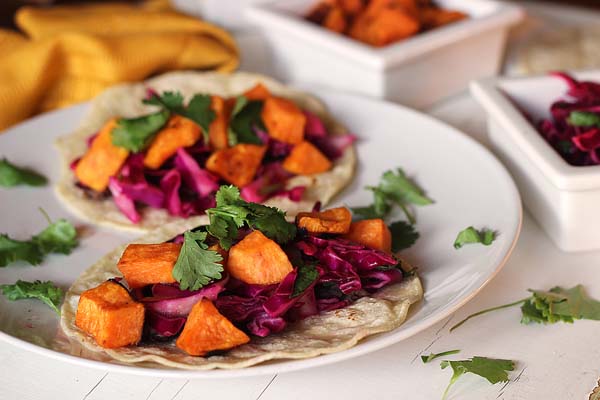 This recipe takes hummus to a whole new level, using it in a taco recipe. I've never thought to do this on my own, but let me tell you, it is incredibly satisfying and so delicious this way. You could use any variety of hummus you like, though this recipe uses an edamame version for extra plant protein. I actually sub in flaxseeds for the breadcrumbs as a lower carb alternative and use low carb, sprouted grain tortillas instead of regular, but feel free to use what works for you!
****
Ingredients:
1/4 cup Eat Well Enjoy Life Wasabi Edamame Hummus (or your favorite flavor)
2 to 3 tablespoons plain 0% or 1% Greek yogurt
2 tablespoons rice vinegar
2 cups thinly sliced red cabbage
4 pieces (5 ounces each) firm white fish, such as tilapia or halibut
Salt and pepper to taste
1/2 cup panko breadcrumbs
3 tablespoons vegetable oil
4 soft whole-wheat or multigrain taco shells
Fresh lemon juice
Directions:
Stir together hummus, Greek yogurt, and vinegar in a medium bowl. Add cabbage and let stand 15 minutes.
Sprinkle fish fillets on both sides with salt and pepper. Place panko in a shallow dish. Dredge fish in panko, turning to coat evenly. Heat oil in a heavy, large nonstick skillet over medium-high heat. Add fish and cook until golden brown and opaque in center, about 4 minutes per side.
Meanwhile warm taco shells in a toaster oven. Top each taco with fish and a squeeze of fresh lemon. Spoon hummus slaw over fish and serve.
Source: shape.com
Now, I want to hear from you! If you love hummus, tell me how you like to eat it! Share your ideas if you have any recipes too. I'm always looking for ways to enjoy my favorite condiment!
---
Comments
Popular
Related
Recent