Sometimes, many of us only need to cook for ourselves so meals in a mug are a perfect solution! There's no need to spend the time and money to prepare a meal that only you get to enjoy. Instead, try some of these 7 meals in a mug recipes to get a perfectly portioned (and delicious) meal every time! They make perfect dorm room meals as well as a great solution for not wasting food!
---
1

Mac & Cheese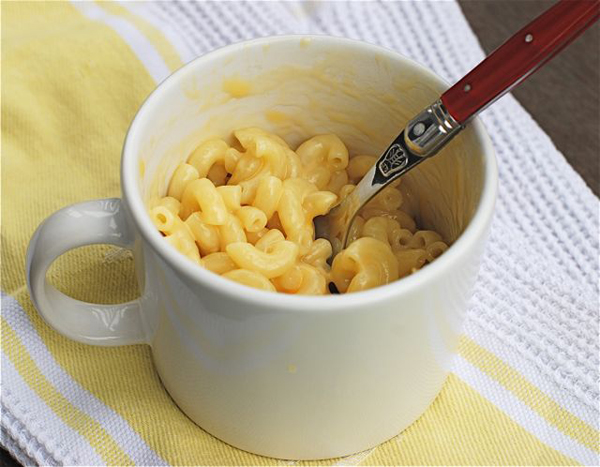 No need to make an entire box of mac & cheese when you have these meals in a mug recipes! Not only will you save on calories by not being tempted to eat the whole box of the pre-made stuff, but it also uses better ingredients than you'd be using! All you need is four ingredients and you've got the perfect portion of instant mac & cheese!
Ingredients:
1/3 cup pasta
1/2 cup water
1/4 cup 1% milk
1/2 cup shredded cheddar cheese
Directions:
Combine the pasta and water in a large mug. Microwave on high for two minutes, then stir. If you don't want the water to overflow, just make this in a very large microwaveable bowl. Repeat this for at least 2 to 4 more minutes, stirring at each 2-minute interval. The water should absorb completely and the pasta will be cooked through.
Remove it from the microwave and stir in the milk and cheese. Microwave for another minute. Stir the cheese thoroughly into the pasta and eat up!
Source: babble.com
---
2

Nutella Mug Cake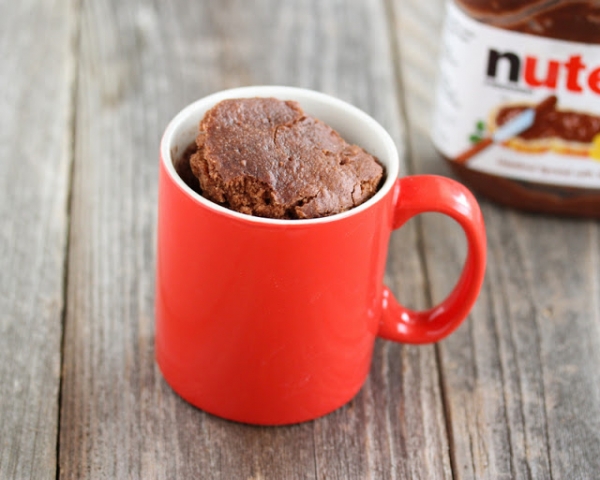 Who doesn't love Nutella? This mug meal is super easy to make and perfect for a late night sweets craving! All you have to do is mix all of the ingredients below, microwave, and you're done! No more settling for an unsatisfying treat when you can have Nutella cake in a few minutes!
Ingredients:
4 tablespoons self-rising flour
4 tablespoons sugar
1 egg
3 tablespoons cocoa powder
3 tablespoons Nutella
3 tablespoons milk
3 tablespoons vegetable oil
Whipped Cream Topping (if desired)
Directions:
Combine all ingredients in a large coffee mug. Whisk well with a fork until smooth.
Microwave on high for 1½– 3 minutes.
Enjoy!
**Source: **livelovepasta.com
3

Coffee Cup Quiche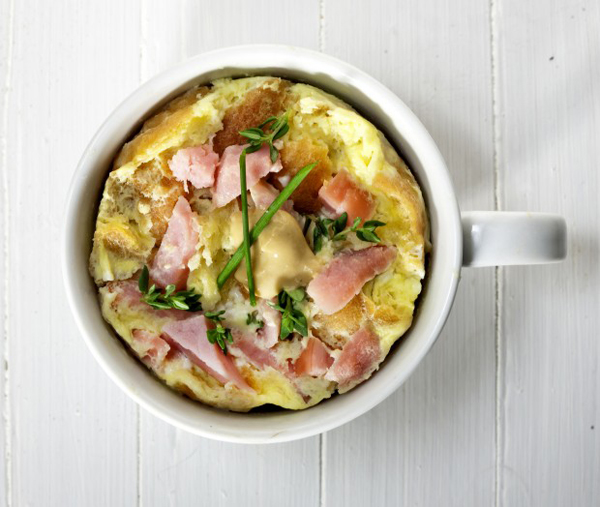 In the mood for some quiche but not in the mood to make an entire "pie" of it for just yourself? Then make it in a mug! It's the perfect way to start your morning and you can fill it with whatever you have in your kitchen! This recipe uses prosciutto or ham but feel free to make a vegetarian version with spinach!
Ingredients:
1 egg
1 1/2 tablespoons milk
Salt
Ground black pepper
1/4 of a bagel (or similar amount of French bread, etc.)
2 teaspoons cream cheese
1/2 slice prosciutto or ham
Fresh thyme leaves or fresh chopped chives
Dijon mustard
Directions:
Beat egg and milk together with a fork in a coffee cup, adding salt and pepper to taste. Tear bread into dime-size pieces; stir in. Add cream cheese; stir in. Tear or cut prosciutto into small pieces; add to mixture. Sprinkle with thyme.
Microwave on high until done, about 1 minute 10 seconds. Garnish with mustard and fresh thyme or chives.
Source: stltoday.com
Lezlie
looks amazing, can't wait to try it :)...
---
4

Cookie in a Cup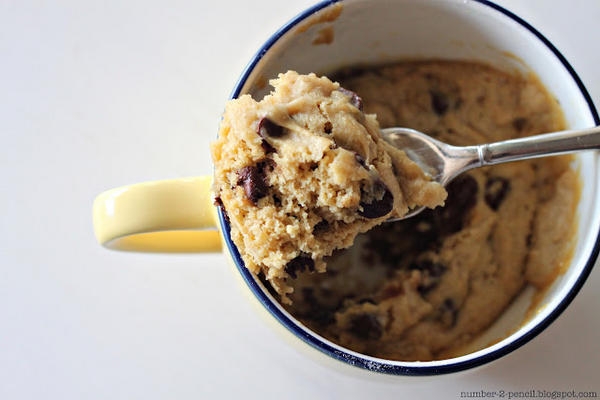 I love cookies but I don't make them often because I feel as though I'm either going to eat the whole batch of them, or they are going to go to waste. So instead, I learned to make a cookie in a cup! There are a few different ways to make a cookie in a cup but here's one to start you off.
Ingredients:
1 Tablespoon Butter
1 Tablespoon Granulated White Sugar
1 Tablespoon of firmly packed Dark Brown Sugar
3 Drops of Vanilla Extract
Small Pinch of Kosher Salt
1 Egg Yolk
Scant ¼ of All Purpose Flour (slightly less than ¼ of a cup)
2 heaping tablespoons of Semi Sweet Chocolate Chips
Directions:
Start by melting your butter in the microwave. Butter should just be melted, not boiling.
Add sugars, vanilla and salt. Stir to combine.
Separate your egg and add the yolk only to your cup. Stir to combine.
Add flour, then stir again. Measure a scant, slightly less than full, ¼ cup of all-purpose flour.
Add the chocolate chips, and give a final stir. Now your mixture will look like cookie dough.
Cook in microwave 40-60 seconds, start checking for doneness at 40 seconds. Mine takes 50 seconds. Do not cook past one minute, just like a regular cookie, this will continue cooking as it cools. If the cookie is dry or cake like, try less time.
Serve warm.
**Source: **number-2-pencil.com
---
5

Meat Loaf in a Mug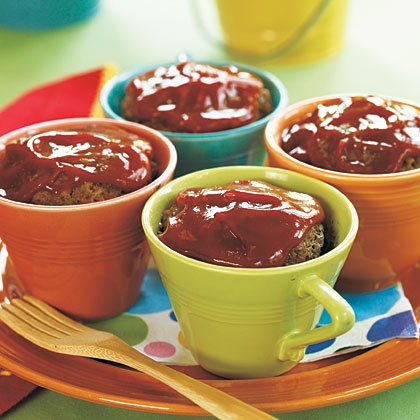 This meat loaf in a mug is the perfect solution for a quick and easy single serving dinner! Serve with some mashed potatoes and canned veggies to have the perfect portion of a nice "home cooked" meal. If you're away at college, this can be the perfect thing to make you feel like you're right at home!
Ingredients:
2 tablespoons 2% milk
1 tablespoon ketchup
2 tablespoons quick-cooking oats
1 teaspoon onion soup mix
1/4 pound lean ground beef
Directions:
In a small bowl, combine the milk, ketchup, oats and soup mix. Crumble beef over mixture and mix well. Pat into a microwave-safe mug or custard cup coated with cooking spray.
Cover and microwave on high for 3 minutes or until meat is no longer pink and a thermometer reads 160°; drain.
Let stand for 3 minutes. Serve with additional ketchup if desired.
**Source: **tasteofhome.com
---
6

Gluten-Free Bread in a Cup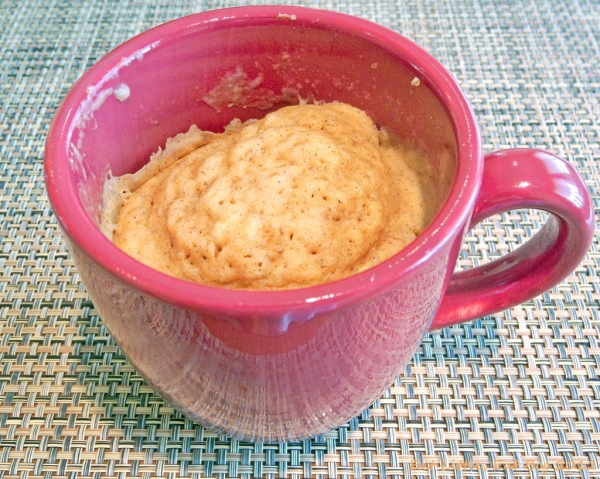 This isn't exactly a meal in a mug, but it is definitely a main component of a meal! If you've run out of bread, or are tired of the store-bought kind, make your own! Baking bread in a mug is fast and easy, plus it's the perfect size for making small PB&J sandwiches! Try toasting them in the morning for a more delicious toast option!
Ingredients:
1 large egg
1 tsp water
3 Tablespoons buttermilk - or 3 Tablespoons milk substitute (almond, rice, soy) plus 3/4 tsp vinegar
1/3 cup Pamela's Gluten-Free Baking Mix (Gluten-Free Bisquick or Bisquick All-Purpose Baking Mix would work as well)
1 tsp sugar (1 tsp honey, agave, molasses or 1 Tablespoon applesauce works well as a sweetener substitute)
Directions:
Combine the wet ingredients first and then incorporate the baking mix and the sugar (makes the bread softer) and stir until well combined. Use a rubber spatula or your finger to push the dough down into the cup and clean the surface of any extra batter.
Put the cup in your microwave and cook for 85 seconds (cooking times may vary). Prepare to be amazed when the timer goes off. What you will have in that cup is warm, soft bread! Transfer the bread onto a rack to cool then cut into three slices.
Source: onegoodthingbyjillee.com
---
7

Coffee Cup Chilaquiles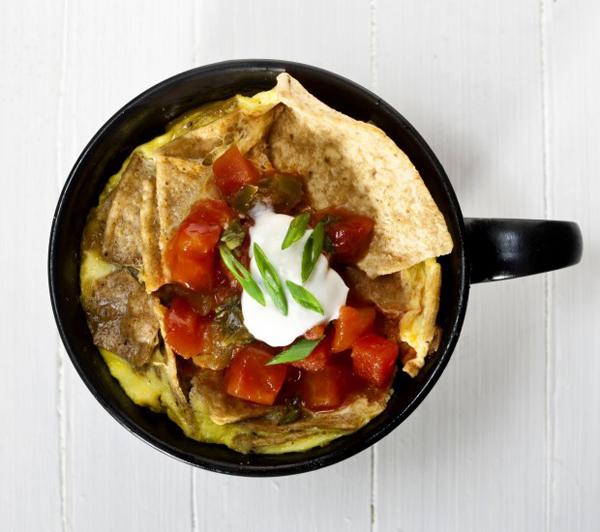 Now it's time for a Mexican spin on meals in a mug! If you have some leftover ingredients from taco night around your kitchen, then this is the perfect solution! It can also be a great salty snack for a late night craving. Don't forget that sour cream on top though, it's the best part!
Ingredients:
1 egg
1 tablespoon milk
Salt, pepper
1 tablespoon sharp cheddar cheese
5 tortilla chips
1 tablespoon salsa
Sour cream, queso fresco, chopped green onion
Directions:
Beat egg and milk with a fork in a coffee cup, with salt and pepper to taste. Add cheddar; stir to coat. Break 3 or 4 tortilla chips in small pieces to fit in the cup; stir into the mixture. Add salsa.
Microwave, about 1 minute, 10 seconds. Garnish with a tortilla chip, sour cream, queso fresco and onion.
Source: heraldextra.com
These meals in a mug are definitely a great solution for the dieter or dorm student as they perfectly portion every meal or dessert! Play around with some of your own favorite meals to see if you can make a quick and easy mug version! Your stomach, taste-buds, and wallet will thank you! What is your favorite meal to make in a mug?
---
Comments
Popular
Related
Recent