It's officially fall, which means you're probably seeing lots of squash on store shelves. There are lots of kinds of squash and they have a pretty pleasing taste, whether eaten plain or in a recipe. If you want to boost your health this fall and try some absolutely delicious new meals, squash should be your go-to ingredient. Any of them are loaded with fiber, potassium, iron, vitamins A and C and more. Here are some yummy recipes for you to try. Let me know what you think!
---
1

Baked Parmesan Squash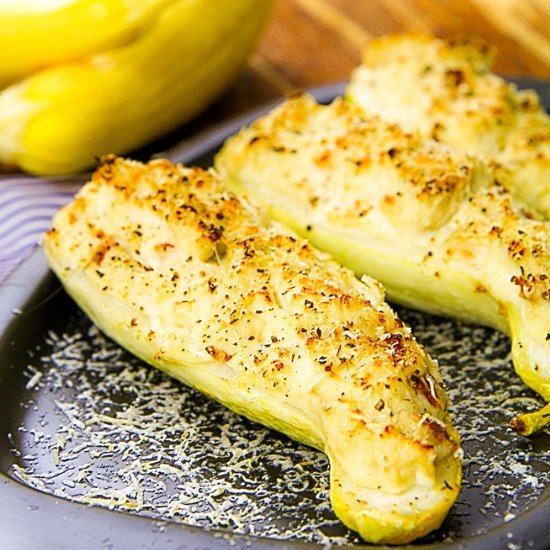 If you're looking for a side dish that works perfectly with fish, chicken, steak or pork chops, this is the one you've been looking for. The cheese is the perfect accompaniment for the flavor of the squash.
Ingredients:
2 zucchini
2 yellow squash
1 tablespoon oil
¼ teaspoon pepper
¼ teaspoon garlic salt
1 cup grated Parmesan cheese
Directions:
Preheat the oven to 450 degrees. Slice the zucchini and squash and toss the slices with the oil. Spread the squash and zucchini on a baking sheet and season with the garlic salt, pepper and Parmesan cheese. Bake about 20 minutes, or until golden brown on top.
Source: plainchicken.com
---
2

Twice Baked Spaghetti Squash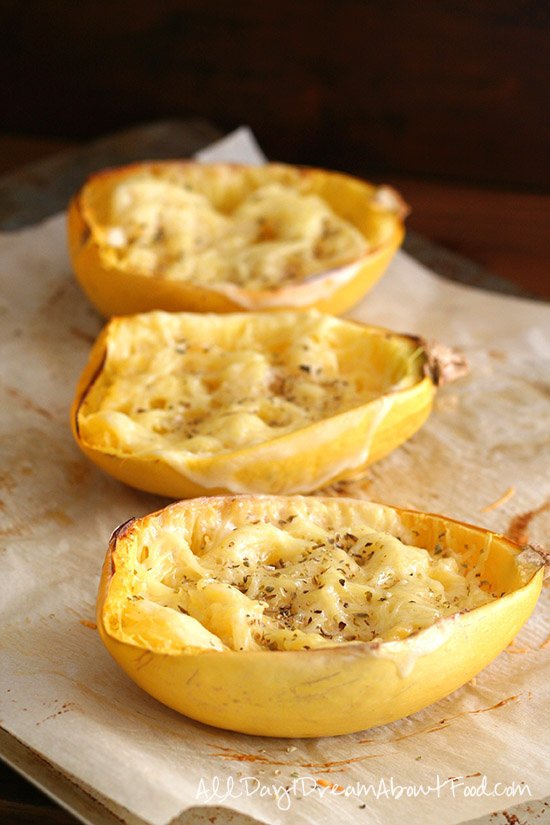 Spaghetti squash is my favorite variety and this recipe lets its true flavor really shine. If you've never tried spaghetti squash, today is the day to give it a try. You'll love it!
Ingredients:
2 small spaghetti squash
2 tablespoons butter
½ cup grated Parmesan
2 minced garlic cloves
1 teaspoon dried oregano
¼ teaspoon salt
¼ teaspoon pepper
4 slices Provolone
Directions:
Preheat the oven to 350 degrees and wrap a baking sheet with foil. Cut the squash in half, remove the seeds and bake them until soft, about 1 hour. Once, cooked, remove the squash flesh from the skin. Add the butter and allow it to melt, then add the Parmesan, garlic, oregano, salt and pepper and stir well to combine. Return the squash back to the shells and cover each half with a slice of Provolone. Bake for 8 to 10 minutes before serving.
Source: asweetlife.org
---
3

Ground Beef and Cheese Stuffed Zucchini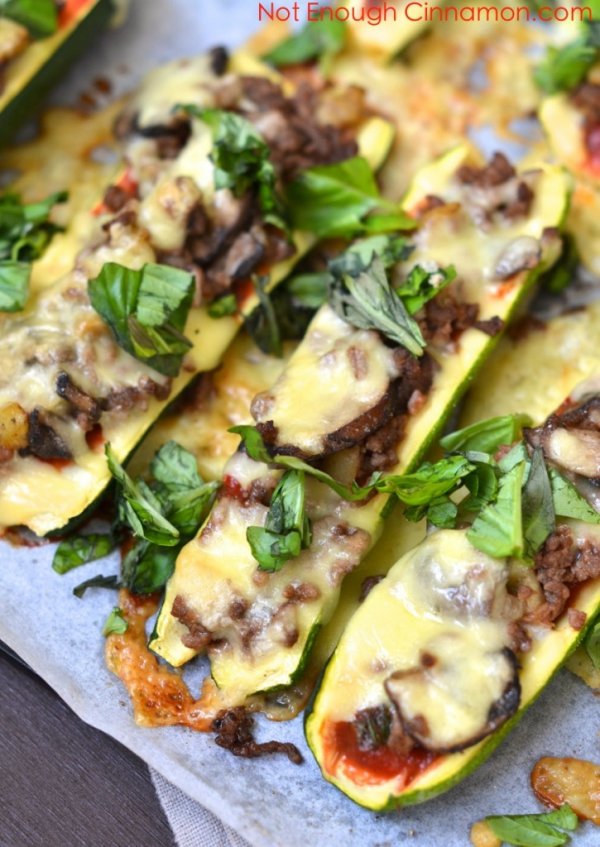 Looking for something a little bit heartier? This recipe makes a tasty fall meal that everyone at the table is going to love. It's super easy to make and the leftovers are heavenly.
Ingredients:
4 zucchini, cut in half lengthwise and seeds removed to make a cavity in each, seeds saved
¾ pound ground beef
½ cup chopped bell peppers (any color)
½ cup diced onion
1/3 cup water
1 tablespoon taco seasoning
½ cup cheddar cheese, shredded
½ mascarpone cheese
¼ cup chopped parsley
½ cup shredded mozzarella
1 thinly sliced green onion
Directions:
Place the reserved zucchini seeds, ground beef, bell pepper and onions in a large skillet and brown them. Place the zucchini halves on a baking sheet sprayed with cooking spray. Add the water and taco seasoning and simmer. In a bowl, combine the beef mixture with the cheddar cheese, mascarpone and parsley. Divide the mixture among the zucchini halves. Bake at 400 degrees for 30 minutes. Sprinkle with the mozzarella and return to the oven. Turn the heat off and wait for the cheese to melt. Top with green onions and serve.
Source: katrina-runs.com
---
4

Summer Squash and Corn Chowder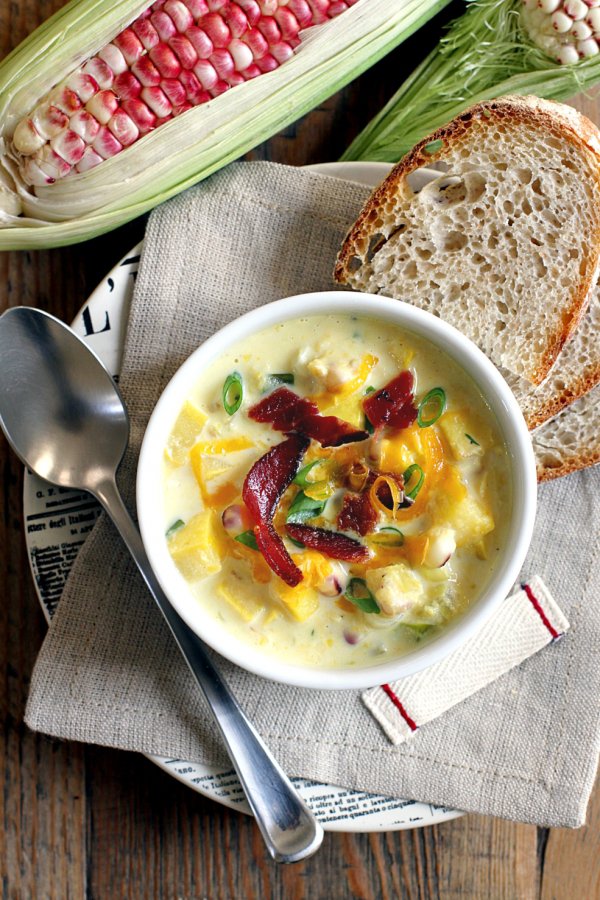 Fall is the prime time for having soup for dinner. This one is sure to become your new favorite. It combines the pleasing taste of squash with a creamy texture that can't be beat. I promise you will love this!
Ingredients:
6 slices cooked bacon
4 teaspoons bacon grease
1 cup sliced green onions
½ cup thinly sliced celery
1 ½ pounds chopped yellow squash
2 minced garlic cloves
2 ¾ cup milk
1 ½ pounds fresh cut corn
½ cup heavy cream
1 ½ teaspoons fresh chopped thyme
¾ teaspoon salt
¼ teaspoon pepper
¾ cup shredded cheddar cheese
Directions:
Heat the bacon grease in a large Dutch oven and add ¾ cup green onions, celery and squash and cook about 8 minutes, adding the garlic in the last 30 seconds of cooking. Turn the heat down a bit and add 1 ½ cups milk, 1 ½ cups corn, thyme, salt and pepper. Put the remaining corn, milk and cream in the blender and process until smooth. Add the mixture to the soup pot and stir well. Heat through and serve with bacon, remaining green onions and cheddar cheese.
Source: cookingclassy.com
---
5

Sausage and Summer Squash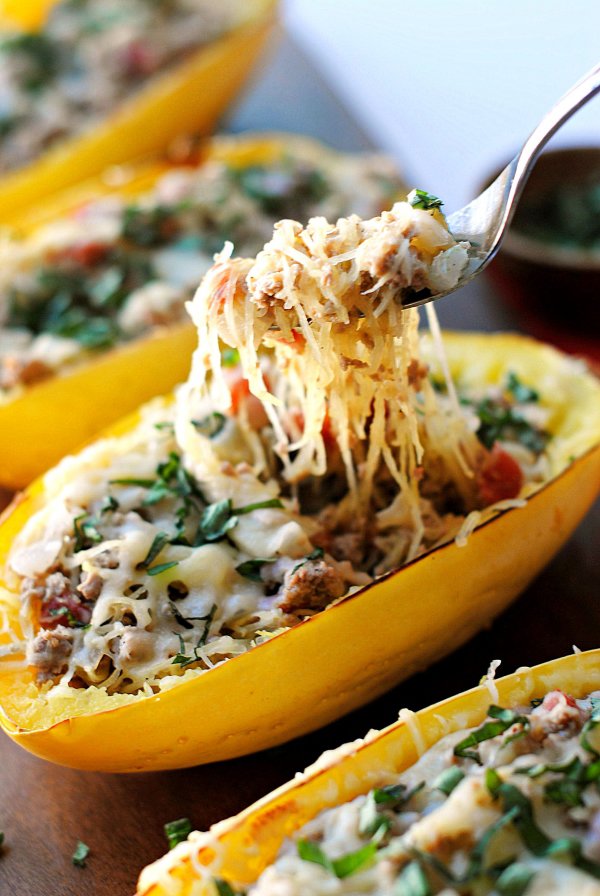 This one pot meal is a crowd pleaser. I make it for my family and they always love it. Serve it with a big tossed green salad and you have a complete meal that is filling and tasty at the same time. Yum!
Ingredients:
½ cup Italian dressing
2 minced garlic cloves
12 ounces cooked Polish sausage, sliced
3 summer squash, cut into chunks
4 to 6 slices toasted Italian bread
Fresh oregano
¼ cup shredded Parmesan cheese
Directions:
Preheat the broiler. Combine the garlic and dressing in a small bowl. Cook the sausage and squash in 2 tablespoons of the dressing over medium heat for about 8 minutes. Brush the bread with some of the dressing mixture. Serve the bread with the squash, drizzling with additional dressing and topping with cheese.
Source: food.com
---
6

Spaghetti Squash with Bacon, Spinach and Goat Cheese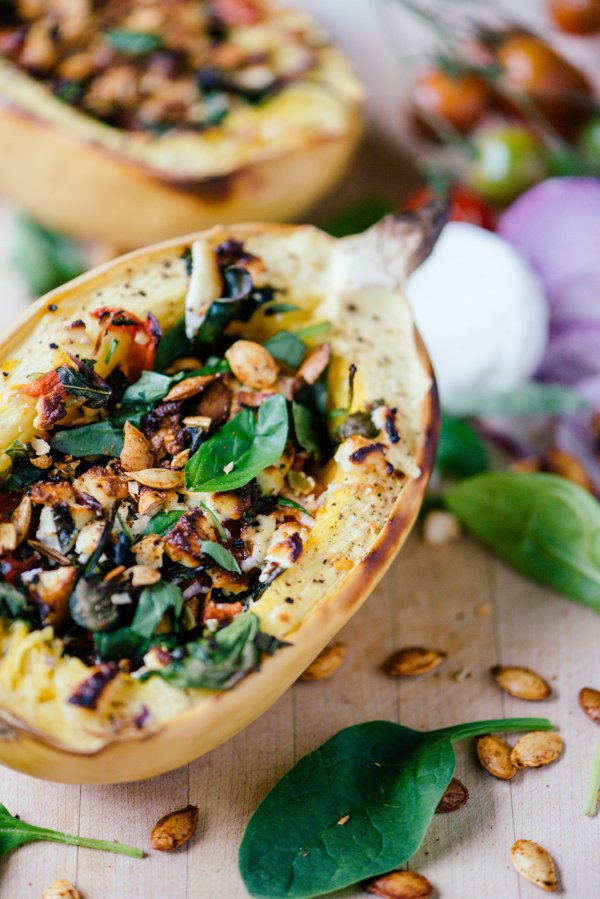 This is a gourmet meal that really makes an impression if you serve it to your friends and family. It's not hard to throw together, but the flavor will make people think you slaved away all day long.
Ingredients:
1 spaghetti squash
1 tablespoon oil
Salt and pepper
6 slices bacon, cut into pieces
1 tablespoon red wine vinegar
1 tablespoon maple syrup
5 ounces baby spinach
2 ounces crumbled goat cheese
Directions:
Preheat the oven to 400 degrees and line a baking sheet with parchment paper. Remove the ends of the squash and cut it into rings. Layer them on the baking sheet and drizzle with oil. Season with salt and pepper. Flip and repeat this step on the other side. Bake for 30 minutes. Meanwhile, cook the bacon over medium heat for about 7 minutes, or until the bacon is browned and crispy. Add the red wine vinegar and deglaze the pan. Turn the heat to low and add the syrup. Add the spinach in handfuls, stirring as you go. Peel the squash and place it in a bowl, Shred it, then add the spinach mixture. Toss with the goat cheese and serve.
Source: buzzfeed.com
7

Butternut Squash Fries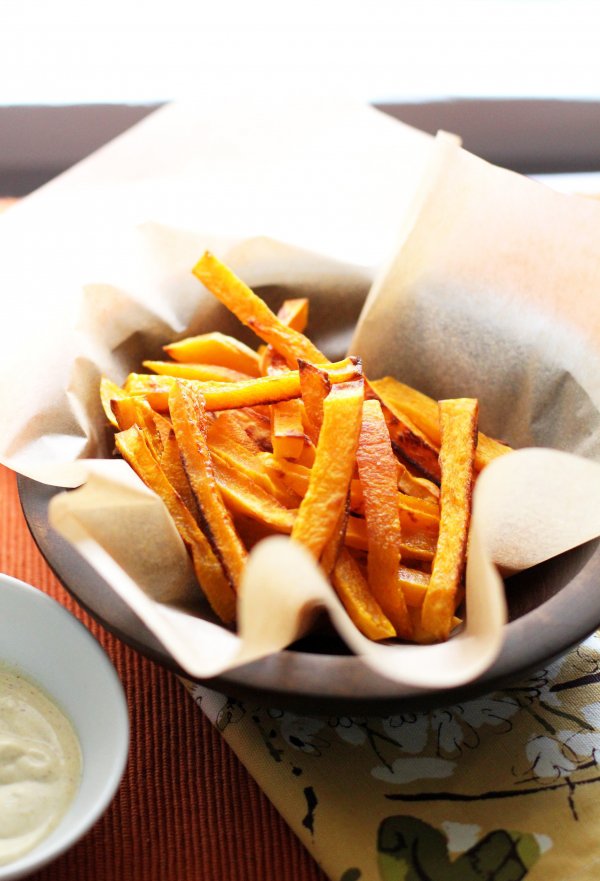 Can't give up fries with your burger, but want to eat healthier? This is the perfect option. The fries are crispy and have just a touch of sweetness. You may never go back to the old fries after you taste these.
Ingredients:
1 butternut squash
1 tablespoon olive oil
Sea salt
Directions:
Preheat the oven to 375 degrees. Peel the squash, cut it in half and remove the seeds. Cut the halves into fries. Toss them with the oil and place them in a single layer on a baking sheet. Sprinkle with salt and bake for about 30 minutes, turning once.
Source: myfussyeater.com
Which one are you dying to try? What other tasty things do you make with squash?
---
Comments
Popular
Related
Recent