Recipes with ramen noodles are small on price and big on taste! Ramen noodles are like instant pasta that you can easily incorporate into so many delicious dishes. If you're like most people who have a stockpile of these inexpensive noodles in your pantry and you're tired of eating them the same old way, you're going to love these unique recipes!
---
1

Thai Peanut Cabbage Salad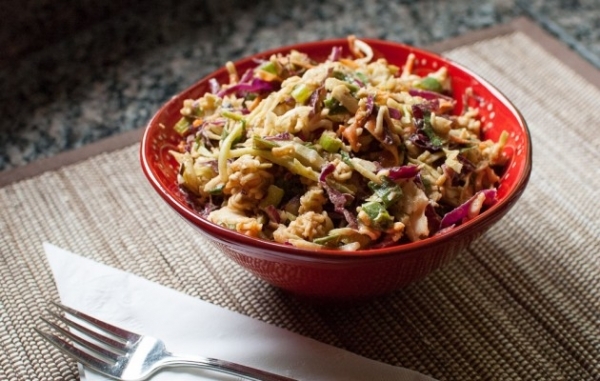 This is one of the tastiest recipes with ramen noodles! I love Thai food so I was psyched to see an easy recipe utilizing this budget staple. This salad would make a great side dish to a BBQ or a potluck. It's sweet, crunchy, simple to make and best of all, it'll be a hit at any meal!
Ingredients:
DRESSING:
¼ c rice wine vinegar
¼ c oil
¼ c peanut butter
2 T sugar
Seasoning packet from soup mix
SALAD:
1 (3 oz.) pkg. oriental flavor ramen noodle soup mix
2 cups shredded green cabbage
2 cups shredded red cabbage
1 cups shredded carrot
⅓ cup chopped cilantro
⅓ cup sliced green onions
½ cup chopped peanuts
Directions:
Combine all dressing ingredients; beat well with whisk.
Break noodles into small pieces in large bowl. Add cabbages, carrot, cilantro and onions; mix well. Add dressing, toss. Sprinkle with peanuts.
You can serve this immediately and the noodles will be crunchy or you can make it ahead and they will soften. I personally like to make it the morning of an event…that way they're not too crunchy and not too soft…but it tastes delicious with them in any form.
---
2

Pork Lo Mein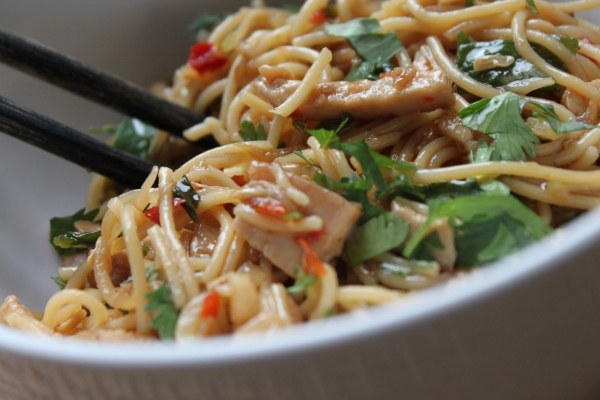 If you're looking for a more substantial dish to make, this next ramen noodle recipe is just as easy to make but a lot more filling. This is a healthier version of the take-out favorite that you can quickly whip up with some veggies and meat.
Ingredients:
2 package(s) (3 oz each) Oriental-flavor ramen noodle soup
2 teaspoon(s) oil
1 large onion, sliced
3 clove(s) garlic, minced
1 bag(s) (1 lb) frozen stir-fry vegetables, thawed
12 ounce(s) pork cutlets or boneless thin-cut pork chops, cut in strips
1 tablespoon(s) cornstarch
Garnish: sliced scallions
Directions:
Bring 6 cups water to a boil on stove top or in microwave. Add ramen noodles (reserve flavoring packets). Let stand 5 minutes or until tender; drain.
Meanwhile, heat 1 tsp of the oil in a large non-stick skillet. Add onion and cook, stirring often, for 5 minutes or until tender. Add garlic; cook 1 minute or until fragrant.
Add vegetables; stir-fry 3 minutes or until crisp-tender. Remove to a bowl.
Heat remaining oil in same skillet. Add pork (in 2 batches if necessary). Stir-fry for 2 minutes or until browned and cooked through. Remove to bowl with vegetables.
Stir 1 cup water, the seasoning packets and the cornstarch in skillet until blended, bring to a simmer, stirring. Cook 1 minute or until slightly thickened.
Add noodles; toss to coat. Add vegetables and pork; toss to mix and coat. Cook over low heat, tossing, until warmed through.
NZ
sounds so good ! I love lo mein so will definitely...
3

Quick Chicken Noodle Soup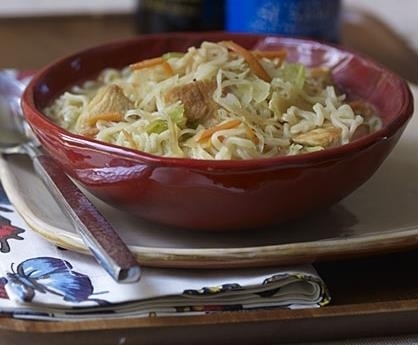 Did you ever imagine making chicken noodle soup with ramen noodles? This super easy recipe is a great dish to make when you're pressed for time and want something warm in your belly. This will be terrific recipe to keep in mind for the upcoming colder months when you need to make a quick meal during the week.
Ingredients:
8 cups water
2 tablespoons oil (I like to use sesame oil)
2 boneless, skinless chicken breast halves, cut into bite-size pieces
1 carrot, shredded
1 cup thinly slivered cabbage (like for coleslaw)
2 cloves garlic, minced or crushed
1 teaspoon peeled and grated fresh ginger (optional)
4 packages chicken- or oriental-flavor ramen noodles
Soy sauce to taste
Directions:
Bring water to a boil in a soup pot. While water comes to a boil, heat oil in a large skillet over medium-high heat until hot. Sauté chicken until browned on all sides and cooked through.
To the boiling water add sautéed chicken, carrot, cabbage, garlic, and ginger to pot. Cook 2 minutes, then add ramen noodles along with only 2 of the flavor packets that come with the noodles. Cook 3 minutes and not a second longer – ramen is best when not cooked to death. Taste, then add a slosh of soy sauce if you like. (I like.)
One hint: Never use all the seasoning packets if you're using multiple packages of ramen. You'll probably find that you can get good flavor using half as many of the packets as you have packages of ramen. But don't throw away the unused packets; I set them aside and use them to make broth for other recipes.
---
4

Skillet Noodle Pizza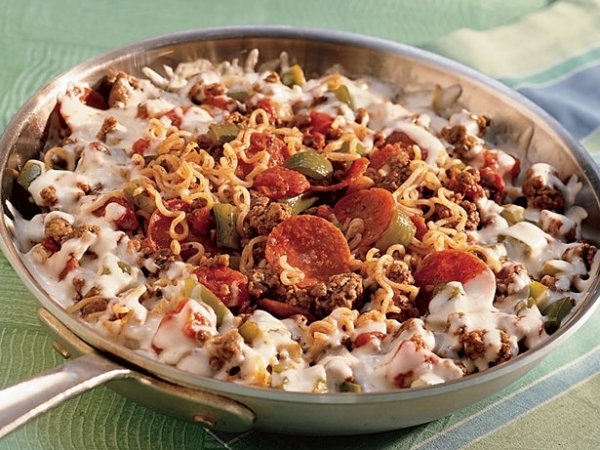 I know what you're thinking, you would never eat pizza made with ramen. Hear me out though, this dish is actually more popular than you might believe! There a lots of variations of this dish, but this ramen noodle recipe takes less than 30 minutes to prep and serve so you can't beat that. I would definitely give this pizza a try if you're feeling adventurous!
Ingredients:
8 cup(s) water
4 package(s) (about 3 ounces each) any flavor ramen noodle soup
1 tablespoon(s) olive oil
1 cup(s) spaghetti sauce
4 ounce(s) (1 cup) mozzarella cheese, shredded
17 slice(s) (2 1/2 ounces) pepperoni, cut in 1/4-inch strips (3/4 cup)
1/2 teaspoon(s) dried oregano, crumbled
Directions:
Heat broiler. Bring water to boil in a 2 1/2- to 3 1/2-quart pot. Add noodles and cook, stirring occasionally, 3 minutes or until tender. Drain in a colander.
Heat olive oil in a large skillet. When hot, add noodles and press evenly to cover bottom of pan. Cook 2 minutes or until browned underneath.
Spread sauce over noodles, then sprinkle with cheese, pepperoni and oregano.
If skillet handle is plastic or wood, wrap it in a double layer of foil to protect it from scorching. Broil 4 to 5 inches from heat source 2 minutes or until top is bubbly and cheese starts to brown. Let cool about 5 minutes before cutting in wedges to serve.
---
5

Ramepherd's Pie
Yep, you read that right, it's a ramepherd's pie. Not to be confused with the classic shepherd's or cottage pie that you might have had before. This version combines ramen noodles, ground beef, onion and peas for a twist on the traditional recipe which utilizes mashed potatoes as the main ingredient. The crispy ramen noodles on top are a nice contrast to the chewy middle!
Ingredients:
1 (3 -4 ounce) package beef-flavored ramen noodles
2 teaspoons vegetable oil
1/2 lb ground beef
1/2 cup chopped onion
1/4 cup water
2 teaspoons Worcestershire sauce
1/2 cup frozen peas
Directions:
Boil ramen noodles in water until tender. Drain and set aside. Meanwhile, heat oil in skillet until shimmering. Add beef and cook until no longer pink, breaking up any large clumps with the edge of a spoon, about 5 minutes. Drain any excess fat and discard.
Add onion, water, Worcestershire sauce and peas. Season to taste with salt and pepper. Transfer to an oven-safe dish, top with cooked noodles, and broil until brown and crispy.
---
6

Crunchy Ramen Snack Mix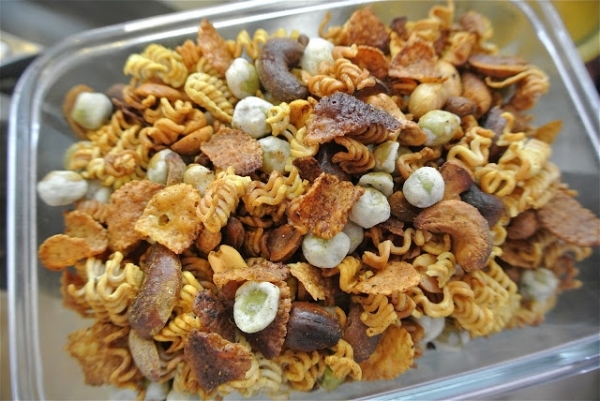 This snack mix is actually a modified version of a Martha Stewart recipe that a dietician made. So, if you're looking for a tasty, crunchy snack for your kids, your significant other or to munch on while you catch up on the new season of Dexter, this is a unique and healthier version of snack mixes you'll find at the grocery store.
Ingredients:
2 packages ramen, broken into small pieces
1 cup raw cashews
1 cup raw peanuts
1 cup cornflakes
3 Tbsp. vegetable oil (I used canola)
4 tsp. curry powder
1/2 tsp. cayenne pepper
1/2 tsp. fine salt
1/2 cup freeze dried wasabi peas
Directions:
Preheat oven to 400 degrees. On a rimmed baking sheet toss ramen, cashews, peanuts, and cornflakes with oil until coated. Spread mixture in an even layer. Combine curry powder, cayenne, and salt in a separate small bowl; sprinkle over ramen mixture. Bake until golden brown, about 10 minutes, stirring 2 times in between. Stir in wasabi peas and let cool completely before serving.
TIP: Unless you are planning on using the peanuts and cashews later, shop for these ingredients in the bulk department so you only have to buy what the recipe calls for.
---
7

Ramen Noodle Casserole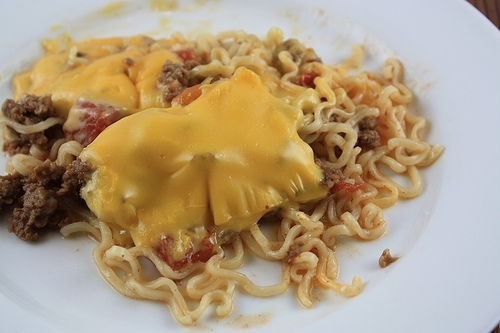 This ramen noodle recipe is quick, easy and you probably have the majority of the ingredients in your kitchen already! You've got your beef, cheese, tomatoes and onion with ramen noodles for a fab casserole that just about anyone will enjoy as an easy midweek meal! Also, the author notes that subbing shredded cheddar for the Velveeta cheese can keep the sodium levels down.
Ingredients:
1 lb ground chuck
1 medium onion , Diced
1 (14½ ounce) can diced tomatoes
3 (3 ounce) packages beef-flavor ramen noodles
3 cups water
Velveeta cheese-to taste
Directions:
Brown Hamburger and onion, then add flavoring packets from ramen noodles and simmer for about 4 minutes.
Add the water and the tomatoes and bring to a boil.
Then add ramen noodles and cook for about 4 minutes more.
Pour into a casserole dish sprayed with cooking spray, and cover with sliced Velveeta cheese.
Bake for 15 minutes at 350° or until cheese is melted.
---
8

Broccoli Ramen Noodle Salad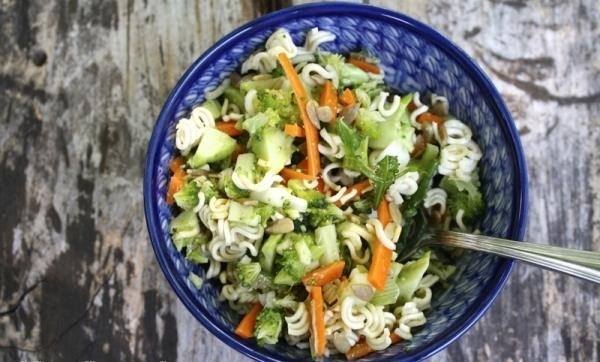 Compared to some of these other ramen noodle recipes, adding ramen to a salad doesn't seem too crazy and it actually goes quite well! Broccoli salads are one of my faves and I think adding ramen noodles to the mix makes an already flavorsome dish even more interesting and delicious!
Ingredients:
1 (16 ounce) package broccoli coleslaw mix
2 (3 ounce) packages chicken flavored ramen noodles
1 bunch green onions, chopped
1 cup sliced almonds
1 cup sunflower seeds
1/2 cup white sugar
1/4 cup vegetable oil
1/3 cup cider vinegar
Directions:
In a large salad bowl, combine the slaw, broken uncooked noodles and green onions.
Whisk together the sugar, oil, vinegar and 1 ramen seasoning packet. Pour over salad and toss to evenly coat. Refrigerate until chilled; top with almonds and sunflower seeds before serving.
*This is great to make the day before and let it marinate overnight. If you do this, don't add the ramen noodles until a couple hours before serving, so they don't get mushy.
---
9

Warm Chicken and Cabbage Salad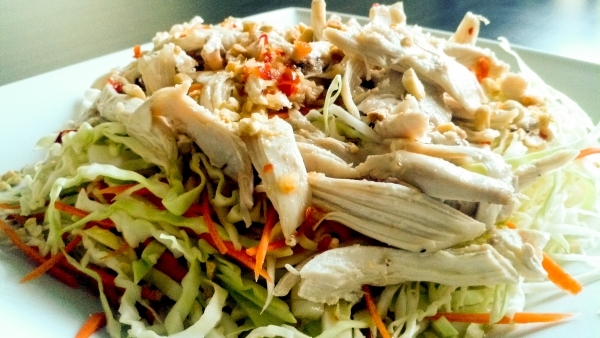 Since the broccoli ramen salad is more of a summer salad, let's try a warmed-up version for the upcoming fall. The soft noodles and chicken along with the crunchy cabbage are a great textural contrast that I think is uncommon yet so good!
Ingredients:
1/3 cup(s) vegetable oil
1/3 cup(s) red-wine vinegar
1/2 teaspoon(s) salt
1/2 teaspoon(s) pepper
Salad:
3 pound(s) (12 cups) savoy or green cabbage, cored and shredded
3 cup(s) water
3 package(s) (about 3 ounces each) any flavor ramen noodle soup with seasoning packets
2 tablespoon(s) all-purpose flour
4 (1 1/2 pounds) skinned, boned chicken breast halves
1 teaspoon(s) vegetable oil
Directions:
Mix dressing ingredients in a very large bowl. Add cabbage and toss to coat.
Bring water to boil in a large saucepan. Break noodles as directed on package, add to pot and cook, stirring occasionally, 3 minutes or until tender. Stir in 2 of the seasoning packets until completely dissolved. Pour over cabbage and toss to mix well.
Mix flour and remaining seasoning packet in a shallow dish. Add chicken and turn to coat, shaking off excess.
Heat oil in a large skillet over medium heat. Add chicken and cook 7 minutes per side or until chicken is opaque in center. Remove to cutting board; let rest 2 minutes.
Meanwhile spoon noodle mixture onto 6 dinner plates or a large serving platter. Cut chicken crosswise in 1/2-inch-wide diagonal slices and arrange over cabbage mixture.
Ready to try some of these ramen noodle recipes? Sometimes it's fun to experiment with different ingredients. You never know, you might stumble upon a recipe that seems off the wall, but tastes out of this world! If you have a few packages of ramen noodles sitting in the pantry, why not break them out and give one of these recipes a try?
Sources: threeluckyhusbands.comdelish.com
myrecipes.com
womansday.com
food.com
candidrd.com
cullyskitchen.com
opreafamily.blogspot.com
womansday.com
---
Comments
Popular
Related
Recent