Whether you're a meat eater, vegan, or vegetarian, I hope you'll embrace my simple approach to making a crazy tasty vegetarian salad that fills you up, satisfies all your taste buds, and keeps you energized all day long. Oh, and the best part is, it will leave you energized, happy, and keeps your skin, body and brain in tip top shape! Make a vegetarian salad the next time you make a meal, and try it my way if you get a chance to see why I love having a vegetarian salad at least once a day, every single day of the week. With all the variety, choice and flavors I have to choose from, going without one just isn't an option for this plant-loving gal!
---
1

Fresh Greens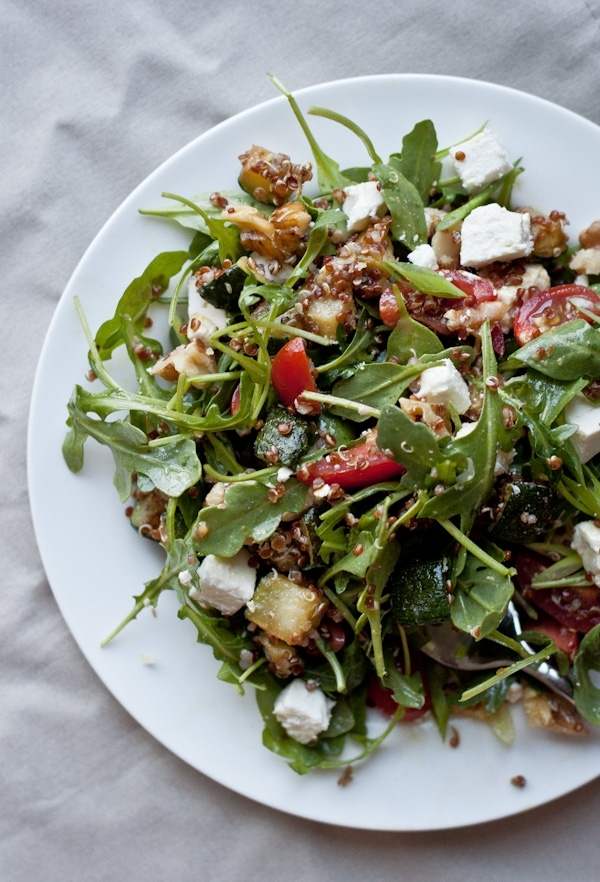 No vegetarian salad is complete without a beautiful, vibrant batch of greens! Glowing with nutrients, vitamins, and beaming with color, greens not only give you a beautiful bed for the rest of your ingredients, but also give your body something nourishing, calming and energizing. Add greens like hearty and nutty kale, moist and sweet romaine, sweet and crunchy iceberg, spicy and outgoing arugula and healing, herbal spring greens. Toss a few different kinds in a bowl, and be sure to chop it finely so you break down the fibers in the greens, allowing you to taste the best that greens have to offer and making them easier to chew.
---
2

Something Bright and Cheery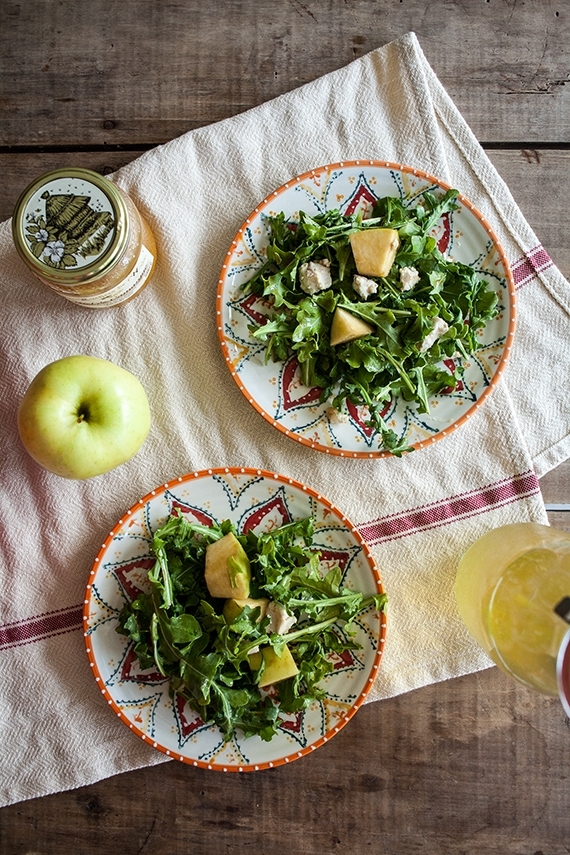 My favorite thing to add to salads are the bright and sweet veggies that make a salad come alive! These are the glorious glowing veggies that happen to also taste naturally sweet. Think radiant red grape tomatoes, crunchy and candy-like carrots, and bedazzling red and yellow sweet bell peppers. These veggies satisfy your sweet tooth, and add so much color to any salad! I like to call them nature's candy. They make your taste buds and your eyes happy and your salad just glows with these lovely little gems! They're also super healthy for you. Finely chop them for the easiest way to eat them in your salad.
3

Give It Some Bite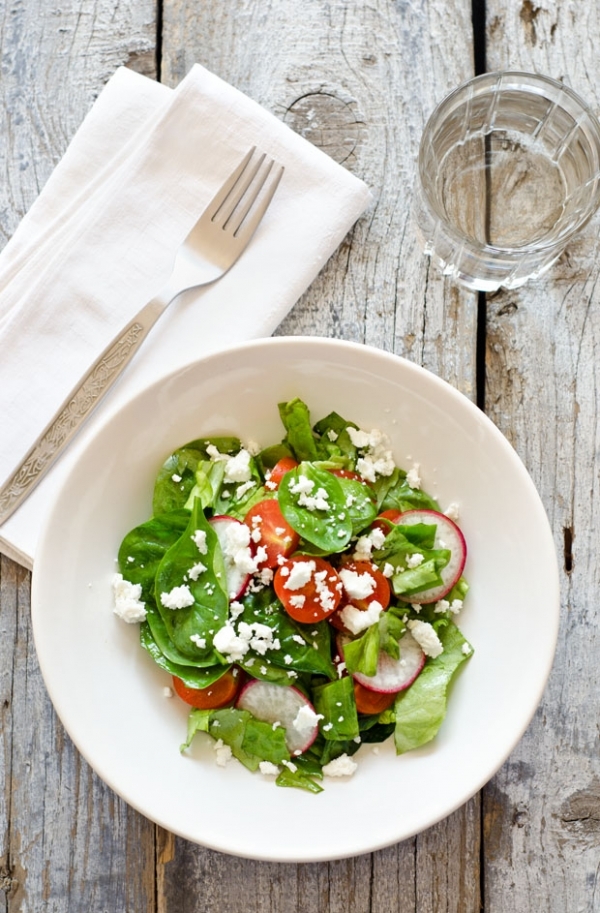 Next, be sure to add something that gives your texture a dose of competitive taste. Here's where the stout flavors come in that complement the sweeter ingredients very nicely. This might be some chopped red onion, a finely diced garlic clove, chopped radishes, or even some shaved fresh ginger for an ethnic taste. These spicier flavors really take things up a notch, and they are great for detoxing your liver and your skin.
---
4

Give It Roots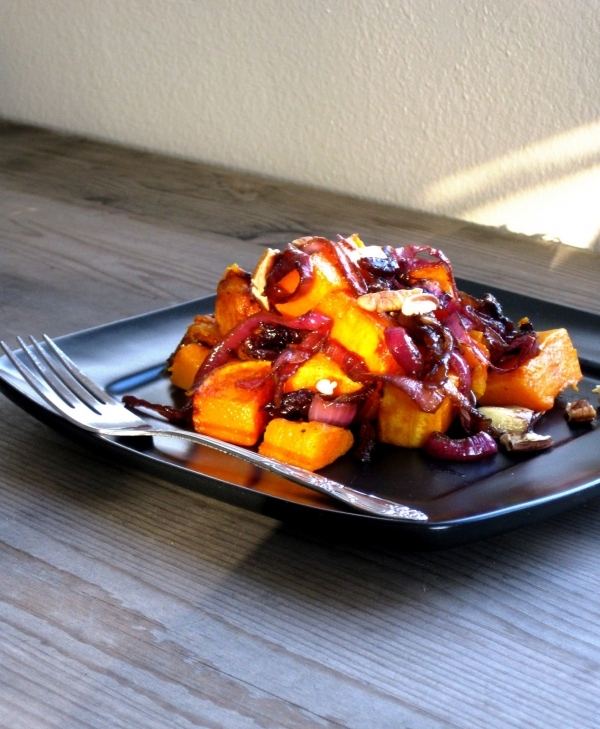 One of my favorite thing to add to a vegetarian salad is a root veggie, preferably one that has been roasted for a caramel, sweet and super hearty flavor. I enjoy chopped sweet potatoes that are roasted, roasted winter squash like butternut, acorn or kabocha, as well as roasted parsnips or even turnips. These veggies ground you, provide vitamins and minerals and are extremely alkaline. They also add good amounts of fiber and a wonderful accent to your normally all raw salads.
---
5

Add a Salty Crunch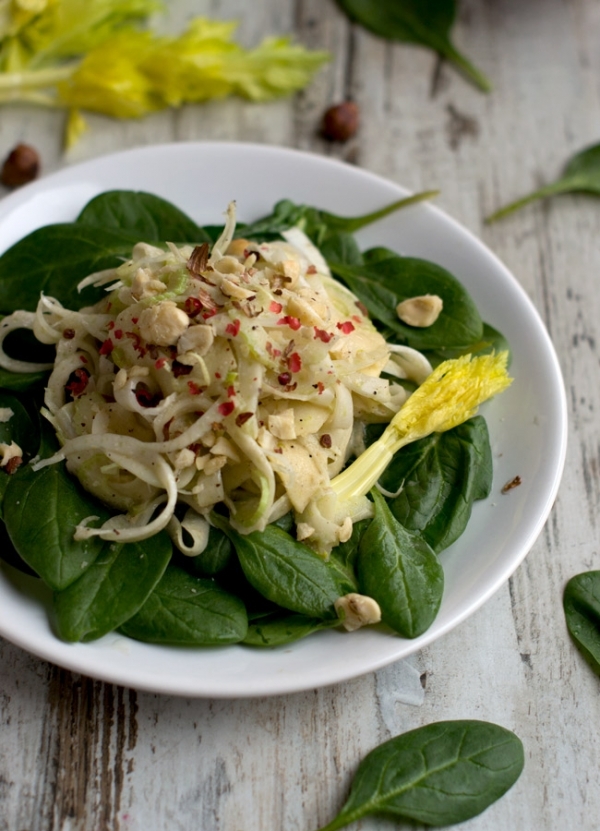 You don't need to add salt to a salad to add salty flavor. Just turn to nature's saltiest veggies instead. These include celery, olives and cucumbers. These are rich in natural electrolytes, mainly sodium and potassium. Celery and cucumbers also act as diuretics, so while they taste like salt to the tongue, they actually help expel water weight from the body to prevent bloating! I love chopped or diced celery in almost all my salads. It adds that salty crunch just perfect for the tastebuds without a bit of the iodized stuff at all.
---
6

Let's Talk about Texture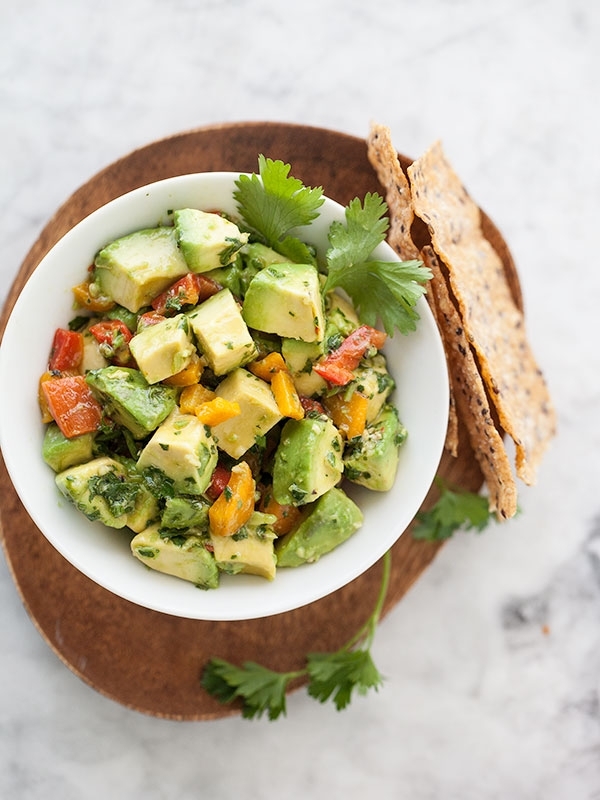 Now, it's time to talk about some texture appeal! Great ways to add various types of textures to a vegetarian salad include a chopped avocado for a hearty, fatty feel, while sliced almonds or pumpkin seeds add that light and crunchy feel. Other options include a teaspoon or two of sweet and chewy raisins or cranberries, as well as chewy sunflower seeds, nutty hemp seeds, or even some walnuts or pecans. Add whatever textures you enjoy and have fun experimenting!
---
7

Make a Delightful Dressing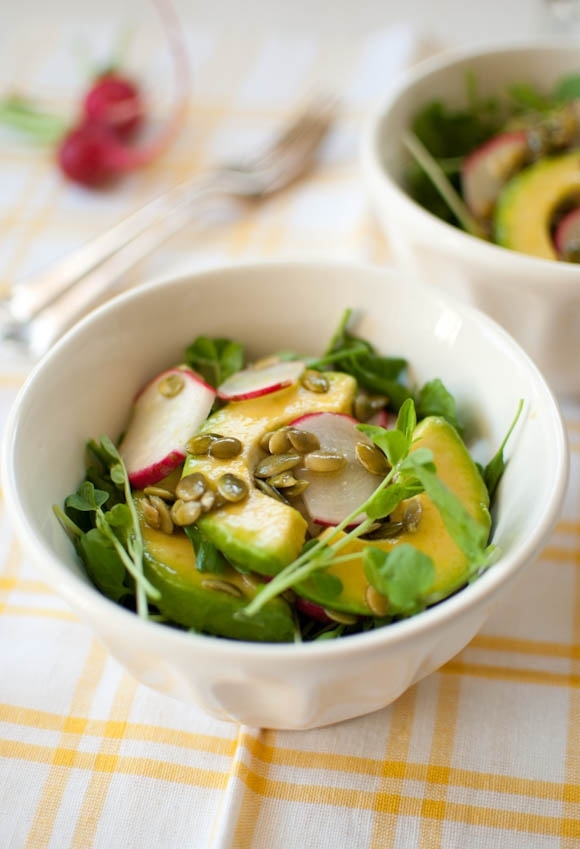 Now that you've got all your flavors and textures well defined, it's time to add your dressing, which you just can't forget. Don't buy store bought, whatever you do! Try making your own instead. Making your own dressing requires a touch of savory, sweet and just a bit of acid. Read on to learn what to consider when coming up with your dressing of choice.
---
8

Bulk with the Base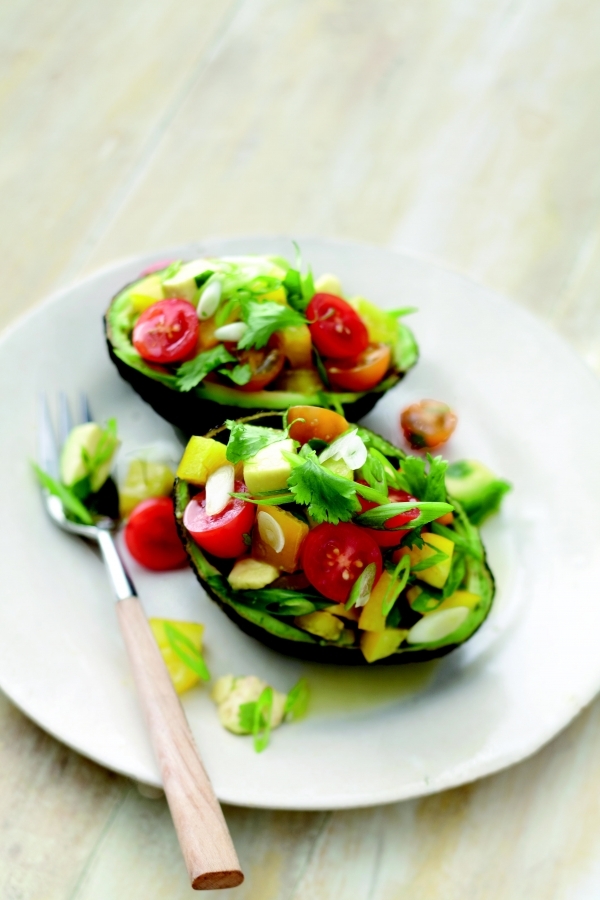 For the base of your dressing, you need to decide what you want to use. Many vegetarian dressings use an oil, while some use tahini, an avocado, a nut milk or nut butter. Or, you can use a lower calorie option like a mustard instead. Pick a base and then, proceed on to the next step.
---
9

Add a Bit of Acid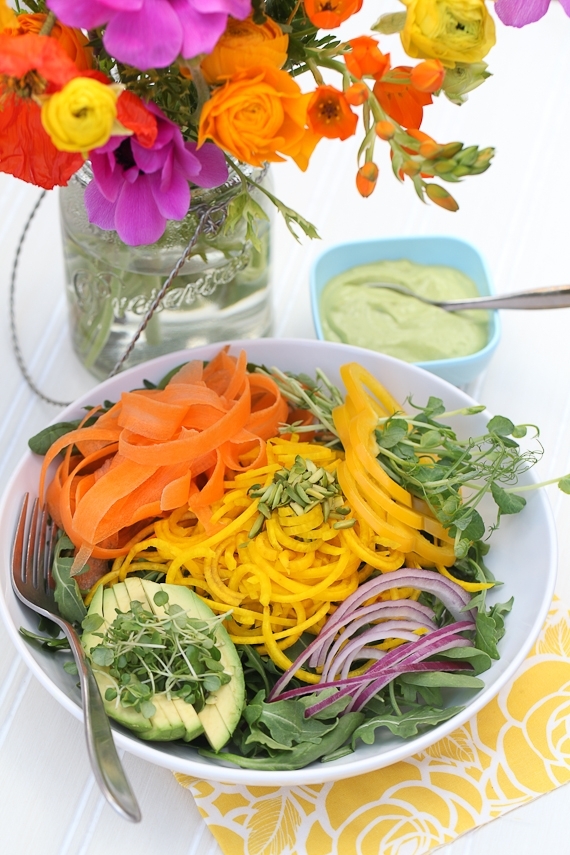 To accent your dressing, you'll need an acid to put in your dressing to give it a zing and a bite. Options include any type of vinegar like balsamic, red wine, apple cider or white wine. Other options include lemon, lime and orange juice. These give it a sense of zest, sweetness and tart flavor that just can't be left out.
---
10

Season with Some Spice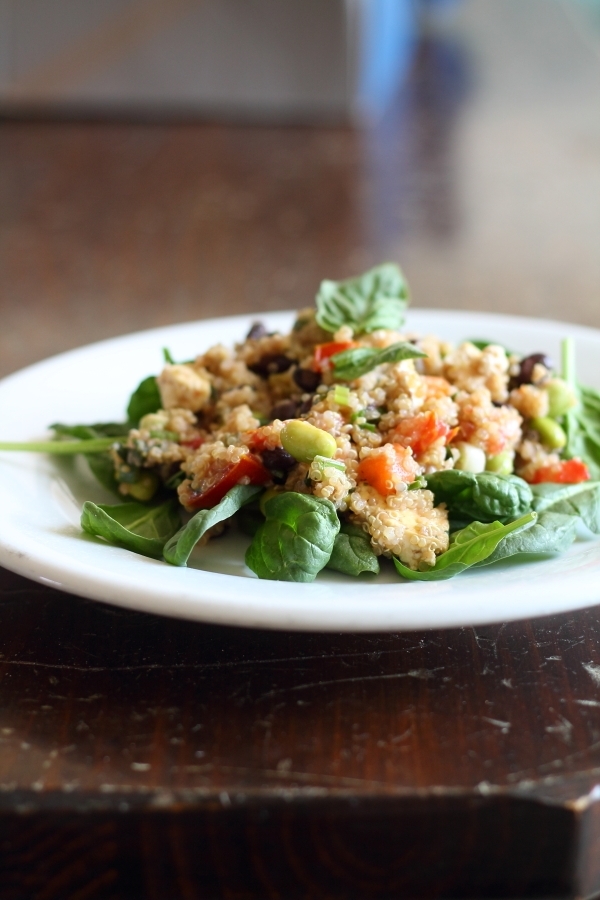 Now in your dressing, the last part you need is any spice you wish. I like black pepper, oregano, basil and turmeric. You might also like dill, paprika, cayenne, ginger or something similar. Play around and find that last special touch to make your dressing with. Then, mix up your base, acid and spice in a little jar or other container and blend it all up. Pour over your whole salad and toss to coat.
---
11

Pump It up with Protein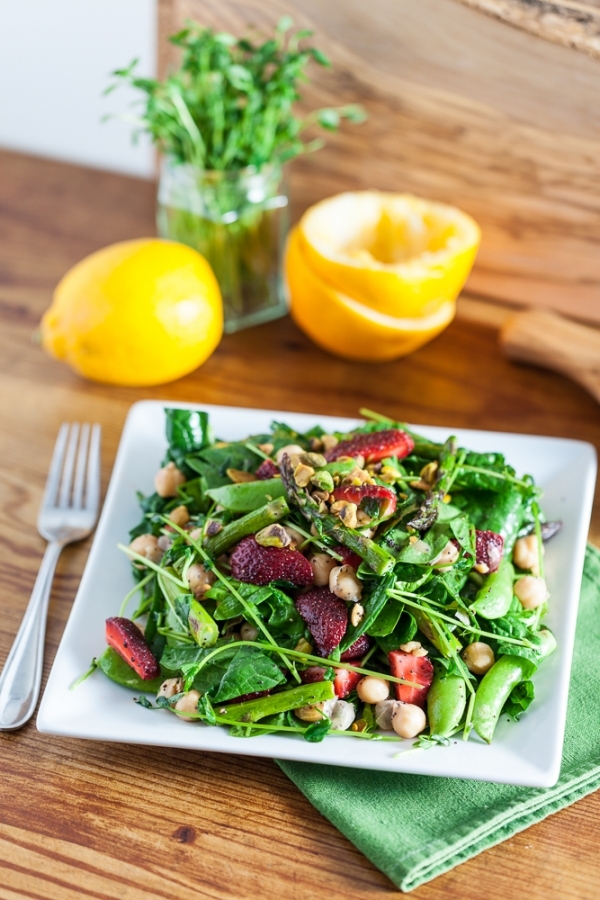 If you haven't already used avocados, nuts and seeds, or a hearty root veggie, you'll need to add some protein here to round out your salad nutritionally. Pick a lean option like white beans, chickpeas, tofu, or even boiled eggs or yogurt if you're not vegan. Or, for a heartier option, be sure to add those avocados, hemp seeds or nuts, which are all great sources of protein.
As you can see, vegetarian salad recipes are really easy to make, and so easy to customize! You will be so satisfied, you'll never even realize they don't have meat on them. I don't use a lot of oils or cheese in my salads, nor do I embrace croutons, which can turn a salad into a calorie bomb that leaves you tired and sleepy after a meal. Instead, I turn to nature for most of the flavors I need. When making a vegetarian salad, or any kind of salad, what ingredients are must-haves for you?
---
Comments
Popular
Related
Recent