The muffin pan is one of my favorite kitchen tools because there are so many unique things to make in a muffin pan that most people don't even know about. I'm all about using what you have in the kitchen to make any recipe work. I've used cheesecake pans to make cakes with, loaf pans to make eggs with, and even a Bundt pan to roast veggies in. But most of all, I like to make things in a muffin pan. Whether you cook them, freeze them, or just use them as a mold, muffin pans just rock! Check out these things to make in a muffin pan and quit buying all these tools you don't need for your kitchen. Because seriously, what woman out there doesn't love saving money, kitchen space and time? For all these recipes, a silicon muffin tray works so much easier and makes the removal process a cinch. Enjoy!
---
1

Apple Cider Donut Holes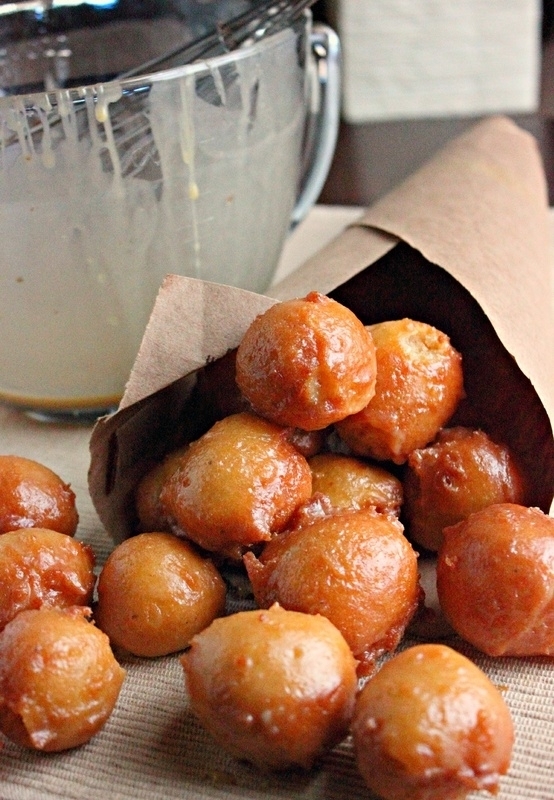 Okay, while I don't really eat donuts myself, one of my favorite things to make in a muffin pan that I like to make for other people are donut holes! Donut holes are so easy to make in muffin pans because they hold everything together really easily. You also don't have to hand fry them like most people do, which is less messy and a little healthier too! Try this recipe as a great basic one to start with. Make some for the people you love and amaze them with your new kitchen culinary skills!
Serves: 24 donut holes or 48 mini donut holes ( in a mini muffin pan)
Ingredients:
2 cups flour
1 1/2 tsp baking powder
1 1/2 tsp baking soda
1/2 tsp salt
2 teaspoons cinnamon
1 large egg
2/3 cup brown sugar or coconut sugar
1/2 cup apple butter
1 tsp vanilla extract
1/3 cup honey or maple syrup
1/3 cup apple cider
1/3 cup non-fat Greek yogurt ( plain)
2 Tbsp coconut oil melted
canola cooking spray
2 Tbsp unsalted butter
1/4 cup cane sugar ( or your favorite alternative)
1 Tbsp cinnamon
Directions: Preheat your oven to 400 degrees. Spray your muffin pan with non-stick spray. Set aside. Preheat oven to 400 degrees and spray a mini muffin pan with cooking spray. In a large mixing bowl, combine the flour, baking powder, baking soda, salt, and cinnamon. Then, in another large bowl, whisk together the egg, brown sugar, apple butter, vanilla extract, honey, apple cider, yogurt, and oil. Pour the wet ingredients into the dry ingredient mixture and whisk until just incorporated. Don't over-mix and keep it a little lumpy like a muffin mix typically looks. Use a large ladle to pour your batter into your muffin pans, or a tablespoon measuring spoon to measure out mini donut holes. Fill the muffin holes in the pan with enough batter to fill it up about 75% of the way. Bake for 10-15 minutes or until they're golden brown. Leave them in the pans on your counter for about 15 minutes to cool slightly. Then, before they cool all the way, warm some butter in a microwave dish. Add the cinnamon and sugar and stir well. Brush this mixture on top of each donut hole, and then sprinkle with additional cinnamon sugar or powdered sugar if you wish. Serve warm.
Source: thekitchn.com
---
2

Frozen Chocolate Cubes for Shakes and Smoothies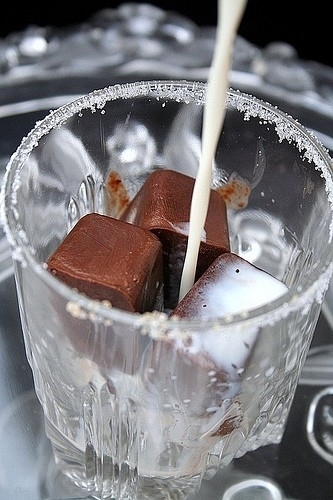 Quite possibly one of my favorite ways to use a muffin pan, is to use it for your smoothies! This is such a brilliant idea. Think of a muffin pan as nothing more than an alternative to an ice cube tray. You can blend anything you want in a smoothie, freeze it in muffin pans, and after the blocks are frozen, store in a large container or Ziploc bag in your freezer. Then, when you're ready for a treat, add four or five frozen cubes to your blender, along with some liquid to get everything going, and you've got a super thick, frosty treat that is out of this world, and so easy!
Serves: 12
Ingredients:
½ cup your choice chocolate protein ( or you can just use cocoa powder)
½ cup almonds, hemp seeds or even cashews
1/3 cup dates or figs ( dried and chopped)
Vanilla extract ( about 2 tsp. )
3 cups of cooled coffee, preferably an espresso blend or another strong blend
1 tsp. cinnamon
2 really ripe bananas ( with black peels or black speckles)
Directions:
Place all your ingredients in the blender and blend on low for about a 30 seconds, and then progress to high until you don't see any pieces of nuts, seeds or dried fruit in your mixture. Pour this mixture in a 12 cup muffin pan, or 24 cup mini muffin pan and freeze until completely solid. Then, remove them from the muffin pan. You may need a knife to edge them out. Place these in the container of your choice and store in your freezer. When you're ready to turn these into a treat, add four or five cubes to your blender ( or about 8 or 9 mini cups) and blend with 1 – 1 ½ cups liquid of choice. I like almond milk with water! If you want it more like ice cream, use less liquid and if you have a Vitamix, use your tamper. If not, just blend with 1 ½ cups of liquid for a thick, delicious shake that you'll just love!
Source: Adapted from muffintinmania.com
3

Mac and Cheese Cups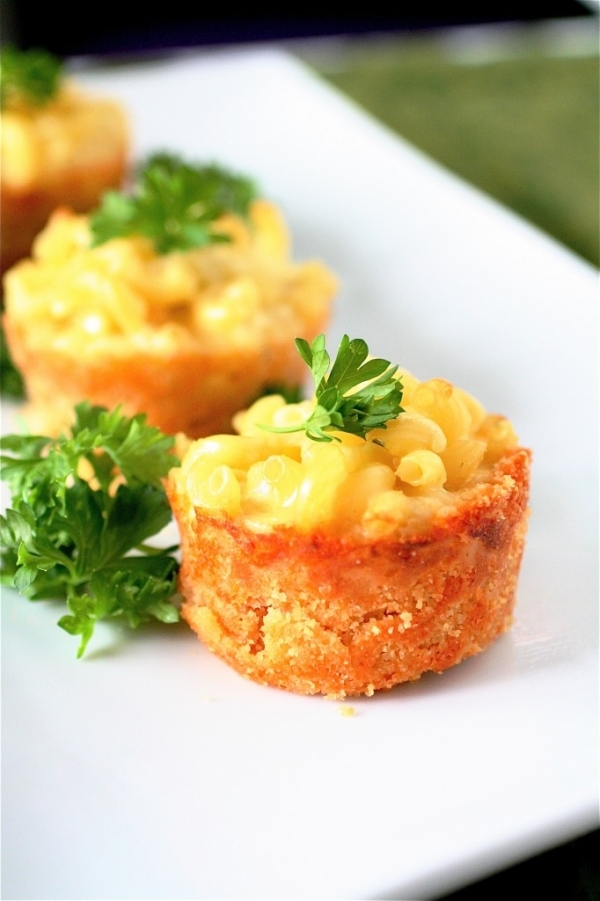 Mac and cheese was one of my favorite foods as a kid. I don't eat it now, but always loved the boxed kind better than the homemade. I know, I know, totally strange, right? Anyway! Did you know you can make mac and cheese in muffin cups? Maybe so, but if not, you can! Try this recipe as it is simple, sounds tasty and incredibly easy. Enjoy!
Serves: 8 muffin cups
Ingredients:
2 cups of whole grain macaroni (elbow) pasta
1 1/2 cups shredded cheddar cheese
1/2 cup + 2 tablespoons grated parmesan cheese
2 eggs
1/2 cup your choice milk
1/2 cup reduced fat (light) ricotta cheese
2 green onions (scallions), white and green parts, thinly sliced
1 tablespoon your choice mustard ( Dijon would be good here, or whole grain)
1/4 teaspoon sea salt
1/8 tsp. paprika
1/4 teaspoon black pepper
2 tablespoons unsalted butter
1 cup panko bread crumbs
Directions:
Preheat the oven to 375 degrees. Prepare the macaroni as directed, leaving it slightly undercooked, just tender to the touch. Drain the pasta and put it in a large bowl with the cheddar and the ½ cup of parmesan. Stir well until the cheese melts and in a separate bowl, beat your eggs. Then, stir in the milk and ricotta and add this mixture to your pasta. Last, stir in the green onions, mustard, salt, pepper and paprika. Divvy out the mixture into 8 greased muffin pans or place liners in the pan first before placing the mixture in. In another bowl, mix together your bread crumbs and 2 tbsp. of your parmesan cheese. Then, sprinkle that on top of your muffin mac and cheese cups and bake for 20 minutes. Let these cool at least 5 minutes on a counter in the pan before you try to take them out. Serve warm, or feel free to wrap each in foil after they cool 30 minutes and freeze for later. Then, you can just remove the foil and reheat for an easy side dish or mini meal!
Source: Adapted from muffintinmania.com.
---
4

Tuna Salad Bean Cups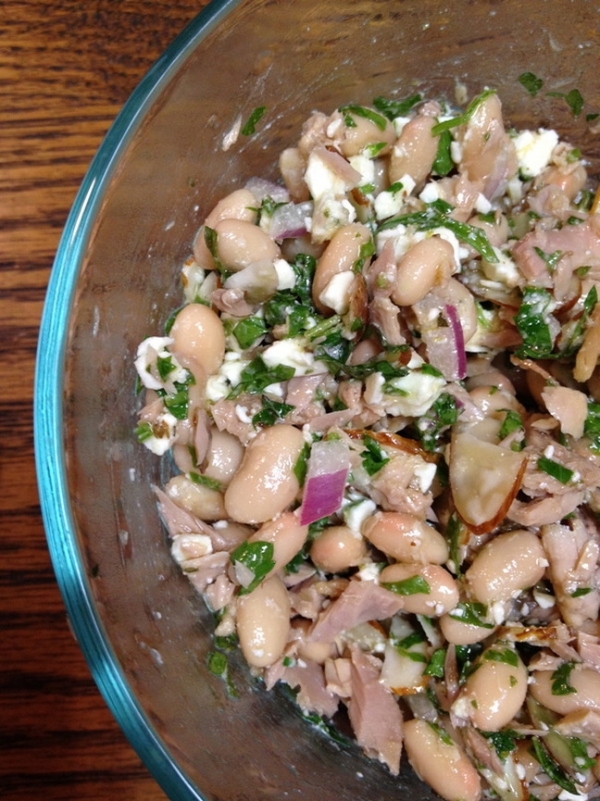 I just love using muffin pans to make entrees for an easy way to utilize the amazing muffin pan. Try these tuna salad bean cups, which are just so lovely, filling and easy to make. They're perfect for serving for a lunch, or keeping around for your friends and family throughout the week for an easy grab and go lunch or snack.
Serves: 12
Ingredients:
For the bean cups:
1 15-ounce can white navy beans or garbanzo beans, rinsed and drained
1/2 cup flour of choice
1/3 cup chopped parsley
2 garlic cloves, minced
1 teaspoon cumin
1/2 teaspoon salt
1/4 teaspoon black pepper
2 tablespoons extra virgin olive oil
Tuna salad:
2 5-ounce cans tuna
1/2 cup pitted olives, sliced
1/3 cup sun-dried tomatoes, chopped
2 tbsp. chives
1/4 cup finely chopped parsley
Juice of 1/2 lemon
½ tsp. lemon pepper
1/8 teaspoon cayenne
2 tablespoons extra virgin olive oil
Directions:
Preheat oven to 350 degrees F. Place beans, flour, parsley, garlic, cumin, salt, pepper and olive oil in a food processor and blend until a paste forms. Divide mixture among 12 standard sized greased muffin cups and form each into a cup with the bean paste coming up the sides. Bake for 20 minutes, or until cups have set but are still slightly moist. Let cool several minutes before unmolding.
Meanwhile, add tuna to a large bowl and using a fork break it up into small pieces. Toss together with remaining salad ingredients. To serve, spoon tuna salad into bean bowls.
Source: Adapted from muffintinmania.com
---
5

Granola Cups with Yogurt Filling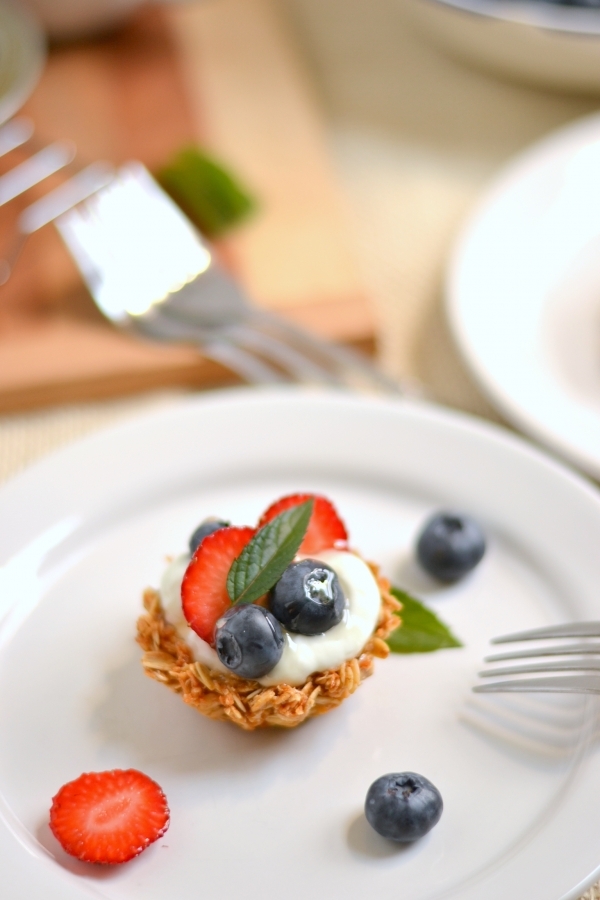 Don't just depend on cereal and yogurt in the mornings, or plain old bowls of oatmeal. Try something fun for a change! Like these super simple, yet amazing granola cups. They're sweet, crunchy, and tastes like cereal, but in the nice firm shape of a muffin crust. Then they are cooled, filled with cold and creamy yogurt and served with fruit on top. Are you ready to eat yet?
Serves: 12
Ingredients:
1 1/4 cups quick-cook rolled oats (not instant)
1/3 cup milled flaxseed
1/2 cup chopped almonds
1/3 cup hemp hearts
½ cup raisins
½ cup dried cranberries (no sugar added like Eden's brand)
3/4 teaspoon cinnamon
¼ tsp. ginger
¼ tsp. nutmeg
1/2 teaspoon salt
1 large egg
1/2 cup honey or maple syrup
1/4 cup melted coconut oil
1 cup plain, nonfat Greek yogurt
2 teaspoons vanilla extract
Directions:
Preheat your oven to 350 degrees. Get out a large bowl and place the oats, flaxseeds, almonds, hemp, dried fruit, cinnamon, nutmeg, ginger and salt in. Stir together. In another bowl, add the egg and beat it and then stir in the honey or maple syrup and coconut oil. Add the honey egg oil mixture to your oat mixture and mix together until everything is combined well. Grease a 12 cup muffin pan with coconut oil with your hands and then spoon the granola mixture into the pans, using about 2 tbsp. per cup. Form a "crust" into the cups, pressing down with your fingers and around the muffin cup edges to form little granola crust bowls. You might need to wet your hands a couple of times to prevent sticking. Then, wash your hands and bake the cups for 20 minutes until the edges are firm. Place these on a counter for an hour or in the fridge for 30 minutes to cool after baking. Meanwhile, combine your vanilla extract and yogurt to make vanilla yogurt. Add stevia or another sweetener if you like. Set aside. Unmold the granola cups from the pan and place the yogurt mix inside to serve. Top with fruit like raspberries, strawberries or blueberries, or serve plain. Just don't add the yogurt before serving if they get soggy, though that might be good, much like cereal and milk! Anyway you make these, enjoy them and share with your friends and family!
Source: Adapted from muffintinmania.com
---
6

White Chocolate Cashew Berry Cups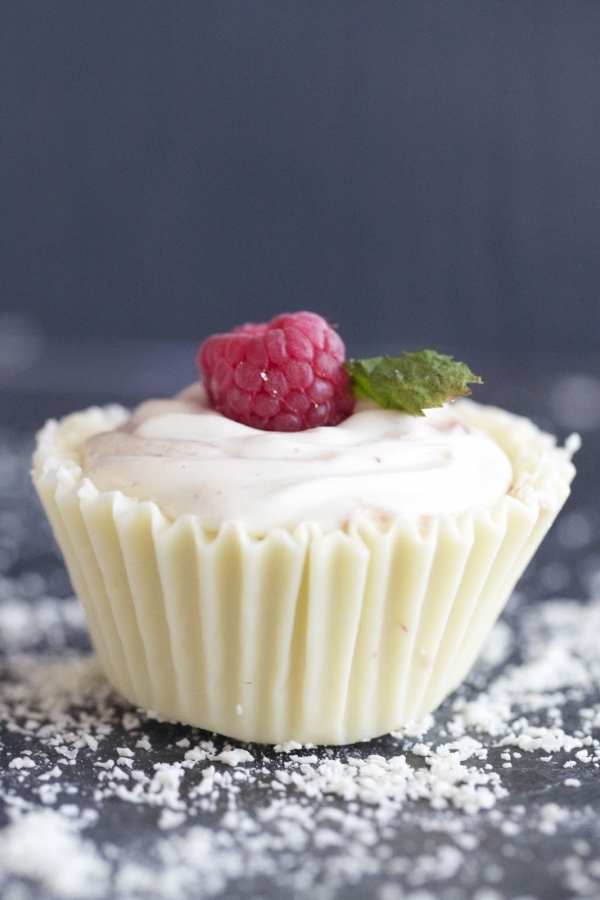 Hopefully, you're already hooked on this recipe just by the name, as I know I was. I love all things white chocolate! Plus add in some cashews, berries, and you've got yourself one satisfying treat, just perfect for one of those guilty pleasure moments. If you want to make this recipe really healthy, feel free to substitute raw cacao butter for the white chocolate and add in some stevia to sweeten. Enjoy!
Serves: 12 cups
Ingredients:
1 cup raw cashews
1 ½ cups mixed berries, chopped ( you can use thawed frozen ones if you want)
6 ounce(s) high-quality white chocolate, chopped
1 teaspoon(s) vanilla extract
Directions:
Place cashews in a bowl, cover with water, and soak for at least 2 hours to soften. Drain and place in a blender along with barely enough water to cover the nuts. Process until smooth, 1 to 2 minutes to make them creamy. Then, to make the white chocolate mixture, heat the cashew cream in a saucepan and add in the white chocolate and vanilla extract. Turn the burner onto low and let it simmer and stir it regularly to prevent sticking. When the chocolate has melted, turn off the burner and remove the pot. Meanwhile, divide your berries throughout your muffin pan cups. Pour the chocolate cashew cream mix over the berries and freeze until solid. Once frozen completely, unmold them with a knife around the edges and place in a container of choice to store. When ready to serve, let them thaw about 5 minutes and serve cold for an ice cream like treat sure to please anyone!
Source: Adapted from redbookmag.com
---
7

Raw Coconut Buttercups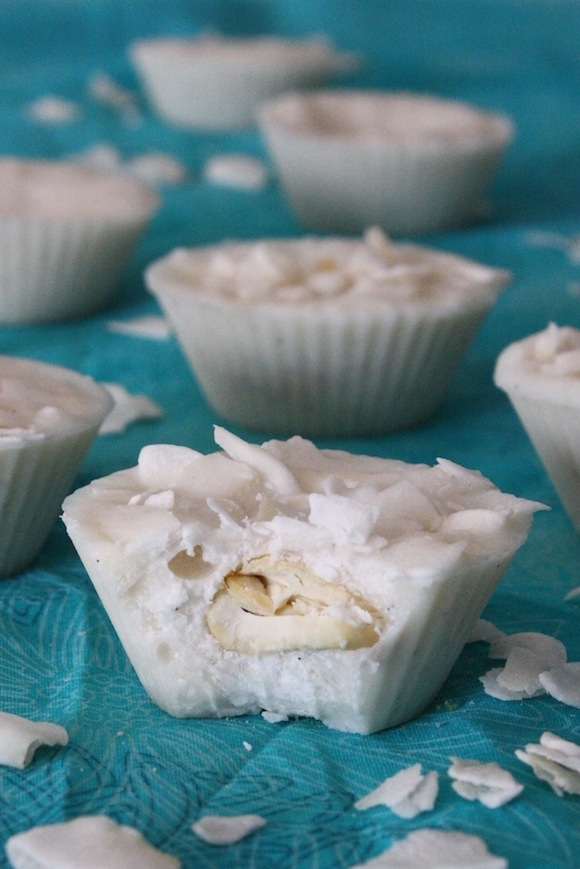 Lastly, this recipe is one of my very own, and quite possibly one of the simplest to make. It contains basically only raw coconut, coconut oil, stevia, and cinnamon if you wish. That's it. I love these as a healthy replacement to chocolate peanut buttercups, which used to be my favorite, but peanuts don't settle well with my stomach. These raw coconut buttercups are incredibly rich, so one takes care of your sweet tooth, your cravings, and gives you tons of energy with a moist, buttery candy you can pop in your mouth without any guilt at all! Enjoy!
Serves: 22 mini muffin cups or 11 regular sized muffin cups
Ingredients:
2 2/3 cups of medium shredded coconut ( I like Bobs Red Mill or Let's Do Organic. Let's Do Organic's package contains exactly 2 2/3 cups, which is where I got this measurement, so just add the whole bag.)
1 tbsp. melted organic coconut oil
1 drop of liquid vanilla stevia
Dash of cinnamon - optional
Directions:
First, line a mini muffin pan or regular muffin pan with liners. It works much easier and looks better for a candy presentation. Then, you can remove them later if you wish.
In a high powered blender like the Vitamix, add the coconut and then the oil and stevia. Turn on low and process about a minute. Use the tamper included. Then progress to high and move the tamper up and down to mash it into butter. When you have coconut butter stop the blender. Remove the lid and use a tablespoon to ladle out into the mini muffin pans. Freeze the pan for 30 minutes to firm up, or place in the fridge for about an hour or so. When they are solid, remove and serve. They will stay hard at room temp since coconut is a stable fat. Store in a container for a week if you manage to let them last that long, and enjoy!
Source: soulfulspoon.com
We all know you can make many things in muffin tins or pans, but I wanted to show you a few new recipes that I hadn't previously heard of. Do you know of one that I might like to try?
---
Comments
Popular
Related
Recent