15 Unicorn 🦄 Treats 🍩 to Brighten up ✨ Your World 🌍 ...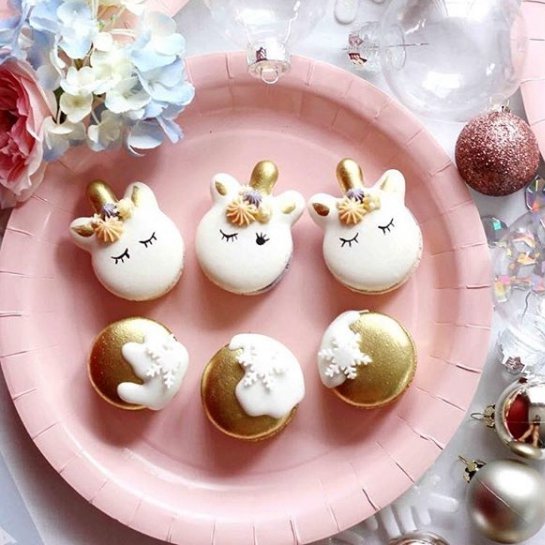 It's definitely the year of the unicorn, which is obvious with all of the magical themed treats you're seeing all over social media. Unicorn treats are really fun to look at, but they're even more fun to eat or drink. If you want in on the unicorn trend, you can start with a treat like any of the one on this list. Each one is perfect for an indulgence and will make you smile before you chow down. Thank you to theberry.com for sharing these delectable ideas with us.
Joanna Czikalla, the owner of Créme and Sugar in Anaheim, California, makes this magical treat with white hot chocolate (which she dyes pink, of course), an assortment of rainbow sprinkles and edible pearls, and an array of colorful marshmallows.
Get the recipe: bravotv.com
This dreamy white chocolate bark is studded with edible rainbow pearls and enough rainbow sprinkles to thrill you from horn to toe.
Get the recipe: thespruce.com
Is "orgasmic" a word we use to describe food? Because this glittery rainbow vanilla ice cream is giving me feelings.
Get the recipe: breadboozebacon.com
4.

"Unicorn Poop" Meringues
They might have "poop" in the name, but there's nothing shitty about these colorful meringue cookie swirls.
Get the recipe: momdot.com
This strawberry milkshake is topped with glittery rainbow bark, rock candy, and sprinkles to get you sugar drunk enough to fall right off your unicorn.
Get the recipe: bethcakes.com
6.

Rainbow Sprinkle Marshmallow Sandwiches
Marshmallow puffs and colorful sprinkles make these chocolate graham cracker sandwiches look almost too good to eat. But, let's not get ridiculous—they're totally getting devoured.
Get the recipe: sweetapolita.com
These bite-sized rainbow fudge squares are the perfect addition to a unicorn-themed girl's night food spread.
Get the recipe: tastemade.com
Easy no-bake rainbow cake balls dipped in white icing and adorable rainbow sprinkles.
Get the recipe: princesspinkygirl.com
9.

Rainbow Unicorn Poptarts
Rainbow marbled poptarts, filled with strawberry preserves and magic.
Get the recipe: awwsam.com
10.

Unicorn Cake in a Jar
A little rainbow cake, topped with purple icing and an edible fondant unicorn horn. It's basically all of your unicorn fantasies in one tiny jar.
Get the recipe: popsugar.com
11.

Unicorn Party Snack Mix
Marshmallows, sprinkles, and salted Bugles, covered in a sugary white chocolate glaze for a snack that incorporates all the unicorn food groups.
Get the recipe: karaspartyideas.com)
Whimsical cake donuts dipped in white icing, with fondant horns and little icing flowers. They look so elegant, but they're actually really easy to make.
Get the recipe:
13.

Rainbow Unicorn Cupcakes
This glittery marshmallow creme icing is the closest you can get to eating an actual rainbow.
Get the recipe: amandacupcake.blogspot.com
14.

Rainbow Cotton Candy Smores
Gooey marshmallow smores with puffy clouds of cotton candy straight out of our unicorn fantasies.
Get the recipe: sequinsinthesouth.com
15.

Unicorn Ice Cream Cake
If unicorns had birthdays, this ice cream cake with rainbow sprinkles and edible gold stars is what they'd eat for dessert.
Get the recipe: theskinnyfork.com
{{#comments_count}} Show Commnents ({{comments_count}}) {{/comments_count}}