7 Ways to Stuff a Tortilla You'll Absolutely Love Right Away ...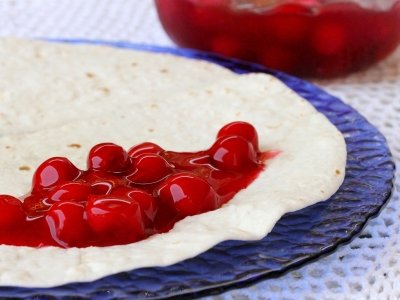 With so many, many ways to stuff a tortilla, you're going to have a hard time picking which one to start with. I'll share a few of my favorites here to get you started. Tortillas are inexpensive, but filling, which makes them a great staple for small budget grocery lists. Opt for whole-wheat tortillas for additional nutrients. Go ahead, try all these ways to stuff a tortilla – there's one for every day of the week.
1.

Cream Cheese and Veggies
There's no doubt you've had a pinwheel at a party, right? This tortilla filling is similar. Spread a tortilla with low-fat cream cheese and top with your favorite sliced veggies. I like cucumber and shredded carrots or black olives and diced green chilies. The great thing about this idea is that you can put any veggies you have on hand inside. Radishes, celery, tomatoes and avocado are other yummy ideas. You can see why this tops my list of ways to stuff a tortilla, can't you?
Tortillas are great for hearty meals, but they also work wonderfully as a base for sweet treats to share. To make this yummy and super easy dessert, place a scoop of fruit pie filling, either homemade or canned, in the center of the tortilla and fold it over. Lightly wet the edges of the tortilla with water and press them closed, making sure to not leave any openings. Heat oil in a large skillet and fry the tortilla pie until it's crispy and golden brown on both sides. This should take about five minutes per side. Sprinkle the pie with powdered sugar and serve it with a scoop of cold vanilla ice cream.
Turkey and cheese rolled into a tortilla makes a yummy alternative for your traditional sandwich at lunchtime. Lightly spread the tortilla with mayo and top with sliced lean turkey and cheddar or American cheese. Layer on sliced avocado and tomatoes and top with shredded lettuce. Roll it up and enjoy!
If you're looking for a new Mexican meal, chimichangas are your answer. They taste so good and are pretty simple to throw together too. Start by grilling chicken or steak and slicing or shredding it. In the center of a tortilla, place the meat and a generous sprinkling of cheddar cheese. Press the sides of the tortilla in and roll it up. You'll have a small little pocket of deliciousness. Fry the chimichanga until it's crispy and golden brown on all sides. Serve it topped with green chili, lettuce, tomato, sour cream and guacamole. Yum!
If you love chicken potpie, this is a fun and easy twist that you'll love. Press small tortillas into a muffin tin and fill with shredded, cooked chicken, carrots, corn, peas, cream of chicken soup and salt and pepper. Wrap the edges of the tortilla over the fillings and bake the potpies at 350 degrees for about 35 minutes, or until crispy and hot throughout.
Next time you have chicken nuggets or tenders left over, don't throw them away. They make a great tortilla filling you can have for lunch the next day. Lay a lettuce leaf on a tortilla and place the chicken on the lettuce. Drizzle them with ranch dressing and top with shredded carrots. Roll the tortilla up and you're ready for a yummy meal.
7.

Portobellos and Poblanos
This is one of my absolute favorites! Pile a tortilla with roasted mushrooms and poblano peppers. Sprinkle with Jack cheese, diced tomatoes, chopped onions and avocado slices. Fold the tortilla and eat it like a taco. It doesn't get any better than this!
What's your favorite way to fill a tortilla? Do you have a go-to that makes a great meal when time is short and you're super hungry?
{{#comments_count}} Show Commnents ({{comments_count}}) {{/comments_count}}