Apple cider is great to use in all kinds of recipes, and these apple cider recipes make a perfect example! Apple cider adds a sweet, tart flavor that is fantastic in a variety of dishes, whether sweet or savory. Try using it in your next recipe and use the following apple cider recipes as great suggestive examples. Enjoy!
---
1

Apple Cardamom Cakes with Apple Cider Icing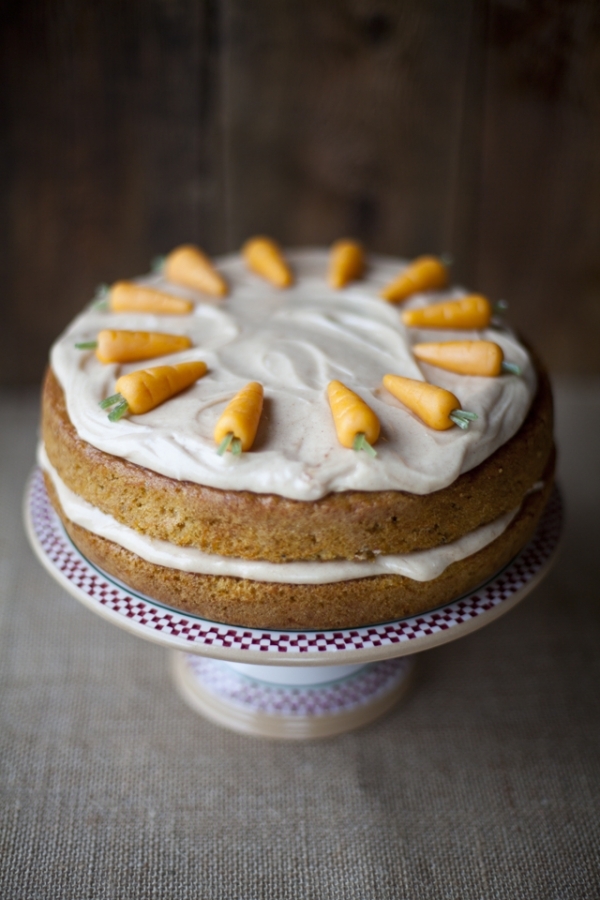 Who said that apple cider recipes couldn't involve a little cake in the mix? Apple cider makes a great addition to baked goods, such as in these cardamom cakes! Have you ever had the spice cardamom? It is incredibly calming, high in nutrients, great for your blood pressure, and personally, always one I enjoy using in baked goods or smoothies. Try this delicious little cardamom cake recipe using apple cider. I promise it will become a favorite guilty pleasure in no time! If you're health conscious, feel free to use a gluten-free flour in place of the white flour, or to use your favorite sugar alternative in place of the brown sugar too. These crumb cakes are perfect even if you do make them healthier.
Serves: 24 mini cakes
Ingredients:
2 1/4 cup(s) flour
1 teaspoon(s) baking soda
1/2 teaspoon(s) salt
1 teaspoon(s) ground cardamom
¼ tsp. cinnamon
1 tbsp. vanilla extract
2 eggs
1 1/2 cup(s) brown sugar
1 cup of unsweetened applesauce
1/2 cup(s) butter, melted
2 tablespoon(s) butter, melted
1/2 cup(s) sour cream or Greek yogurt
1 1/2 teaspoon(s) lemon zest
1 1/2 cup(s) peeled and chopped Golden Delicious Apple, or any red varities
1 1/4 cup(s) confectioners' sugar
¼ cup quality apple cider
Directions:
Preheat your oven to 400 degrees F. Take a cake mold pan that holds 24 (3.5 ounces each) mini cakes, or you can use a muffin pan, and butter them and sprinkle with flour so they won't stick. Set aside. Sift the flour, baking soda, salt, cinnamon and cardamom together and set aside. Beat the eggs and sugar together, using a mixer set on medium-high speed, until the mixture forms a thick ribbon when the beaters are lifted from the bowl. Reduce speed to low and mix in the vanilla and applesauce. Add 1/2 cup of the melted butter, sour cream, and zest and beat until combined. Gradually add the flour mixture and mix until smooth. Fold in the apples and divide the batter among the prepared molds (about 1/4 cup per mold). Bake until a skewer inserted in the center of the cake tests clean -- 20 to 25 minutes. Cool for 5 minutes in the pan on a wire rack. Unmold the cakes and cool completely on the rack. Stir the remaining melted butter, confectioners' sugar, and apple cider together in a medium bowl until smooth and drizzle over the cooled cakes and let the icing set before serving.
Source: delish.com
2

Spiced Apple Cider Muffins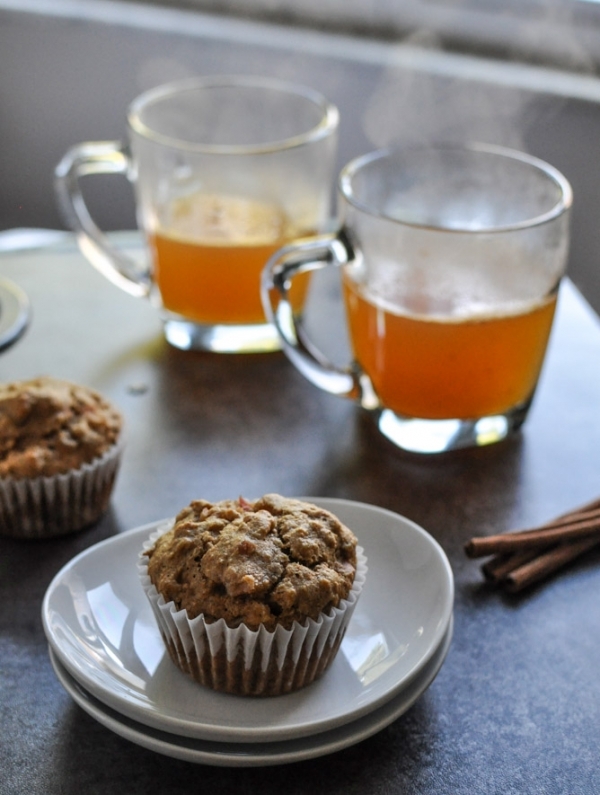 Muffins are a classic treat to make in the kitchen for fall, or anytime of the year in fact! To spruce up the fall flavor in your next batch, just add apple cider! Apple cider creates a sweet, slightly tangy taste that is really a refreshing twist on traditional recipes. I suggest using this recipe as a great treat to make for guests, or anytime you're craving something especially unique. These muffins are pure comfort food, so enjoy with a cup of coffee, tea, or even hot cider.
Serves: 10 regular sized muffins
Ingredients:
2 tablespoon(s) packed light brown sugar
4 teaspoon(s) whole-wheat flour
1/2 teaspoon(s) ground cinnamon
1 tablespoon(s) butter, cut into small pieces
2 tablespoon(s) finely chopped pecans or walnuts (optional)
1 cup(s) whole-wheat flour
1 cup(s) all-purpose flour
1 1/2 teaspoon(s) baking powder
1/2 teaspoon(s) baking soda
1/4 teaspoon(s) salt
1 tablespoon(s) ground cinnamon
1/2 teaspoon(s) ground nutmeg
1 large egg
1/3 cup(s) packed light brown sugar
1/2 cup(s) apple sauce
¼ cup nonfat Greek yogurt
¼ cup melted coconut oil or olive oil
1/3 cup(s) maple syrup
Directions:
Preheat oven to 400°F. Coat 10 muffin cups with cooking spray. This muffin recipe uses a streusel topping, which you'll need to prepare first. To prepare the streusel, mix the brown sugar, whole-wheat flour and cinnamon in a small bowl. Cut in butter with a pastry blender or your fingers until the mixture resembles coarse crumbs. Stir in almonds or walnuts, if using. To prepare muffins, whisk whole-wheat flour, all-purpose flour, baking powder, baking soda, salt, cinnamon and nutmeg in a large bowl. Next, whisk egg and brown sugar in a medium bowl until smooth. Whisk in apple butter, syrup, cider, yogurt and oil. Make a well in the dry ingredients; add the wet ingredients and stir with a rubber spatula until just combined. Scoop the batter into the prepared muffin cups (they'll be quite full). Sprinkle with the streusel. Bake the muffins until the tops are golden brown and spring back when touched lightly, 15 to 25 minutes. Let cool in the pan for 5 minutes. Loosen edges and turn muffins out onto a wire rack to cool slightly before serving.
Sources: delish.com
---
3

Creamy Apple Cider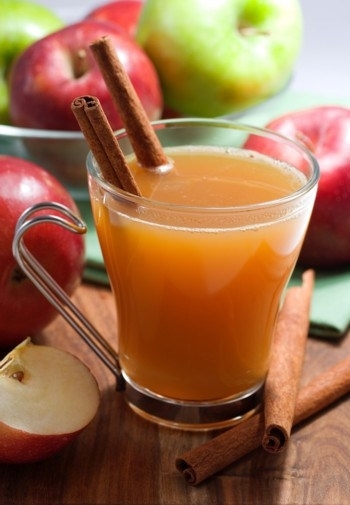 Perhaps you're just not in the mood for typical apple cider, but still want a cozy drink much like the traditional cider offers. No problem! Try this creamy apple cider, which is a bit more grown up with a touch of bourbon added, though it can easily be left out to keep it virgin. It also isn't incredibly healthy, so keep it reserved as a special occasional treat. Serve this with any of these other recipes for double the yummy apple cider flavor.
Serves: 5 ½ cups
Ingredients:
2 cups half and half
1 cup your choice milk
1 cup apple cider
2 large eggs
½ cup sugar
¼ tsp. ground cinnamon
⅛ tsp. salt
⅛ tsp. nutmeg
½ cup bourbon
whipped cream as a garnish
Directions:
Whisk together the half-and-half, milk and apple cider, eggs, sugar, cinnamon, salt and nutmeg in a heavy saucepan. Cook over medium-low heat, whisking constantly, 15 to 20 minutes or until mixture thickens and coats a spoon. Remove from heat. Stir in bourbon, if desired. Top each serving with sweetened whipped cream. Garnish with cinnamon sticks, ground cinnamon, and apple slices, if desired.
Sources: southernliving.com
---
4

Roasted Squash with Apple Cider Drizzle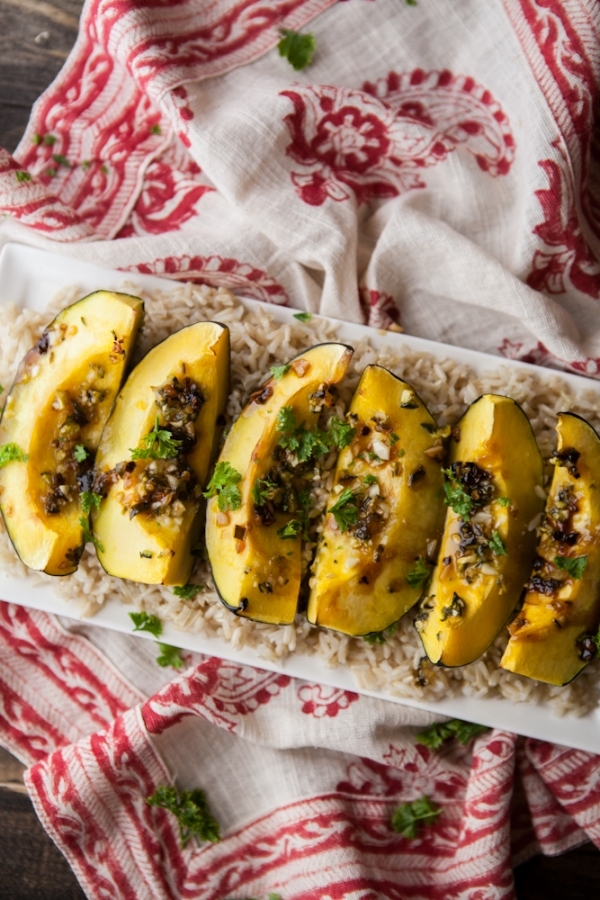 I just love winter squash, and it's incredibly versatile when it comes to flavor options. Apple cider makes the perfect drizzle to use on your next batch of warm winter squash. This simple recipe is one to keep around for all season long, and will be one you'll definitely want to keep around each year. I like to use coconut oil as my oil source in this squash since it holds up better to high heat than other oils, and offers an incredibly rich, decadent flavor. Just try it and see!
Serves: 4
Ingredients:
1 (about 1 3/4 pounds) medium acorn squash
1 teaspoon(s) coconut oil or olive oil
1/4 teaspoon(s) salt
1/4 teaspoon(s) freshly ground pepper
2 cup(s) apple cider
1 tablespoon(s) packed brown sugar
1 3-inch cinnamon stick
3 whole cloves
2 teaspoon(s) butter
Directions:
Preheat oven to 400 degrees F. Coat a baking sheet with just a bit of coconut oil (or cooking spray if you like). Cut squash in half lengthwise and scoop out seeds. Cut each half in half again lengthwise. Brush the cut sides of the squash with coconut oil and season with salt and pepper. Place the squash, cut-side down, on the prepared baking sheet. Roast for 20 minutes, turn the squash over so the opposite cut side is down, and continue roasting until tender, 15 to 20 minutes more. Meanwhile, combine cider, brown sugar, cinnamon stick, and cloves to taste in a small saucepan; bring to a boil over medium-high heat. Cook, stirring occasionally, until reduced to a thin, syrupy glaze, 20 to 25 minutes. (Watch carefully toward the end to prevent burning.) Remove from the heat and discard the cinnamon stick and cloves. Stir in butter until melted. Serve the roasted squash with the cider drizzle.
Source: delish.com
---
5

Mulled Cranberry Apple Cider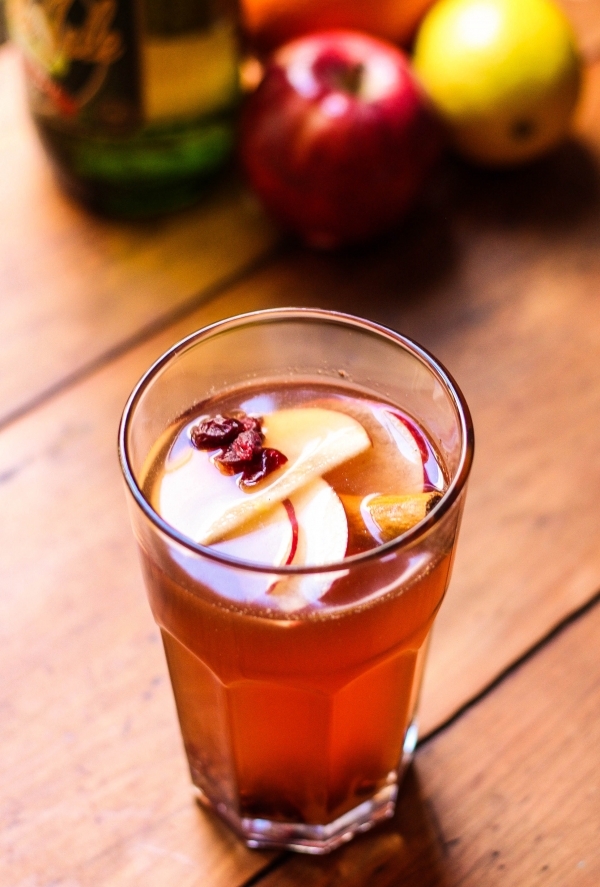 Cranberries are a perfect fall fruit to use whenever you can, and they transition right into winter dishes quite easily as well. This cider recipe uses the spectacular, tangy taste of cranberries to give you a full-bodied, yet uplifting cider drink to enjoy. Whatever you choose to serve this with, even if just alone as a cozy beverage before or after a meal, it is sure to please and satisfy everyone who has a cup. It's also effortless and simple for all you busy gals out there who appreciate simple recipes that offer big results.
Serves: 4
Ingredients:
2 cups apple cider
2 cups cranberry-juice cocktail
2 strips fresh orange zest
1 cinnamon stick
Optional- fresh cinnamon sticks for serving and milk/cream
Directions:
Combine cider, cranberry-juice cocktail, orange zest and cinnamon stick in a saucepan. Bring to a simmer over low heat. Simmer for 20 minutes and serve warm. Garnish with additional cinnamon sticks in each mug if you like, or even add a touch of milk for cream.
Sources: eatingwell.com
6

Apple Cider Chicken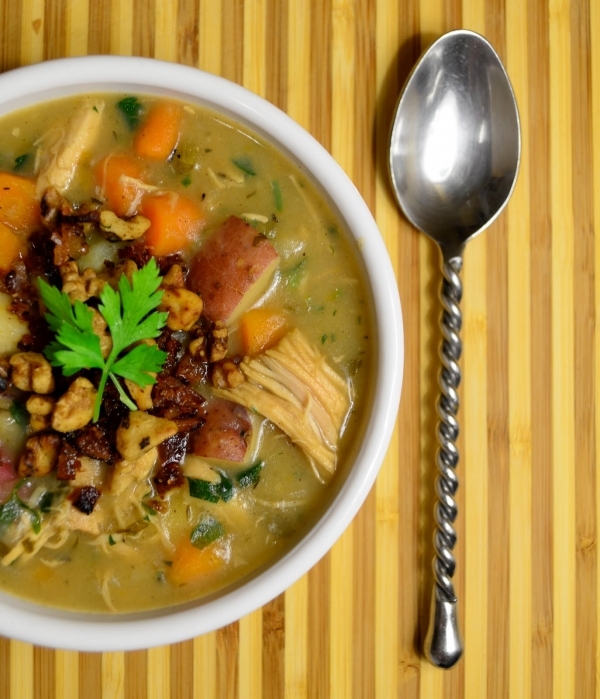 Nothing sparks flavor into poultry dishes more than apple cider. This chicken recipe is great for a twist on your original recipe and it offers a ton of flavor. Make this for your guests at any holiday, as it is always a crowd-pleaser to try.
Serves: 4
Ingredients:
4 boneless, skinless chicken breasts
Salt & freshly ground pepper
1 tablespoon extra-virgin olive oil, divided
2 Granny Smith apples, peeled, cored and thickly sliced
1/4 cup finely chopped shallots
1 teaspoon dried thyme
1/2 cup apple cider
1/2 cup reduced-sodium chicken broth
1 tablespoon reduced-fat sour cream
1 tablespoon chopped fresh parsley
Directions:
Season chicken on both sides with salt and pepper. Heat 1 1/2 teaspoons oil in a large heavy skillet over medium-high heat. Add chicken and sear until well browned on both sides, about 3 minutes per side. Transfer chicken to a plate and tent with foil. Reduce heat to medium. Add the remaining 1 1/2 teaspoons oil to the pan. Add apples, shallots and thyme. Cook, stirring, until softened, 2 to 3 minutes. Add cider and broth; bring to a simmer. Cook until slightly thickened, about 3 minutes. Return chicken and juices to pan; reduce heat to low. Simmer until chicken is cooked through, about 4 minutes. Transfer chicken to a warmed platter. Stir sour cream and parsley into sauce. Season with salt and pepper and spoon over chicken.
Source: eatingwell.com
---
7

Apple Cider Cake Squares with Special Apple Cider Sauce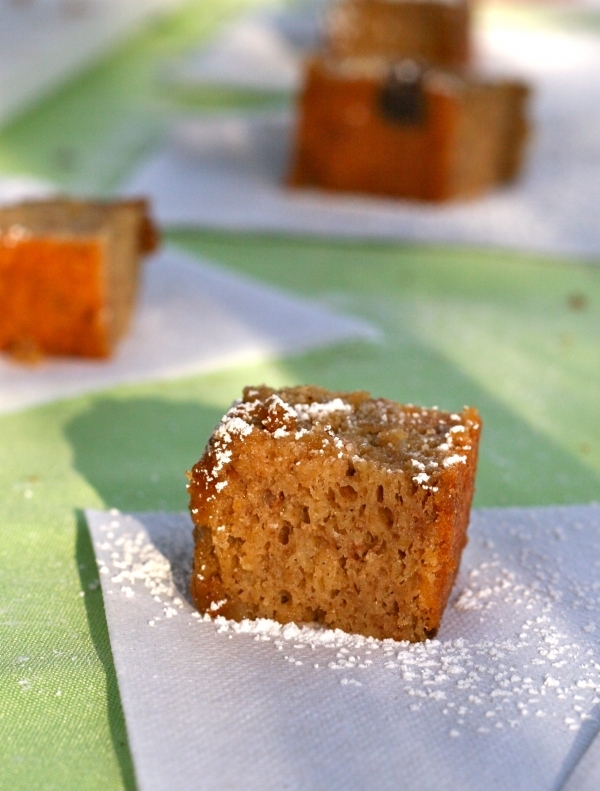 Apple cake is a popular fall recipe, and always one that offers some classic comfort. Instead of serving it up dry, try adding this special apple cider sauce on top. It offers a lot of flavor, and just the right touch of sweetness that sets this cake recipe off. Make this for guests, and no doubt, they'll be begging you for the recipe!
Serves: 8
Ingredients:
For the cake:
1 cup old-fashioned rolled oats
3/4 cup whole-wheat flour
3/4 cup unbleached all-purpose flour
3/4 cup packed light brown sugar
1 teaspoon freshly grated lemon zest
3/4 teaspoon baking powder
1/2 teaspoon salt
1/2 teaspoon ground cinnamon
1/4 teaspoon ground nutmeg
3 tablespoons canola oil
1/4 cup apple-juice concentrate, thawed
3 medium tart apples, such as Granny Smith, peeled and thinly sliced
1/4 cup coarsely chopped walnuts, toasted
Apple Cider Sauce, (recipe follows)
2 cups low-fat vanilla ice cream, or nonfat frozen yogurt
For the cider sauce:
2 cups apple cider
2 teaspoons cornstarch
4 teaspoons water
1 tablespoon butter
Directions:
Preheat oven to 350°F. Coat a 9-inch square or 7-by-11-inch baking pan with cooking spray. Whisk oats, whole-wheat flour, all-purpose flour, brown sugar, lemon zest, baking powder, salt, cinnamon and nutmeg in a large bowl. Work in the oil and apple-juice concentrate with a fork or your fingers until the mixture resembles coarse crumbs. Press 2 cups of the oat mixture firmly into the bottom of the prepared pan. Arrange apple slices over the crust in three overlapping rows. Mix the walnuts into the remaining oat mixture. Sprinkle over the apples and pat into an even layer. Bake until the top is golden and the apples are tender when pierced, 30 to 35 minutes. Cool completely on a wire rack. Meanwhile, make Apple Cider Sauce. To serve, cut into 8 pieces and place on dessert plates. Top with ice cream (or frozen yogurt) and drizzle with cider sauce.
Source: eatingwell.com
These apple cider recipes are great to make anytime you're craving something comforting and festive. Have you ever used apple cider in your recipes before?
---
Comments
Popular
Related
Recent