No-cook appetizers are my favorite kind to make. After all, they're easy because you can whip them up without having to turn the stove on. Oh, and they taste great too. So, next time you decide to throw an impromptu dinner party or guests stop by unannounced, you can make these no-cook appetizers to save the day and fill your bellies at the same time.
1

Smoked Salmon-Cardamom Spread Recipe
Smoked salmon is easy to work with because it's already prepared, but you can pair it with many other ingredients to make it one of your favorite no-cook appetizers for your next party. Serve this spread with crackers, pita chips or pretzels.
Ingredients:
1 pound hot, smoked boneless salmon fillet, divided
¾ cup reduced fat sour cream
1 teaspoon finely grated lemon rind
1 tablespoon fresh lemon juice
¼ teaspoon ground cardamom
¼ teaspoon freshly ground black pepper
¼ cup chopped fresh chives
Chopped fresh chives (optional)
Directions:
Put half the salmon in a food processor. Add the sour cream, lemon rind, lemon juice, cardamom and pepper. Process the mixture until it's smooth and put it into a large bowl. Chop the other half of the salmon and gently fold it into the pureed salmon mixture. Fold in the chopped chives. Chill the dip for a couple of hours and garnish with additional chives before serving.
Source: myrecipes.com
2

Tomato-Basil Skewers
There's nothing as delicious as the flavor combination of tomatoes and basil. This appetizer is like spaghetti, deconstructed. You'll get the best flavors of your favorite pasta sauce, without any prep work.
Ingredients:
16 small, fresh mozzarella balls
16 fresh basil leaves
16 cherry tomatoes
Extra virgin olive oil
Coarse salt and freshly ground black pepper
Directions:
Place one cheese ball, one tomato and one basil leaf on each of 16 skewers. Drizzle the skewers with olive oil and season to taste with salt and pepper.
Source: eatingwell.com
Finding healthy and delicious gluten-free foods can be a challenge, especially when you're not sure what foods have gluten. This fantastic resource offers brilliant tips and guidance, complemented by reassuring lists of naturally gluten-free foods. Follow this guide to soothe all your gluten-related worries.
3

Stuffed Tomatoes
Tomatoes are available and affordable year-round so you can serve stuffed ones at a holiday party or for a backyard barbecue. The stuffing complements the flavor of the tomatoes very well. There's no way you can eat just one!
Ingredients:
4 large tomatoes
2 hard-boiled eggs, finely chopped
1 small can of tuna fish, grated
¼ teaspoon pepper
1 teaspoon capers
1 teaspoon chopped parsley
2 tablespoons mayonnaise
Directions:
Remove the tops of the tomatoes and remove the seeds and as much juice as you can without crushing the tomatoes. Combine the eggs with the tuna, pepper, capers and mayo in a bowl. Spoon the filling into the cavities of the tomatoes and chill before serving.
Source: recipe4living.com
4

Avocado Corn Salsa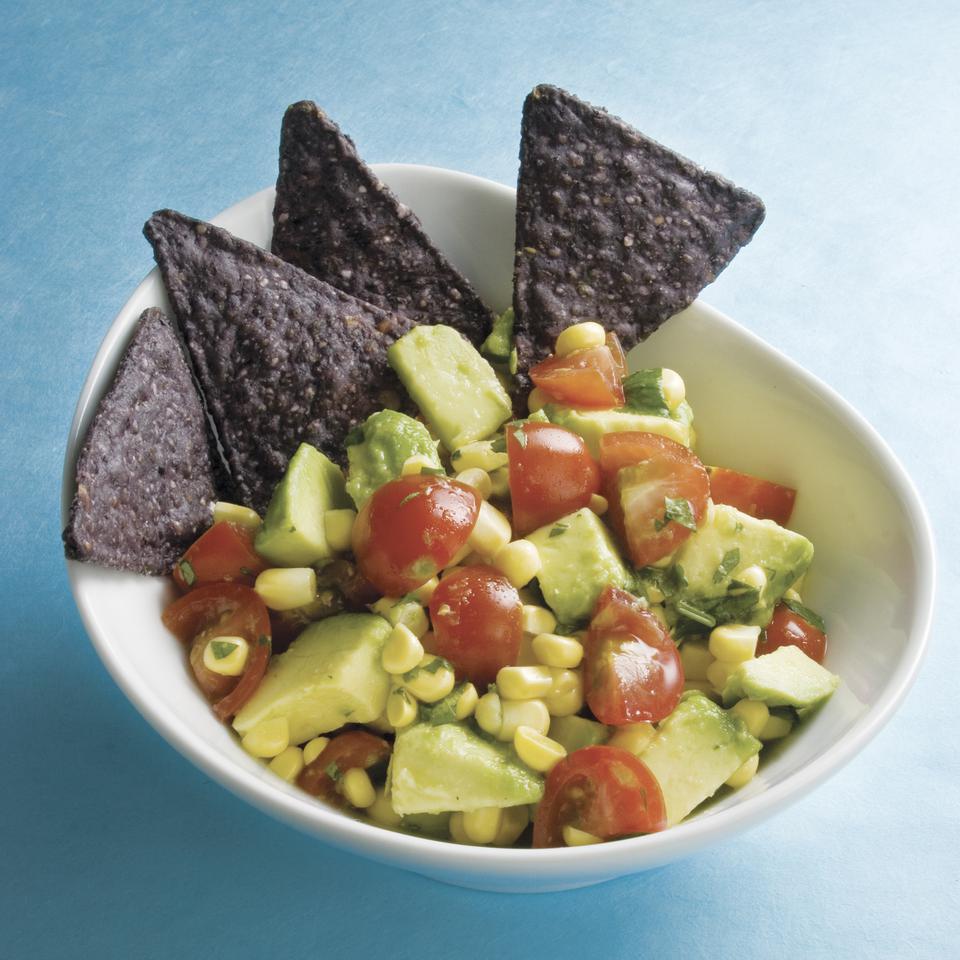 If chips and salsa always show up on your appetizer table, shake things up with this version. Loaded with flavor, the salsa is perfect for corn chips, but you can also spoon it into tacos or on grilled chicken when mealtime arrives.
Ingredients:
½ avocado, diced
½ cup thawed frozen corn kernels
1 plum tomato, chopped
2 teaspoons chopped fresh cilantro
Lime juice
Salt
Directions:
Combine the avocado, corn, tomato and cilantro in a bowl and stir to combine. Sprinkle with lime juice and season with salt to taste.
Source: eatingwell.com
5

Herbed Goat Cheese-Melon Party Bites
I love goat cheese! It has a tangy and unique flavor that's like nothing else I've ever had. You might wonder why you'd ever pair it with melon, but I guarantee you and your guests will be fighting over the last one.
Ingredients:
1 small watermelon
4 ounces goat cheese, softened
2 tablespoons chopped fresh basil
½ teaspoon salt
¼ teaspoon freshly ground black pepper
Fresh basil and freshly ground black pepper
Directions:
Cut half the watermelon into slices that are 1 inch thick. Cut each slice into 25 even pieces. Use a cutter to make this easier. Scoop a bit of melon from each slice to make an indentation. Mix the goat cheese, basil, salt and pepper and put a small bit into each melon slice. Chill for a couple hours and garnish with basil and black pepper.
Source: myrecipes.com
6

Melon and Prosciutto Skewers
These are great! They taste good and are really easy to make. Plus, they have a classy and elegant presentation that will make it look like you slaved in the kitchen all day.
Ingredients:
1 medium cantaloupe, cut into balls with a melon baller
8 slices prosciutto, each divided into 4 pieces
Salt and pepper
Directions:
Thread one piece of prosciutto and one melon ball onto a short skewer. Fold the prosciutto if needed to make it compact. Season with salt and pepper.
Source: everythingfab.com
7

Cucumber Tea Sandwiches
Tiny tea sandwiches are cute and they work great for a baby shower, wedding party or afternoon with mom and grandma. The flavors of this one pair well together. Make extras so you can eat some more tomorrow.
Ingredients:
1 package (8 ounces) cream cheese, softened
1/4 cup mayonnaise
1 tablespoon snipped fresh dill
1 tablespoon lemon juice
1/2 teaspoon Worcestershire sauce
1/4 teaspoon salt
1/8 teaspoon cayenne pepper
1/8 teaspoon pepper
2 large cucumbers, seeded and chopped
1/2 cup chopped sweet red pepper
1/4 cup chopped onion
1/4 cup pimiento-stuffed olives, chopped
1/4 cup minced fresh parsley
12 slices whole wheat bread
Cucumber slices and fresh dill sprigs, optional
Directions:
In a bowl, mix together the cream cheese, mayo, dill, lemon juice, Worcestershire sauce, salt, cayenne and pepper. Stir until well combined. Stir in the cucumbers, red pepper, onion, olives and parsley and chill for about 2 hours. Cut the crusts from the bread and then slice each piece into four triangles. Sandwich the cream cheese mixture between two triangles and garnish with cucumber slices and dill springs.
Source: tasteofhome.com
What's your favorite no-cook appetizer? I think the avocado corn salsa will definitely be on my next party menu. Which one will you try first?
Want news and updates about this topic?
Sign up for updates
abbey144:
The tomato basil skewers are also delicious with bocconcini cheese instead of the mozzarella! :) I also like to dress it in a simmered garlic and balsamic vinegar sauce :)