Cucumber recipes might not be something you search out all the time, but I really think you should. These crisp, delicious vegetables are a great source of many nutrients. Plus, they're low in calories, so they're perfect for a well balanced meal plan that won't lead to weight gain or health concerns. Try these cucumber recipes to get started, then seek out new and yummy ones and pretty soon you'll be a cucumber convert.
---
1

Japanese Cucumber Salad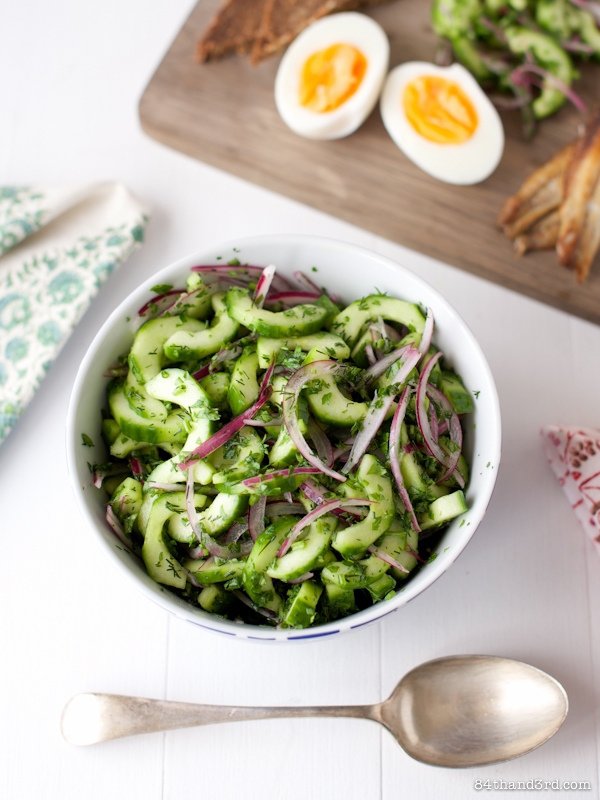 This is one of my favorite cucumber recipes. It's light and refreshing so it's perfect for a picnic, barbecue or even a cold winter night when you're tired of the frigid temperatures and want to evoke the warmer months. It's also super easy and really fast to throw together.
Ingredients:
2 medium cucumbers
¼ cup rice vinegar
1 teaspoon sugar
¼ teaspoon salt
2 tablespoons sesame seeds, toasted
Directions:
Peel the cucumbers and slice them in half the long way. Use a small spoon to scrape the seeds from the cucumbers. Slice the cucumbers into very thin pieces and dry with paper towels. Whisk together the vinegar, salt and sugar in a small bowl. Toss the vinegar mixture with the cucumbers and sesame seeds and serve.
Eating Well: eatingwell.com
---
2

Cucumber Mango Salsa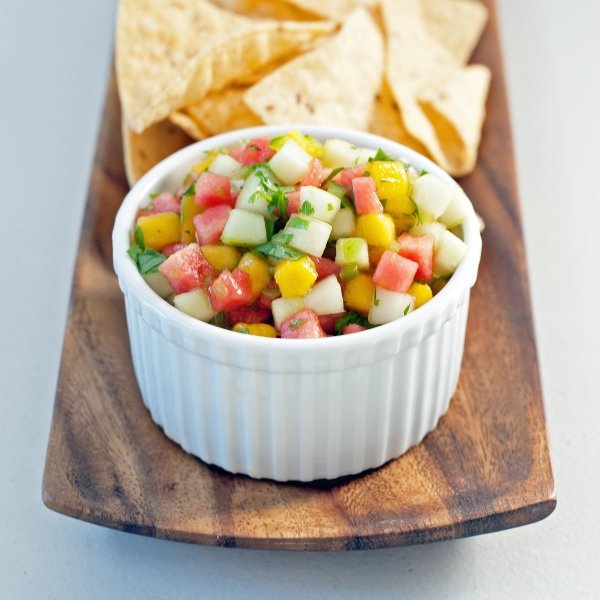 Cucumbers have a mild flavor, which means they pair well with a variety of other foods. By combining them with mango, it's super easy to create a taste-packed garnish for fish, chicken or just gobbled plain as a healthy snack.
Ingredients:
3 mangoes, peeled, seeded and diced
1 cucumber, peeled, seeded and diced
2 jalapeno peppers, seeded and finely diced
1 large onion, finely diced
1 clove garlic, minced
¼ cup chopped fresh cilantro
1 tablespoon lime juice, or to taste
Salt and pepper, to taste
Directions:
In a bowl, toss together the mango, cucumber, jalapeno, onion, garlic and cilantro until well combined. Season to taste with lime juice, salt and pepper and chill the salsa for a couple of hours before serving.
All Recipes: allrecipes.com
---
3

Gazpacho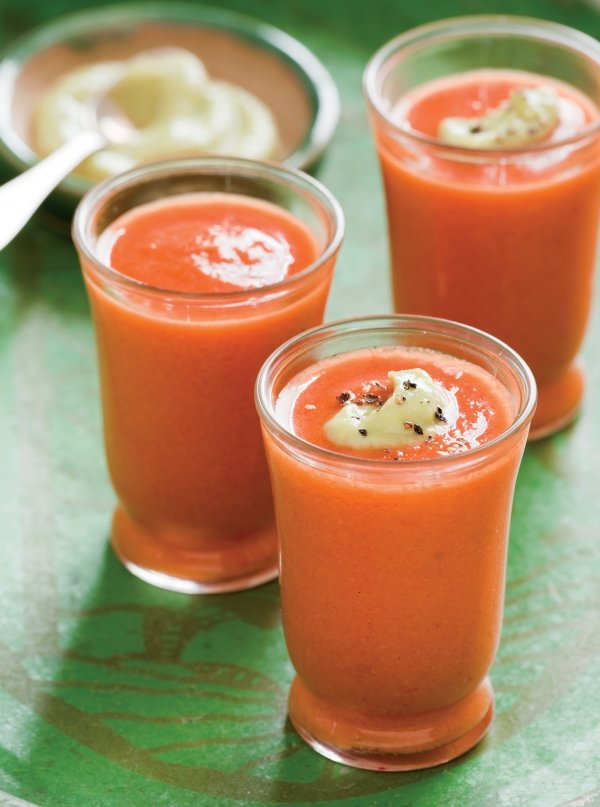 This recipe is one that I love to make in later summer when my garden gives up all its goodness. Served cold, gazpacho tastes great and is the perfect accompaniment to grilled chicken on the patio. Don't worry, you can still eat in the winter – I do!
Ingredients:
1 hothouse cucumber, halved and seeded, but not peeled
2 red bell peppers, cored and seeded
4 plum tomatoes
1 red onion
3 garlic cloves, minced
23 ounces tomato juice (3 cups)
1/4 cup white wine vinegar
1/4 cup good olive oil
1/2 tablespoon kosher salt
1 teaspoons freshly ground black pepper
Directions:
Cut the cucumbers, bell peppers, tomatoes and onion into chunks. Process each vegetable to coarsely dice in the food processor one at a time. Place the vegetables into a large bowl and add the tomato juice, vinegar, olive oil, salt and pepper. Stir well to combine the ingredients and refrigerate the gazpacho until chilled.
Food Network: foodnetwork.com
---
4

Cucumber and Baby Pea Salad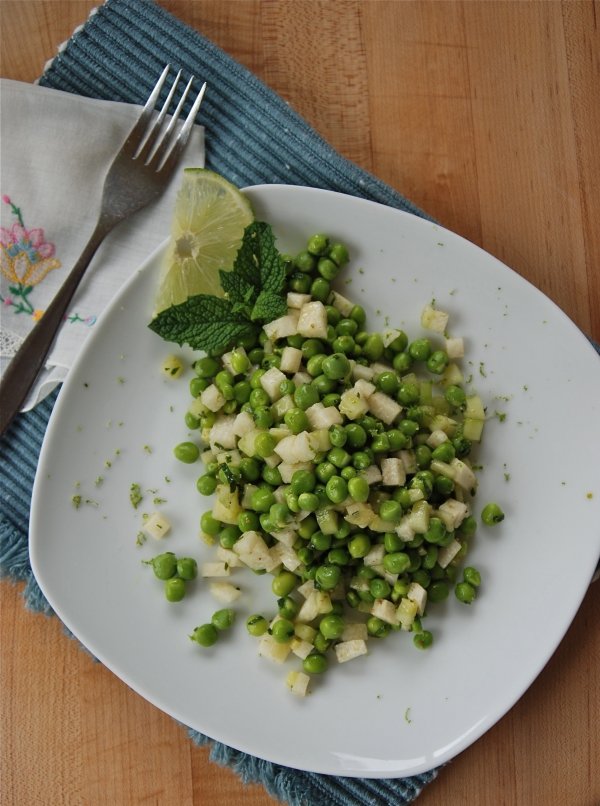 If you're looking for a new side dish that isn't hard to make, but isn't the same as everything else, you've come to the right place. This recipe combines the delicious taste of cucumbers with peas for an exciting salad you won't be able to get enough of.
Ingredients:
1 cup plain Greek yogurt
3 tablespoons fresh lemon juice
¼ cup extra-virgin olive oil
1 cup flat-leaf parsley leaves
¼ cup finely shredded basil leaves
Salt and pepper
1 pound frozen baby peas, thawed
3 large seedless cucumbers, peeled, seeded and sliced a ½-inch thick
Directions:
Combine the yogurt with the lemon juice and olive oil in a bowl. Stir in the parsley and basil, then season the mixture with salt and pepper. Mix in the cucumbers and peas, stir to coat and serve.
Food and Wine: foodandwine.com
---
5

Cherry Tomato, Cucumber, Feta Salad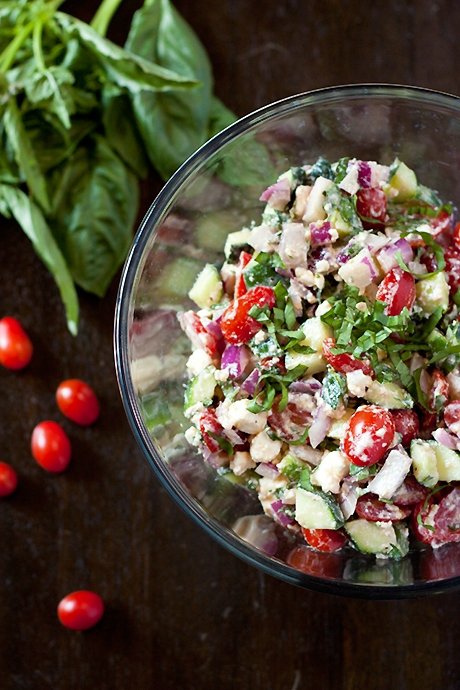 Tomatoes and cucumbers taste really great together. If you agree, you're going to love this recipe. It's perfect for a light lunch, but it also works well as a refreshing side dish for a steak dinner.
Ingredients:
2 to 3 cups cherry tomatoes, halved
1 cup peeled and chopped cucumber
¼ cup crumbled feta cheese
1 tablespoon chiffonaded mint leaves
1 teaspoon fresh chopped oregano
1 tablespoon lemon juice
2 tablespoon finely chopped shallots or green onions
2 teaspoons olive oil
Salt and pepper to taste
Directions:
In a bowl, stir together the tomato, cucumber, feta cheese, mint and oregano. Add the lemon juice, shallots, olive oil, salt and pepper and stir to combine.
Simply Recipes: simplyrecipes.com
---
6

Caribbean Sweet Potato Salad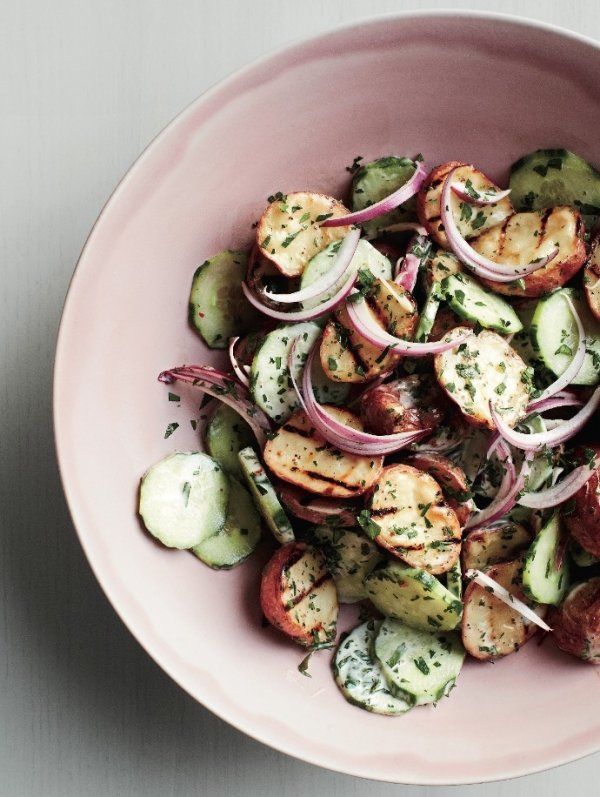 This recipe just sounds delicious. The ingredients work really well together and it's loaded with nutrition too. It's star ingredient – fresh cucumber. You just can't go wrong!
Ingredients:
1 large russet potato, peeled and quartered
1 large sweet potato, peeled and quartered
1 cup corn
1 teaspoon prepared Dijon mustard
2 tablespoons fresh lime juice
3 tablespoons chopped fresh cilantro
1 garlic clove, minced
3 tablespoons canola oil
½ teaspoon salt
¼ teaspoon black pepper
1 cucumber, halved lengthwise and chopped
½ red onion, thinly sliced
¼ cup finely chopped peanuts
Directions:
Cover the russet potato pieces with water in a large saucepan. Bring the water to a boil, then simmer for 10 minutes. Add the sweet potato and simmer an additional 15 minutes. Once tender, add the corn and cook for 30 seconds. Drain the potato mixture and place the vegetables in a pot of cold water for 5 minutes. Drain again. In a bowl, combine the mustard, lime juice, cilantro and garlic. Slowly whisk in the oil and season to taste with salt and pepper. Cut the potatoes into 1-inch cubes and add to a bowl with the cucumber and red onion. Pour the mustard mixture over and toss to coat. Garnish with the peanuts and serve.
All Recipes: allrecipes.com
7

Creamy Cucumber Soup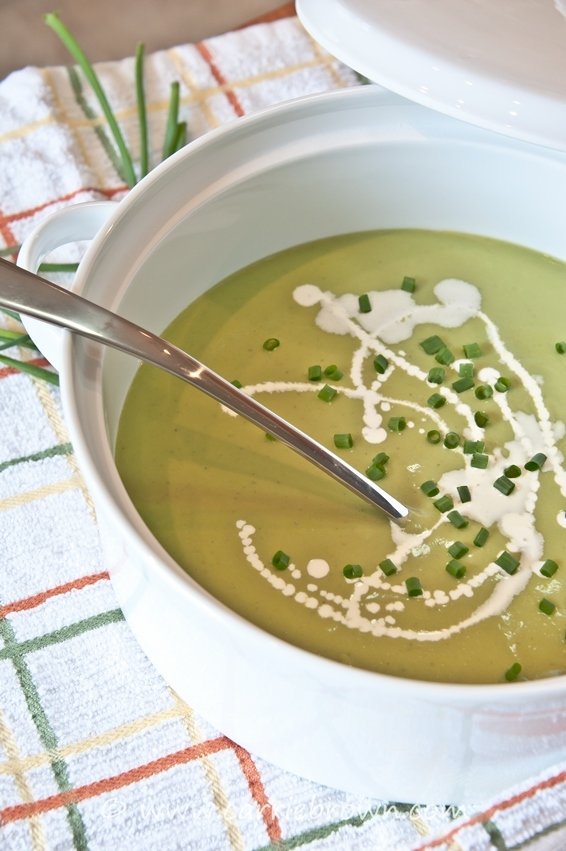 Maybe cucumbers aren't what you think of when you make soup, but you should. They make a really flavorful soup when cooked lightly. Try this next time you need a new recipe and you won't be sorry.
Ingredients:
1 tablespoon extra-virgin olive oil
2 cloves garlic, minced
1 small onion, diced
1 tablespoon lemon juice
4 cups peeled, seeded and thinly sliced cucumbers, divided
1 ½ cups vegetable broth
½ teaspoon salt
¼ teaspoon black pepper
Pinch cayenne pepper
1 avocado, diced
¼ cup chopped fresh parsley, plus more for garnish
½ cup plain low-fat yogurt
Directions:
Heat the oil over medium-high heat in a skillet and cook the onion and garlic until tender. Add the lemon juice and cook for an additional minute. To the skillet, add 3 ¾ cups cucumbers, broth, salt, pepper and cayenne. Simmer the mixture about 6 to 8 minutes. Place the cucumber mixture in a blender and add the avocado and parsley. Blend on low speed until smooth. Put the soup into a large bowl and add the yogurt. Stir to combine. Garnish with additional chopped cucumber and parsley.
Eating Well: eatingwell.com
Which one will you try first? It's a hard choice, but I plan to make them all soon.
---
Comments
Popular
Related
Recent