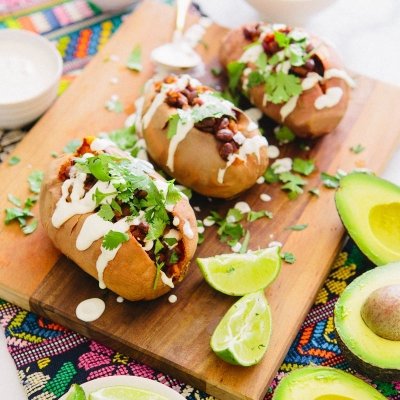 Baked potatoes definitely top my list of favorite foods. They are delicious, but they are also easy to throw together when you need a meal fast. At the same time, because baked potatoes are so versatile, you can top them with virtually anything to make a filling meal that can't be beat. If you've never had your baked potatoes with anything besides butter and sour cream, you're in for a treat here. Check out all these great variations.
1.

Hasselback Potatoes

Via 9 Potato Recipes Bursting with ...
This is a fabulous alternative to traditional baked potatoes that's big on presentation, but doesn't take much work.
2.

Twice Baked Potatoes

Via Twice-Baked Potatoes - Bless This ...
Twice baking the potatoes makes them twice as delicious. Look at all those yummy toppings.
3.

Baked Potato Soup

Via Baked Potato Soup | Skinnytaste
If you love baked potatoes and soup, why not combine them into one dish that everyone is going to love?
4.

Loaded Baked Potato Soup

Via Loaded Baked Potato Soup Recipe ...
If you like your baked potatoes loaded, here is another great bowl of soup that you won't be able to stop eating.
5.

BAKED POTATO BAR

Via Baked Potato Bar
I do this for dinner sometimes. Everyone loves customizing their own potato and dinner comes together in just a few minutes.
6.

Unconventional Toppings

Via Easy Buffet Party Idea: Baked ...
Go beyond butter, sour cream and chives and try other yummy toppings. Check out all these options!
7.

BBQ Baked Potato

Via recipesforourdailybread.com
Speaking of unconventional, a potato loaded with pulled pork, barbecue sauce and cheese is a meal you'll want every night.
8.

In the Slow Cooker

Via 53 Quick and Easy Crock ...
When you'll be gone all day, pop your potatoes in the slow cooker so that dinner is ready when you get home.
9.

Oven Baked Potato Wedges

Via Oven Baked Potato Wedges | ...
Baked potatoes don't have to be round. Serve them sliced into wedges with ketchup and you'll see just what I mean.
10.

Idaho Tacos

Via Idaho Tacos Recipe - Kraft ...
I love the catchy name for these. Look at how delicious it looks.
11.

Baked Egg Potato Bowls

Via Baked Egg Potato Bowls
You eat hashbrowns for breakfast, right? So why not baked potatoes? Fill one with an egg and bacon and start your morning right.
12.

Italian Chicken Potato and Green Bean Bake

Via Cheese Curd In Paradise: Italian ...
Cutting your potatoes up before baking them speeds the cooking process and makes them taste delicious.
13.

Lots of Cheese

Via Loaded Twice-Baked Potatoes - The ...
Don't these look gooey and delicious? They'd be perfect with steak or salmon for dinner tonight.
14.

In the Oven

Via Twice-Baked Potatoes Recipe : Ree ...
The oven produces great tasting baked potatoes, but it takes a while. Start yours in the microwave to make things faster, then put them in the oven for a few minutes before serving.
15.

Simple Presentation

Via The Perfect Baked Potato - ...
It might not be original, but if you prefer the classic baked potato set up, you can't go wrong with that. Sometimes simple is better.
16.

Broccoli and Cheese Baked Potatoes

Via Broccoli and Cheese Twice Baked ...
Not only is this combination delicious, but it's also filling and contains lots of nutrition too.
17.

Squeeze It

Via How To Wednesday- Baking a ...
Squeezing your potato like this one opens it up so that you can pile on the toppings with ease.
18.

Rub with Salt and Oil

Via Perfect Baked Potato Recipe, Secrets ...
If you want a baked potato that tastes like the ones at restaurants, rub the outside with oil and salt before baking.
19.

Meatless Meals

Via 12 Mouthwatering Meatless Meals
Baked potatoes make the perfect vegetarian meal. You can fill them with taco fillings, veggie fajitas and much more.
20.

Great Presentation

Via How to Make Baked Potatoes ...
A nice square of butter and some fresh herbs are the perfect way to garnish your baked potato.

What's your favorite baked potato topping? I love green chile and cheese on mine! Are you making baked potatoes for dinner tonight?