7 Delicious Side Dishes to Wow Your Entire Guest List ...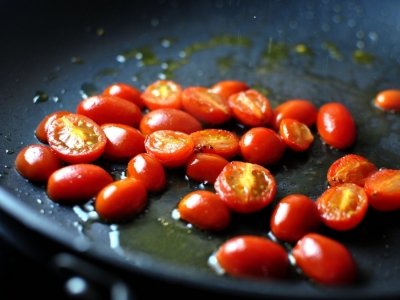 Delicious side dishes round out a meal and make it something your family or guests will love. There are so many things you can cook up to serve alongside the main course, so you have plenty of opportunities at your fingertips. Here are seven super delicious side dishes to get you started. Please share your favorites with me!
1.

Shredded Brussels Sprouts
Brussels sprouts are surprisingly easy to prepare and contain a wealth of nutrition, making them one of the most delicious side dishes out there. They're the perfect choice for steak or chicken and their flavor blends well with lots of other things too.
Ingredients:
½ pound sliced bacon
¼ cup butter
2/3 cup pine nuts
2 pounds Brussels sprouts, cored and shredded
3 green onions, minced
½ teaspoon seasoning salt
Pepper, to taste
Directions:
Cook the bacon over medium-high heat in a large skillet until crisp. Drain and reserve 2 tablespoons of the grease. Crumble the bacon and set aside. Melt the butter in the skillet with the bacon grease over medium and add the pine nuts and cook until browned. Add the Brussels sprouts and green onions and sprinkle with the seasoning salt and pepper. Cook for 10 to 15 minutes, or until sprouts wilt. Add the bacon just before serving.
Source: allrecipes.com
2.

Garlic Oregano Zucchini
Zucchini is generally pretty affordable, which makes it the perfect side dish for any meal. The combination of garlic and oregano gives the veggie the perfect bit of flavor without taking over your main course.
Ingredients:
1 teaspoon minced garlic
2 tablespoons canola oil
4 medium zucchini, sliced
1 teaspoon dried oregano
½ teaspoon salt
1/8 teaspoon pepper
Directions:
Cook the garlic in the oil over medium heat for about 1 minute. Stir in the zucchini, oregano, salt and pepper. Cook until the zucchini is tender, but a bit crisp, 4 to 6 minutes.
Source: tasteofhome.com
3.

Baby Bok Choy with Cashews
This is the perfect side dish for an Asian inspired meal. It tastes great with chicken and beef and works well with mild and spicy meals alike. Bok choy is pretty easy to find at the supermarket and this recipe is quick and simple to put together.
Ingredients:
2 tablespoons olive oil
1 cup chopped green onions
3 cloves garlic, chopped
1 pound baby bok choy, rinsed, larger leaves separated
½ teaspoon dark sesame oil
Salt
½ cup chopped, roasted, salted cashews
Directions:
Heat the olive oil to medium-high. Add the onions, garlic and bok choy. Add the sesame oil and salt. Cover and cook for 3 minutes. Remove the lid and lower the heat. Stir for 1 to 2 additional minutes. Stir in the cashews and serve.
Source: simplyrecipes.com
Potatoes are my favorite side dish. I'll eat them any way I can get them! This is a fun new way to make potatoes that's a bit different than your traditional mashed or baked potatoes. You're going to love this recipe. I promise!
Ingredients:
8 large potatoes, peeled and cut into wedges
4 garlic cloves, minced
½ cup olive oil
1 cup water
1 tablespoon dried oregano
1 lemon, juiced
Sea salt
Fresh ground black pepper
Directions:
Preheat the oven to 420 degrees. Coat a baking sheet with cooking spray and put all the ingredients except the salt and pepper onto the pan. Season to taste with salt and pepper. Toss the ingredients to coat them all evenly. Bake for 40 minutes. Stir the potatoes as they start to brown. Add a ½ cup water if the pan looks dry, then bake for another 40 minutes.
Source: food.com
Braised onions are an ideal dish to serve with steak! The flavors meld so well together. This recipe uses pearl onions, which are similar to traditional ones, but a bit sweeter.
Ingredients:
1 pound pearl onions, about 1-inch in diameter
Butter
Chicken stock
Salt and pepper
Sugar
Directions:
Blanch the onions for 1 minute in boiling water. Rinse in cold water and drain. Slice the ends off the onions and remove the skin. Put the onions in a saucepan in one layer and sauté in the butter until browned. Add the stock, salt and 1 teaspoon of sugar. Cover and simmer for 25 minutes. Uncover the onions and boil until the liquid is gone. Add another 1 tablespoon butter, if desired.
Source: simplyrecipes.com
6.

Byrdhouse Blistered Cherry Tomatoes
This is a great side dish to serve when summer comes and you live your life outside grilling on the barbecue. It's easy to make and tastes so good you might not need anything else.
Ingredients:
2 teaspoons butter
1 teaspoon dried basil
1 pint cherry tomatoes
½ teaspoon white sugar
Salt and pepper, to taste
Directions:
Melt the butter over medium-high heat in a skillet. Add the tomatoes, basil and sugar. Cook for 30 seconds and season to taste with salt and pepper. Continue cooking until the tomatoes blister.
Source: allrecipes.com
This side dish tastes super tasty alongside pasta dishes, but it also works well with chicken or fish. The flavors work great together and make an unforgettable meal you'll want to make all the time.
Ingredients:
1 small onion, chopped
2 tablespoons olive oil
2 to 3 garlic cloves, minced
1 (14 ½-ounce can) stewed tomatoes, coarsely mashed
½ cup water
3 tablespoons minced fresh oregano
4 ½ teaspoons minced fresh basil
1 teaspoon sugar
1 teaspoon salt
¼ to ½ teaspoon coarsely ground pepper
2 pounds fresh green beans, cut into 1-inch pieces
2 tablespoons grated Romano cheese
Directions:
Sauté the onion in the oil in a saucepan until tender. Stir in the garlic and cook 1 minute. Add the tomatoes, water, oregano, basil, sugar, salt and pepper. Bring to a boil, reduce the heat, and simmer, uncovered, for 40 minutes. Meanwhile, boil the green beans for 8 to 10 minute, or until crisp-tender. Drain and add the tomato mixture and cheese. Cook an additional 5 minutes.
Source: tasteofhome.com
Which one will you try first? What's your favorite side dish recipe? Add it to the list.
{{#comments_count}} Show Commnents ({{comments_count}}) {{/comments_count}}