Savory rice recipes are perfect dinner options. Rice is super versatile so you can mix and match your favorite ingredients to create meals that are filling, delicious and healthy all at the same time. Another bonus: rice is easy to work with so these recipes are simple and fast meaning you can sit down to eat in no time. Check out these savory rice recipes, then let me know how you'd serve rice.
---
1

Asparagus Cashew Rice Pilaf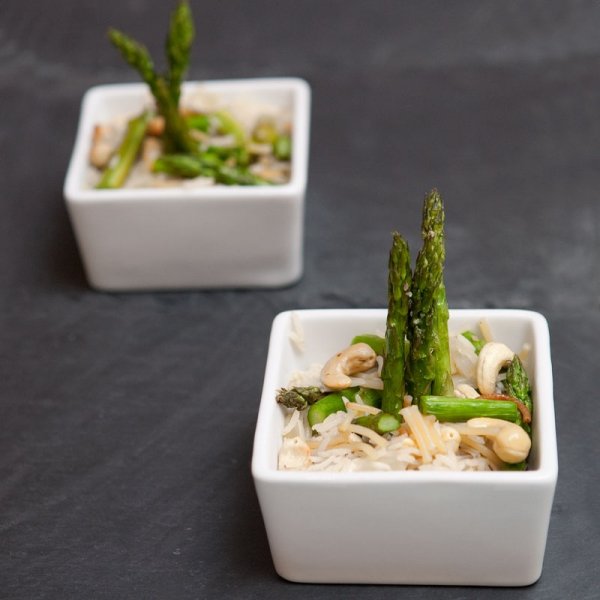 This is one of my favorite savory rice recipes because it's hearty enough to be a meal, but you can also add chicken or beef to make it more filling and delicious. This makes great leftovers the next day too.
Ingredients:
¼ cup butter
2 ounces uncooked spaghetti, broken
¼ cup minced onion
½ teaspoon minced garlic
1 ¼ cups uncooked jasmine rice
2 ¼ cups vegetable oil
Salt and pepper, to taste
½ pound fresh asparagus, trimmed and cut into 2-inch pieces
½ cup cashew halves
Directions:
Heat a saucepan over medium-low heat and melt the butter in the pan. Increase the heat to medium and add the spaghetti. Cook until lightly browned and coated with butter. Add the onion and garlic and cook for 2 minutes. Add the rice and cook an additional 5 minutes. Stir in the vegetable broth and season to taste with salt and pepper. Bring the mixture to boil and cook, covered, for about 20 minutes, or until the rice is cooked and the liquid has been absorbed. Place the asparagus in a separate saucepan, cover with water and boil until tender. Add the asparagus and cashews to the rice and stir to combine. Serve.
All Recipes: allrecipes.com
2

Saffron Rice with Spicy Shrimp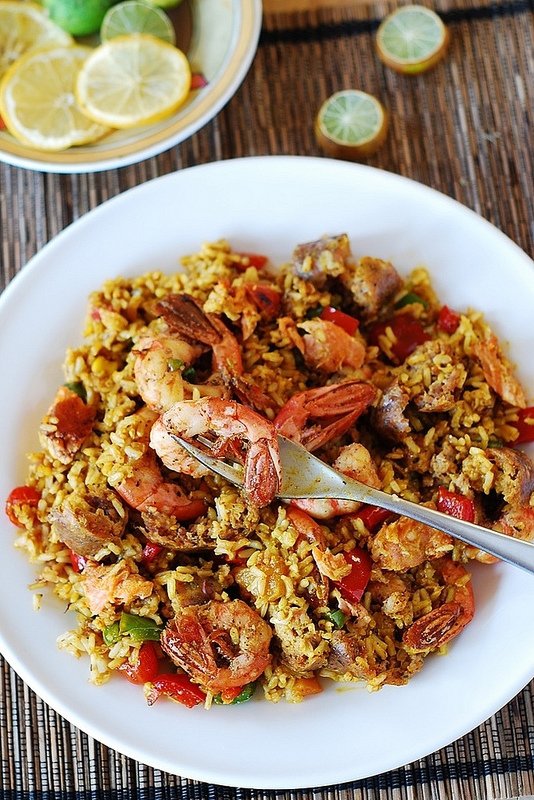 This is a wonderful meal to serve to friends and family. It comes together pretty easily, but it tastes like something you slaved on for hours and hours. Try it next time you have guests and you'll see what I'm talking about.
Ingredients:
3 tablespoons olive oil
2 pounds shrimp, peeled
2 (10-ounce bags) yellow saffron long grain rice
7 cups water
16 ounces frozen green peas
5 green hot peppers, diced
2 red hot peppers, diced
3 jalapeno peppers, diced
1 green bell pepper, diced
2 red bell peppers, diced
1 yellow bell pepper, diced
1 orange bell pepper, diced
1 large sweet onion, diced
½ teaspoon salt
¼ teaspoon black pepper
Directions:
Heat the olive oil over medium-high heat in a large pot. Add the onions and salt and cook for about 5 minutes. Add the bell peppers and continue cooking for an additional 5 minutes, then add the hot pepper and cook for 3 more minutes. Add the rice and sauté for 3 minutes, stirring often. Add 3 ½ cups of water and bring the mixture to a boil, stirring frequently. Once the water is boiling, add the remaining 3 ½ cups water and return to a boil. Stir in the shrimp and bring back to a boil. Cover the pot, turn the heat to low and simmer for about 15 minutes. Add the peas, cover and cook for 5 more minutes. Turn off the heat, stir and let sit for about 8 minutes before serving.
Recipes for Rice: recipesforrice.com
---
3

Spicy Vegetable Fried Rice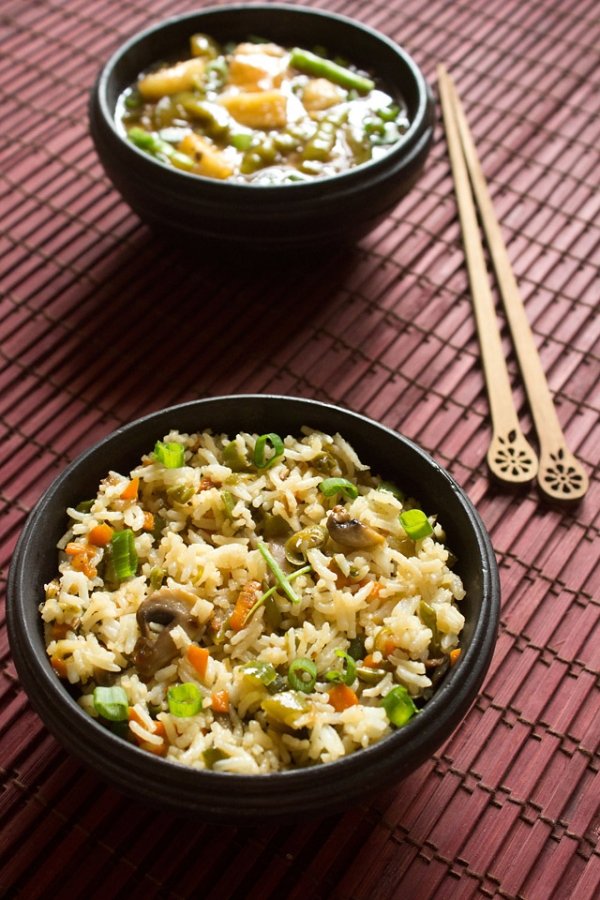 I love fried rice! It's such a great main dish and it's so easy to warm up the next day for lunch. I always make a huge batch so I can nibble on it all week. Serve this fried rice recipe with a couple of eggrolls or potstickers and you have a delicious meal you'll want to eat all the time.
Ingredients:
4 eggs
2 tablespoons water
Nonstick cooking spray
1 tablespoon olive oil
1 tablespoon finely chopped, fresh peeled ginger
2 cloves garlic, minced
2 cups chopped Chinese cabbage
1 cup coarsely shredded carrot
1 cup fresh pea pods, trimmed
2 cups cooked brown rice
1/3 cup sliced green onion
2 tablespoons reduced-sodium soy sauce
1 teaspoons Sriracha chile sauce
2 tablespoons snipped fresh cilantro
Lime slices or wedges
Directions:
Whisk together the eggs and the water in a bowl. Coat a non-stick skillet with cooking spray and heat to medium. Cook the eggs, stirring occasionally until set, but still moist. Set aside. Add the oil to the same skillet and heat to medium-high. Add the ginger and garlic and cook for about 30 seconds. Add the cabbage, carrots and pea pods and continue cooking for another 2 minutes. Add the eggs, rice, green onion, soy sauce and chile sauce and cook until hot, about 2 minutes. Top with cilantro and serve with lime.
Better Homes and Gardens: bhg.com
---
4

Rice Stuffed Peppers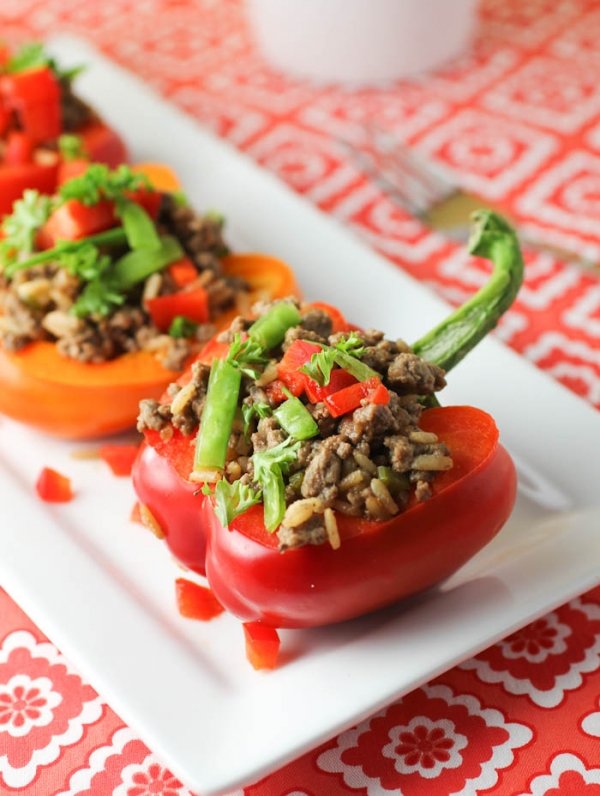 There's just something about rice and bell peppers that go really well together. Stuffed peppers are a pretty healthy main course because they are full of vitamin C and fiber. This is a great dish for just a couple of people, but has an elegant presentation that will impress anyone.
Ingredients:
1 package cheddar broccoli rice in a packet
2 cups water
1 tablespoon butter spread
½ pound ground beef
2 large bell peppers (any color), halved lengthwise and seeded
Directions:
Preheat the oven to 350 degrees. Prepare the rice with the butter according to package directions. Brown the ground beef over medium-high heat, drain and stir into the rice. Place the rice mixture in even amounts into the bell pepper halves. Place the peppers in a baking dish and cover. Cook in the oven for 20 minutes, remove the cover and cook 10 more minutes. Sprinkle with cheese before serving, if desired.
Yummly: yummly.com
---
5

One Dish Chicken and Rice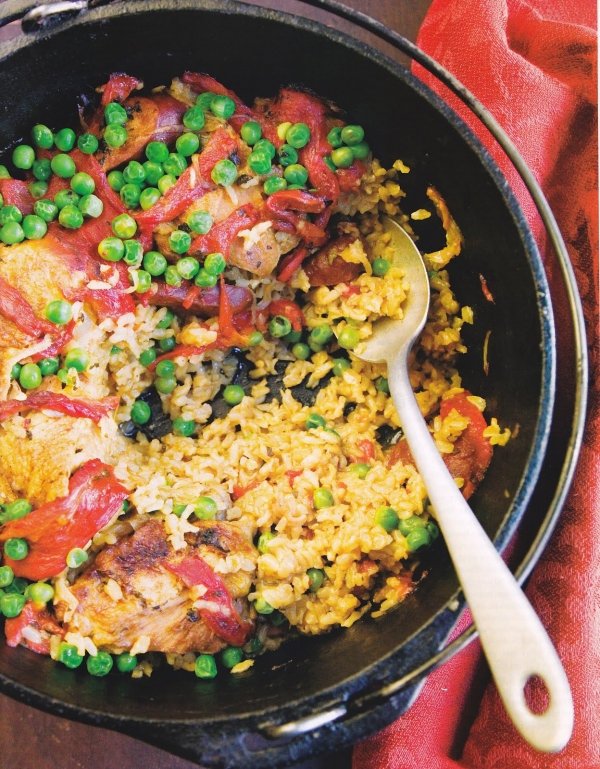 What could possibly be better than dinner in one pot. It makes clean-up easier and you can serve your dinner in a big bowl. Whatever you don't eat, just heat it up later when you get hungry again.
Ingredients:
1 tablespoon extra-virgin olive oil
2 ¼ pounds boneless, skinless chicken thighs, trimmed and cut into 2-inch pieces
4 Anaheim or poblano peppers, chopped
1 small onion, chopped
1 tablespoon dried oregano, crushed
1 teaspoon sweet paprika
1 teaspoon salt
1 (8-ounce) can tomato sauce
1 tomato, chopped
1 (4-ounce) jar pimentos, rinsed
8 pimento-stuffed green olives, sliced
2 tablespoons capers, rinsed
8 cups water
2 ½ cups brown rice
2/3 cup packed fresh cilantro
Directions:
Heat the oil over medium-high heat in a Dutch oven. Add the chicken, chiles, onion, oregano, paprika and salt. Cook, while stirring, for about 3 to 5 minutes, or until onions are soft. Add the tomato sauce, chopped tomatoes, pimentos, olives, capers and water and bring to a boil. Stir in rice and bring back to a boil. Reduce the heat and simmer, uncovered, until the sauce gets thick, the rice is tender and the chicken is cooked all the way through. This will take about 35 to 45 minutes. Stir in the cilantro and serve.
Kitchen Daily: main.kitchendaily.com
---
6

Easy Chicken Rice Burritos
You can't go wrong with burritos for lunch or dinner. They're so easy to make, super portable and tasty all at the same time. This burrito tastes great hot, but can also be eaten cold. I promise you're going to love it!
Ingredients:
1 tablespoon olive oil
1 cup fresh or frozen corn kernels
½ cup diced red onion
1 can black beans, drained and rinsed
3 cups cooked long-grain rice
1 jar chunky style salsa
3 cups cooked, shredded chicken
1 ½ cups shredded Monterey Jack cheese
½ teaspoon fresh ground pepper
6 (10-inch) flour tortillas
½ cup cilantro leaves
Olive oil cooking spray
Salsa, sour cream and guacamole, for serving
Directions:
Heat a griddle to medium heat. Heat a non-stick skillet to medium and add the oil. Stir in the corn and onions and cook about 4 minutes. Add the beans, rice and salsa, then stir well to combine and cook until heated through. I a bowl, combine the chicken, cheese and pepper. Warm the tortillas. Spoon even amounts of the rice mixture then the chicken mixture onto the center of each tortilla. Sprinkle with cilantro and roll the burritos up. Coat the burritos with cooking spray, then cook 3 to 4 minutes on the griddle, turning once. Serve with salsa, sour cream and guacamole.
Delish: delish.com
---
7

Broccoli and Rice Stir Fry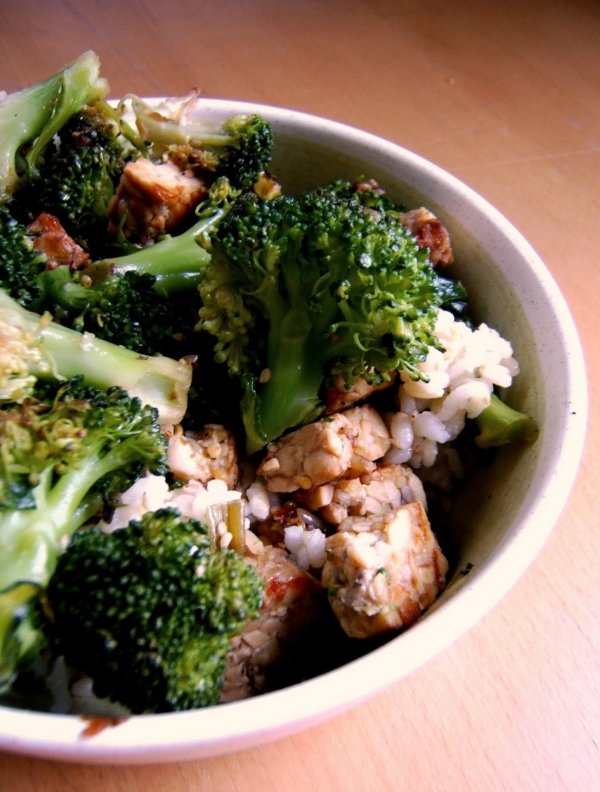 Stir fry is one of my favorite meals. It's easy to make and you can mix and match ingredients for new versions all the time. This is a great one for a quick and simple dinner and is ideal for vegetarians. You can always add beef, chicken or shrimp if you're a carnivore.
Ingredients:
1 ½ cups long-grain rice
1 tablespoon vegetable oil
16 ounces frozen broccoli florets, thawed
3 green onions, diced
2 beaten eggs
2 tablespoons soy sauce
½ teaspoon salt
¼ teaspoon ground black pepper
Directions:
Bring 3 cups of water to a boil in a saucepan. Add the rice, reduce heat and simmer, covered, for about 20 minutes. Heat the oil in a skillet over medium heat and sauté the broccoli until it's tender, but crisp. Stir in the scallions and remove the mixture from the skillet. Set aside. Cook the eggs in the pan, then return the broccoli. Add the cooked rice, soy sauce and season with the salt and pepper.
All Recipes: yummly.com
Do you cook with rice? It's a pretty economical choice and if you go for brown rice, you're getting lots of nutrients too. Give it a try and let me know what you think.
---
Comments
Popular
Related
Recent