It's not a party unless there are chips and dip, so dip recipes are something I'm always on the lookout for. After all, no one wants to eat the same old ranch at every gathering. Dips are great for veggies, chips, crackers, crostini and even fruit, and they let your guests eat while they roam the party and mingle. Try out these fabulous dip recipes next time you have a party and everyone will be happy. Remember – no double dipping!
---
1

Buffalo Chicken Dip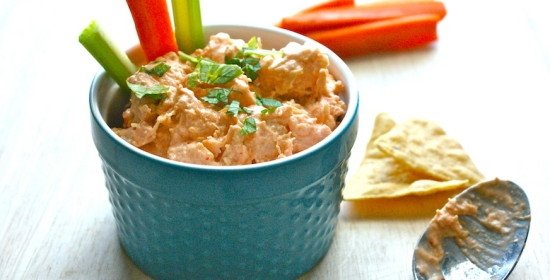 This is the perfect way to indulge your love of hot wings without the mess of eating them at a party and is one of the best dip recipes I've ever tried. The flavor is a wonderful mix of ingredients and will taste like you slaved for hours, when it's really very easy to prepare this dip. It's great for crackers and crudités.
Ingredients:
2 cans chicken (10-ounce), drained
2 8-ounce packages cream cheese, softened
1 cup ranch dressing
¾ cup pepper sauce
1 ½ cups Cheddar cheese, shredded
Directions:
Put the chicken and hot sauce in a skillet and heat over medium until hot. Add the cream cheese and ranch dressing and stir to combine. Cook until warm. Add half the cheddar and stir. Transfer the dip to a slow cooker and sprinkle with the remaining cheese. Cook on low until hot and bubbly.
Source: allrecipes.com
2

Fruit Dip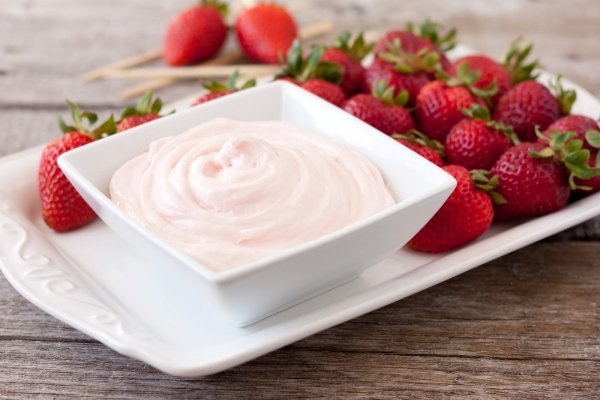 I think fruit tastes great on its own, but adding a sweet dip is a fun way to jazz it up. This is a great way to get kids to chow down on fruit too. My kids gobble it up with any kind of fruit I put out with it. This is a fun idea for a kid's party, but adults are sure to eat it as well.
Ingredients:
1 package softened cream cheese (8 ounces)
1 jar marshmallow cream (7½ ounces)
Non-alcoholic liqueur in your favorite flavor
Directions:
Combine the ingredients in a bowl until creamy and smooth. Refrigerate until completely chilled.
Source: mrfood.com
---
3

Caramelized Onion Dip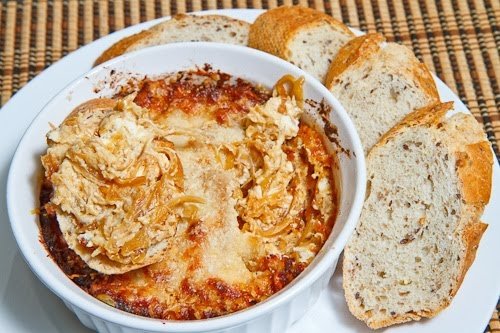 If you ask me, this is the perfect dip for potato chips, but crackers and pita bread taste great slathered with it too. It's creamy and has so much flavor you'll be surprised at just how good it tastes.
Ingredients:
2 tablespoons butter, unsalted
2 thinly sliced medium onions
Salt and pepper
8 ounces cream cheese, at room temperature
1 cup sour cream
2 tablespoons fresh chives, chopped
Directions:
Heat a skillet to medium-low and melt the butter. Add the onions, season with a ½ teaspoon salt, and cook until golden brown, about 30 minutes. Cool the onions, then combine in a bowl with the cream cheese, sour cream, chives, ¼ teaspoon salt and 1/8 teaspoon pepper.
Source: realsimple.com
---
4

Hot Crab Dip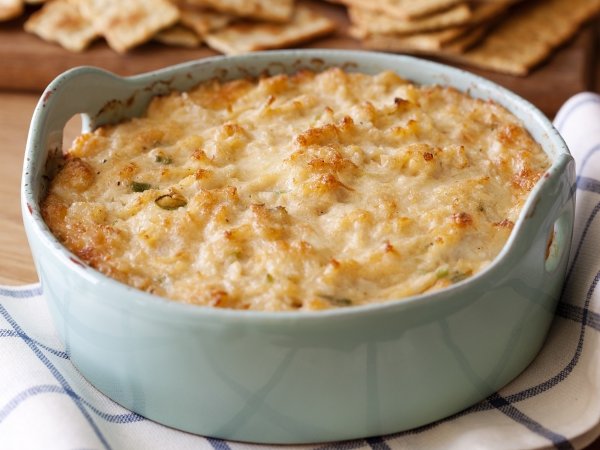 This dip is warm and tastes great on crusty bread. You can even make a meal out of the leftovers by piling it on bread with some sliced vegetables. You might even decide it's so good you don't want to share it with your party guests.
Ingredients:
1 pound jumbo lump crabmeat, shells removed
1 cup pepper jack cheese, grated
¾ cup mayo
¼ cup Parmesan, grated
¼ minced green onions
2 cloves minced garlic
3 tablespoons Worcestershire
2 tablespoons fresh lemon juice
1 teaspoon hot pepper sauce
½ teaspoon dry mustard
Salt and pepper
Directions:
Mix together all the ingredients in a casserole dish. Bake for 40 minutes and serve.
Source: foodnetwork.com
---
5

Mexican Shrimp Dip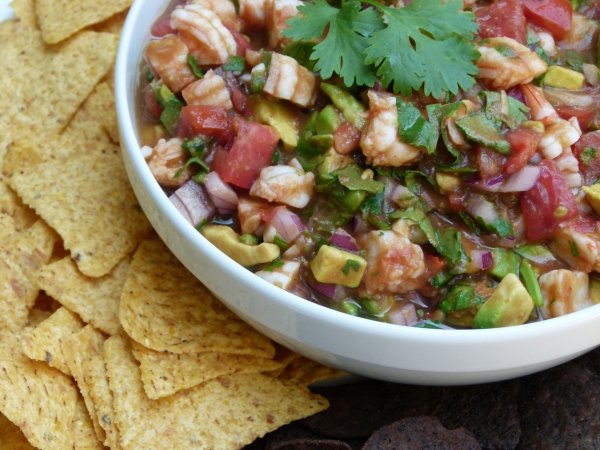 I love Mexican food and I love shrimp, so this is a combination I can really get behind. The delicious melding of the ingredients makes this a dip your friends and family will ask you to make again and again. Serve it with tortilla chips.
Ingredients:
1 cup ketchup
1 cup salsa
¼ cup tomato juice
3 chopped plum tomatoes
2 peeled and chopped avocados
1 finely chopped red onion
1 seeded and finely chopped jalapeno
½ cup finely chopped green pepper
½ cup fresh cilantro, minced
1 pound frozen, cooked salad shrimp, thawed and drained
Directions:
In a bowl, combine the ketchup, salsa, tomato juice, tomatoes, avocados, red onion, jalapeno, green pepper and cilantro. Stir well. Spread in a pie pan and top with the shrimp. Chill.
Source: tasteofhome.com
6

Mediterranean Veggie Dip
I'm not sure you could call this dip ultra healthy, but it does contain a good amount of vegetables, which are loaded with vitamins and minerals. Combine that with the cheese and you have a super tasty dip for pita chips or crusty bread.
Ingredients:
16 ounces plain yogurt, strained over cheesecloth for 24 hours
¼ roasted red sweet pepper, chopped
¼ crumbled feta cheese
2 tablespoons green onion, thinly sliced
2 tablespoons black olives, chopped
2 tablespoons Italian parsley, snipped
2 teaspoons fresh oregano, snipped
Directions:
Combine the yogurt, pepper, feta, green onion, black olives, parsley and oregano. Cover and chill for 24 hours. Stir before serving.
Source: bhg.com
---
7

Red Pepper Hummus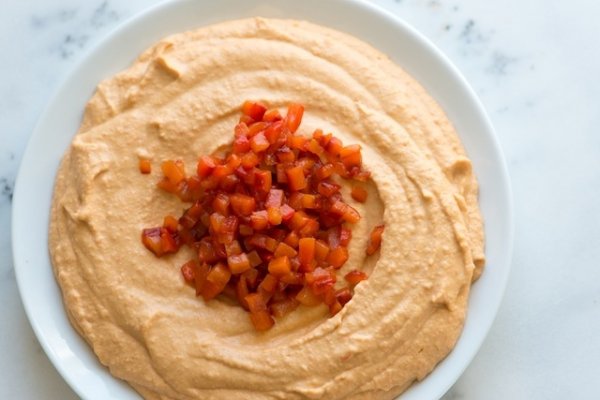 Hummus is a classic dip for pita chips and sliced veggies, but the addition of red pepper brings it to a whole new level. It's super easy to make and you're going to love it!
Ingredients:
1 can navy beans (15 ounces), rinsed and drained
2 chopped garlic cloves
½ cup roasted red peppers, drained and chopped
1/3 cup tahini
¼ cup lemon juice, fresh
¾ teaspoon salt
¼ teaspoon cumin, ground
¼ teaspoon coriander, ground
¼ teaspoon red pepper
2 tablespoons olive oil
1 tablespoons fresh cilantro, chopped
Toasted sesame seeds and green onions, for garnish
Directions:
Place all the ingredients except the oil, cilantro and garnish into a blender and puree until smooth, scraping sides as needed. Slowly add the oil while the blender is running and continue processing until smooth. Add the cilantro and stir. Chill one hour and garnish just before serving.
Source: myrecipes.com
Which one sounds like it will be your new favorite? I have a thing for dip so I can guarantee that they will all be superb.
---
Popular
Related
Recent