7 Slow Cooker Breakfast Meals to Make Mornings Something You Look Forward to ...
By Eliza
Slow cooker breakfast meals are the perfect option because they give you a delicious breakfast you don't have to put much effort into preparing. Who wouldn't want a yummy treat when they get up even if time is tight? There are so many slow cooker breakfast meals out there, so the chances that you'll find the ones you love best are pretty good. Here are some of my favorites to get you started. Let me know what you think!
---
1

Sausage and Sweet Pepper Hash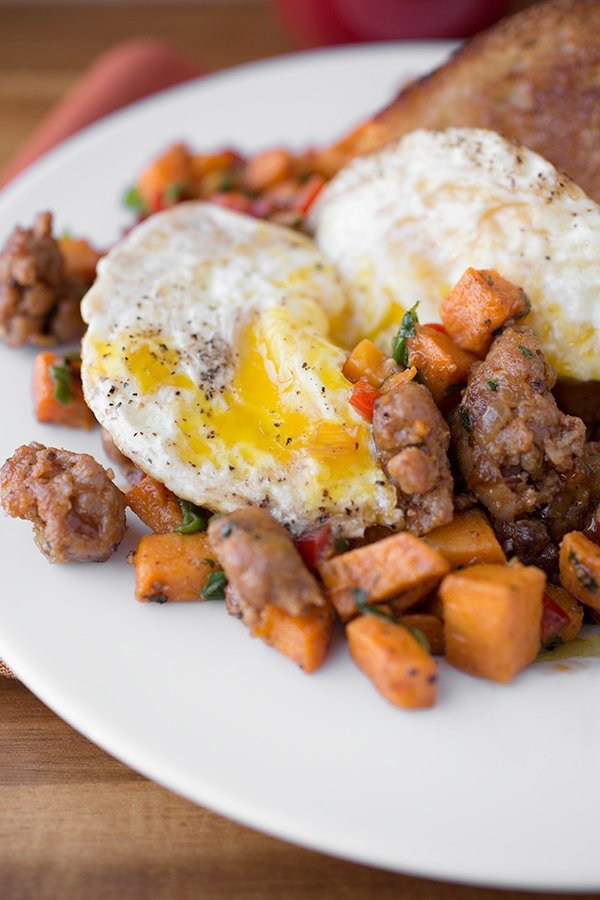 I love a good hearty meal in the morning, but getting one prepared in the mad dash to get the kids to school isn't always easy. That's why this is one of my favorite slow cooker breakfast meals. It just calls my name and I bet you'll hear it calling yours too.
Ingredients:
12 ounces cooked, smoked sausage, quartered lengthwise, cut into ½-inch slices
1 teaspoon olive oil
½ cups sweet onion, sliced
Nonstick cooking spray
1 ½ pounds red potatoes, sliced into ½-inch pieces
2 teaspoons fresh thyme, snipped
½ teaspoon pepper
¼ cup reduced-sodium chicken broth
1 ½ cups sweet bell peppers, chopped (any color)
½ cup Swiss cheese, shredded
2 teaspoons fresh tarragon, snipped
Directions:
Heat the sausage in a large nonstick skillet over medium heat for 5 minutes. Remove the sausage and heat the oil in the same pan. Cook the onion in the oil for about 5 minutes. Coat the slow cooker with cooking spray and add the sausage, onion, potatoes, thyme and pepper. Cover with the chicken broth. Cover and cook on low for 5 to 6 hours. Add the peppers and top with cheese. Turn the slow cooker to high, cover and cook for 15 more minutes. Sprinkle with tarragon and serve.
---
2

Breakfast Cobbler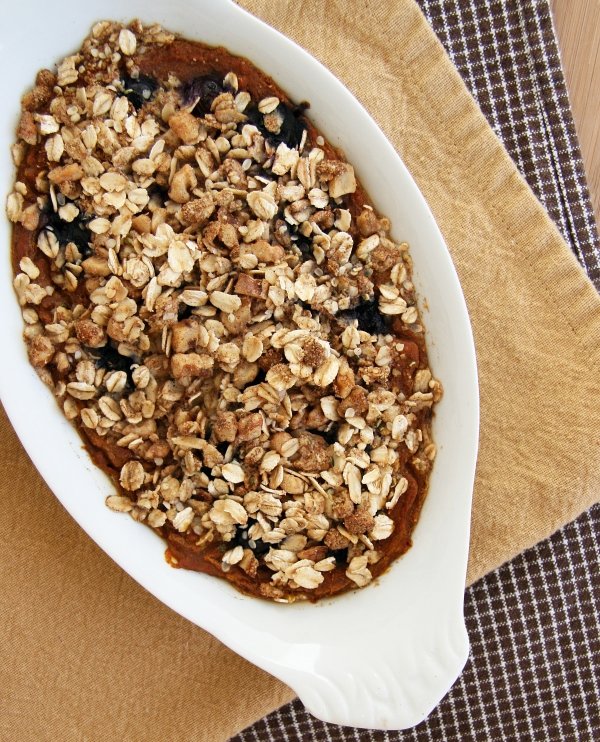 Cobbler is one of my absolute favorite foods. Having it for breakfast is a dream come true! This might not be the healthiest morning meal, but it's great for a treat or a yummy Sunday brunch to impress everyone on your list.
Ingredients:
4 medium apples, peeled and sliced
¼ cup honey
1 teaspoon cinnamon
2 tablespoons melted butter
2 cups granola
Directions:
Coat a slow cooker with cooking spray. Layer the apples into the slow cooker and mix in the other ingredients. Cover and cook on low for 7 to 9 hours. Serve with a splash of milk.
Trendinig Stories
More Stories ...
3

Overnight Egg Brunch Casserole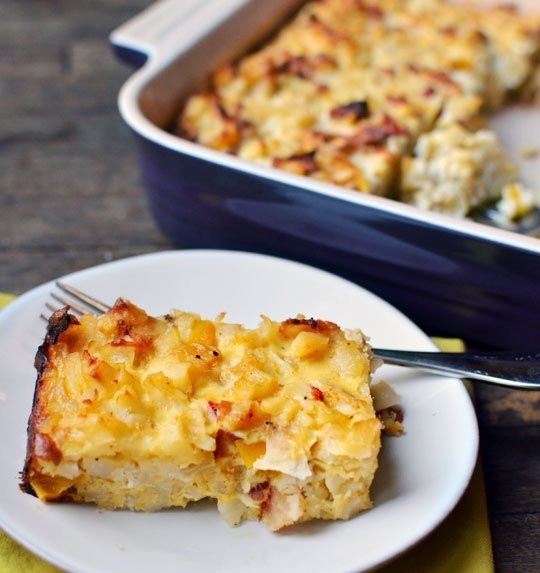 I love that you can put this recipe together at night and wake up to a meal that you won't be able to get enough of. This meal is super simple and so delicious you'll want to make it all the time.
Ingredients:
6 to 8 strips bacon, cooked until crisp and crumbled
1 peeled and chopped onion
1 peeled and minced garlic clove
1 seeded and chopped red or green bell pepper
2 pounds frozen hashbrowns
1 ½ cups shredded cheese
12 eggs
1 cup milk
1 teaspoon dried dill
½ teaspoon salt
½ teaspoon pepper
Directions:
Coat the slow cooker with nonstick cooking spray. Sauté the onion, garlic and bell pepper for about 5 minutes. Place 1/3 of the hashbrowns in the slow cooker. Layer with 1/3 the bacon and onion mixture. Sprinkle with 1/3 of the cheese. Repeat the layers for the remainder of the ingredients. In a separate bowl, whisk the eggs with the milk, dill, salt and pepper then pour over the layers in the slow cooker. Cover and cook on low for 8 to 10 hours.
---
4

Chile Verde Breakfast Lasagna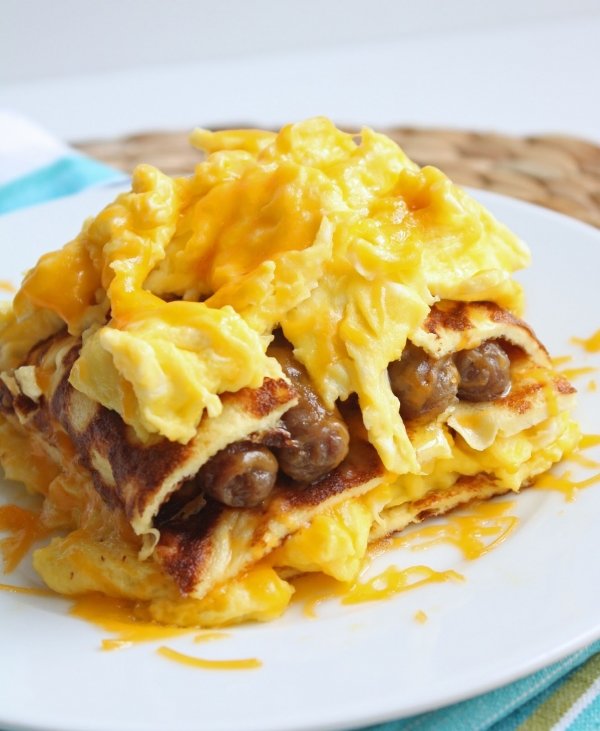 If you like some spice in your morning meal, this is the recipe for you. I love Mexican food so this is the perfect dish to satisfy a craving without having to slave for hours in the kitchen. I'm pretty sure you'll agree with me.
Ingredients:
Nonstick cooking spray
1 pound breakfast sausage
1 medium green pepper, finely chopped
1 jalapeno, seeded and finely chopped
5 lightly beaten eggs
2 teaspoons vegetable oil
¼ cup green onions, sliced
¼ cup fresh cilantro, snipped
½ teaspoon salt
½ teaspoon cumin
9 corn tortillas, 6 inches each
2 cups shredded Jack cheese
16 ounce jar salsa verde
Sour cream, optional
Snipped fresh cilantro, optional
Directions:
Coat the slow cooker with cooking spray. Cook the sausage until brown in a large skillet over medium heat. Drain and add the bell pepper and jalapeno and cook for 1 minute. Remove the sausage and peppers and set aside. Add the eggs to the skillet and cook until just set. Add the eggs with the green onions and cilantro to the sausage mixture and stir to combine. Overlap 3 tortillas in the slow cooker and top with ½ the sausage mixture and ½ cup of the cheese. Cover with 2/3 cup of the salsa. Repeat the layers. Top with the last 3 tortillas and the remaining cheese and the rest of the salsa. Cover and cook on low for 4 hours. Garnish with sour cream and cilantro before serving.
---
5

Overnight Blueberry French Toast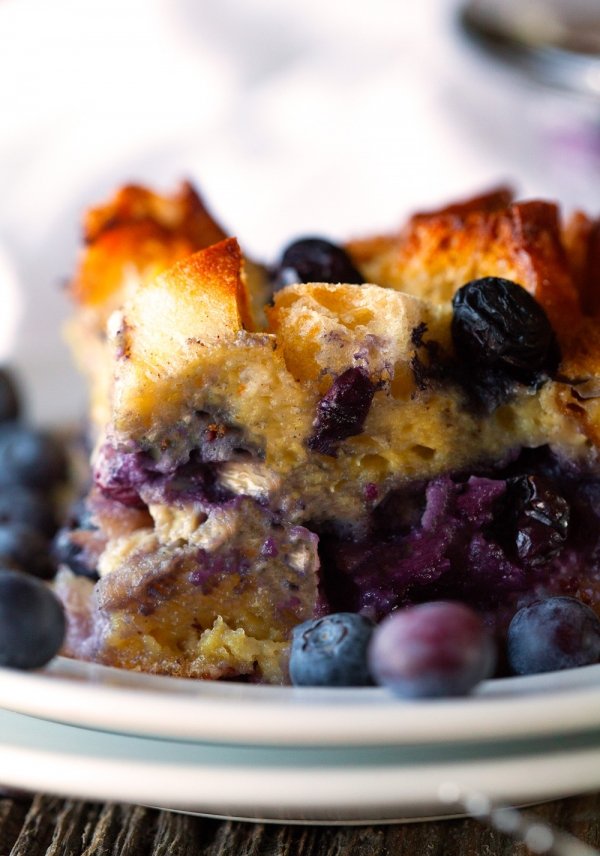 My kids love this! I like to save it for the first day of school or Christmas morning so it's really special. If your morning meal tastes lean toward sweet rather than savory, you're going to love this meal.
Ingredients:
1 cup lightly packed brown sugar
1 ¼ teaspoons cinnamon
¼ cup melted butter
12 slices bread
1 ½ cups blueberries, fresh or frozen
5 lightly beaten eggs
1 ½ cups milk
1 teaspoon vanilla
½ teaspoon salt
Syrup, whipped cream and fresh blueberries, for garnish
Directions:
Mix the brown sugar, cinnamon and butter in a small bowl. Coat a slow cooker with cooking spray and coat the bottom with 1/3 of the sugar mixture. Add 6 slices bread, then another 1/3 of the sugar. Sprinkle with the blueberries. Add the other 6 slices bread and the remaining sugar. Beat the eggs with the milk, vanilla and salt in a bowl. Pour over the bread and press down lightly. Cover and refrigerate several hours. Cook on low for 3 to 4 hours and serve with syrup, whipped cream and blueberries on top.
---
6

Slow Cooker Breakfast Bake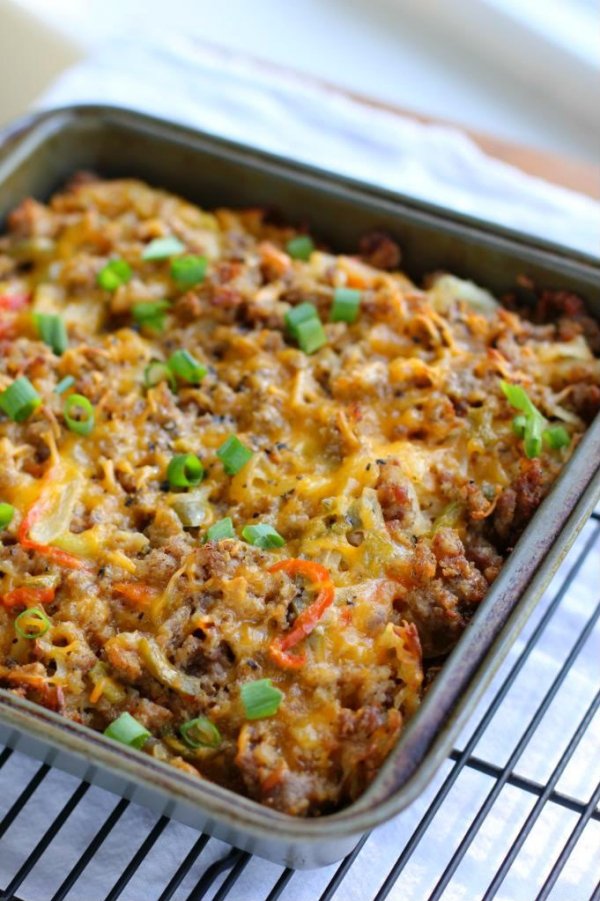 This recipes combines everything that is good about breakfast into one yummy mixture you'll love. It's so easy to put together and is great for serving a crowd. The leftovers are wonderful as well.
Ingredients:
24 ounce bag shredded hashbrowns
1 tablespoon onion, finely chopped
2 cups diced ham
2 cup shredded cheddar cheese
1 cup shredded mozzarella
¼ cup fresh parsley, chopped
12 eggs
1 cup evaporated milk
1 teaspoon salt
1 teaspoon black pepper
1 pound cooked bacon
Directions:
Grease the slow cooker. Mix the hashbrowns and onions in a bowl and spread half the mixture in the slow cooker. Scatter 1 cup of ham over the hashbrowns. Combine the cheeses with the parsley and sprinkle ½ the mixture over the ham. Add one more layer in the same order. Whisk the eggs, evaporated milk, salt and pepper together in a bowl and pour into the slow cooker. Cover and cook on low for about 5 hours. About 15 minutes before serving, place the bacon on the casserole, cover and cook and additional 15 to 20 minutes, or until the bacon is warm.
---
7

Pear and Chai Breakfast Cake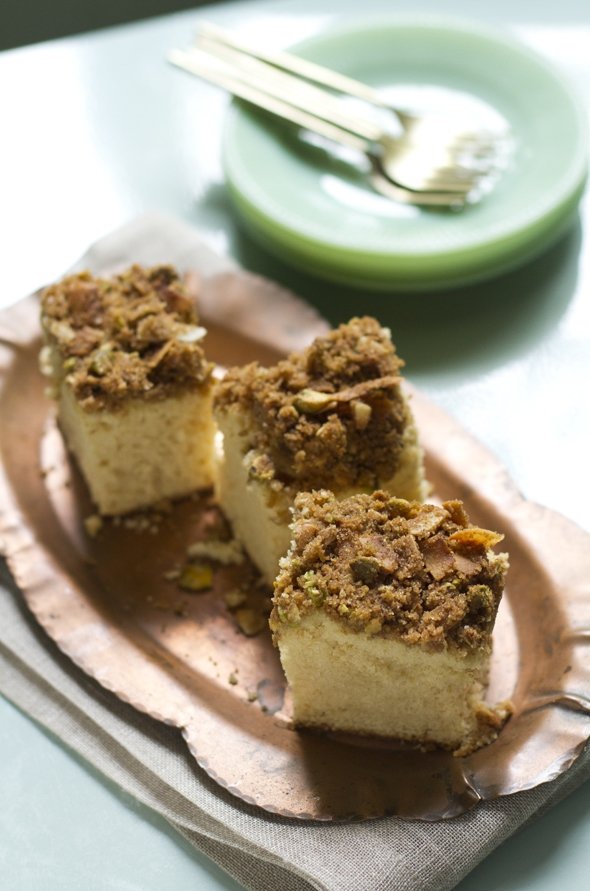 Really, what could be better than cake for breakfast. Again, this probably isn't something you want to eat all the time, but it makes for a great treat now and then. The taste is one you won't find anywhere else and you're sure to please anyone if you share.
Ingredients:
Nonstick cooking spray
3 medium pears, peeled and sliced
½ cup packed light brown sugar
¼ cup softened butter
2 teaspoons grated fresh ginger
¾ cup packed light brown sugar
½ cup softened butter
1 egg
1 cup light molasses
2 cups flour
1 teaspoon baking soda
1 teaspoon cinnamon
½ teaspoon baking powder
¼ teaspoon salt
½ cup warm chai, strong brewed
Greek yogurt and ground nutmeg, optional
Directions:
Coat a slow cooker with the cooking spray and add the pears. Combine the ½ cup brown sugar, ¼ cup butter and the ginger in a small saucepan and cook over medium-high heat until the butter is melted. Pour over the pears and stir. Beat the ¾ cup brown sugar with the ½ cup butter with an electric mixer until well combined. Add the egg and molasses and beat until combined. Mix together the flour, baking soda, cinnamon, baking powder and salt in a bowl. Beat ½ the flour mixture into the butter mixture until combined. Add the chai and the remaining flour and beat again. Spread over the pears. Drape a dish towel over the slow cooker, cover, and cook for 2 hours or until a toothpick in the center comes out clean. Cool, then invert the cake onto a plate.
Do you use your slow cooker often? It's one of my favorite kitchen gadgets. Which of these recipes will you try first?
---
Comments
Popular
Related
Recent